News
David Blair
David Brown
Noah Malone
Raymond Martin
Justin Phongsavanh
Roderick Townsend
Hunter Woodhall
Meet The U.S. Paralympic Men's Track And Field Team For Tokyo
Roderick Townsend poses at the Team USA Tokyo 2020 Olympic shoot on November 23, 2019 in West Hollywood, California.
Following the U.S. Paralympic Team Trials in Minneapolis, 35 men were named to Team USA for the Paralympic Games Tokyo 2020 this summer and are eager to show the world their skills when NBC plans to broadcast an unprecedented 1,200 hours of Paralympic coverage from Tokyo across its platforms.
The team features a mix of experienced veterans and Paralympic newcomers, several of whom set American and world records in Minneapolis. The roster includes nine Paralympic medalists from Rio, five of whom won gold the last time around, as well as 12 medalists from the 2019 World Para Athletics Championships, seven of whom won gold.
Some of the names headlining Team USA's Tokyo medal prospects include David Blair, Michael Brannigan, David Brown, Noah Malone, Raymond Martin, Nick Mayhugh, Justin Phongsavanh, Daniel Romanchuk, Roderick Townsend and Hunter Woodhall.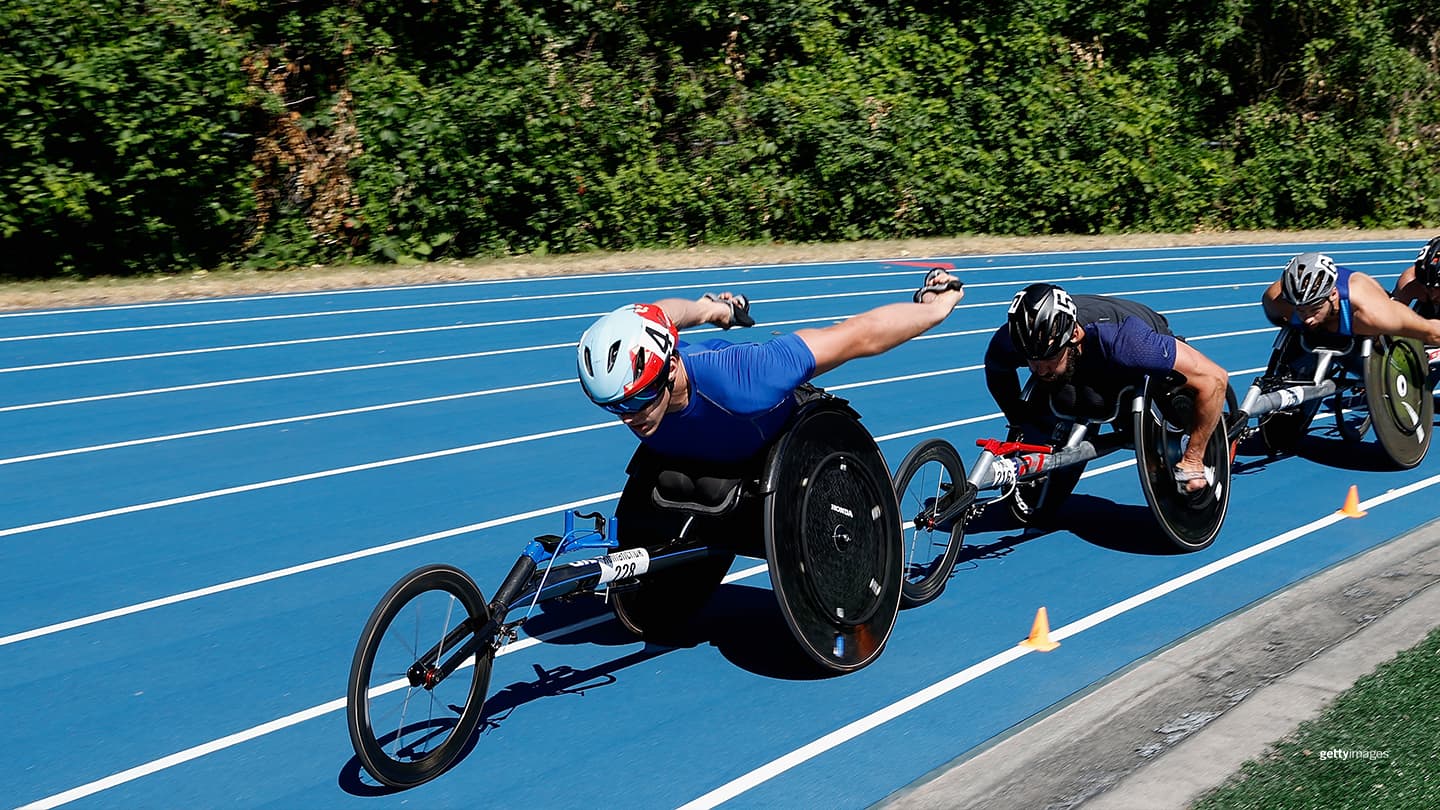 Daniel Romanchuk competing in the men's 5,000-meter T53/54 final at the 2021 U.S. Paralympic Trials on June 19, 2021 in Minneapolis, Minnesota.
Brown is the fastest blind athlete in the world, with a Paralympic and two world titles to his name in the 100-meter. This will be his third Paralympic Games, and he is hoping to confirm a new guide runner to compete with him before Tokyo.


"I'm going to continue climbing the mountain, as I'm nowhere near the top yet," Brown said following trials. "We have some new guides in the pool of guide runners who are hungry to guide and fast, and I'm excited to compete with whomever it may be."


Romanchuk will be entering his second Paralympic Games on a wave of momentum after winning all five of his T54 races at trials. He is already a world champion in the 800 and 1,500 and is the favorite in every marathon he enters. He will look to add his first Paralympic title — or five — to his name.


A social media sensation with more than three million followers across his platforms, Woodhall, the first double-amputee to get a Division I track and field scholarship, is bound to excite the fans in Tokyo when he competes in his favorite event, the 400-meter sprint.


Brannigan and Martin are household names in Para track and field, with Brannigan looking to defend his 1,500-meter T20 title from Rio and Martin being a seven-time Paralympic medalist in the T52 distances.


Malone and Mayhugh, meanwhile, may be the fastest athletes the world does not yet know. Malone runs for Indiana State and at trials set new American-best marks in the 200 and 400 T11 events. Mayhugh was the 2019 U.S. Soccer Player of the Year with a Disability who took up track last year after soccer 7-a-side was removed from the Paralympic Games program. In Minneapolis, he broke the world record in the 100 and American record in the 200 and is now ranked No. 1 in the world in both events in the T37 class.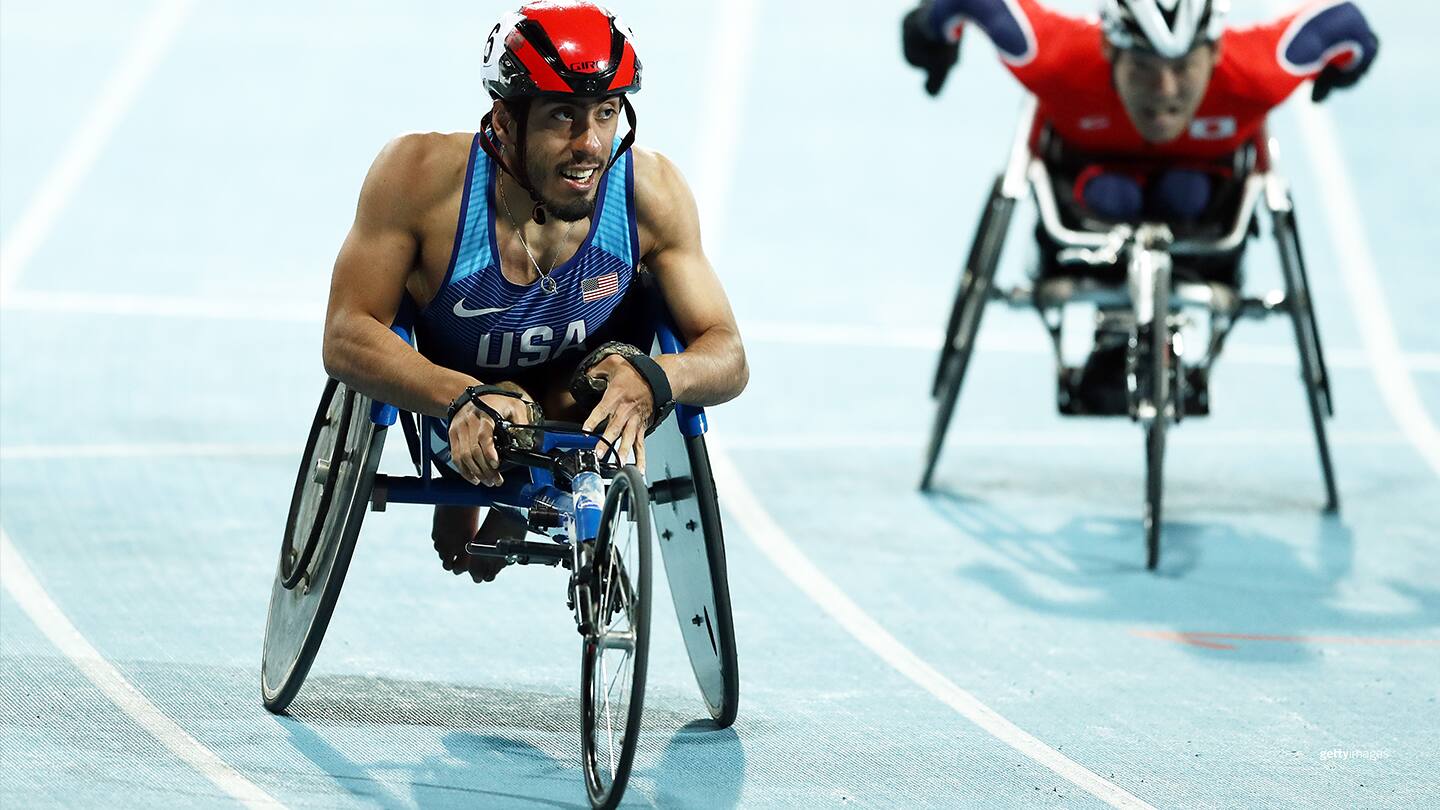 Gianfranco Iannotta reacting to winning the men's 100-meter T52 final at the IPC World Para Athletics Championships Dubai 2019 on November 12, 2019 in Dubai, United Arab Emirates.
In the sprints, two-time Paralympic medalist Gianfranco Iannotta, four-time world championship medalist Jarryd Wallace, American record-holder and U.S. Army veteran Luis Puertas and newcomer Jonathan Gore will also be contenders to bring home hardware.


In the field events, discus stars Jeremy Campbell and Blair will go head-to-head again at the Paralympic Games as teammates. Campbell will enter the ring in Tokyo as a three-time Paralympic champion and world-record holder, and Blair as the reigning Paralympic champion.


"There's a good rivalry there, but we're also friends, so it's good competition," Campbell said. "Without David as a rival and teammate, I don't know where the competition in Paralympic discus would be."


Phongsavanh will make his Paralympic debut in the javelin just six years removed from being gunned down in a fast food parking lot. He's coming off a world record-breaking performance in Minneapolis.
Lex Gillette competing in the mixed long jump T11/12 final at the 2021 U.S. Paralympic Trials on June 18, 2021 in Minneapolis, Minnesota.
Four-time Paralympic silver medalist Lex Gillette, Paralympic silver medalist Sam Grewe and Paralympic silver medalist Scot Severn will all aim to go one level higher on the podium in the long jump, high jump, and shot put, respectively, in Tokyo.
Reigning shot put world champion Josh Cinnamo, three-time world championship medalist high jumper Isaac Jean-Paul, and rising teenage high and long jumpers Ezra Frech and Dallas Wise will also be making their Paralympic debuts.
Rounding out the Team USA roster are Tobi Fawehinmi, Mike Gallardo, Joel Gomez, Erik Hightower, Desmond Jackson, Hagan Landry, Trenten Merrill, Aaron Pike, Isaiah Rigo, Nick Rogers, Rayven Sample, Brian Siemann and Tanner Wright.