News
Breanna Clark
Noah Malone
Raymond Martin
Chelsea McClammer
Justin Phongsavanh
Roderick Townsend
Kym Crosby
Justin Phongsavanh's Javelin World Record Highlights Day 3 At Para Trials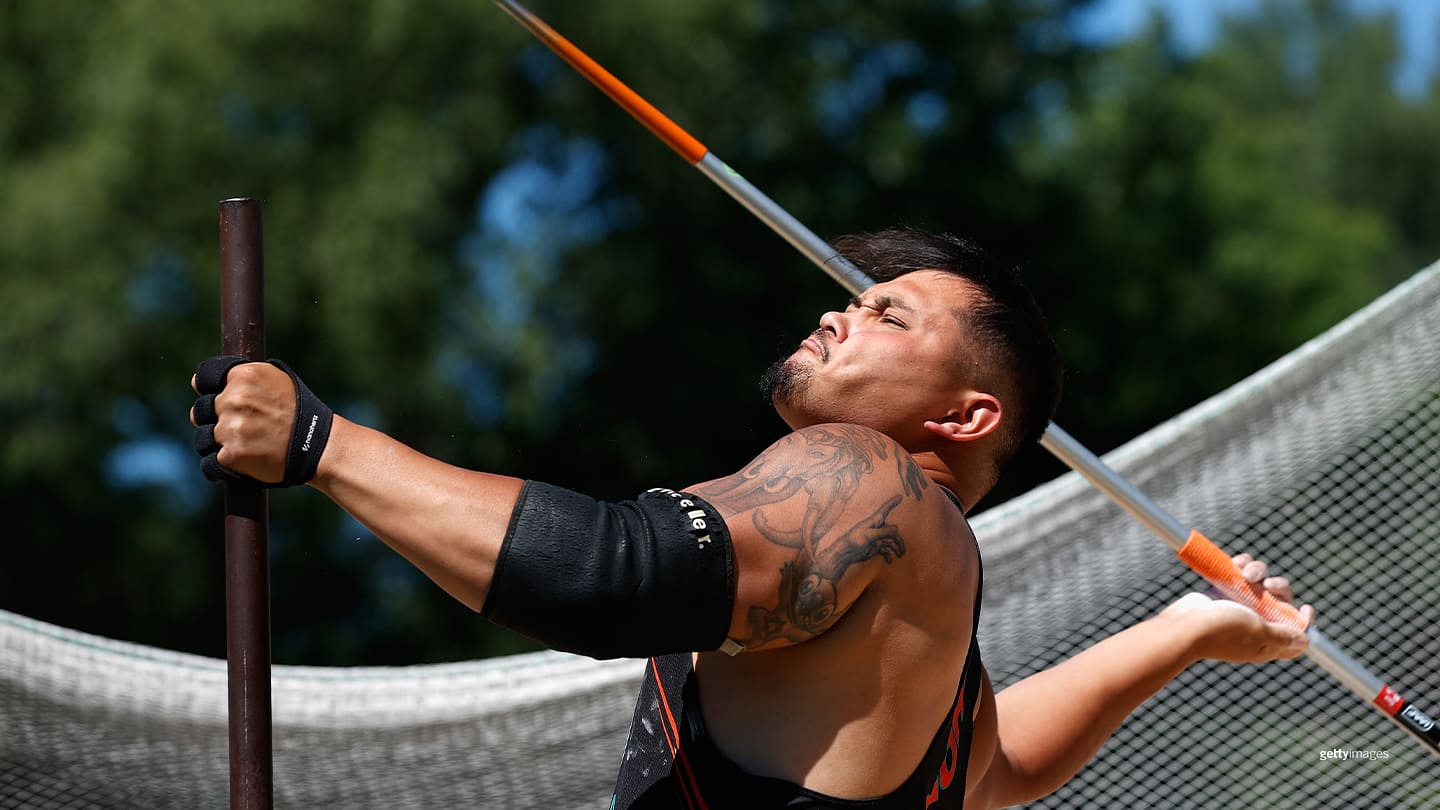 Justin Phongsavanh competes in the Men's Javelin Throw F54/F57 Wheelchair final during the 2021 U.S. Paralympic Trials at Breck High School on June 19, 2021 in Minneapolis, Minn.
MINNEAPOLIS — Competing in his first U.S. Paralympic Team Trials for Track and Field on Saturday in Minneapolis, Justin Phongsavanh was worried the highly-anticipated discus rivalry of Jeremy Campbell and David Blair happening simultaneously to the javelin event would take away any potential attention from his competition.

So he went out and threw 33.29 meters, a new world record.

Six years removed from being gunned down in a fast food parking lot, resulting in paralysis below his waist, Phongsavanh has risen to the top of his sport and certainly turned heads away from the discus event. And with more eyes than ever on Trials thanks to live streams on Peacock, NBCOlympics.com and the NBC Sports App, it was the perfect time to put on a show.

The 24-year-old from Des Moines returned to the athlete cool-down area surrounded by supporters, everyone wanting to congratulate him on his throw and being practically a shoe-in to make Team USA for this summer's Paralympic Games Tokyo 2020.

"My performance was fantastic, and a better result than I could have ever imagined," he said. "It was an incredible experience and everything worked out well."

Three-time Paralympic champion and world-record holder Campbell, meanwhile, came out on top in the men's F44/64 discus, throwing 61.46 meters, finishing ahead of reigning Paralympic champion Blair, who threw 61.21 meters.

Paralympian Jessica Heims was all business in the ring as well, throwing 34.56 meters in the women's F64 class, while world record holder Cassie Mitchell threw an impressive 14.05 meters in the F51 class.

On the track, Paralympian, two-time world champion and world-record holder Daniel Romanchuk completed a sweep of all five of his T54 events at Trials by winning the 400-, 1,500- and 5,000-meter on Saturday, adding to his victories already in the 100 and 800.

"It's all gone really well for me," Romanchuk said. "And with the live stream at Trials, the sport being more exposed is huge for us. I have people reaching out to me now asking how to get into adaptive sports, so coverage like this is an amazing thing."

Rising star Noah Malone, who competes at Indiana State, set a new American record in the 400 T12, clocking in at 49.38, to also solidify himself as a medal contender heading into Tokyo.

Across the other classifications, the 400-meter was won by Paralympian Kym Crosby, (T13), Paralympic gold medalist Breanna Clark (T20), six-time Paralympic gold medalist Raymond Martin (T52), Paralympian Brian Siemann (T53), Paralympic medalist Chelsea McClammer (T53) and Paralympic medalist Hunter Woodhall (T62).

The 200-meter sprints were full of surprises, as U.S. Army veteran Luis Puertas broke the American record in the 200 T61 with a 25.69. Then in the T64 class, newcomer Jonathan Gore sprinted to victory over his mentor Jarryd Wallace to win in 22.96, while 20-year-old Beatriz Hatz outran Paralympian Femita Ayanbeku — the world bronze medalist in the event — to take the women's title in 27.10.

"I was able to stay pretty relaxed toward the end," Hatz said. "I came out pretty strong today and was happy with that."

The University of Illinois contingent swept the women's 800-meter T54, with Paralympic medalists Tatyana McFadden, Susannah Scaroni and Amanda McGrory taking the top three spots. Scaroni went on to also win the 1,500.

Elsewhere on the track, Brittni Mason claimed a second victory in as many days, this time in the 100 T47, and Paralympic champion David Brown won the 100 T11 with his new guide.

Jaleen Roberts cruised to victory in 13.59 in the 100-meter T37, an event she won bronze in at the 2017 World Para Athletics Championships, and U.S. Paralympic Team Trials newcomer Jordan McGuire won the 200-meter T36 in 33.66.

Later in the day, two-time Paralympic champion Roderick Townsend showcased his hops in the high jump F46, leaping 2.08 meters, while Paralympic silver medalist Sam Grewe hit 1.85 meters in the F63 class.
Stuart Lieberman has covered Paralympic sports for 10 years, including for the International Paralympic Committee at the London 2012, Sochi 2014 and PyeongChang 2018 Games. He is a freelance contributor to TeamUSA.org on behalf of
Red Line Editorial, Inc.