News
Breanna Clark
Cheri Madsen
Noah Malone
Cassie Mitchell
Roderick Townsend
A Delayed But Not Dampened Paralympics Wraps Up In Tokyof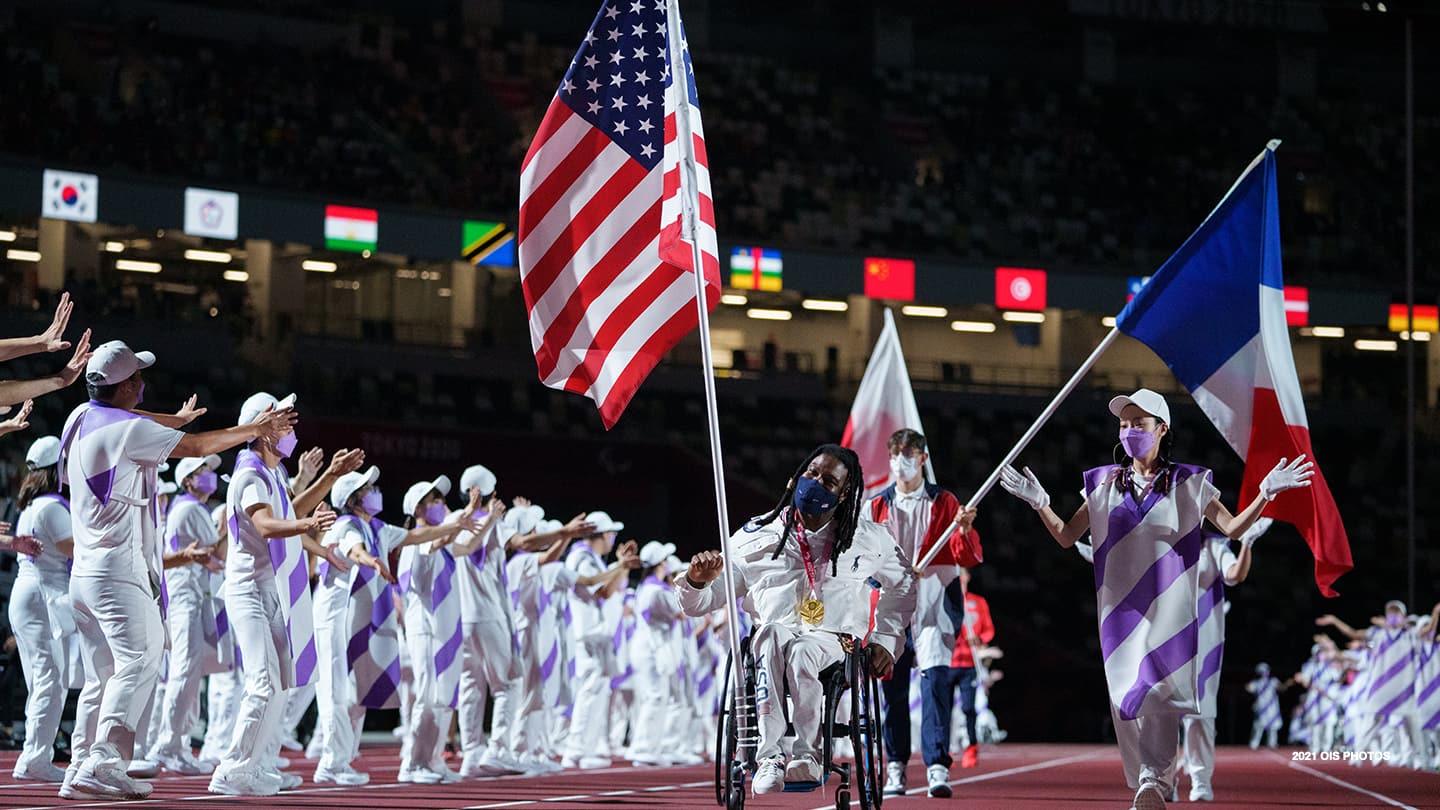 Matt Scott carries the flag during the Closing Ceremony of the Paralympic Games Tokyo 2020 on Sept. 5, 2021 in Tokyo.
When the official qualification window opened for the Paralympic Games Tokyo 2020 on Aug. 24, 2019, no one had any clue that the Opening Ceremony would take place exactly two years later.

But as long as the wait was to start the Games, the 13 days in Tokyo flew by. The Closing Ceremony of the 16th Summer Paralympics was held in Tokyo on Sunday night, featuring costumed performers in a carnival-like atmosphere. In the end, the Paralympic flag was taken down, folded and handed to a representative from Paris, where the Summer Games will reconvene in three years.

Five-time Paralympian Matt Scott, who won his second consecutive gold medal in wheelchair basketball just hours earlier, was Team USA's flag bearer.

"I'm overflowing with gratitude," the Detroit native said. "It's an indescribable privilege to carry the flag that will lead myself, my team and the rest of our delegation. On behalf of my fellow Team USA athletes, I send my greatest appreciation to the Tokyo Organizing Committee, the countless workers and volunteers, and the entire country of Japan for welcoming us with open arms and showing the power that sport has in bringing us together."

Though the pandemic forced a one-year postponement of the Games, the unusual circumstances under which the athletes competed — with safety protocols keeping fans and families from being in attendance — didn't dampen their performances.

Team USA competed in a total of 241 events across 19 sport disciplines. The U.S. won a total of 37 gold, 36 silver and 31 bronze medals, and 129 athletes are coming home with hardware. Of those, 71 are women and 58 are men.

This year's team consisted of 242 athletes, including six guides for the visually impaired, representing 41 states and the District of Columbia. Of those, 129 were returning athletes, including three six-time Paralympians — goalball athlete Asya Miller and Lisa Czechowski, table tennis athlete Tahl Leibovitz and track and field athlete Tatyana McFadden — and 10 five-time Paralympians. The U.S. delegation's collective medal count coming into Tokyo was 233 medals.

Also included among the contingent were 21 who self-identify as military. Three are active duty: shooters John Joss II and Kevin Nguyen and swimmer Elizabeth Marks, who won a gold, silver and bronze medal and set a world record in the 100-meter backstroke S6.

More than 50 percent of the athletes also had college ties, representing a total of 77 schools including Divisions I, II and III and junior colleges.


We've got the numbers, folks. #TokyoParalympics pic.twitter.com/KlSlcRb8Ma


— Team USA (@TeamUSA) September 5, 2021
The title of youngest to compete belongs to swimmer Keegan Knot at 16, while fencer Terry Hayes was the oldest at 63. The youngest medalists were just 17 years old — swimmers Anastasia Pagonis and Gia Pergolini, and Ixhelt Gonzalez — while the oldest medalist was cyclist Jill Walsh at 58.
Blake Haxton had the distinction of being the only athlete to compete in two sports, paracanoe and rowing, but the U.S. team was well-represented by multi-sport athletes.
Cyclist Oksana Masters became the fourth woman and sixth American to become a gold medalist in both the Winter and the Summer Paralympics when she won not only the time trial H4-5 but also the road race H5. She had previously won medals in Nordic skiing and rowing.
A total of 14 athletes competing in Tokyo this summer have also competed in other sports. In addition to Masters and Haxton, they are: Rudy Garcia-Tolson (track and field, swimming), Kendall Gretsch (Nordic skiing, triathlon), Will Groulx (cycling, wheelchair rugby), Chris Hammer (track and field, triathlon), Tatyana McFadden (Nordic Skiing, track and field), Asya Miller (goalball, track and Field), Cassie Mitchell (swimming, track and field), Grace Norman (track and field, triathlon), Aaron Pike (Nordic skiing, track and field), Allysa Seely (track and field, triathlon), Brad Snyder (swimming, triathlon) and Melissa Stockwell (swimming, triathlon).
Swimmer Jessica Long came in as the most decorated U.S. athlete with 23 medals in four previous Paralympic appearances. She added three golds, two silvers and one bronze medal to that tally in Tokyo, including her fourth consecutive Paralympic title in the 200-meter individual medley SM8.
Seventeen-time track and field medalist McFadden also added to her count, with one gold, one silver and one bronze medal.
Badminton and taekwondo were new sports this year, and while the U.S. didn't have any representation in badminton, Evan Medell became the first American to medal in parataekwondo by winning bronze in the +75 kg K44 class.
Also, NBC broadcasted more Paralympic coverage than ever before with 1,200 hours across its platforms.
World records are always apt to fall with the best of the best gathered in one place, and that was certainly the case in Tokyo. Nick Mayhugh actually set not one but three world records in track and field. Competing in the first-ever 4x100-meter universal relay contested in the Paralympics, Mayhugh, McFadden, Brittni Mason and Noah Malone won gold with a world record time of 45.52 seconds. Then the soccer player turned track star set the record in the prelims of the men's 200-meter T37 and lowered it even further in the final with a time of 21.91 seconds.
To the night owls, early risers... and ones that pulled all-nighters, THANK YOU! ♥️🇺🇸 #TokyoParalympics pic.twitter.com/IsbHCNu3QQ


— Team USA (@TeamUSA) September 5, 2021
Breanna Clark shattered her own world record in the 400-meter T20 event with a time of 55.18 seconds, and teammate Roderick Townsend also broke his own record to repeat as men's high jump T47 champion leaping 2.15 meters.
Athletes also altered the record books in the pool. A pair of first-time 17-year-old Paralympians made history on the same day when Pergolini set the record for the 100-meter backstroke S13 twice in the same day and Pagonis broke her own record in the 400-meter freestyle S11. Robert Griswold set a new mark in the men's 100-meter backstroke S8, and Marks wrote her name in the book next to the women's 100-meter backstroke S6.
And as is also always the case, a few athletes competed for what they knew would be the last time at the Paralympics.
Track and field's Cheri Madsen, who won her first medal in Atlanta in 1996, won her last in the women's 100-meter T54 final, earning bronze at the age of 44. After quitting the sport after 2000, she returned and made the 2016 team. She retires with two gold, five silver and three bronze medals.
Swimmer Sophia Herzog is also calling it a career. She won bronze in the 100-meter breaststroke SB6 to add to the silver she won in the event in 2016.
Karen Price is a reporter from Pittsburgh who has covered Olympic and Paralympic sports for various publications. She is a freelance contributor to TeamUSA.org on behalf of
Red Line Editorial, Inc.