History, Milestones And Medals: The Team USA Paralympians Leading The Way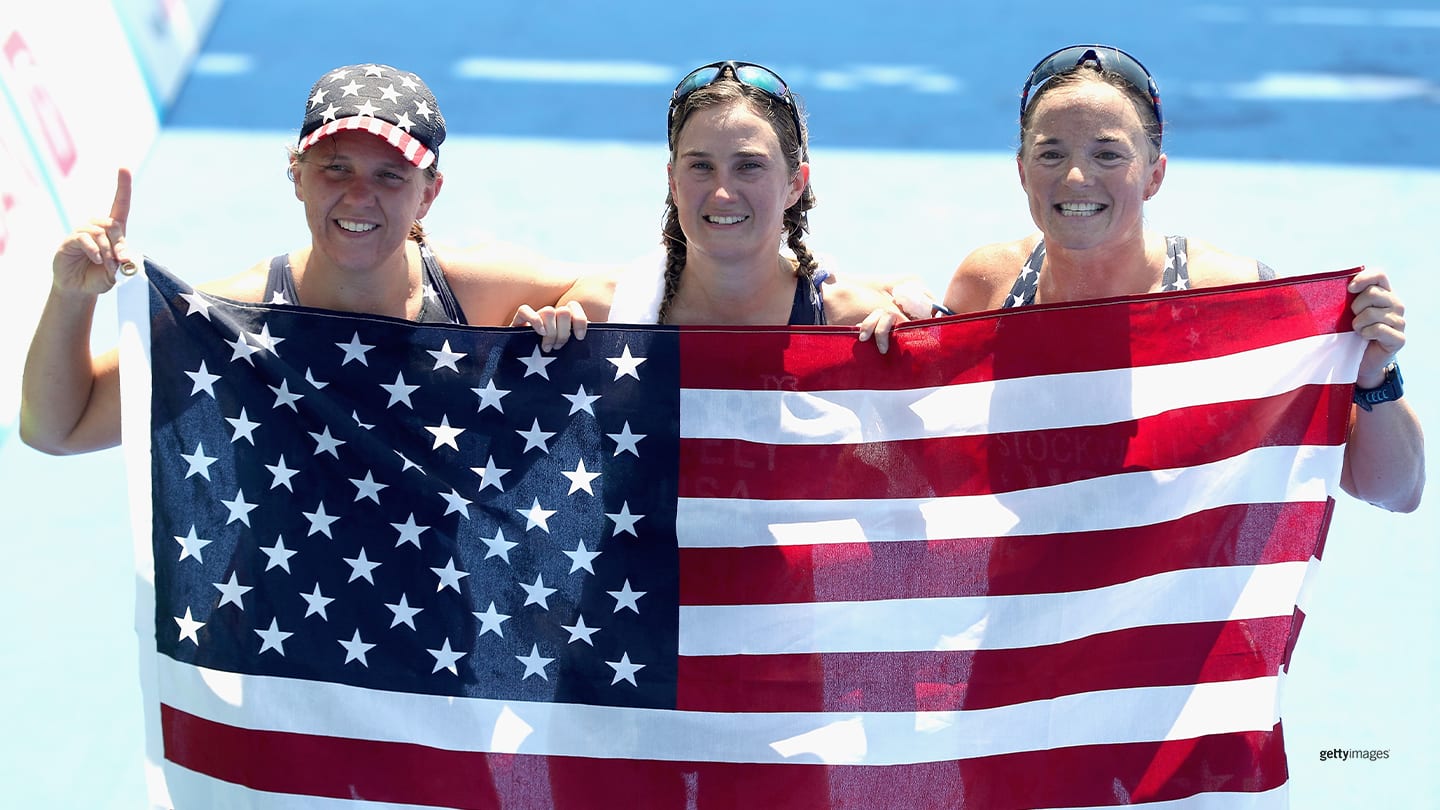 Hailey Danisewicz, Allysa Seely and Melissa Stockwell pose for photographers after sweeping the podium in the women's triathlon PT2 during the Paralympic Games Rio 2016 on Sept. 11, 2016 in Rio de Janeiro, Brazil.
If you liked what you saw a few weeks ago during the Olympics, just wait until you see what's ahead in the Paralympics.

The Paralympic Games Tokyo 2020 kick off with the opening ceremony on Tuesday, and continue on with 12 more days of sporting fun before wrapping up on Sept. 5.

Using many of the same venues as the Tokyo Olympics, the Paralympics feature action in 540 events across 22 sports, from well-known sports such as track and swimming to others unique to the Para world, including goalball, boccia and wheelchair rugby. This year's event will also feature unprecedented TV and streaming coverage from NBC networks.

Five years ago in Rio, a U.S. team of 289 athletes came home with 115 medals, the fourth most of any country. A squad of 240 strong will look to build on that in Rio.

Heading into the Games, here's a look at some of the key accomplishments and milestones for U.S. athletes headed to Tokyo.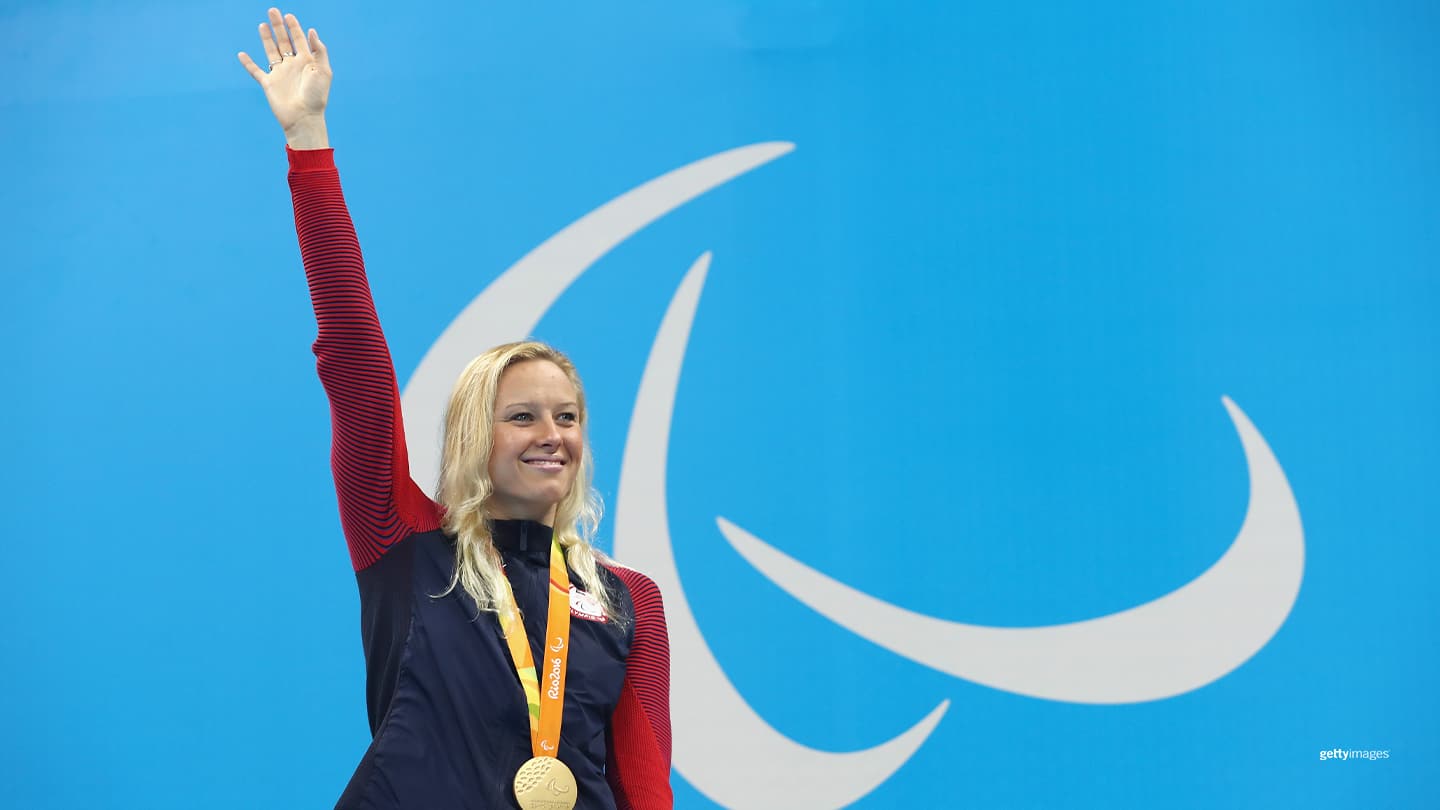 Jessica Long celebrates on the podium during the Paralympic Games Rio 2016 on Sept. 17, 2016 in Rio de Janeiro, Brazil.
The good news for Trischa Zorn? The swimmer's incredible Paralympic Games medal record of 55 figures to be pretty safe for a while. Fellow swimmer Jessica Long is slowly but surely chipping away at it, though. After making her Paralympic debut in 2004 as a 12-year-old, Long won her 23rd medal in Rio. She's now the second most decorated U.S. athlete and the most decorated active athlete, and with as many as seven events on the slate for the Baltimore native in Tokyo, the 29-year-old could close that gap just a little bit more on Zorn.
Among Jessica Long's 23 medals are 13 golds, the most among any Americans going into Tokyo. She's one of six Americans to have at least three gold medals. Tatyana McFadden is not far behind Long with 17 total medals, including seven gold. All but one has come on the track, with the lone exception being a 2014 silver medal in Nordic skiing. The one gold medal that's proven elusive for McFadden is that in the marathon, an event she's dominated outside the Games with multiple wins at all the major races. Fellow track star Raymond Martin is particularly golden, with six of the seven medals he's won since 2012 being gold. Brad Snyder won five gold medals (and seven total) in the pool at the last two Paralympics, and now he'll be looking for his first as a paratriathlete in Tokyo. And you can't mention great Team USA Paralympians without shouting out David Wagner, the quad tennis player who has won a medal in both singles and doubles at each of his four previous Games. He is one of three three-time gold medalists on Team USA, joining swimmer McKenzie Coan (four total medals) and discus thrower Jeremy Campbell.
Going Strong Since
Atlanta
The dream of the 1990s is alive in Tahl Leibovitz. The table tennis star from Queens, New York, is Team USA's lone athlete whose Paralympic Games experience goings back to 1996 in Atlanta. In five Paralympics, the USA Table Tennis Hall of Famer has won a gold and two bronze medals. He is one of four U.S. athletes set to compete in a sixth Paralympics in Tokyo, joining goalball players Lisa Czechowski and Asya Miller, and track star Tatyana McFadden.

The Master Of Multiple Sports
Coming into Tokyo, 12 U.S. athletes have competed in more than one sport at the Paralympics. No one can beat Oksana Masters. She made her Paralympic debut in 2012, winning a bronze medal in rowing. She's since gone on to win seven more medals as a cross-country skier and biathlete. Tokyo will be Masters' second Paralympics as a handcyclist. And she'll be looking for her first medal in the sport after finishing fourth in the road race and fifth in the road time trial in Rio. The only other U.S. athlete with three sports to their name is her boyfriend, Aaron Pike, who has competed in two Winter Games in cross-country skiing and biathlon and now goes for his third Summer Games as a marathoner.

New To The Multi-Sport Club
That list of multi-sport stars will be getting some new members in Tokyo. Blake Haxton is the only U.S. athlete competing in two sports in Tokyo. A 2016 Paralympian in rowing, he qualified for that sport again in Tokyo, and then surprised even himself by qualifying in sprint canoe as well (he was aiming for 2024). Haxton be joined in paracanoe by Kaitlyn Verfuerth, who previously competed in three Paralympics in wheelchair tennis. Also joining the multi-sport club will be Kendall Gretsch, a two-time Paralympic gold medalist in Nordic skiing who qualified for her first Summer Games in paratriathlon.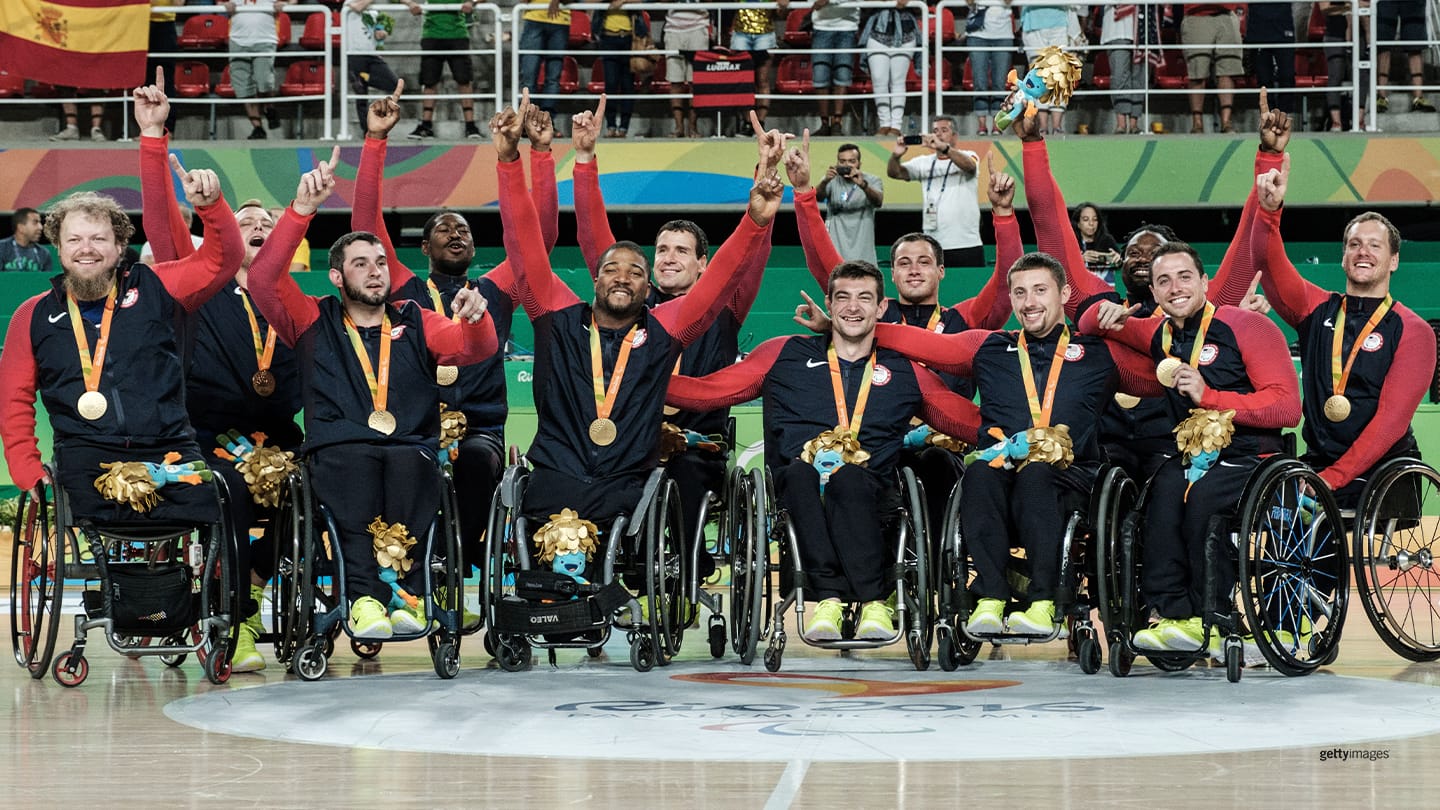 Team USA celebrates after winning the men's wheelchair basketball gold medal game during the Paralympic Games Rio 2016 on Sept. 17, 2016 in Rio de Janeiro, Brazil.
Who says youth is wasted on the young? Team USA is bringing 19 teenagers to Tokyo, including seven who are yet to become legal adults. Swimmer Keegan Knott is the youngest American at 16, just two months older than Ezra Frech, who competes as a sprinter, high jumper and long jumper. Meet the whole crew here.

Team Dreams
Team USA's teams are coming off some milestone performances in Rio. The U.S. women's sitting volleyball team won gold for the first time in 2016, after taking a pair of silvers and a bronze medal in previous Games. In wheelchair basketball, the U.S. men and women swept the gold medals for the first time since 1988. Both Americans teams were on the podium in goalball as well — the men won silver; the women bronze — marking the first time that happened since 2004. Wheelchair rugby only has one event, but Team USA won a silver medal in Rio, extending the U.S. streak as the only country to have reached the podium in every Paralympics since the sport was added to the Games in 1996.

Sweeps, Sweeps and (Mc)Sweeps
U.S. athletes swept the podium three times in Rio — with track stars Tatyana McFadden, Amanda McGrory and Chelsea McClammer doing it twice. They took the top three spots in the T54 1,500-meter and 5,000-meter races (McClammer and McGrory swapped spots in the 5K). Those races were fittingly dubbed "McSweeps." The other U.S. sweep came in the Paralympic debut of paratriathlon, where Allysa Seely, Hailey Danz (nee Danisewicz) and Melissa Stockwell took all the medals in the women's PT2 classification. The good news for Team USA fans? All six athletes are back for Tokyo.

Welcome To The Club
Two new sports are debuting in the Paralympics this year: badminton and taekwondo. Though the U.S. won't be represented in badminton, Evan Medell and Brianna Salinaro will make history as the first Americans to compete in taekwondo.

Getting Social
Quick, in 60 seconds or less, can you name which Team USA athlete has the most TikTok followers? That would be Anastasia Pagonis, a 17-year-old swimmer from Long Island whose follower count is 2 million. Pagonis uses her social media to educate about Para sport and the visually impaired community — and to have some fun. And she's pretty good at swimming too, coming off a world record in the S11 400-meter freestyle at the Paralympic trials in June.
Chrös McDougall has covered the Olympic and Paralympic Movement for TeamUSA.org since 2009 on behalf of
Red Line Editorial, Inc.
He is based in Minneapolis-St. Paul.