10 Team USA Moments To Get You Hyped Up For The Tokyo Paralympics
The sports-filled summer of 2021 didn't end with the Closing Ceremony of the Olympic Games Tokyo 2020. In just a few days — Aug. 24, to be exact — Team USA will be back in Tokyo for the Paralympic Games Tokyo 2020.


Here are 10 moments from past Paralympics that are sure to have your heart racing as you get ready for this year's action.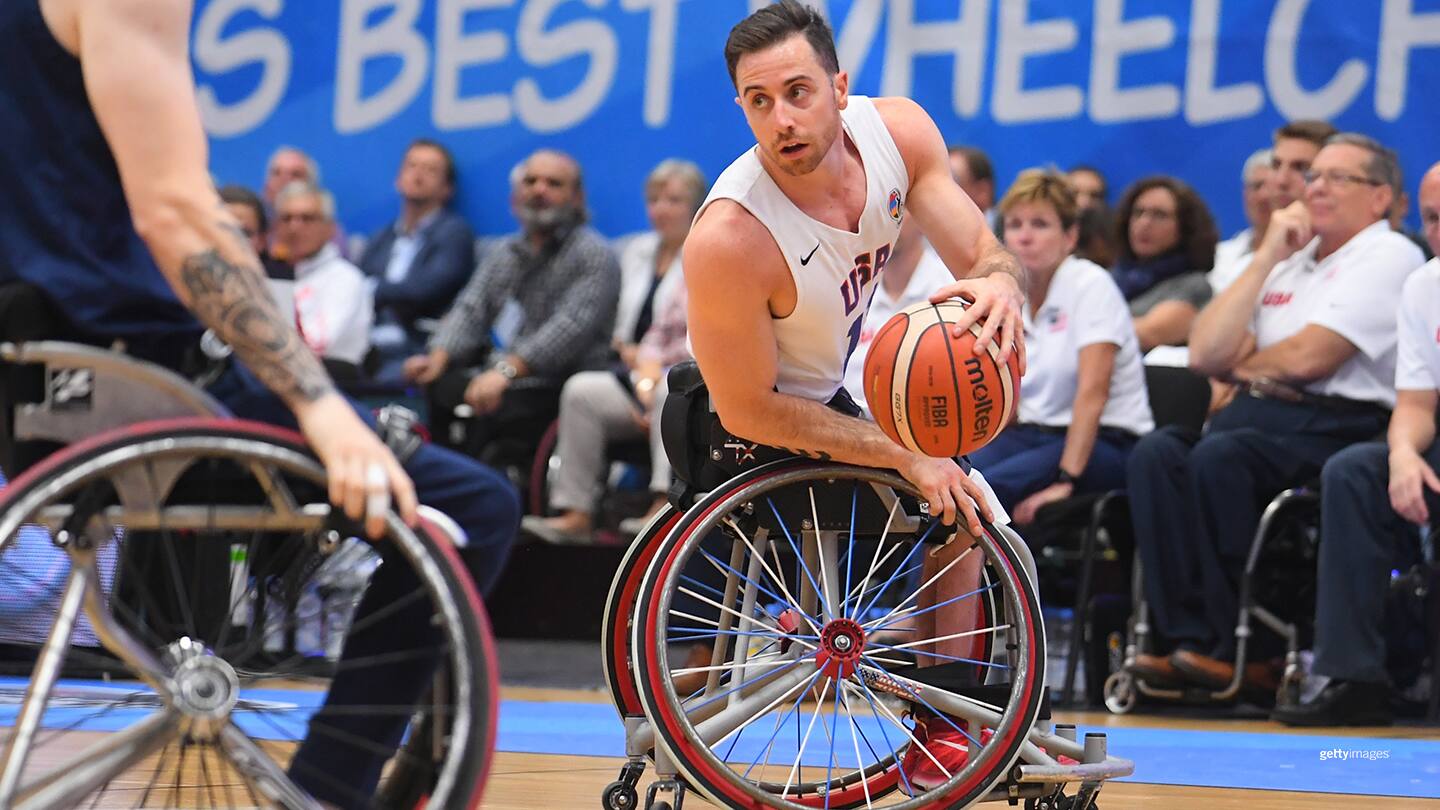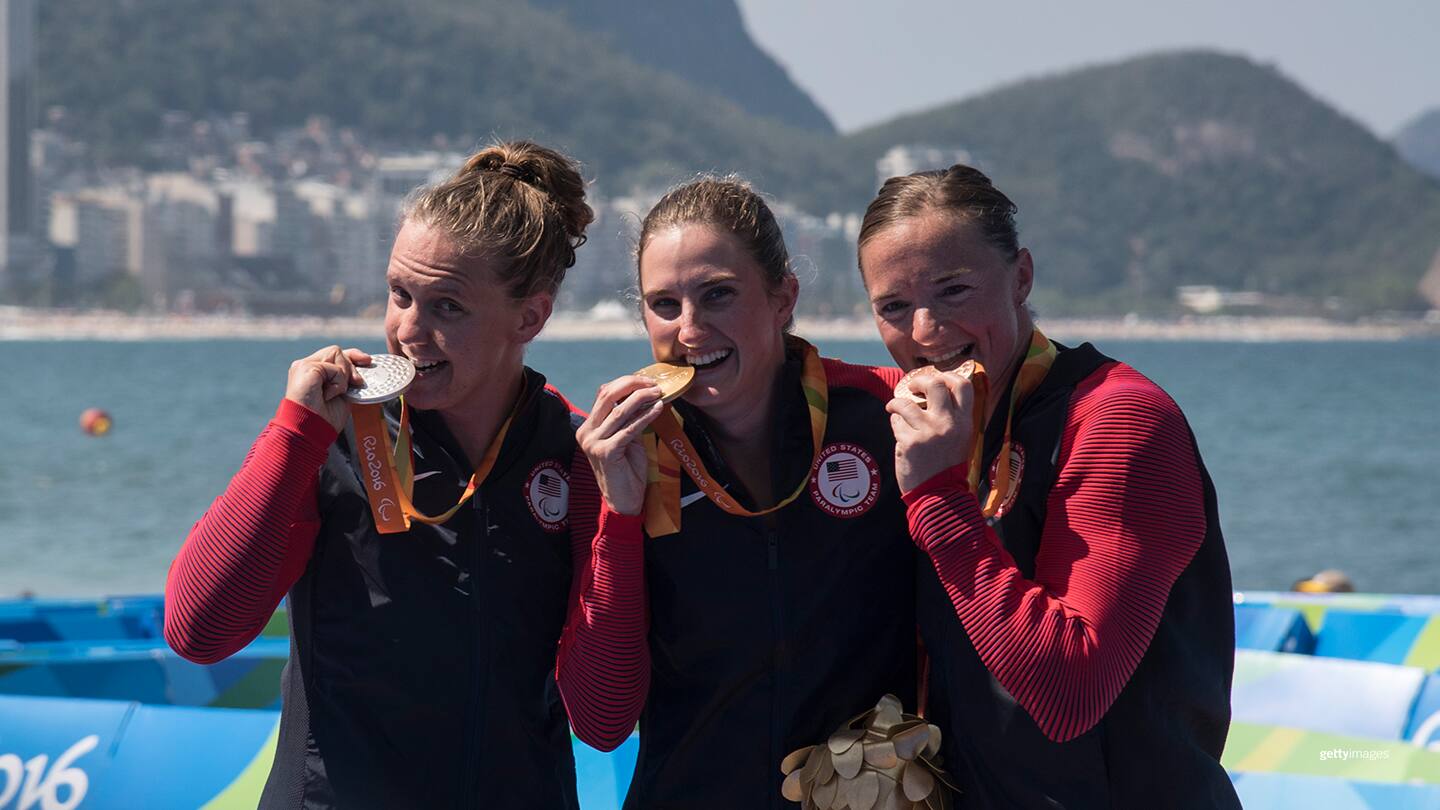 (L-R) Hailey Danisewicz, Allysa Seely and Melissa Stockwell celebrate on the podium at the medal ceremony for the women's triathlon T2 at the Paralympic Games Rio 2016 on Sept. 11, 2016 in Rio de Janeiro.
On the 15th anniversary of the Sept. 11 terrorist attacks, the U.S. swept the podium in the women's paratriathlon PT2 competition at Copacabana Beach, where the sport made its Paralympic Games debut in 2016. Allysa Seely claimed gold in 1 hour, 22 minutes, 55 seconds, and Hailey Danisewicz, the first U.S. triathlete to qualify for a Paralympics, crossed the line second. The pair then awaited third-place finisher Melissa Stockwell, the first female American solider in history to lose a limb in active combat and who had previously competed in swimming at the Beijing 2008 Paralympics.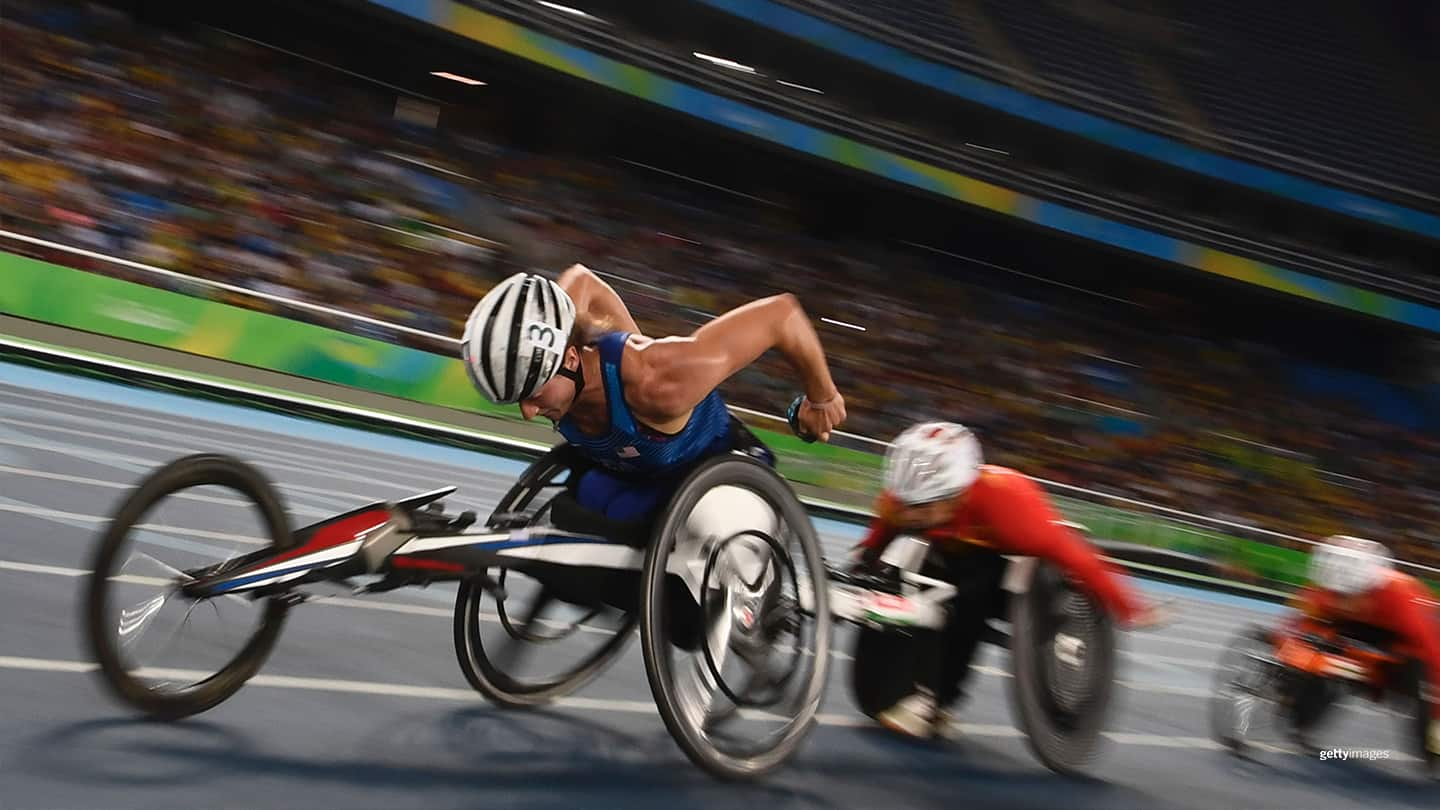 Tatyana McFadden competes and wins the women's 800-meter final T54 at the Paralympic Games Rio 2016 on Sept. 17, 2016 in Rio de Janeiro.
U.S. wheelchair racers and University of Illinois teammates Tatyana McFadden, Amanda McGrory and Chelsea McClammer completed two "McSweeps" at the Rio Games, claiming all three spots on the podium in both the women's 1,500- and 5,000-meter T54 events.
In the 1,500 final, McFadden took a decisive lead from the start to win in a Paralympic record time of 3:22.50
, with McGrory placing second and McClammer third.
Two nights later, the trio orchestrated a beautiful 5,000-meter final
, with McFadden making her move in the last lap to grab gold in 11:54.07, with McClammer and McGrory swapping spots this time.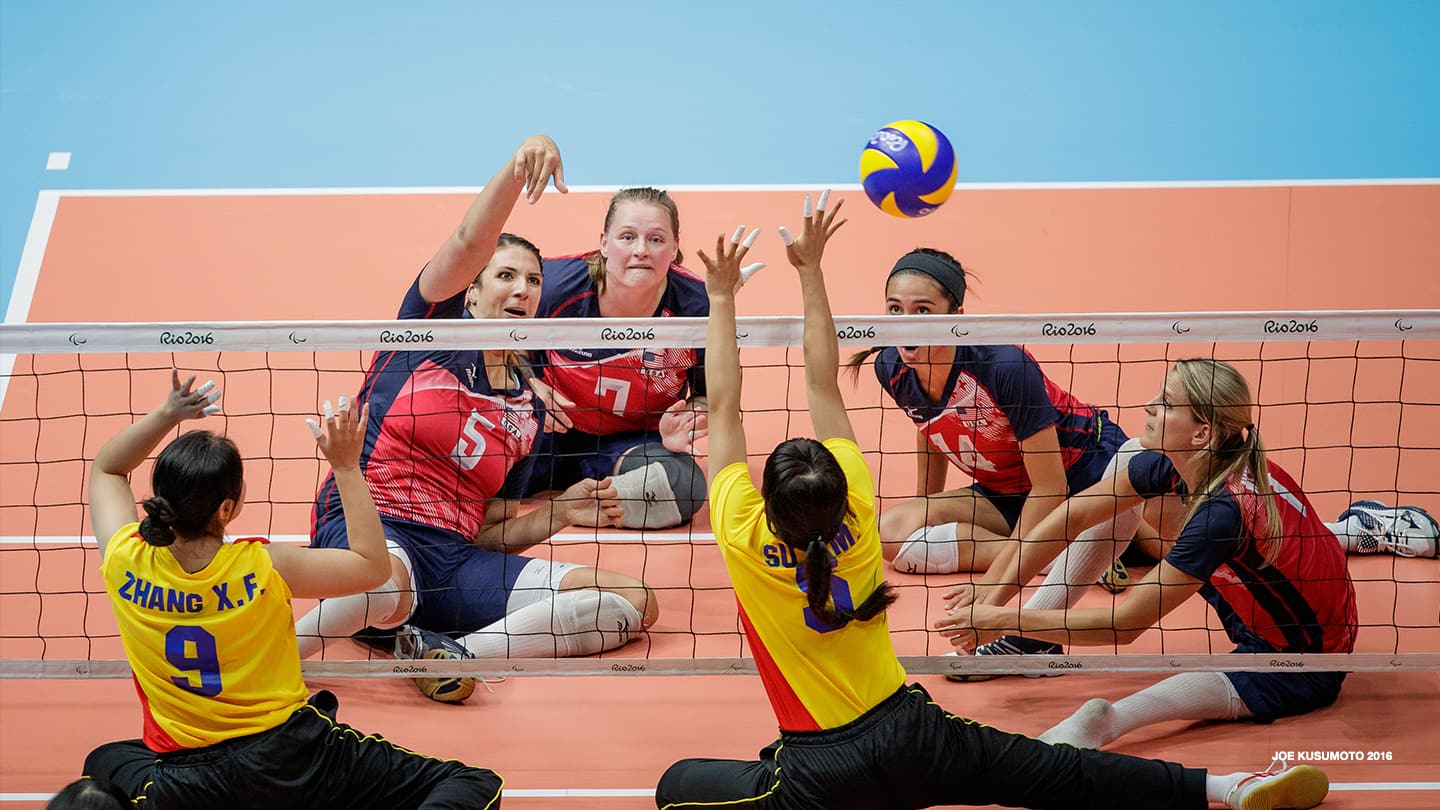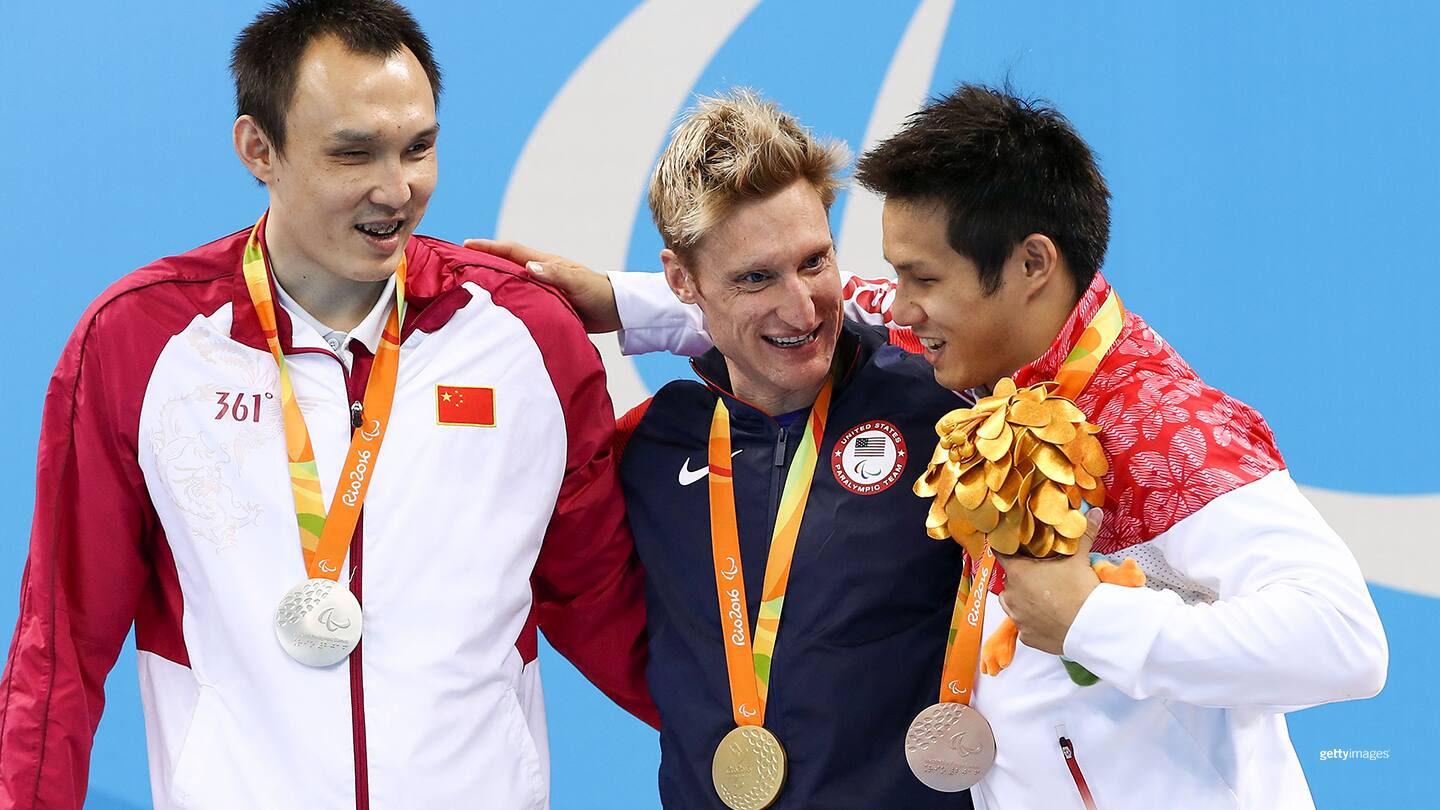 (L-R) Bozun Yang (China), Bradley Snyder and Keiichi Kimura (Japan) celebrate at the medal ceremony for the men's 100-meter freestyle S11 final at the Paralympic Games Rio 2016 on Sept. 15, 2016 in Rio de Janeiro.
An Emotional Victory For Brad
Snyder
Brad Sndyer has earned five swimming gold medals over the past decade, but his most significant one came in the 400-meter freestyle on Sept. 7, 2012. It came one year to the day after the U.S. Navy officer stepped on an improvised explosive device while serving in Afghanistan, resulting in complete blindness. It was an emotional victory, and he ended up leaving London with three medals, then going on to win four more at the Rio 2016 Games in the pool before switching to paratriathlon.
Matt Stutzman competes in the men's individual compound archery at the Paralympic Games London 2012 on Sept. 3, 2012 in London.
Matt Stutzman became world famous at the London 2012 Games after making his Paralympic debut using his feet to shoot on the archery range because he was born without arms. He claimed a silver medal in the individual compound competition after earning a dramatic semifinal victory and twice coming from behind to force a decisive fifth set, where he was perfect with three 10-point arrows.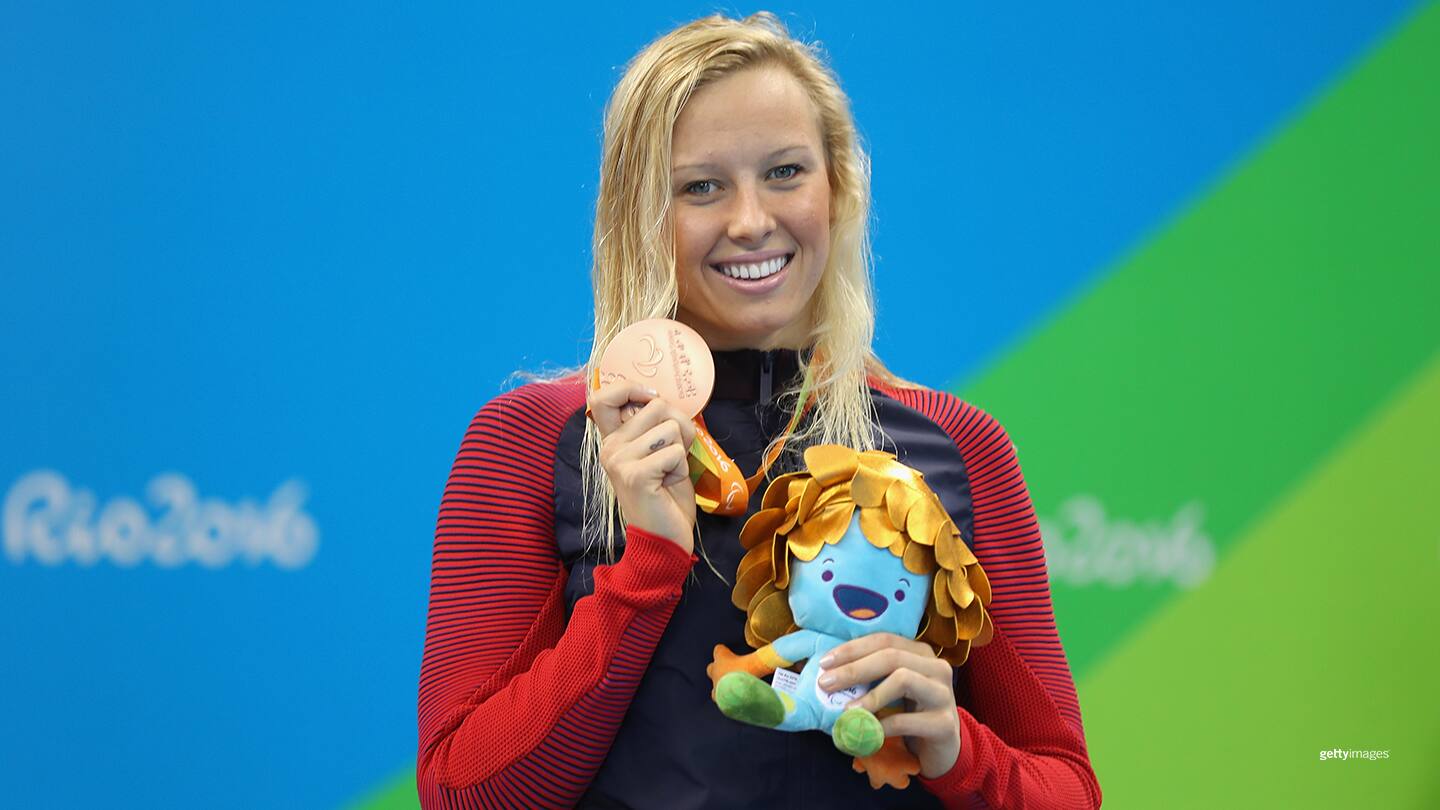 Jessica Long celebrates at the medal ceremony of the women's 100-meter butterfly S8 final at the Paralympic Games Rio 2016 on Sept. 9, 2016 in Rio de Janeiro.
Nearly Unmatched In The
Pool
At the London 2012 Games, Jessica Long matched Michael Phelps feat of eight medals at a single Games; her medal haul included five gold medals, two silver and one bronze. She set Paralympic records in all five of her victories and world records in the S8 100- and 400-meter freestyle. Long then tied for the most medals by a U.S. woman in Rio, taking six pieces of hardware. She now owns 23 Paralympic medals heading into her fifth Games. Only retired swimmer Trischa Zorn has more among U.S. Paralympians with 55.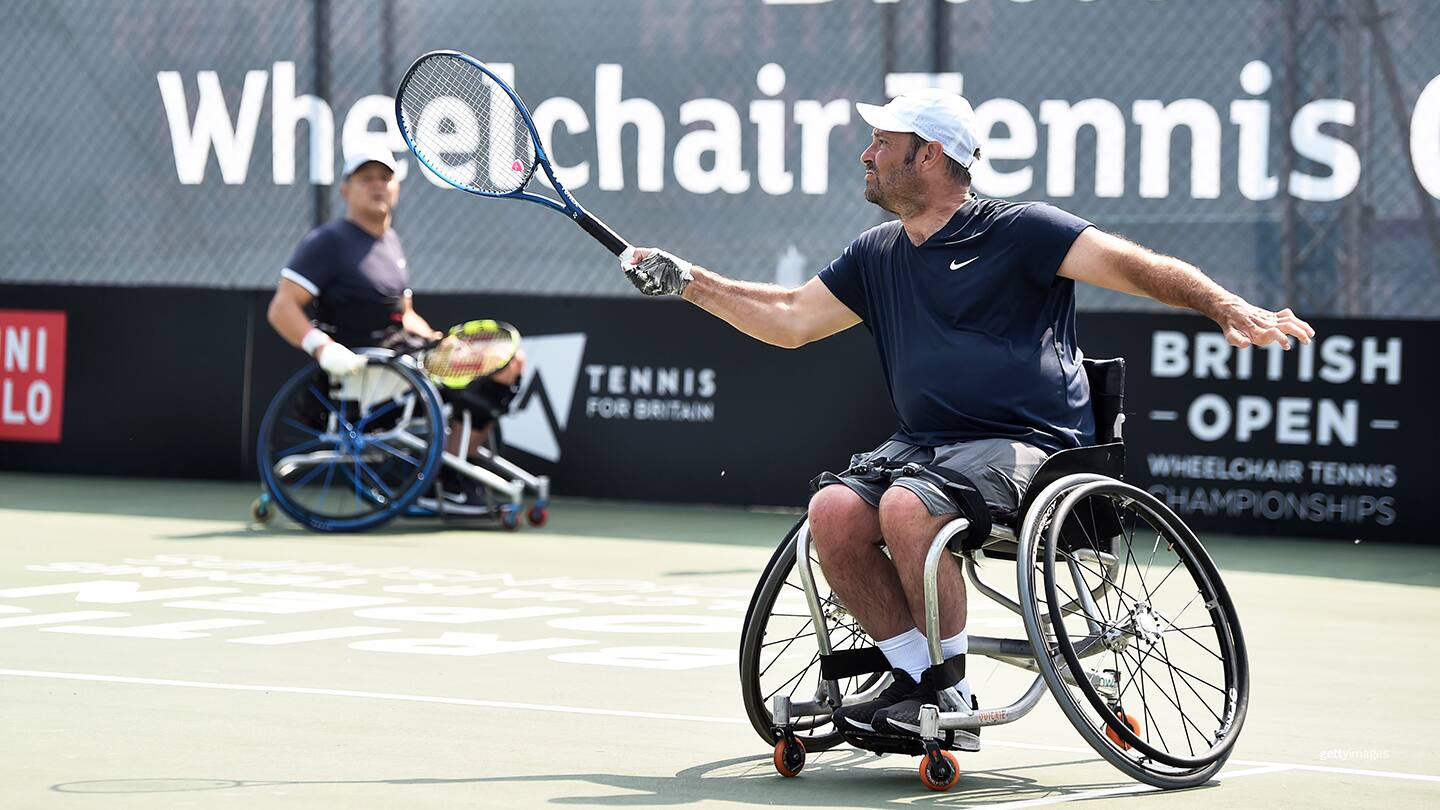 David Wagner competes in the men's doubles match at the British Open Wheelchair Tennis Championships on July 22, 2021 in Nottingham, England.
The Athens 2004 Paralympics marked the first edition to include the quads division in wheelchair tennis, and David Wagner wasted no time, winning the first doubles gold in the category with partner Nick Taylor and a silver medal in singles. It was the beginning of a 17-year streak for Wagner — he has won a medal in quad singles and doubles at every Paralympics since then, and hopes to keep that streak alive at his fifth Paralympics in Tokyo.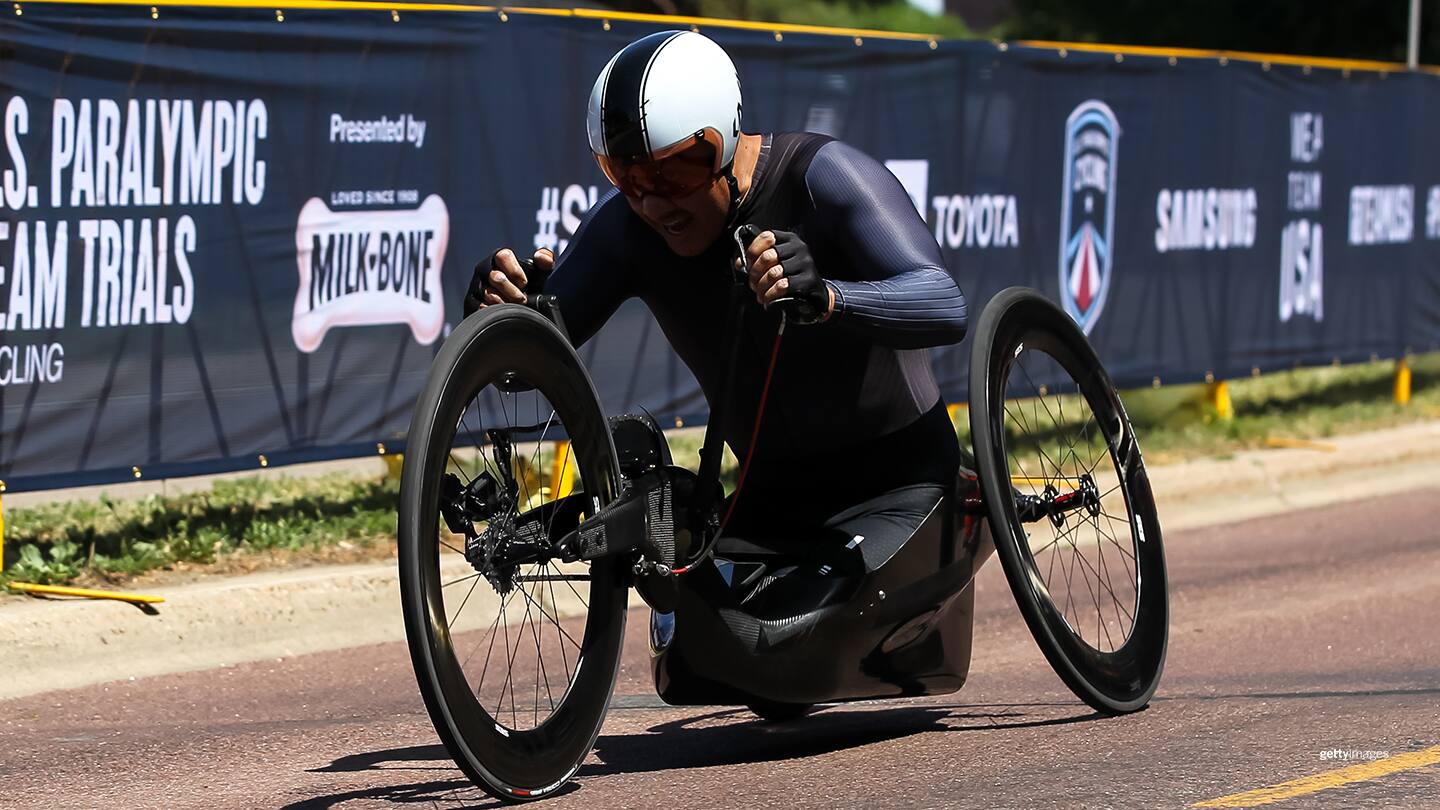 Oz Sanchez competes in the MH5 17.0 kilometer course time trial at the 2021 U.S. Paralympic Track & Field Trials on June 19, 2021 in Minneapolis.
No Time To Waste On The
Bike
Only seven years after a motorcycle accident that resulted in a spinal-cord injury, and two years after taking up his sport competitively, former U.S. Marine Oz Sanchez cycled to gold in the time trial at the Beijing 2008 Paralympics. He has since gone on to win six total Paralympic medals across three Games, in addition to 13 medals from the world championships.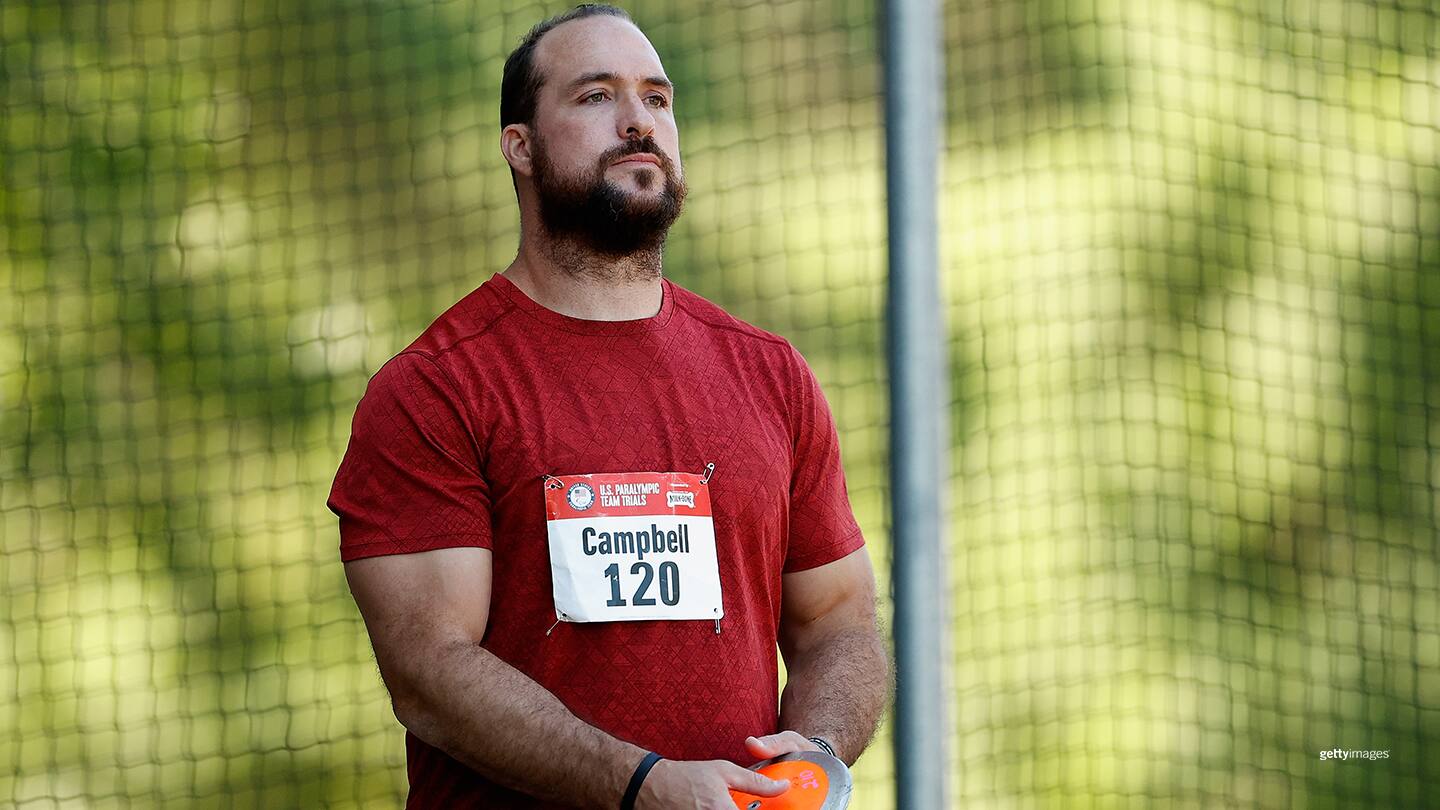 Jeremy Campbell competes in the men's discus throw F44/64 ambulatory final at the 2021 U.S. Paralympic Track & Field Trials on June 19, 2021 in Minneapolis.
At the Bird's Nest in 2008 in Beijing, Jeremy Campbell struck gold in his first Paralympic Games discus competition. That was the breakout moment for the former high school quarterback. Today, he is one of the most accomplished Paralympic throwers in history with three Paralympic medals and six world championships medals. He was also the first Paralympian to throw over 60 meters in the ring.
Stuart Lieberman covered Paralympic sports for three years at the International Paralympic Committee, including at the London 2012 and Sochi 2014 Games. He is a freelance contributor to TeamUSA.org on behalf of Red Line Editorial, Inc.