350 World Cup Cyclists Ready to Power Up Over Memorial Weekend in Rocket City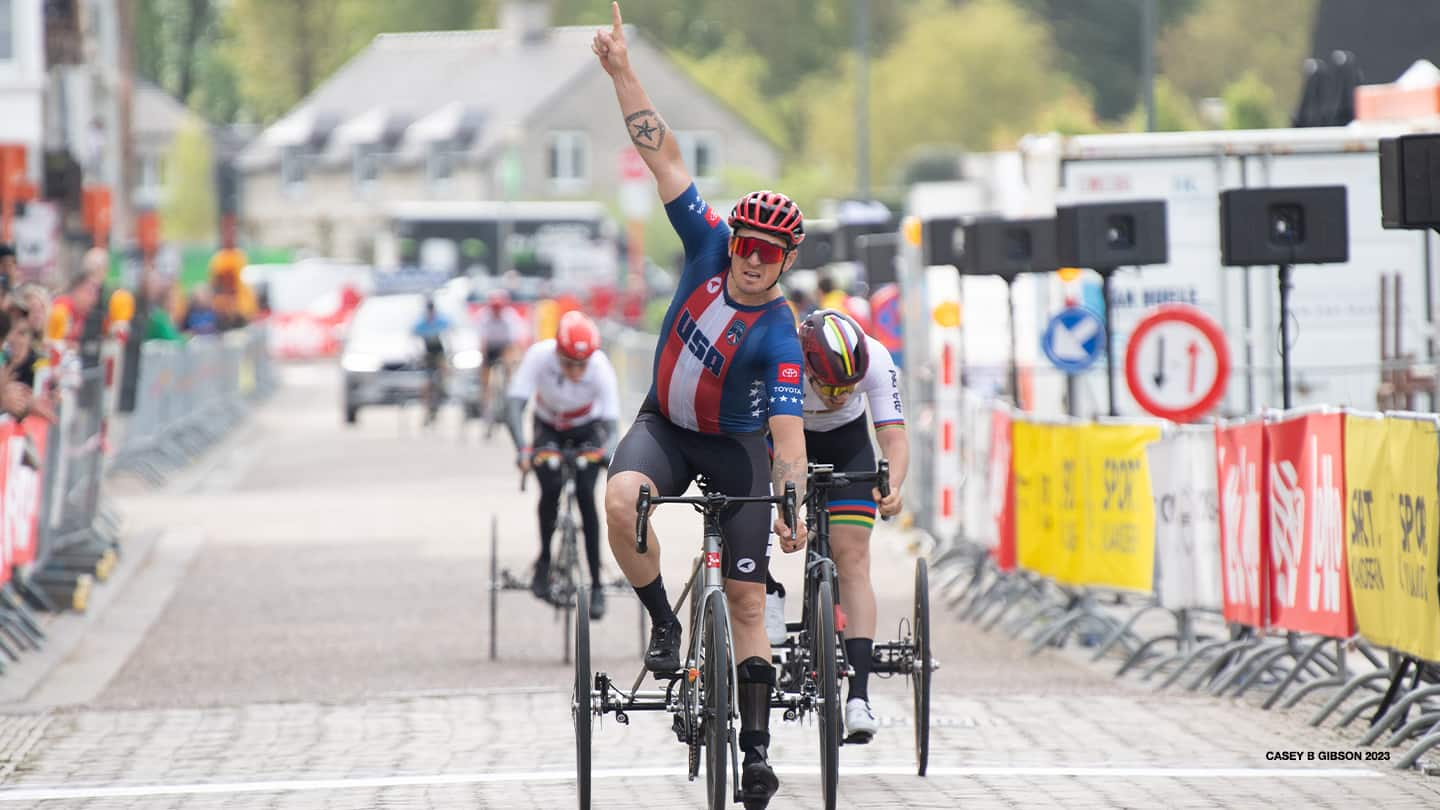 Dennis Connors celebrates after crossing the finish line during a road race on May 06, 2023 in Ostend, Belgium.
Dennis Connors is one of several U.S. Para-cyclists who has raced in domestic competitions over the years in Huntsville, Alabama.
Now Connors, a retired U.S. Marine who had three military tours to Iraq, and his American teammates are ready to welcome the world when Huntsville hosts the 2023 road world cup final this weekend at Cummings Research Park. It will mark the first time a U.S. city has hosted a UCI Para-cycling road world cup.
The weekend will include a military tribute on Memorial Day, the final day of competition, and the kind of fast racing that Connors knows will be a hit in the "Rocket City."
"From a fan's standpoint, there's tons of places to watch," said Connors, a California native who now lives in Beaverton, Oregon. "There's some spots where we are going to be going really fast. It makes for really, really cool racing."
U.S. Paralympics Cycling and the Huntsville/Madison County Chamber are working together to host the competition.
Individual time trials will be held Friday and Saturday, followed by road races on Sunday and Monday. A handcycle relay will also be held Monday. All races are open to the public free of admission.
Event organizers have also arranged for community members to join the world cup riders in training rides Wednesday and Thursday, as well as a tribute to the Para-cycling teams in a ceremony prior to a Rocket City Trash Pandas baseball game Tuesday.
Connors said the Huntsville course was the talk of the world cup athletes during the first two stops of the tour earlier this spring in Maniago, Italy, and Ostend, Belgium.
"It's such a good course," said Connors, a tricyclist in the MT2 classification who has won three medals this year in world cup competition. "It's fast. The turns are really wide. … It just makes for really good racing."
Connors is among a group of 28 U.S. Paralympics Cycling athletes who will compete in four days of racing. The event is expected to draw about 350 riders from 40 countries.
Kate Brim, a handcyclist in the WH2 class who joined the U.S. national team last year, has won gold medals in all four of her world cup events this season after winning a pair of world titles in 2022. Connors and 2016 Paralympian Samantha Bosco have each won two gold medals each. Bosco is the current world champion in both the time trial and road race WC4.
The U.S. lineup in Huntsville will also include Allison Jones, an eight-time Paralympic medalist who has won world cup bronze medals in all four events this year in WC2; Clara Brown, a 2020 Paralympian who has won three world cup silver medals in WC3; Jamie Whitmore, a two-time Paralympic medalist who has won a pair of world cup bronze medals in WC3; and Shawn Morelli, a two-time Paralympic champion who has won a world cup bronze medal in WC4.
Other Paralympians expected to take part include Oz Sanchez, a six-time Paralympic medalist in MH5; Freddie De Los Santos, a 2016 and 2020 Paralympian in MH5; Aaron Keith, who won a silver medal in MC2 in his Paralympic debut two years ago; and Jill Walsh, a three-time Paralympic medalist in WT2.
Another 35 U.S. riders will compete independently, including five-time Paralympic medalist Jennifer Schuble. A three-time Paralympian, she set a world record in the track time trial WC5 en route to winning a gold medal at her Paralympic debut in 2008 in Beijing.
International riders include Tim de Vries, a handcyclist from the Netherlands who won a bronze medal in Tokyo, and Daphne Schrager of Great Britain, a 2022 world champion in track cycling.
The Huntsville world cup final is a step toward this year's UCI Cycling World Championships, which will be held in August in Glasgow, Scotland, as well as the Pan American Games, which begin in October in Chile. It's also a key early test on the road to the Paralympic Games Paris 2024.
Connors, who also competes in Para rock climbing, enjoys riding in world cup events because of the closeness of the athletes.
"I think the camaraderie in Para sports in general is really tight knit, especially in Para-cycling," he said. "Everybody kind of knows everybody. After like the first day of racing, if there's new faces, they're pretty much in."
Following his tours in Iraq, during which he sustained several traumatic brain injuries and a stroke, Connors found Para-cycling with the help of Morelli. Connors joined a veterans group known as Project Hero.
"I race under their team colors when I'm not on Team USA," he said.
In addition to recovering from a second stroke and brain injuries, Connors competed this year at the same time that he was undergoing examinations for Parkinson's Disease.
"It's challenging on a bike when my left side is not working very well," said Connors, who turned 38 on Monday. "My balance isn't great. Turning that trike can be really a challenge and can be a little bit hairy in a big group of riders."
When he is not riding, Connors is at home with his 6- and 8-year-old children as a stay-at-home dad.
"It is honestly one of the most difficult jobs that I have ever had," he said.
Paul D. Bowker has been writing about Olympic and Paralympic sports since 1996, when he was an assistant bureau chief in Atlanta. He is a freelance contributor to USParaCycling.org on behalf of
Red Line Editorial, Inc.