Rainbows Create Perfect Colors For U.S. Para-Cyclists At Road World Championships
(L) Oksana Masters competes during the women's road race H5 at the 2022 UCI Para-Cycling Road World Championships on Aug. 13, 2022 in Baie-Comeau, Quebec.
Rainbow jerseys flowed into the grasp of four U.S. cyclists this past weekend in Baie-Comeau, Quebec.

Oksana Masters, a 17-time medalist in three sports in the Paralympic Games, wasn't sure she'd ever get one.

And now she has two.

She won two races to earn a pair of rainbow jerseys at the 2022 UCI Para-cycling Road World Championships, joining fellow Paralympic medalist Samantha Bosco and newcomer Kate Brim as double winners in the women's time trials and road races. Clara Brown also captured gold and silver medals.

The rainbow jerseys are awarded to the cyclists who win a world title, and they can now wear them for the next year in the race they won gold in.

"I never in a million years thought that I was going to be a world champion in one of these (rainbow jerseys), let alone two, especially in the road race," said Masters, a handcyclist who races in the H5 class and won Paralympic gold medals in both races last year in Tokyo. "I can't believe it."

Masters, a 33-year-old native of Ukraine who grew up in Louisville, Kentucky, won her road race Saturday with a time of 2:00:35. Ana Maria Vitelaru of Italy and Chantal Haenen of the Netherlands each crossed the finish line in the same time, but Masters narrowly beat them across the finish line to capture her second gold of the weekend.


Doesn't get much closer than this. 😮#TeamUSA x @OksanaMasters https://t.co/yl4KJvKRot pic.twitter.com/zQfyw8vC8V


— U.S. Paralympics Cycling (@usparacycling) August 13, 2022
The seven gold medals won by U.S. riders ranked third at the world championships, topped only by the Netherlands' 11 and Germany's eight. The U.S. won 12 medals total, ranking fifth in the medals chart for the four-day event.
Masters has captured 24 medals, including 13 gold, in world championship events in cycling and Nordic skiing. She has competed in six Paralympic Games, including one as a rower.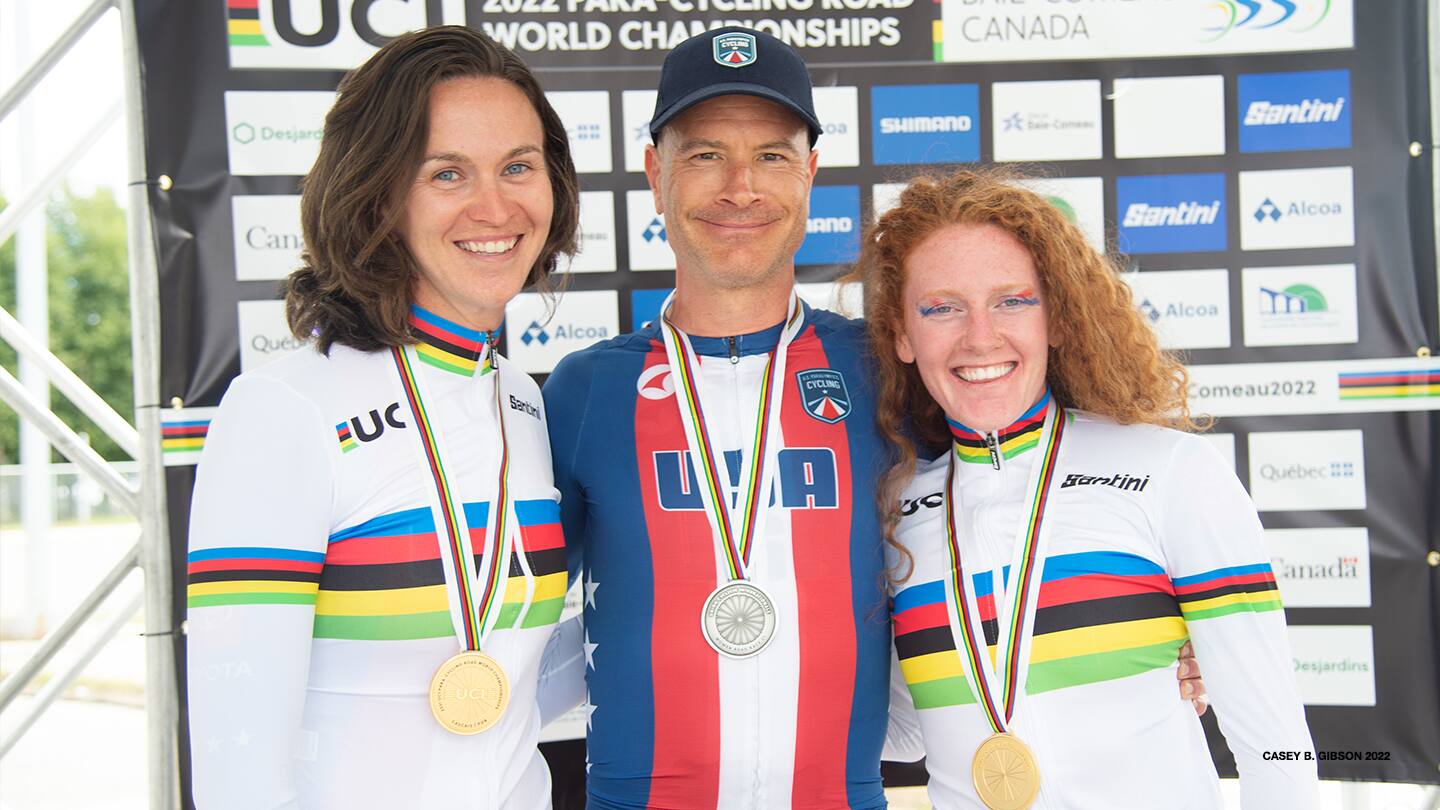 (L-R) Samantha Bosco, Aaron Keith and Clara Brown pose for a photo after winning medals in their respective competitions at the 2022 UCI Para-Cycling Road World Championships on Aug. 12, 2022 in Baie-Comeau, Quebec.
Bosco, a two-time medalist in the Paralympic Games Rio 2016, dominated the time trial and road race C4 to complete a perfect season in which she won both races in all three world cup stops.

"No pun intended, but it's the rainbow after the storm for me," said Bosco, who has recovered from a head injury sustained in a bike crash last year that kept her out of the Tokyo Games. "It's a really sweet and surreal moment for me."

Bosco led in all of her six laps in the road race, finishing with a time of 2:00:05 and defeating Australia's Meg Lemon by more than three minutes.

Joining the double gold party was Brim, a 24-year-old from Lowell, Michigan, who hasn't lost since being added to the national team following a strong performance in July at the USA Cycling Para-cycling Road National Championships. Competing in the H2 class, Brim won her first world title in her world championship debut in the time trial Thursday, then added a road race rainbow jersey Saturday with a winning time of 1:08:34. She also won both races last week when she made her international debut at the season-ending world cup stop in Quebec City.

"I've put a lot of hard work in this past year with structured training. It's cool seeing the outcomes pay off," Brim said.

Brown, of Falmouth, Maine, won her first world title in road cycling with a victory in the women's time trial C3 Friday. She added a silver medal in the road race Sunday, finishing in a time of 1:45:30, just two seconds behind Japan's Keiko Sugiura.

Brown won two world titles in track cycling in 2020 (time trial and omnium).

Jamie Whitmore, a two-time Paralympian from Somerset, California, finished just behind Brown with a time of 1:45:36 to capture a bronze medal in the road race.

Aaron Keith, who won a silver medal in his Paralympic debut last year at age 50, led the U.S. men with a pair of silver medals in the time trial and road race C1. He has won seven world championships medals in road and track cycling.

"This is my highest-place finish in a road race," said Keith, of Woodinville, Washington. "I'm super stoked about silver. It was a really tough race today so I couldn't have asked for more from the team and everybody helping out."

Dennis Connors of Portland, Oregon, won a silver medal in a world championships for the first time, finishing second in the road race T2. He was just one second behind Belgium's Tim Celen.

"I am feeling great," Connors said. "That was a hard-fought battle and a payback from the mechanical. I got a silver medal, so I'm psyched."

Allison Jones, an eight-time Paralympian, had a fourth-place finish in the women's road race C2.
Paul D. Bowker has been writing about Olympic sports since 1996, when he was an assistant bureau chief in Atlanta. He is a freelance contributor to TeamUSA.org on behalf of
Red Line Editorial, Inc.