Oksana Masters And Shawn Morelli Nab Gold On First Day Of Road Cycling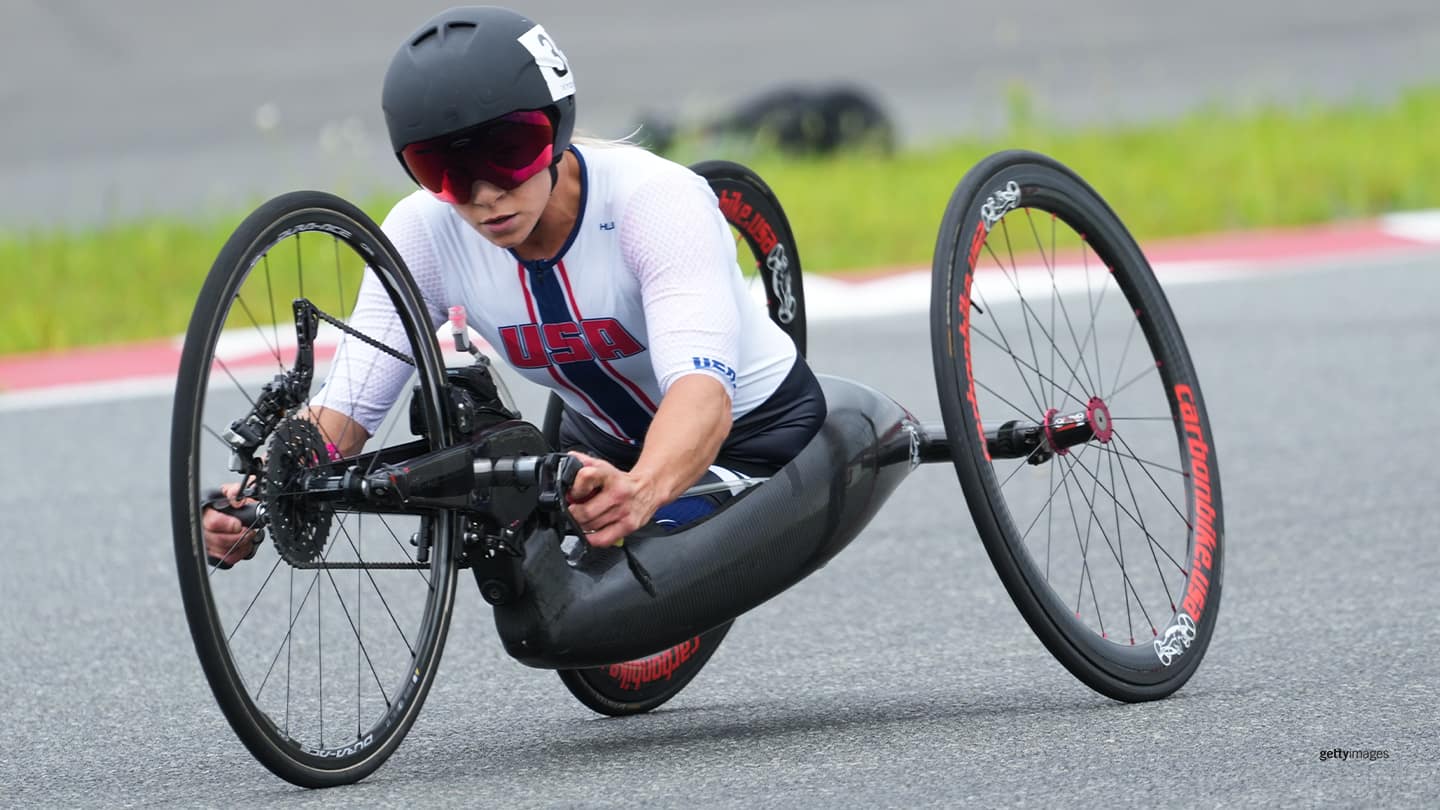 Oksana Masters competes during cycling road women's H4-5 time trial at the Paralympic Games Tokyo 2020 at on Aug. 31, 2021 in Tokyo.
Oksana Masters joined an exclusive club on Tuesday, becoming only the fourth U.S. woman and sixth American total, to win a gold medal at both the summer and winter Paralympic Games when she claimed the title in the Para-cycling road H4-5 time trial.

The victory marked the ninth Paralympic medal for the Louisville, Kentucky, native across three sports, having previously won two golds, three silvers and two bronze in Nordic skiing, and a bronze in rowing.

The five-time Paralympian now sits in the history books alongside Alana Nichols (wheelchair basketball/alpine skiing), Allison Jones (alpine skiing/Para-cycling) and Kendall Gretsch (paratriathlon/biathlon and cross-country skiing).

"Shock. Oh my god, shock. I just can't believe this. The field here's incredible. The women here are so tough," Masters said. "This was not expected. I was just trying to hold on and fight for third place. I never in a million years thought I would be fighting for a gold medal at all. At Tokyo 2020. In cycling."

Masters clocked in at Fuji Speedway in 45:40.05, nearly two minutes faster than China's Bianbian Sun, who took silver in 47:26.53. The win marked Masters' greatest accomplishment in the sport — she has never won a world title in Para-cycling and was fourth in the road race and fifth in the time trial five years ago in Rio.

Masters FaceTimed with her mother back in the U.S. on her bus ride back to her accommodation, still in awe.

"Seeing my mom smile was everything to me in this world," she said. "I didn't believe the result. I wanted to see proof that it was final and my result printed in black and white. I'm such a baby in this sport still and seeing the gap I had, I was just shocked."

Masters will return to competition on Wednesday for a potential 10th career Paralympic medal when she competes in the road race.
"A lot of coffee and right now, and I'm just focusing on the time trial," she said. "Tomorrow I have the road race and then six months later I will have Beijing. But right now, I'm just so lucky to be here lining up on the start line here in Tokyo."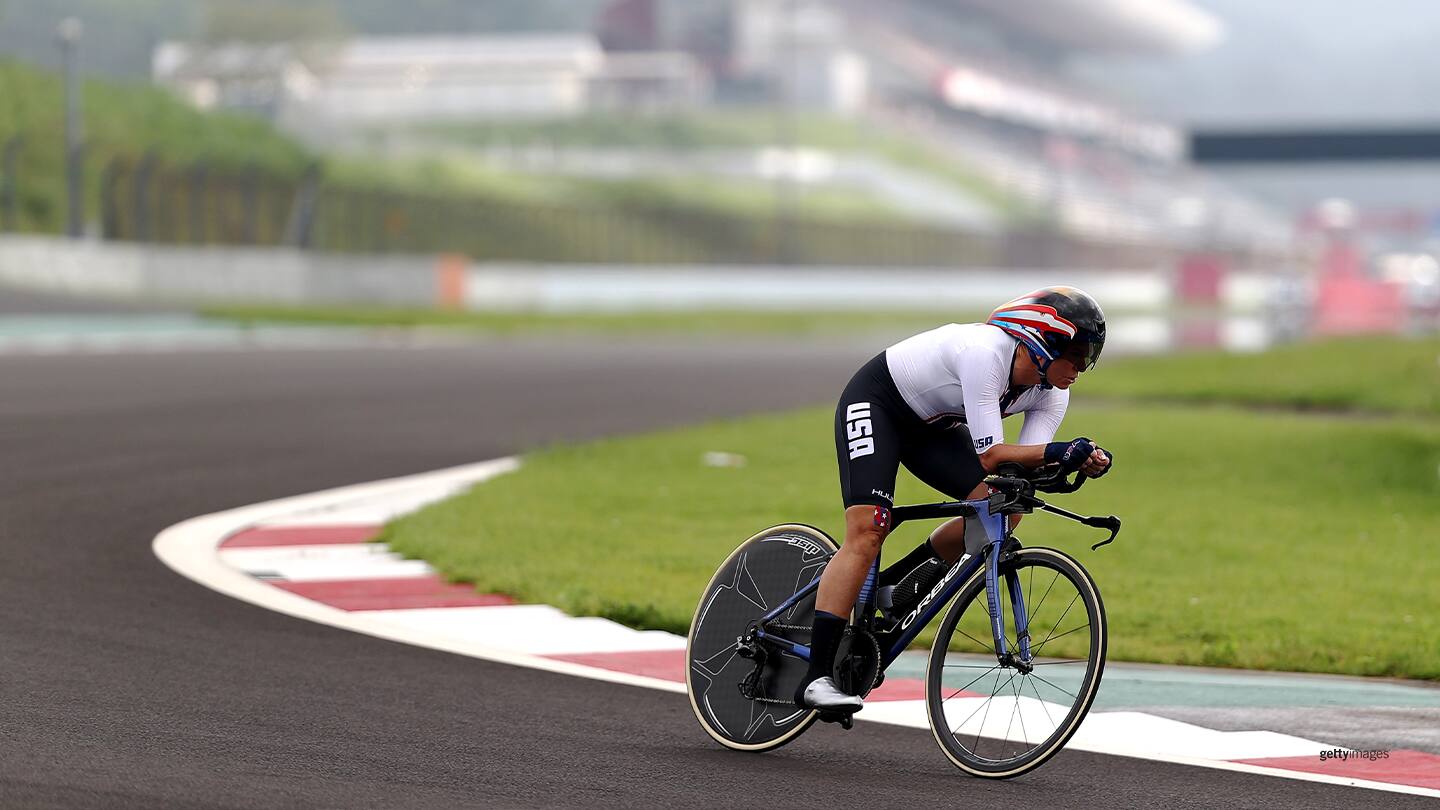 Shawn Morelli competes during the women's C2 time trial at the Paralympic Games Tokyo 2020 at on Aug. 31, 2021 in Tokyo.
Shawn Morelli also bagged gold in the women's C4 time trial — her third career Paralympic title — with a time of 39:33.79, adding to the silver she won last week in the individual pursuit on the track.

The former U.S. Army officer held her own over the course's hills and in the hot conditions to defend her title from Rio and one-better her performance from the 2019 world championships.

"I'm just really glad I could perform in the heat and the conditions, and make my family, and my coaches and my country proud," she said.

Aaron Keith picked up a third medal for the U.S. on the road, claiming silver in the men's C1 time trial in 24:55.40. Coached by four-time Olympic medalist Sarah Hammer, Keith is making his Paralympic debut in Tokyo at age 50.

A number of other Americans were in action Tuesday at Fuji Speedway, including Cody Jung and Will Groulx who both just missed a spot on the podium, finishing fourth in the men's C4 and H2 classifications, respectively.

Elsewhere for the U.S. men, Ryan Pinney was sixth in the H3 class, Thomas Davis was fifth in the H4 class, Alfredo de los Santos was sixth in the H5 class, Matthew Rodriguez was ninth in the T1-2 class and Joseph Berenyi was 14th in the C3 class.

For the U.S. women, Jill Walsh was fourth in the T1-2 class with Monica Sereda behind her in seventh, while Clara Brown and Jamie Whitmore were fifth and seventh in the C1-3 class and Alicia Dana was sixth in the H1-3 class.

Want to follow Team USA athletes during the Paralympic Games Tokyo 2020? Visit TeamUSA.org/Tokyo-2020-Paralympic-Games to view the medal table and results.
Stuart Lieberman has covered Paralympic sports for 10 years, including for the International Paralympic Committee at the London 2012, Sochi 2014 and PyeongChang 2018 Games. He is a freelance contributor to TeamUSA.org on behalf of
Red Line Editorial, Inc.