Eighteen Para-Cyclists Win Double Gold As U.S. Paralympics Cycling Open Wraps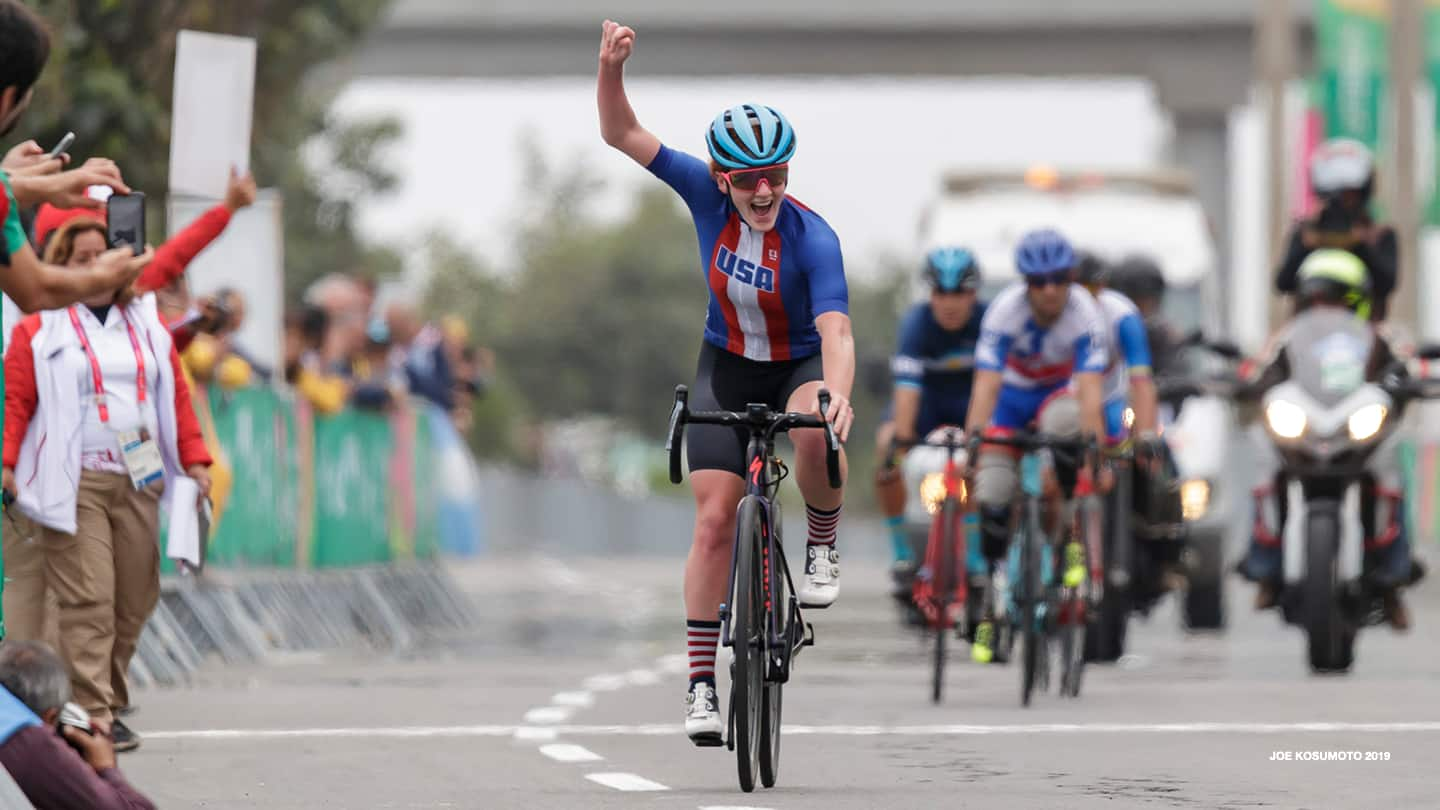 Clara Brown competes for Team USA in the Para Pan American Games on Sept. 1, 2019.
At their first competition in more than a year, many U.S. Para-cyclists talked about using the U.S. Paralympics Cycling Open as a gauge of where they're at in a Paralympic year. While they all will no doubt still find things to tweak and improve, the 18 riders who went 2-for-2 on the weekend have to be feeling pretty good.

That sentiment came in the form of an understatement from Dennis Connors, who posted on Instagram alongside a photo of two shiny gold medals, "Dang. So that went well. I'm still in a bit of shock."

The standings of Sunday's road races looked nearly identical to the standings from Saturday's individual time trials in Huntsville, Alabama. In addition to Connors, Sam Bosco, Clara Brown, Alicia Dana, Kimberley Dobbs/Rebecca Martz, Tom Davis, Aaron Keith, Oksana Masters, Noah Middlestaedt, Ryan Pinney, Kyle Pitman, Ryen Reed, Oz Sanchez, Ryan Sykes, Chester Triplette/Michael Bissette and Jill Walsh were all repeat winners. Held on a slightly different layout, road races in each class are much longer than their time trial equivalents.

These athletes will perhaps take a good amount of confidence from their results as they prepare to be at their best for this summer's Paralympic Games Tokyo 2020. To get there, they'll compete at the U.S. Paralympic Team Trials for Cycling in Minneapolis, June 17-20. Some riders will also take part in a world cup event next month in Belgium, which is also a Paralympic qualification event. The full list of medal winners from Sunday is below.

Men's BVI
1. Chester Triplett/Michael Bissette
2. Justin Sutton/Erin Young
3. Stan Moore/Mark-Anthony Sanchez

Women's BVI
1. Kimberley Dobbs/Rebecca Martz
2. Jennifer Armbruster/Susie Isaac

Men's C1
1. Aaron Keith
2. Todd Key

Men's C3
1. Noah Middlestaedt
2. Joe Berenyi
3. Nicholas Gleissner

Women's C3
1. Clara Brown
2. Jamie Whitmore

Men's C4
1. Jason Macom
2. Cody Jung
3. Francis Reilly

Women's C4
1. Sam Bosco
2. Shawn Morelli

Men's C5
1. Kyle Pitman
2. Steven Wilke
3. Matthew Gonzales

Women's C5
1. Josie Fouts
2. Jennifer Schuble
3. Katie Walker

Men's H3
1. Ryan Pinney
2. Brandon Lyons
3. Kevin Hillery

Women's H3
1. Alicia Dana
2. Jenna Rollman
3. Danielle Watson

Men's H4
1. Tom Davis
2. Travis Gaertner
3. Owen Daniels

Women's H4
1. Ryen Reed
2. Dianne Leigh Sumner
3. Debra Freed

Men's H5
1. Oz Sanchez
2. Freddie De Los Santos
3. Dan Cnossen

Women's H5
1. Oksana Masters
2. Lena Doederlein

Men's T1
1. Ryan Sykes

Men's T2
1. Dennis Connors
2. Matthew Rodriguez
3. Ryan Boyle

Women's T2
1. Jill Walsh
2. Monica Sereda
3. Ellie Kennedy
Todd Kortemeier is a sportswriter, editor and children's book author from Minneapolis. He is a contributor to TeamUSA.org on behalf of
Red Line Editorial, Inc.