Swimmer Nick Albiero On Life Before And After Coming Out
Nick Albiero competes in a USA Swimming event.
Nick Albiero "is out and about." That is what the U.S. national team swimmer wrote on social media in June 2022, alongside a photo of himself dressed in head-to-toe rainbow to announce that he was gay. Short and to the point. He had a longer version written up in his head after attending his first pride festival last year but decided against it.

"I remember after the festival, I typed out my caption," Albiero shared. "It was deep and too long, so I deleted the whole thing."

After giving it more thought, he opted to get right to the point. "I hit publish, threw my phone on the counter and jumped in the shower to calm my nerves," said the 25-year-old. "I was so scared to open my phone back up." But when he did, he said he was happy to see positive comments. "I've gotten some really nice comments and DMs from club coaches and swimmers."


The Decision To Come Out
A year before going Instagram official, he revealed to his family and closest friends. "Everybody I knew and cared about supported and loved me, so it was freeing to say, this is who I am. Accept me, or not," said the Paris 2024 hopeful about his decision to go public.

In the end, "I think people knew," he said about the reaction when he came out. He thinks certain things made it obvious, except maybe when it came to his clothes.

Growing up, he attended church and went to Christian schools. So that meant uniforms. "They were pretty strict," he remembered. That kept him from dressing too crazy.

It also kept him from revealing his true self earlier. "When I went to school — or I would go to church — I was putting on a façade, pretending to be somebody I wasn't. I felt like I had to push down who I was," he said.

But all that changed after college.

"It took me a while to feel free being myself," the University of Louisville grad said. That moment came when he met somebody.

"I got into a relationship, and that's when I felt like, people are going to find out," he said. While he is no longer in that relationship, he said at that point, he had accepted people knowing but wanted to share it on his terms.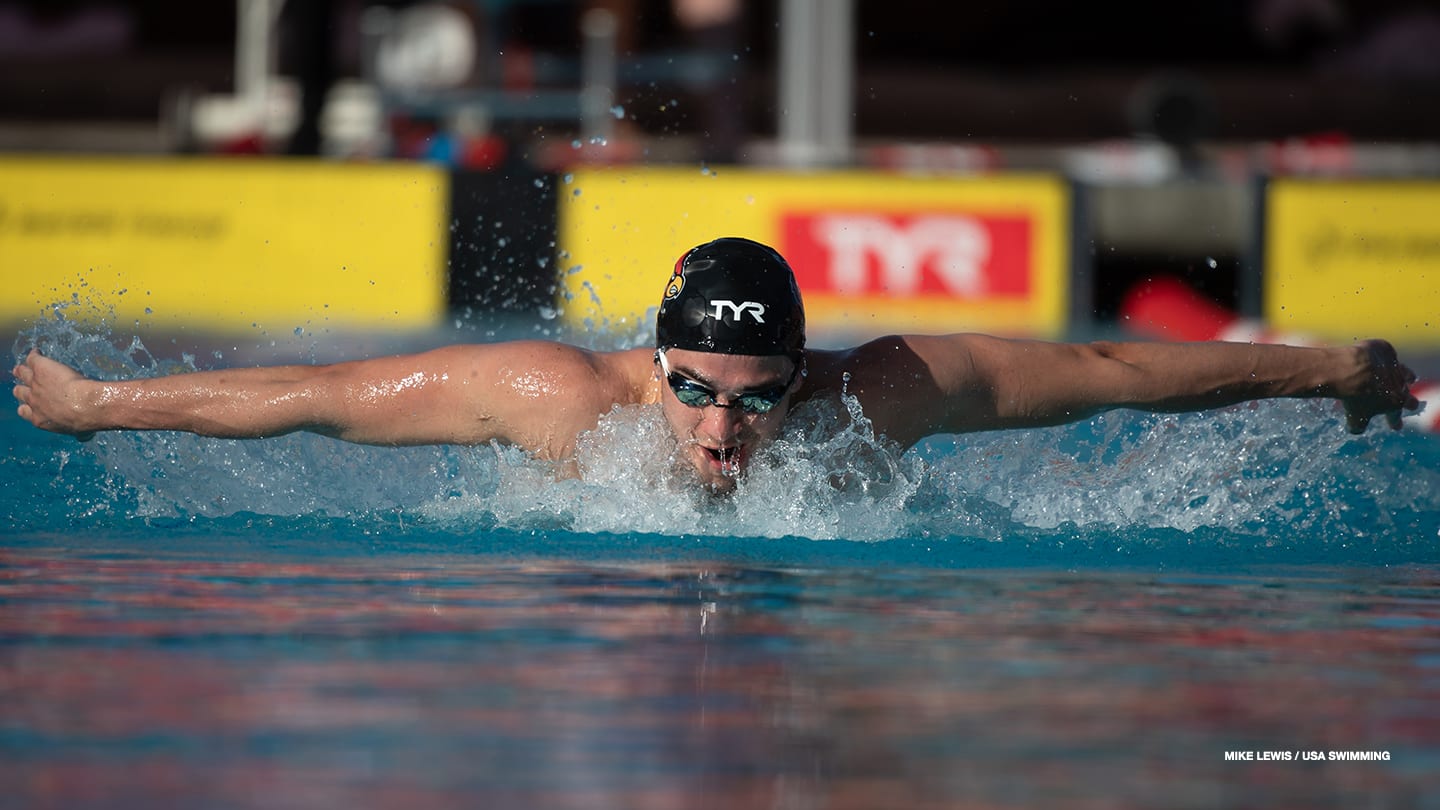 Nick Albiero competes in a USA Swimming event.
Taking Inspiration From Others
One of the first people Albiero came out to was fellow Team USA swimmer, Erica Sullivan. The two were on the junior worlds team together in 2017, and in 2021 she became the first out swimmer on the U.S. Olympic team when she qualified for Tokyo.

"I think in the sport of swimming, there is a huge lack of representation when it comes to LGBTQ+," Albiero shared. But when Sullivan took second in Tokyo in the 1500-meter freestyle, winning silver behind three-time Olympian — and seven-time gold medalist — Katie Ledecky, Albiero said, "she broke the stigma that when you come out you don't perform as well in the pool."

Now that he's out, people often ask if he feels added pressure to do well. "I feel less pressure," he admitted, "because I know a whole community supports me regardless of the outcome in the pool. Now I represent more than my team; I represent a community. And I have more people in my corner than ever before."

That goes for sponsors, too. Albiero was excited to learn that this has given him more work opportunities and hopes that the stories he shares can inspire others — whether that means in the pool or out. "The reason I came out was to show younger swimmers that you can still be an athlete whoever they are, whoever they like and whomever they identify as," said the two-time NCAA champion.

Albiero is excited to spread that message during Pride Month. "My birthday is June 8, so June is a fun month," he said. "For me, pride means being proud of yourself no matter what people say. I am proud of myself for doing this and hopefully serving as a role model to others."

Something he wants others to know is that "the people who care about you and love you are the ones who are going to be the first ones to give you a hug and tell you that they love you," he said.

But deciding for yourself when the right time to come out is important. "For me I needed to get to a place in my life where I was confident that the people I cared about were still going to be there for me," said Albiero. "You hear horror stories of people treated differently, cut off financially, or sent away and that is a fear for people."

Now that he is out, he said he feels free, "like a weight has lifted. Since I posted, people have told me that my smile is so much bigger and my energy is so much brighter. I have more confidence and walk around with my head higher because I'm not afraid to be myself."

There is a quote he keeps on his phone as a reminder that says: "The single best thing about coming out of the closet is that nobody can insult you by telling you what you've just told them." Now, he said, "no one can be like, 'You're gay!' I know. Everybody knows!"
Lisa Costantini has covered Olympic and Paralympic sports for more than a decade, including for the International Olympic Committee. She is a freelance writer who has contributed to TeamUSA.org since 2011.