Joy Of Team USA On Display In These Olympic Celebrations
Ryan Crouser celebrates winning the gold medal with a message for his grandfather at the Olympic Games Tokyo 2020 on Aug. 5, 2021 in Tokyo.
If you've never seen a 275-pound wrestler do a backflip, well, take a moment and search "Gable Steveson" and "Olympic gold medal."

It'll be worth it.

Not only is the story of Steveson's come-from-behind, last-second victory over Georgia's Geno Petriashvili to win the gold medal impressive, but his signature celebratory move is also something to see.

Steveson — who was named after wrestling great and 1972 Olympic gold medalist Dan Gable — showed off the flip this spring after winning the NCAA title and then the U.S. Olympic Team Trials not long after, but Tokyo was certainly the biggest stage on which he's launched himself into the air then let out a whoop to celebrate a victory.

Here are some other memorable celebratory moments from Tokyo:
Crouser Honors
Grandfather
Shot put champion Ryan Crouser wanted to have a big Olympic Games, especially after his grandfather passed away just before he left for Tokyo. He broke his own Olympic record on five of his six throws in the final and after registering the second-longest throw in history he reached into his belongings and brought out a sign that read, "Grandpa, we did it. 2020 Olympic champion."
Now a two-time Olympic champion after winning in 2016, Crouser said he wrote the note prior to leaving for the stadium. He figured if he didn't win, he'd just let the paper stay among his things. But after winning the first gold medal of the meet for U.S. track and field, he took the moment to pay tribute.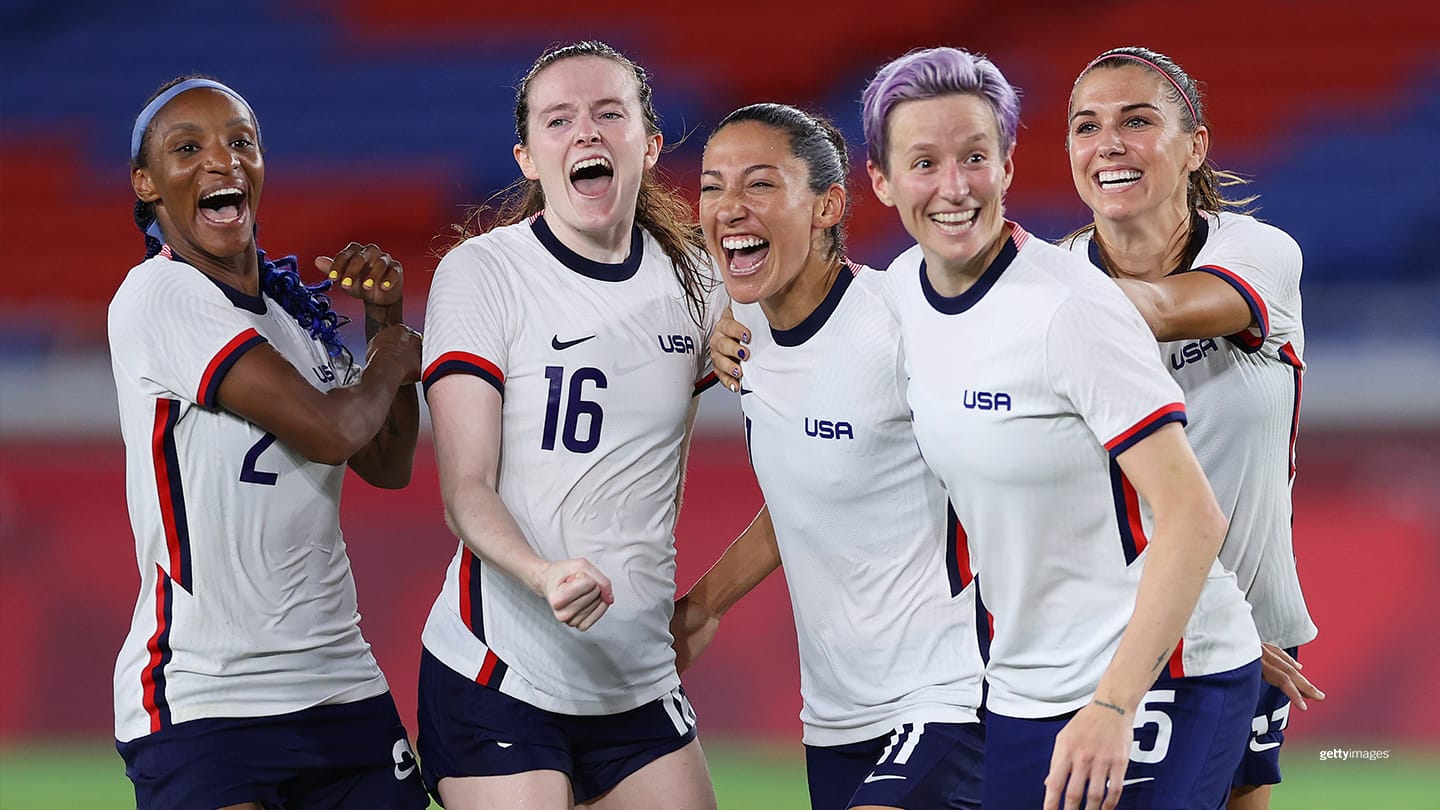 Crystal Dunn, Rose Lavelle, Christen Press, Megan Rapinoe and Alex Morgan celebrate following their team's victory in the penalty shoot out at the Olympic Games Tokyo 2020 on July 30, 2021 in Yokohama, Japan.
Penalty Kicks Keep Women's Soccer
Alive
The sight of Megan Rapinoe standing before the ball ready to deliver a penalty kick with the game on the line is one with which soccer fans are well familiar.
So is the sight that followed.
Rapinoe hit the game-winning goal into the top corner of the net, turned and folded her arms and waited as her teammates rushed toward her. The group embraced and celebrated advancing to the semifinals, their gold-medal hopes still alive.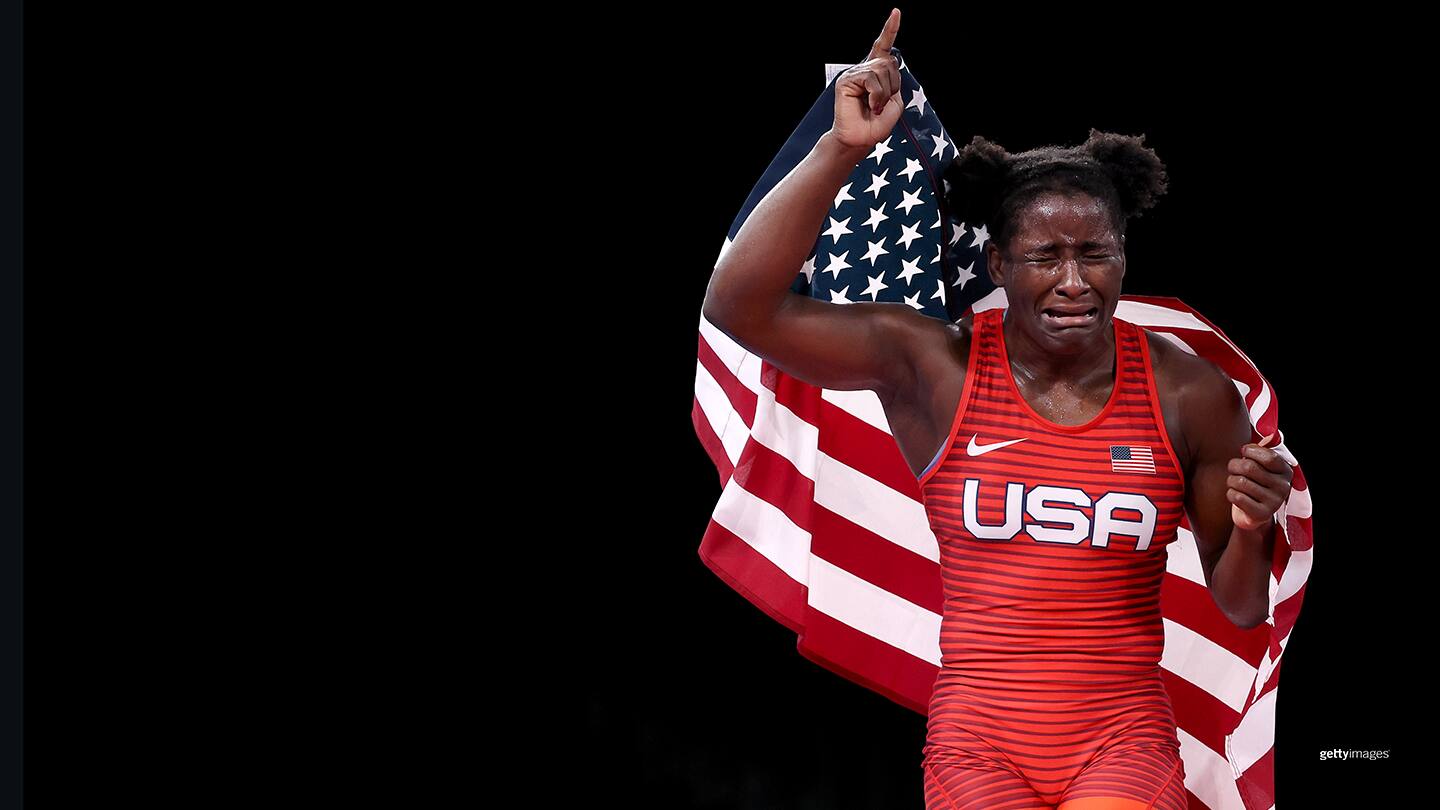 Tamyra Mensah Stock celebrates winning gold at the Olympic Games Tokyo 2020 on Aug. 3, 2021 in Chiba, Japan.
Mensah Stock's Emotions Bubble
Over
First Tamyra Mensah Stock won the gold medal in the women's 68 kg. wrestling final, and then she gave an interview that quickly turned into many fans' favorite of the Games.
Immediately after beating Nigeria's Blessing Oborududu, Mensah Stock raised her hands in a heart shape then broke down in tears as she hugged her coaches. She then grabbed hold of the U.S. flag and did a victory lap. During the television interview immediately after, still wrapped in the flag, she alternated between sobs and bouncing up and down in celebration talking about her late father, being an example to other young girls and what it took to get there. The first Black woman to win an Olympic gold medal in wrestling, her emotions boiled over and she said she kept trying not to cry but it kept on happening. The interview ended with Mensah Stock saying she loved representing the U.S. and living in the U.S.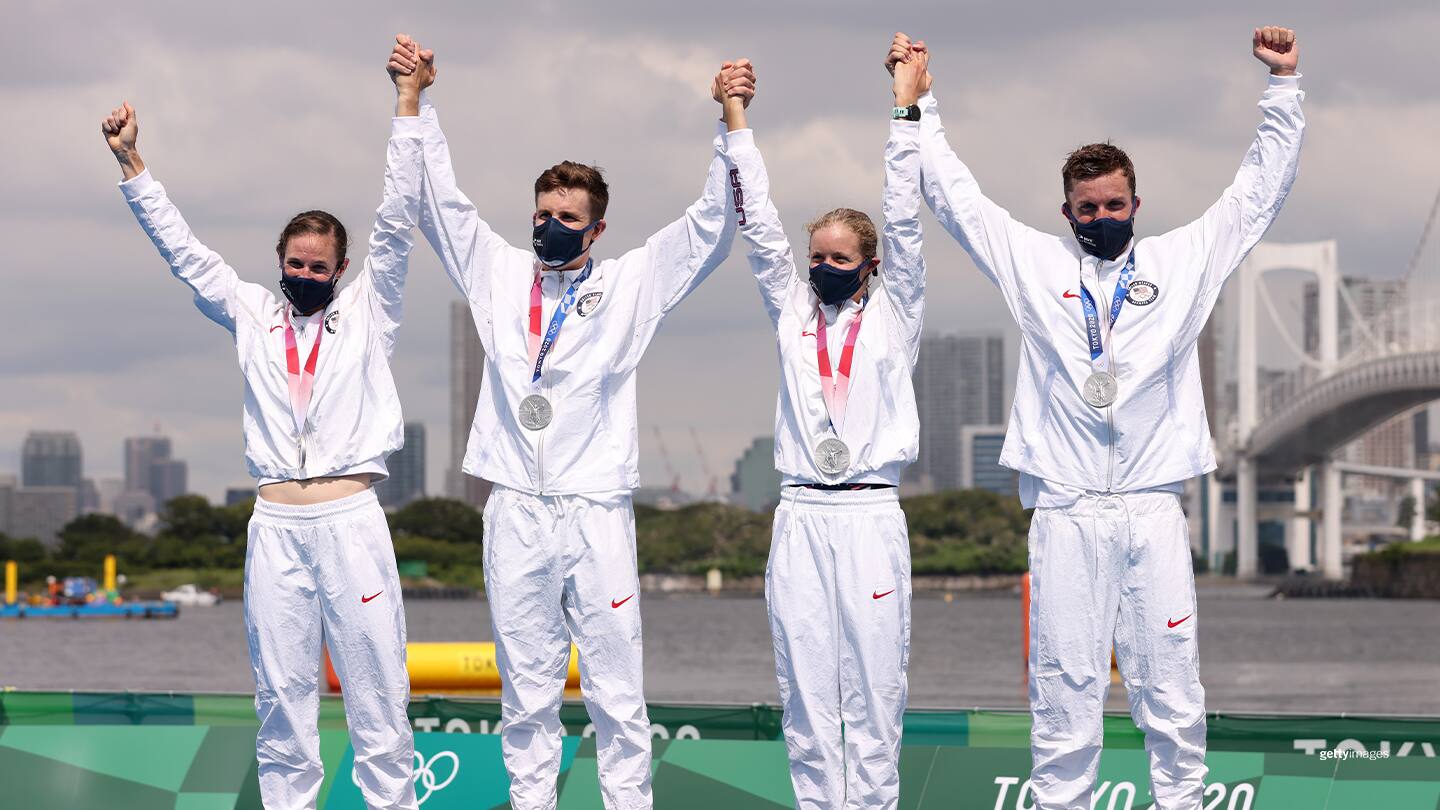 Katie Zaferes, Kevin McDowell, Taylor Knibb and Morgan Pearson pose with their medals on the podium at the Olympic Games Tokyo 2020 on July 31, 2021 in Tokyo.
Triathlon Team Wins Silver In Newest
Event
When Morgan Pearson crossed the finish line of the mixed team triathlon, teammates Katie Zaferes, Kevin McDowell and Taylor Knibb were waiting.
The teammates hugged in celebration of winning the first-ever silver medal in the newest triathlon event. Pearson dropped to his knees, having just wrapped up the final run portion of the event, but was still surrounded by his teammates.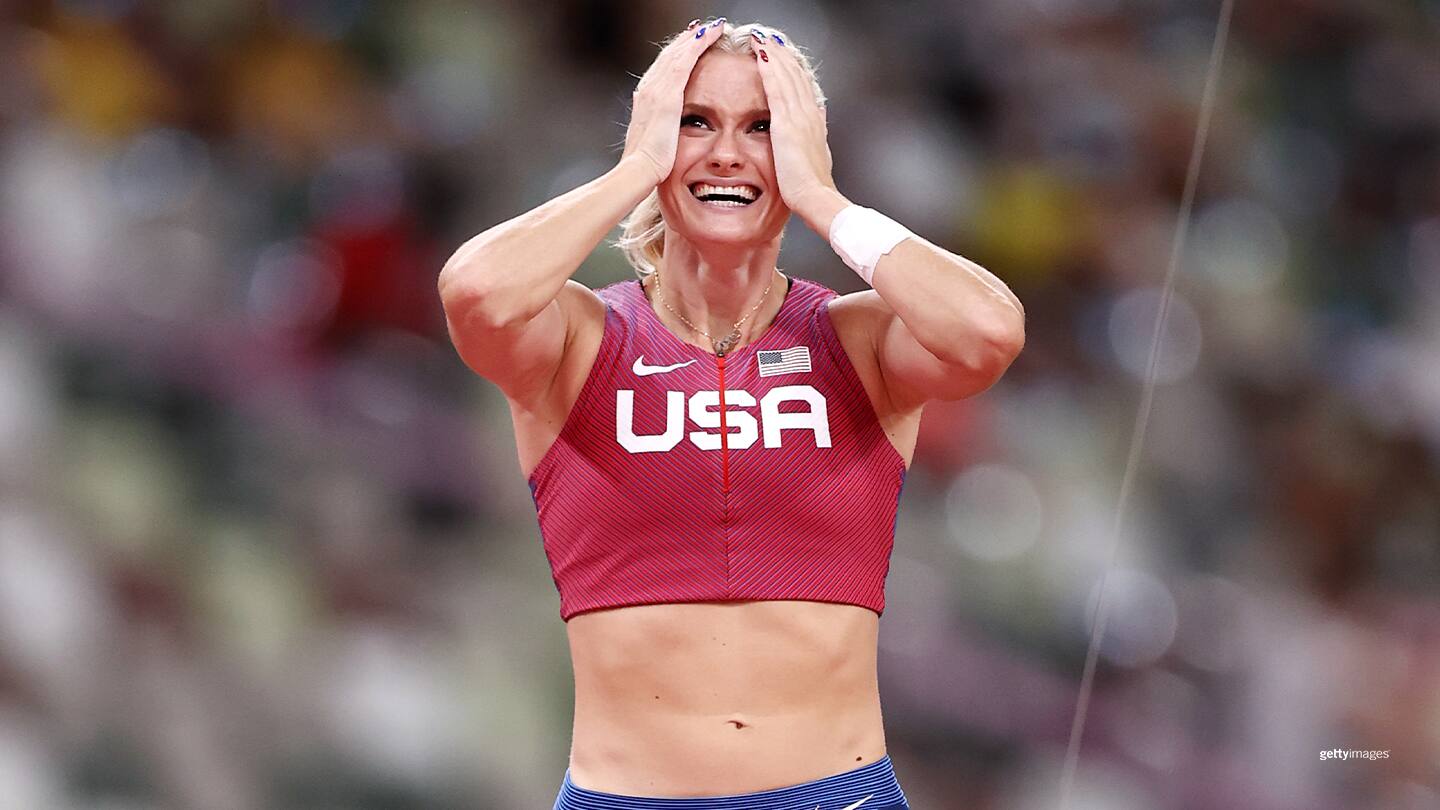 Katie Nageotte celebrates at the Olympic Games Tokyo 2020 on Aug. 5, 2021 in Tokyo.
Nageotte Soars, And
Smiles
Thanks to slow-motion video, great photography and the height from which pole vaulters descend from the bar, it's easy to see their emotions on the way down. Clear the bar, and the smiles are evident long before they hit the mat. That was the case for Katie Nageotte as she moved into first place and went on to win the gold medal in her Olympic debut. She let out a yell after realizing she was up and over the bar successfully, and the celebration continued. She tearfully hugged silver medalist Anzhelika Sidorova and ran across the track into the stands, her wide smile still spreading across her face as she took the American flag.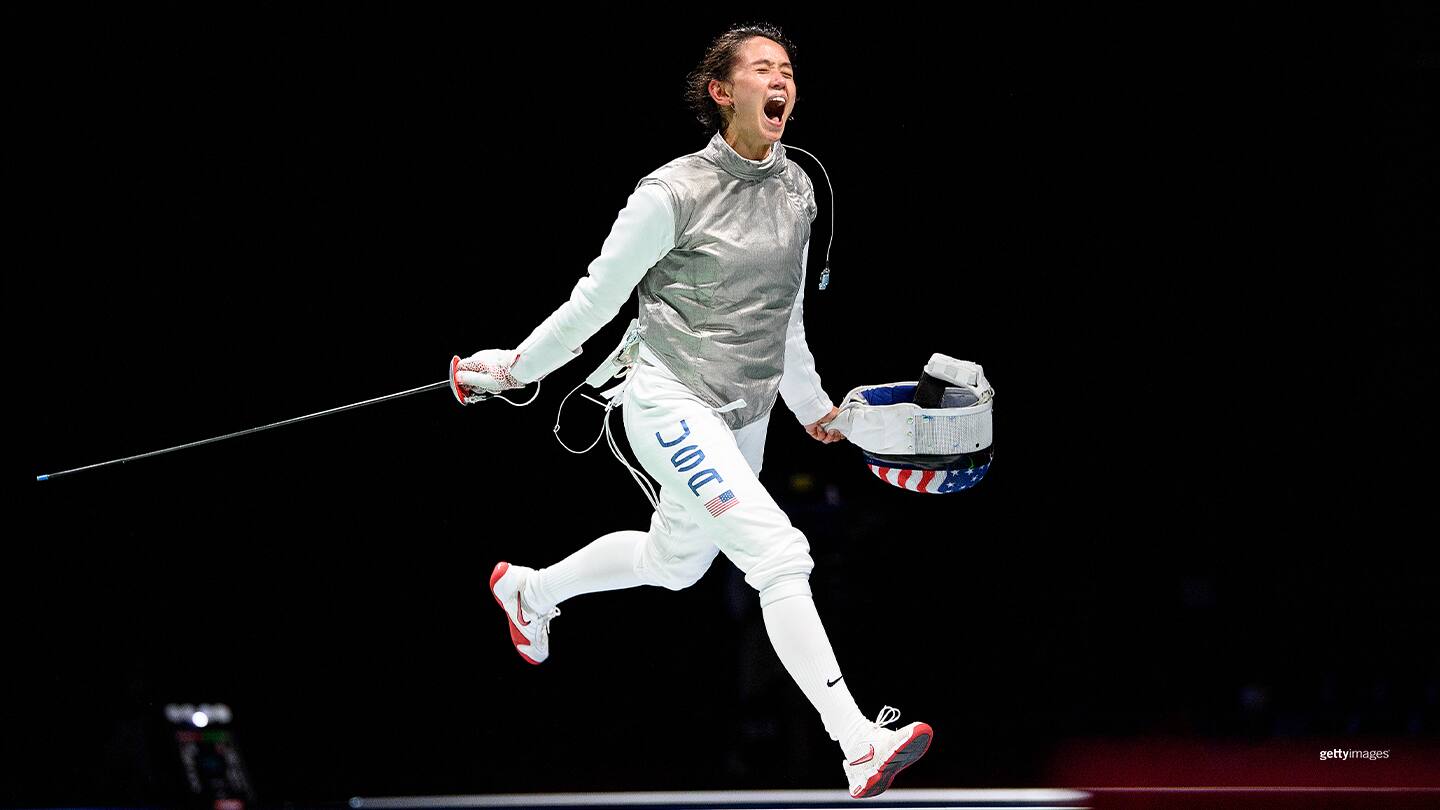 Lee Kiefer of Team celebrates at the Olympic Games Tokyo 2020 on July 25, 2021 in Chiba, Japan.
Lee Kiefer was just one touch from winning the first-ever individual Olympic foil fencing medal for the U.S., and when she got it she immediately ripped off her mask and let out a yell, saying, "Oh my God!" Her mouth open in disbelief, she spun around and hugged her longtime coach. Her eyes widened as the reality slowly settled in, and the smile was still wide across her face as she accepted the gold medal. She later said she wished she could "chop it up in little pieces" and distribute it to everyone she loves.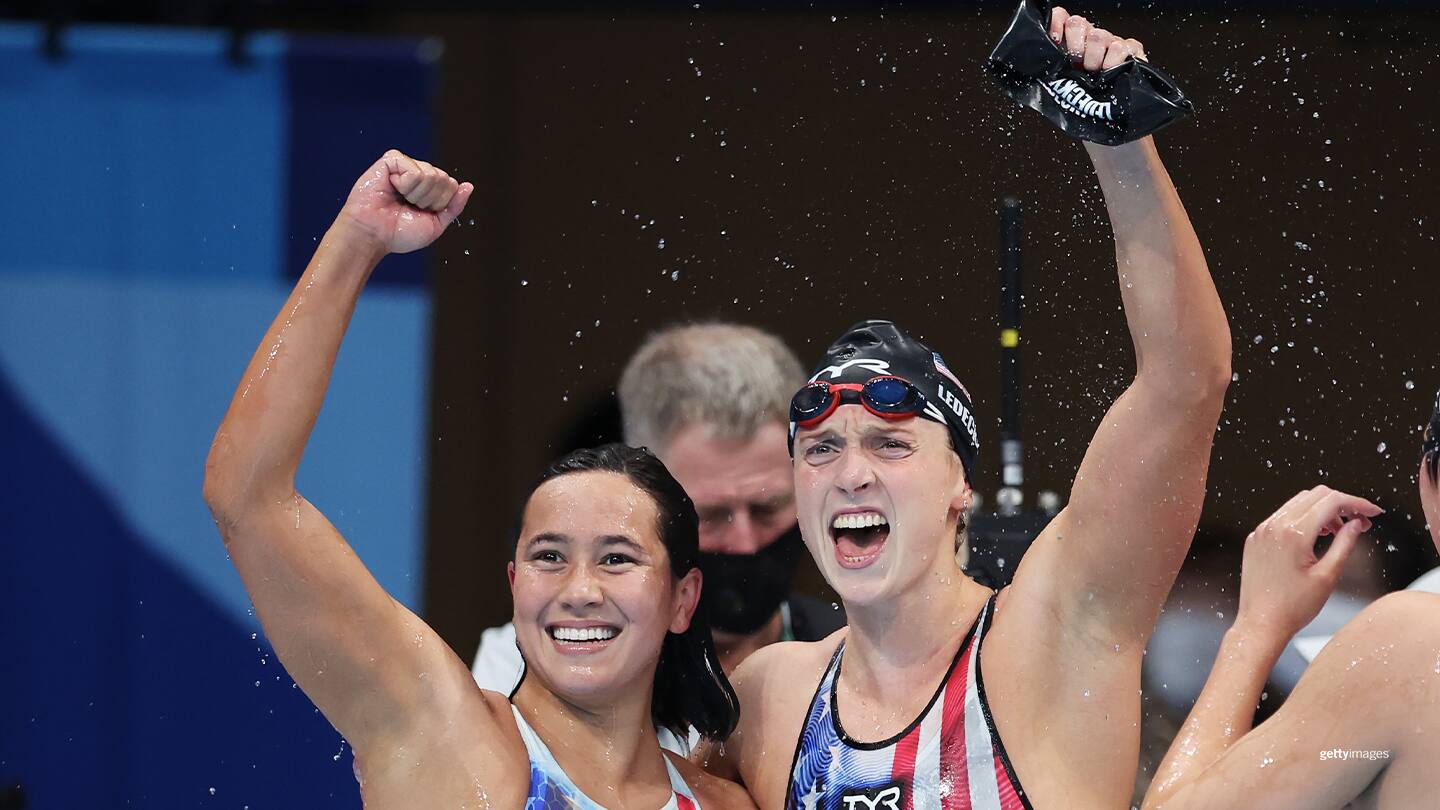 Katie Ledecky celebrates with teammate Erica Sullivan after winning the women's 1,500-meter freestyle at the Olympic Games Tokyo 2020 on July 28, 2021 in Tokyo.
Ledecky And Sullivan Go 1-2 In
1,500
Katie Ledecky waited a long time to compete in the 1,500-meter freestyle at the Olympic Games, and the event finally came in Tokyo. She won, as was widely expected to happen, but she didn't celebrate alone. Coming off the 200-meter freestyle final 90 minutes earlier, Ledecky dominated the event, and 20-year-old teammate Erica Sullivan raced her way to the silver medal. Immediately at the finish Ledecky leaned over the rope to hug Sullivan and let out a few more yells and fist pumps as she caught her breath after the grueling distance race that was just added to the women's slate this year.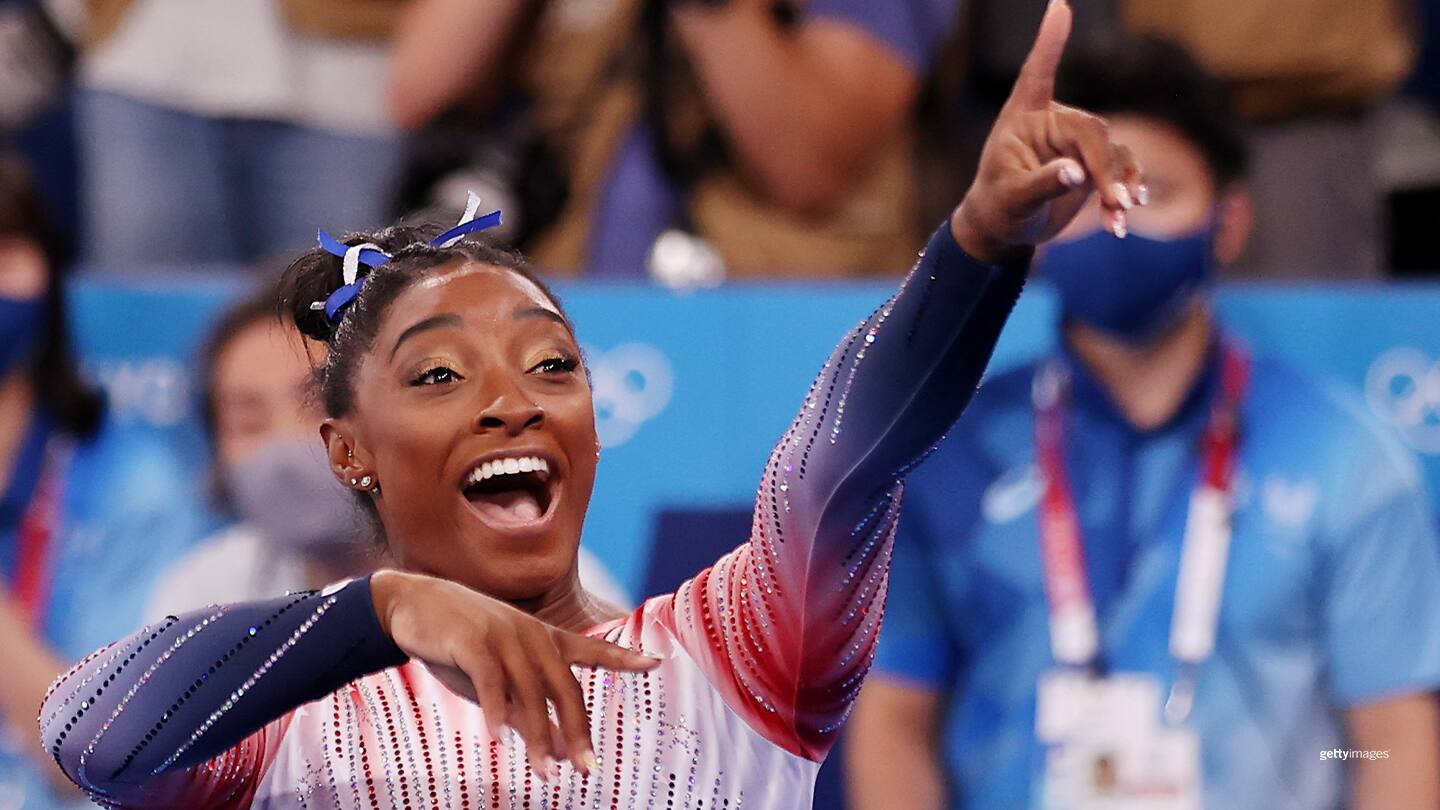 Simone Biles reacts during the Women's Balance Beam at the Olympic Games Tokyo 2020 on Aug. 3, 2021 in Tokyo.
Biles Returns To
Competition
All eyes were on Simone Biles during the balance beam final. Although that's always the case when she competes, this time it seemed even more pronounced given her absence from most of the rest of the competition.
She completed the routine smoothly and beautifully, and after the dismount the smile spread wide across her face. She clapped for herself and put her left hand over her chest, her face showing the happiness and relief that every fan watching also felt. She embraced her coach, and teammate Suni Lee, pointed into the stands where her other teammates were on their feet with the rest of the crowd and jumped up and down before hugging the other competitors. Biles won the bronze medal, saying afterward that it was "definitely sweeter" than her other medals.
Karen Price is a reporter from Pittsburgh who has covered Olympic and Paralympic sports for various publications. She is a freelance contributor to TeamUSA.org on behalf of
Red Line Editorial, Inc.