USWNT Puts Sweden Loss Behind Them, Trounces New Zealand, 6-1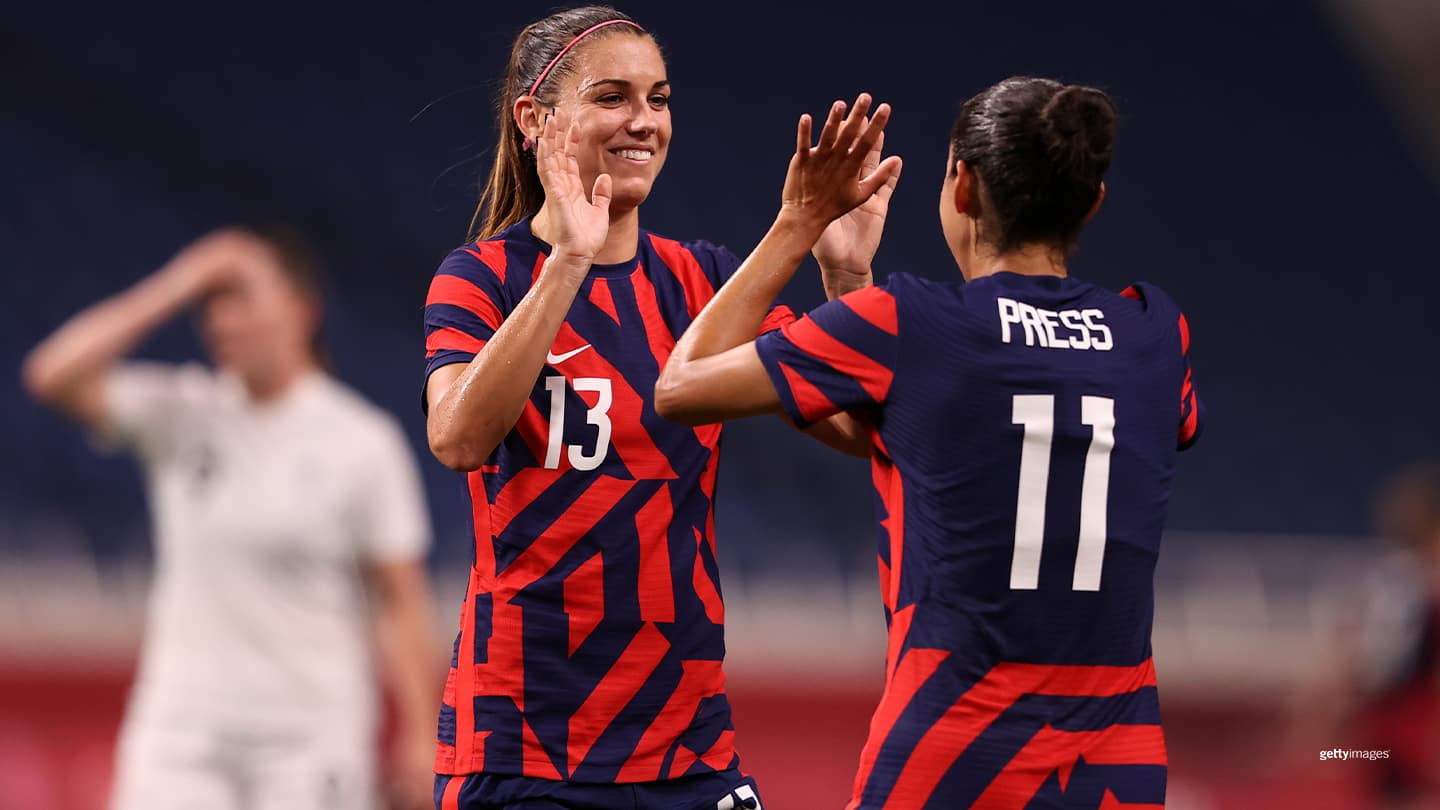 Alex Morgan and Christen Press celebrate at the Olympic Games Tokyo 2020 on July 24, 2021 in Saitama, Japan.
SAITAMA, Japan — The U.S. Soccer Women's National Team tweet this afternoon said it all. "We keep going. Period."

But after their 3-0 drubbing on Wednesday night at the feet of the Swedes — the worst defeat for the USWNT in Olympic history — they had to do more than keep going. They had to score as many goals as they could.

Mission accomplished.

On a breezy, slightly cooler evening in Siatama's stunning stadium on the western outskirts of Tokyo, the USWNT beat New Zealand, 6-1.

"We just had more energy from the get-go," said Julie Ertz, who assisted in two of the six goals. "We came out wanting to score goals and make a statement. Obviously, we weren't satisfied last game, so we had to have a fresh start, and we were able to do that."

But to get there, they had to reset from the debacle against Sweden.

"In this game, it was coming out and changing absolutely everything — changing our approach, our mentality, doing everything we possibly could to not have that same feeling at the start," explained Lindsey Horan, who scored a header off a corner kick from Megan Rapinoe and then an assist from Ertz. "Being on our front foot, winning every battle, having a physical presence out there. That was the first thing for us.

"Everything else comes next: the tactics, the technical execution, playing some good football as well. We needed to come out and show that we want this and that we're not going to stop. Not one game is going to make us stop."

As the U.S. women passed the ball around the pitch, dominating play against New Zealand, the American footballers looked more like themselves — the reigning FIFA Women's World Cup champions and the number-one-ranked team at the 2020 Olympic tournament.

"We came into game two [tonight] knowing that we don't go from being a really great team two days ago to not being a great team anymore," explained Crystal Dunn who helped lead the defense. "So I think we just came in a little bit more relaxed and trusting each other knowing that we can get the job done."

It was do or die for the U.S. women. In order for the USWNT to advance to the knockout round of the Olympic Games Tokyo 2020, they would need to win and counter the many goals that Australia has already scored in group play (four).

In front another empty stadium but with incongruent piped-in crowd noise, the Americans kept the tempo high, their heavy-legged play of Wednesday night a bad memory.

A spirited New Zealand team came into the late evening match knowing they would be targets. The U.S. needed to rack up goals, and New Zealand's Football Ferns — as they are known — are the least-tested team in group G.

In the first half, the U.S. women shot repeatedly on goal, and the score would have been 10-1 had four of the goals not been called back because players were offside.

"I'll have to re-watch the game," said Carli Lloyd, the team's only four-time Olympian who was at fault for at least two of the offside calls. "I'm not proud of myself for being offsides that many times. They were pretty decent goals, unfortunately. We gotta do better, I've gotta do better staying offsides."

Throughout the game, the U.S. players pressed on offense, with Rose Lavelle, Horan, Christen Press, and Alex Morgan all finding the net.

"That was something we talked about as a team, to be on the front foot, to press, to get after it," said Lloyd. "Because I think at the end of the day, we shouldn't give teams that much respect by sitting off. It was a good response. We had great pressure, and it showed."

The Football Ferns also helped the USWNT cause by scoring two own goals.

In the U.S.'s favor, the Football Ferns have not had much playing time together in the past 18 months because of the Covid-19 pandemic. Still, the Kiwis are known for bringing heart to the pitch.

"They have some very experienced players who have played in multiple world championships and in top leagues, so they won't be intimidated by the moment," said U.S. coach Vlatko Andonovski before the match. "We also know that they will be organized in the back and not afraid to get forward, so playing New Zealand always brings challenges."

The New Zealand women have competed in five previous FIFA Women's World Cups. But they did not qualify for the 2019 world cup.

The Ferns have also competed in four women's Olympic football tournaments, reaching the quarterfinals at London 2012 but then falling to the U.S., 2-0. It was their best Olympic result.

New Zealand and the USA also met in the opening group stage match at the Olympic Games Rio 2016, another 2-0 win for the U.S. New Zealand did not advance to the knockout stage at the 2016 Rio Games.

As for those four goals called back by players inches offsides, the team did not seem too disappointed.

"It's unfortunate, we could have scored more," said Dunn. "But I think we were a little bit more composed, a little bit more patient on the ball this game. We know it's going to be challenging chasing that gold medal, so we're not taking anything for granted."

Group play ends on Tuesday, when the USWNT faces ninth-ranked Australia.
Want to follow Team USA athletes during the Olympic Games Tokyo 2020? Visit TeamUSA.org/Tokyo2020 to view the medal table, results and competition schedule.
An award-winning freelance writer based in Vermont, Peggy Shinn has covered six Olympic Games. She has contributed to TeamUSA.org since its inception in 2008.