A Tale of Two Katies in the 800 Freestyle; Rhyan White Adds 200 Backstroke To Tokyo Program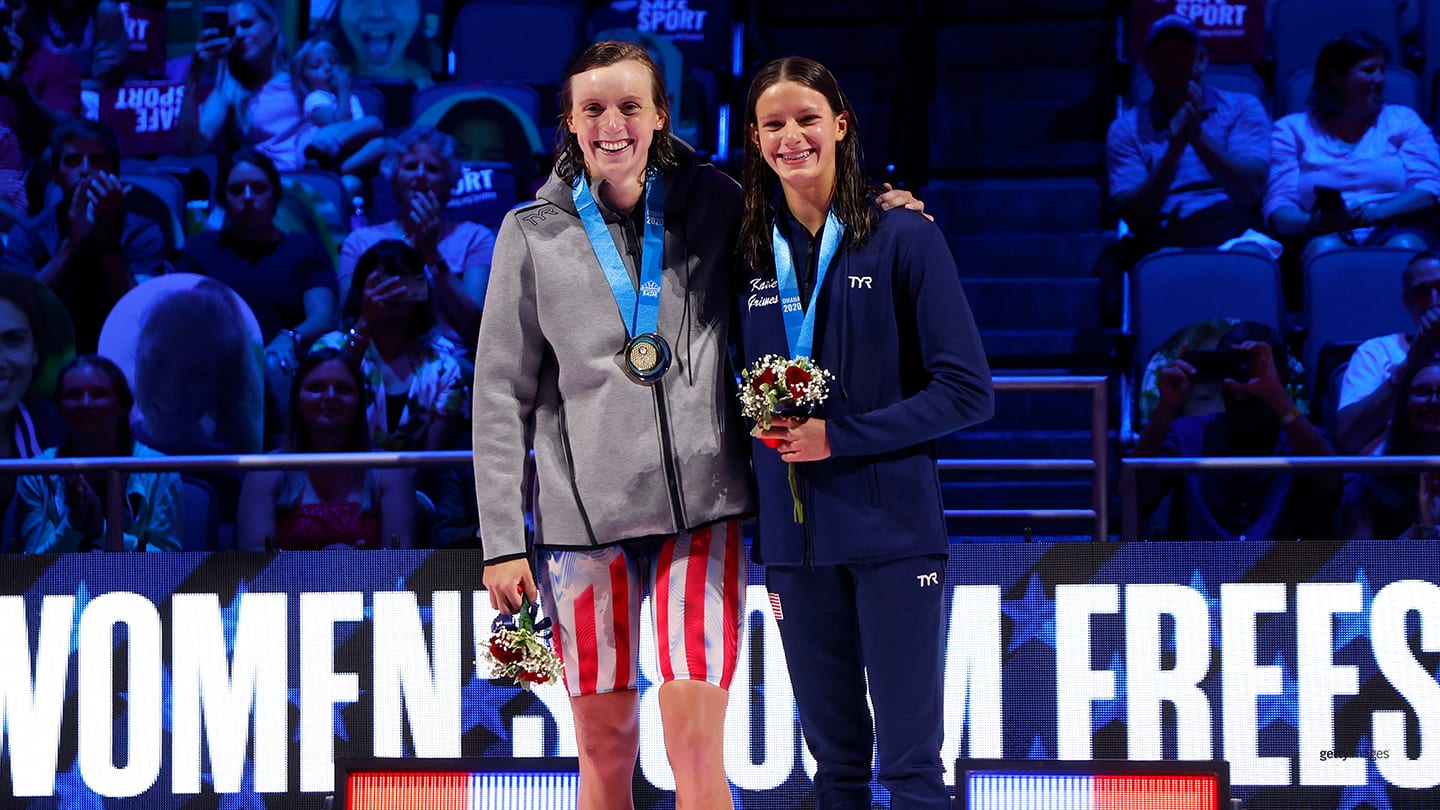 Katie Ledecky and Katie Grimes react during the Women's 800m freestyle medal ceremony at the 2021 U.S. Olympic Team Swimming Trials on June 19, 2021 in Omaha, Neb.
OMAHA, Neb. — The women's 800-meter freestyle at the 2021 U.S. Olympic Team Trials — Swimming was pretty much a given. Since she won the gold medal at the 2012 Olympic Games London, Katie Ledecky has reigned supreme.

She again swam away with the 800, winning in 8:14.62, the second fastest time in the world this year.

"Mission accomplished," said Ledecky of her week at trials, where she qualified in the 200, 400, 800, and 1,500 freestyles in Tokyo.

With the 800 win, Ledecky has won more Olympic trials races than another other female swimmer in U.S. history.

Behind Ledecky, the race for second place captivated the audience. First 16-year-old Bella Sims hung with Ledecky for a couple laps. Sims swims for the Sandpipers of Nevada out of Las Vegas and likely qualified for her first U.S. Olympic Team as a prelims swimmer on the 4x200 freestyle relay. Sims's Sandpipers teammate, Erica Sullivan, who qualified for Tokyo by finishing second to Ledecky in the 1,500 freestyle, was also vying for second place, along with Haley Anderson who will compete in the marathon swim in the Olympic Games Tokyo 2020 next month.

But it was 15-year-old Katie Grimes, also a Sandpiper, who got her hand to the wall first, dropping her personal best by over 10 seconds. She finished in 8:20.36, just 0.15 ahead of Anderson and was in shock.

Grimes is the youngest competitor to qualify for the 2020 U.S. Olympic swim team so far. A 15-year-old has not qualified for the women's 800 freestyle since Ledecky made her debut in 2012.

"It's crazy how much 10 minutes can change something," said Grimes, who relied on Ledecky to show her what to do during the medal ceremony.

Grimes's 800 freestyle performance comes on the heels of her third place finish in the 1,500 freestyle earlier this week. After that race, Ledecky told Grimes, "You're the future."

"Her 800 split in her mile the other day was faster than her prelim swim in the 800," pointed out Ledecky. "So I knew that she had something up her sleeve."

This time, Ledecky told Grimes, "Heck, you're not the future, you're the now, you're the present."

Grimes's performance and even her time took Ledecky back nine years to the 2012 U.S. Olympic Team Trials, also held in Omaha. Ledecky qualified for the London Games that year with an 8:19.78 in the 800.

"It really is full circle," said Ledecky. "Nine years ago it was Katie and Kate, Kate Ziegler. And we've got another Katie and Katie, so I don't know what it is about Katies and freestyle swimming, but it's awesome."

Grimes was so surprised to make the Olympic team that she was not even aware that her family cannot travel to Tokyo.

"I don't know, that's going to be weird," she said, shaking her head in amazement. "They're usually at all my meets."

It will also be Grimes's first ever trip out of the U.S.

Grimes had hoped to do well in the 400 individual medley earlier this week, but nerves got the better of her. For the mile (1,500) on Tuesday night, she just decided to have fun.

"I ended up doing better than I thought I was going to do so I was like, 'Great, let's see what I can do in the 800,'" said Grimes.

Grimes was six years old when Ledecky swam for her first Olympic gold medal in London. She does not remember watching that race on TV.

"I definitely went back and watched that [race]," she said. "And I was like, '15 years old, that's nuts, like she's incredible.' But now I get to be with her. It's crazy. Then who knows? Maybe I'll be like her nine years from now and I'll be sitting here with another 15 year old or something. I don't know. It's just crazy."

"It's kind of like deja vu from the other side," said Ledecky. "I really can't wait to see what Katie can accomplish."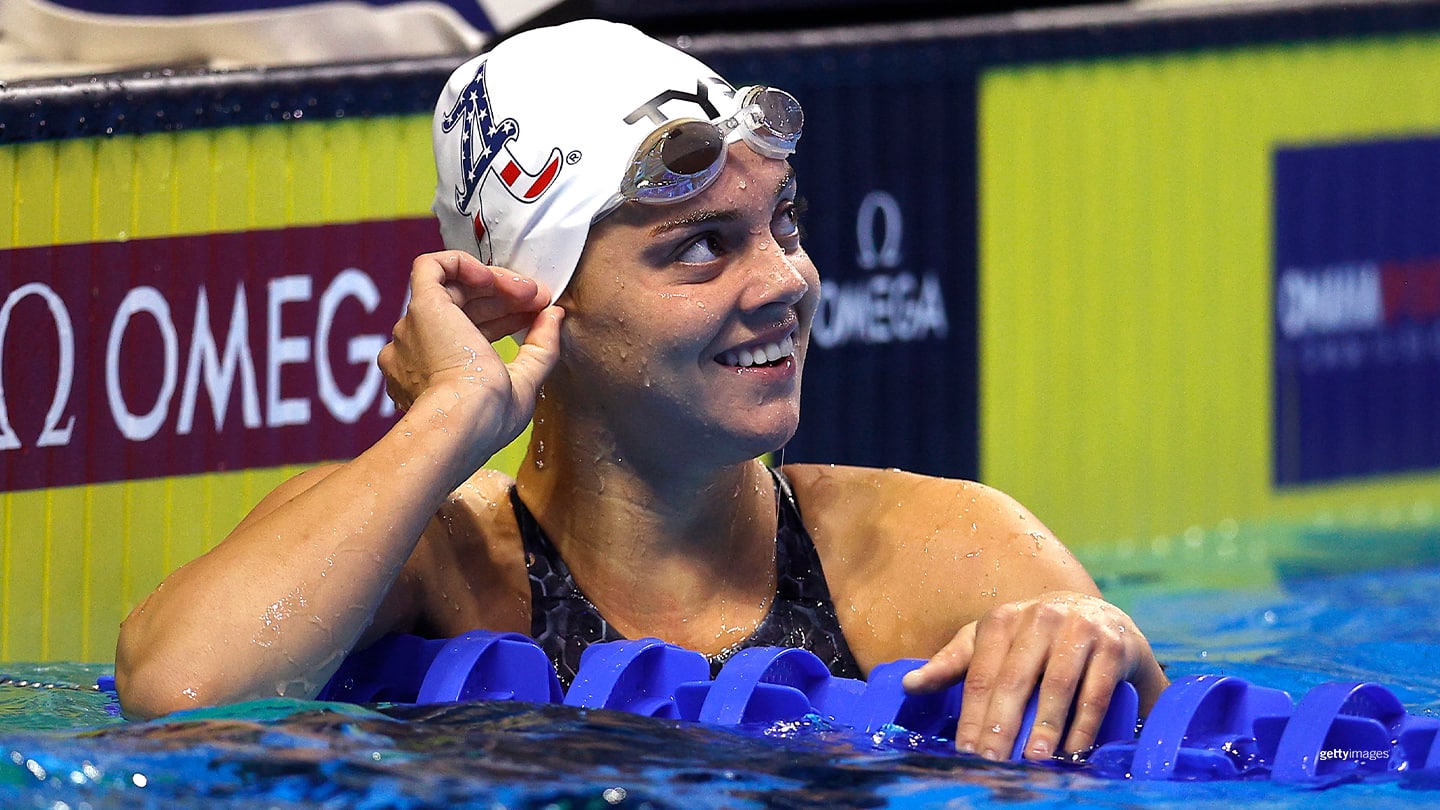 Rhyan White Adds 200 Backstroke to Her Olympic Program, Phoebe Bacon Going To
Tokyo
In the 100-meter backstroke on Monday night at Olympic trials, Rhyan White finished second to former world record holder Regan Smith.
Then came the 200-meter backstroke — where Smith is still the world record holder. But White was not going to finish runner-up again. A 21-year-old University of Alabama junior, White passed Smith in the second half of the race and took the lead, touching the wall in 2:05.73 — a new personal best by 1.35 seconds.
"I was trying to keep up with Regan for the first 100," said White. "We all know that she likes to take it out hard. But over the course of this meet, I've noticed that I swim better if I have no expectations, and I just focus on myself during the race. I'm trying not to look the big huge scoreboard right above us all."
White's NCAA rival (and friend) Phoebe Bacon came in second (2:06.46) to make her first Olympic team.
Both White and Bacon came to trials as favorites in the backstroke races. As a freshman at the University of Wisconsin this year, 18-year-old Bacon won the 200-yard backstroke at 2021 NCAAs — ahead of White. White also finished runner-up in the 100 backstroke at this year's NCAAs.
From Utah, White is the first Youth Olympian (2018) to make the U.S. Olympic Team in swimming. In Buenos Aires, she finished third in the 100 backstroke, just 0.13 behind silver medalist Kaylee McKeown from Australia who now holds the world record.
Bacon is from Chevy Chase, Maryland, and attended the same schools as Katie Ledecky. In preschool, Ledecky (six years older) was assigned as her older buddy. Ledecky has stayed connected to Bacon as the two swimmers have grown older. But she had a real impact on Bacon, who watched her older buddy win an Olympic medal in 2012.
"Neither of us I think had the knowledge of where swimming was going to take us back then," said Bacon. "It was more just I was meeting somebody older than me [when I was in preschool]. Then as she went on to 2012, and it opened my mind up to wow, maybe swimming can get me that far as well."
Both White and Bacon benefited from the Olympic postponement caused by the Covid-19 pandemic, gaining strength in the backstroke.
"I definitely don't think my 200 backstroke would be where it is today," admitted Bacon. "A year ago, I think my head would have been more focused on the 100."
White and Bacon will carry on a strong Olympic tradition for the U.S. in women's backstroke. American swimmers have won medals in the 200 backstroke for the past three Olympic Games. Maya Dirado won the event in Rio and Missy Franklin swept both the 100 and 200 backstrokes at the London Games. Natalie Coughlin won the 100 backstroke at the 2004 and 2008 Games.
As a 15-year-old, White remembers meeting Franklin at a sectional meet in 2015.
"My friend thought it was so funny that I told Missy I was going to Olympics," said White. "But looking back, I would just say that she handled it well. She said, 'Okay, you should do that.'"
Bacon has looked up to Coughlin, Franklin and Dirado throughout her young career.
"Now to be thrown into that mix of names is just incredible," she said. "I cannot wait to represent the country and be part of kind of the legacy that we have the 200 back."
An award-winning freelance writer based in Vermont, Peggy Shinn has covered five Olympic Games. She has contributed to TeamUSA.org since its inception in 2008.