Phoebe Bacon, Caeleb Dressel Break U.S. Open Records As Swimming Trials Continue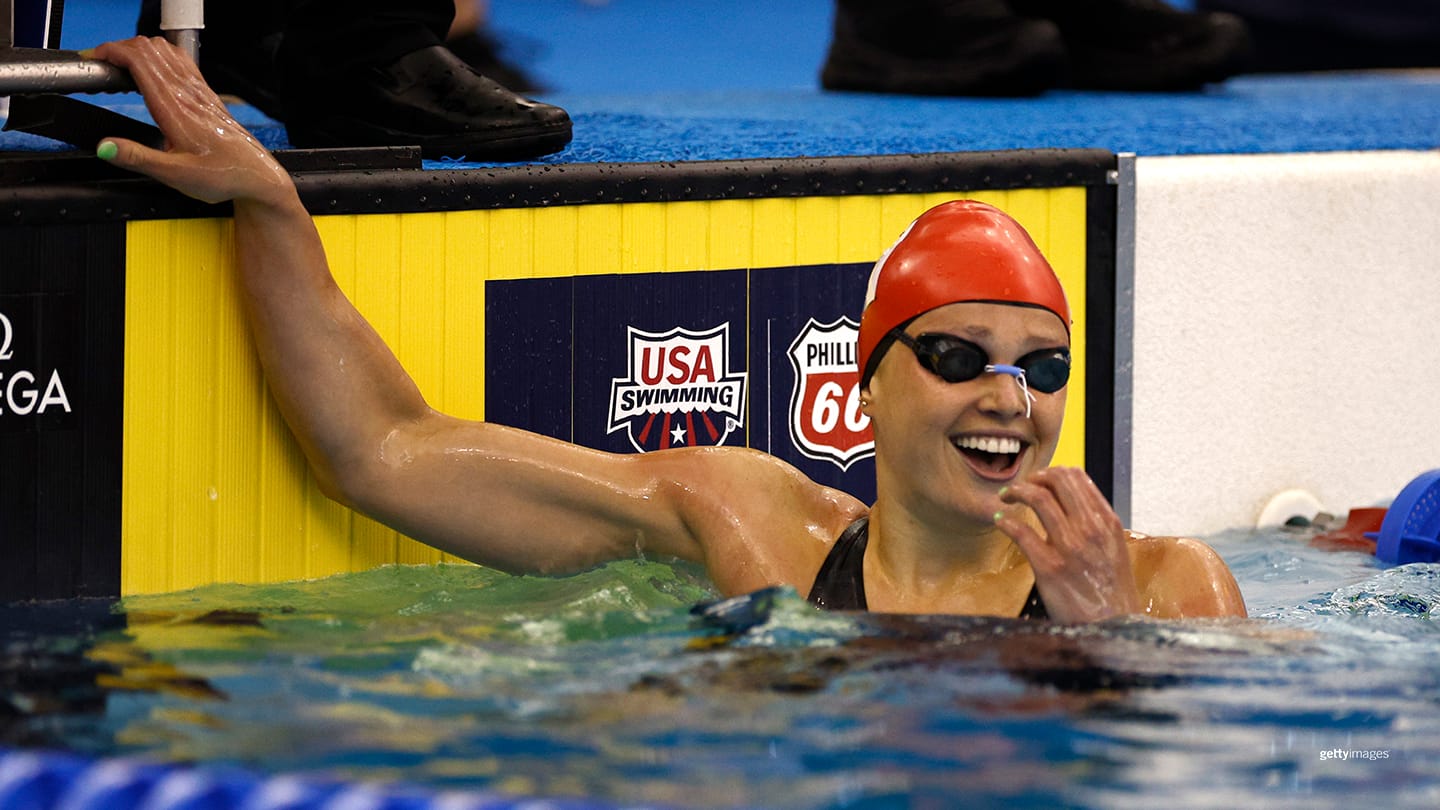 Phoebe Bacon reacts after competing in the women's 200-meter backstroke final at the Phillips 66 International Team Trials on April 27, 2022 in Greensboro, N.C.
GREEENSBORO, N.C. — Phoebe Bacon didn't want to overthink the women's 200-meter backstroke race like she has a tendency of doing.

The 19-year-old from Chevy Chase, Maryland, just wanted to enjoy herself on Wednesday night, even though she figured it would be a close race.

On the second day of the Phillips 66 International Team Trials inside the Greensboro Aquatic Center, Bacon held on down the stretch to win in a time of 2 minutes, 5.08 seconds. In doing so, Bacon broke Missy Franklin's U.S. Open record time of 2:05.68, which the six-time Olympic medalist set in 2013. A U.S. Open record marks the fastest time recorded on U.S. soil.

"The plan going into it was to race, because sometimes I can get caught up in my own head and my own plan," Bacon, a sophomore at Wisconsin, said. "But tonight talking with (coach Yuri Suguiyama) it was just go out there, have some fun, race the competitors and hope to have a good race."

With the victory, Bacon secured her spot at this summer's 2022 FINA World Championships in Budapest, Hungary. It will be her first trip to the world championships, coming one year after she finished fifth in the 200 backstroke at the Olympic Games Tokyo 2020.

Bacon held a small lead over fellow Olympians Rhyan White and Regan Smith on the final lap Wednesday, and she had just enough over the final 15 meters to hold on for the win.

White finished second at 2:05.13, and Smith was right behind her in third at 2:05.65.

"No matter what, I know for us three it kind of comes down to that last 50 (meters) and whoever's just going to get their hand on the wall," Bacon said. "You guys saw how close it was, that last 15 meters into the wall."

Bacon's dramatic finish came on a day when seven-time Olympic gold medalist Caeleb Dressel broke the U.S. Open record in the men's 50-meter butterfly and 10-time medalist Katie Ledecky cruised to another win.

Dressel got off to a fast start in the 50 fly and finished in 22.84 seconds, breaking the previous U.S. Open record of 22.91 set by Bryan Lundquist in 2009. He won by three-hundredths of a second over fellow Olympian medalist Michael Andrew, who took second at 22.87 seconds.

"I mean that's kind of what all trials are to be honest, you're here to get the job done," Dressel said. "Times are for the most part irrelevant. I mean they're just getting faster and faster, and so times are becoming irrelevant, but really just getting your hand on the wall first or second.

"So yeah, I'm happy with where we're at."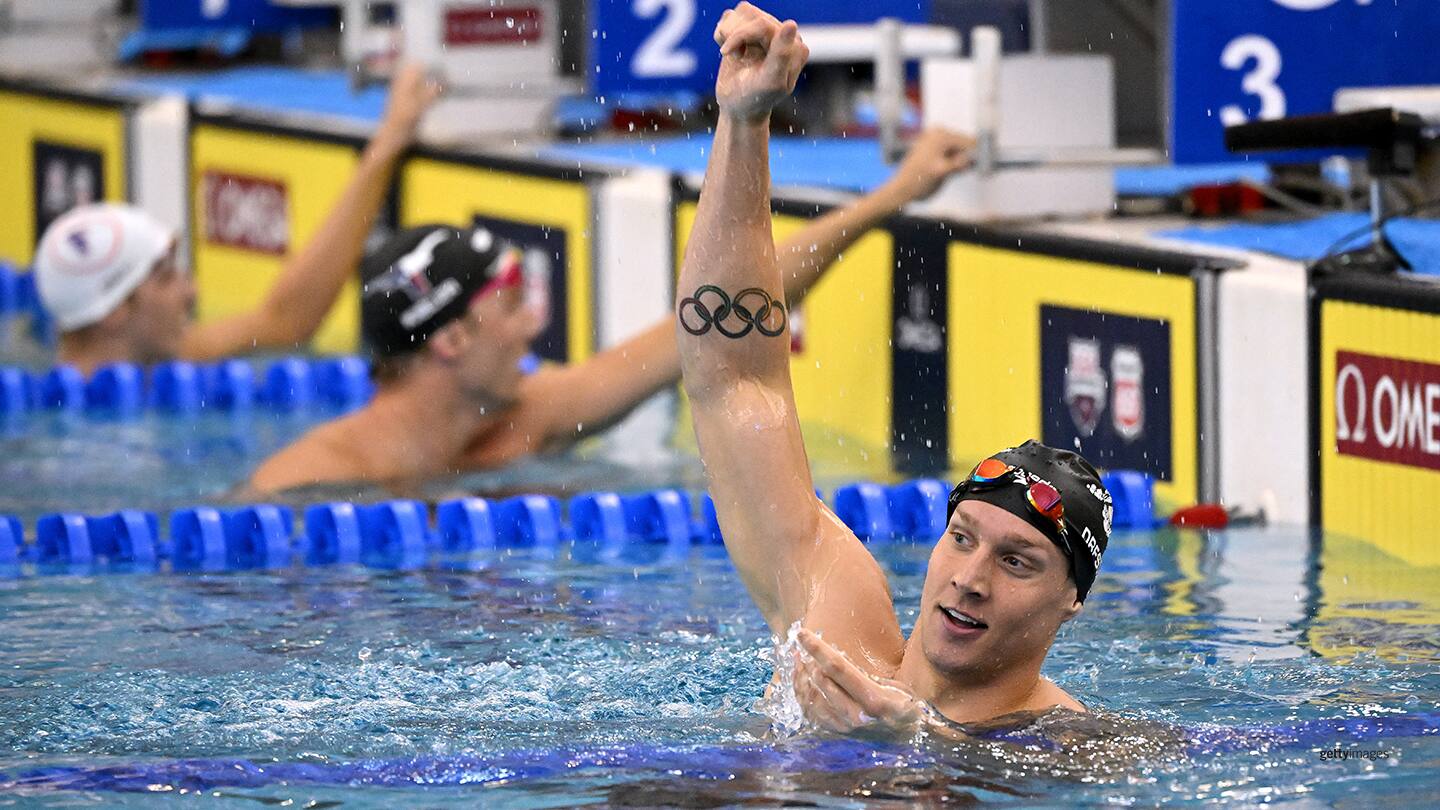 Caeleb Dressel reacts after winning the men's 100-meter freestyle final at the Phillips 66 International Team Trials on April 26, 2022 in Greensboro, N.C.
Ledecky continued her dominance at the international team trials, winning her second event in as many days.

She opened Wednesday's finals by coasting to a victory in the women's 200-meter freestyle race, finishing in 1:55.15.

A day earlier, she won the women's 800 freestyle in 8:09.27 — her fastest time in the event since 2018 and the sixth-fastest time ever.

"It was pretty good," Ledecky said. "I was a little sloppy this morning (during the prelims) with some turns and all that, so I just wanted to clean some of those things up and see what I can do. And it was a solid time. … I'm happy with it."

In perhaps the most bizarre finish of the night, Nic Fink and Charlie Swanson tied for first in the men's 200 breaststroke, ensuring that both would punch a ticket to Budapest.

When Fink checked the large scoreboard inside the aquatic center after the race, he saw that he and Swanson had each finished in 2:08.84.

"I'm sure if people got the finish on camera they'll notice me squinting a lot," Fink said. "My eyesight isn't great, so when I saw a couple of 1s up there, you know, and I was trying to figure out what lane was which, I really wasn't sure what was going on.

"It was really cool to see Charlie get that as win as well. It'll be fun training with him at camp and stuff. Yeah, it was definitely a little confusing at first, but happy to see that result. Always happy to have more winners."

It will be Fink's fourth trip to the world championships and Swanson's first.

In other results Wednesday, Olympic bronze medalist Kieran Smith won the men's 200-meter free, two-time Olympic champ Lilly King won the 200 breaststroke, four-time Olympic champ Ryan Murphy won the men's 200 backstroke, and 17-year-old Claire Curzan won the women's 50 fly.

The competition in Greensboro continues through Saturday.


Nominated To The World Championships as of Wednesday
Men
Brooks Curry – 100m freestyle
Caeleb Dressel – 50m butterfly; 100m freestyle
Nic Fink – 200m breaststroke
Carson Foster – 4x200m freestyle relay
Bobby Finke – 1500m freestyle
Ryan Held – 4x100m freestyle relay
Trenton Julian – 200m butterfly; 4x200m freestyle relay
Drew Kibler – 200m freestyle; 4x100m freestyle relay
Ryan Murphy – 200m backstroke
Kieran Smith – 200m freestyle
Charlie Swanson – 200m breaststroke
Luca Urlando – 200m butterfly

Women
Phoebe Bacon – 200m backstroke
Erika Brown – 4x100m freestyle relay
Claire Curzan – 50m butterfly; 100m freestyle
Hali Flickinger – 200m butterfly; 4x200m freestyle relay
Natalie Hinds – 4x100m freestyle relay
Torri Huske – 100m freestyle
Lilly King – 200m breaststroke
Katie Ledecky – 200/800m freestyle
Leah Smith – 800m freestyle; 4x200m freestyle relay
Claire Weinstein – 200m freestyle
Alex Abrams has written about Olympic sports for more than 15 years, including as a reporter for major newspapers in Florida, Arkansas and Oklahoma. He is a freelance contributor to TeamUSA.org on behalf of
Red Line Editorial, Inc.