Familiar Faces Ledecky, Dressel Shine On Night One Of Swimming International Team Trials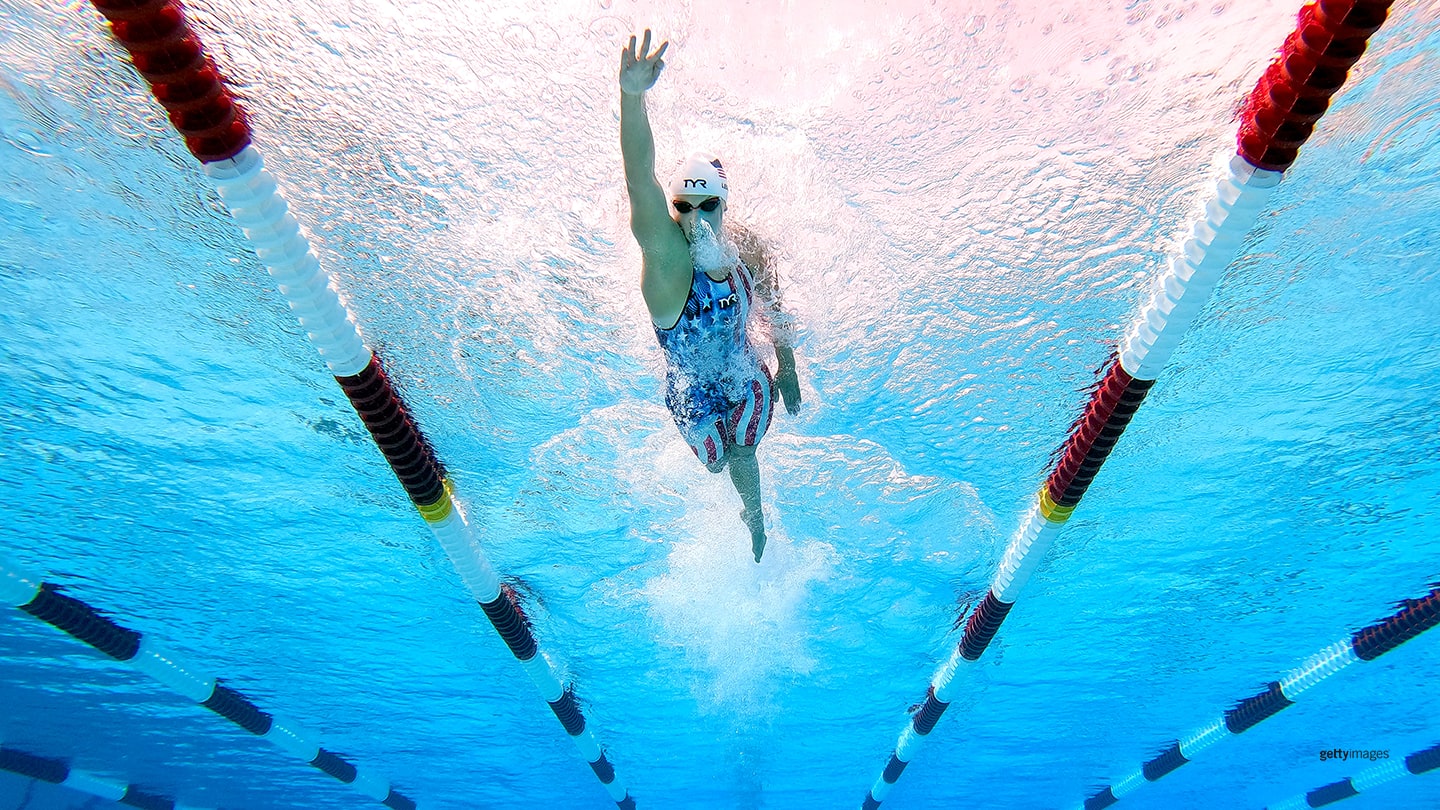 Katie Ledecky compete in the Women's 400m Freestyle Final on Day 3 of the TYR Pro Swim Series in San Antonio, Texas.
GREENSBORO, N.C. — Katie Ledecky made it look easy Tuesday night as she swam most of the women's 800-meter freestyle race with no other athlete near her in the pool.

When she touched the wall, the 10-time Olympic medalist surprised even herself when she saw her time flash on the large scoreboard inside the Greensboro Aquatic Center. The 25-year-old easily won the 800-meter freestyle in 8 minutes, 9.27 seconds on the first of five days of the Phillips 66 International Team Trials.

It was her fastest time in the event since 2018 and the sixth-fastest time ever.

"I'm really happy with that," Ledecky said. "I felt coming in like I could possibly go under 8:10, and so (for it) to say that on the scoreboard was really exciting and the fastest I've been in a couple of years. Can't complain, really happy with that."

Ledecky's performance highlighted a dramatic first night at the international team trials, which will determine the American swimmers who'll compete at this summer's 2022 FINA World Championships in Budapest, Hungary. In total, 11 swimmers earned their spots in Hungary based on the evening's results.

Ledecky headed into Greensboro less than a year removed from her dominant performance at the Olympic Tokyo Games 2020, where she earned two more gold medals — including in the 800 freestyle.

She jumped out to an early lead Tuesday and then pulled away from the rest of the pack to punch her ticket to her fifth world championships with the win.

"The biggest thing is I just felt really good, almost too good the first 400," Ledecky said, laughing. "So yeah, it was really good to feel good and have the time be pretty good."

With her victory, Ledecky is set to join a select group of American swimmers who have competed in at least five world championships. That list includes American swimming greats Michael Phelps and Natalie Coughlin.

"I always talk about how it's good to start a meet on a good note," Ledecky said. "… When I have a good first swim, I can kind of get into a rhythm, just kind of have that confidence, have that little boost. So yeah, I'm excited. I'm excited about the schedule I have here."

Caeleb Dressel, a seven-time gold medalist like Ledecky, won the men's 100 freestyle in 47.79 seconds — this year's fastest time in the world in the event.

Dressel needed every bit of it to outlast a deep field of swimmers and secure his spot at his third world championships.

While he was the only swimmer to post a time under 48 seconds, he was followed closely behind by runner-up Brooks Curry (48.04 seconds), who won a gold with Dressel as a member of the U.S. men's 4x100-meter freestyle relay team in Tokyo.

Fellow Olympic gold medalist Ryan Held finished in third at 48.18 seconds.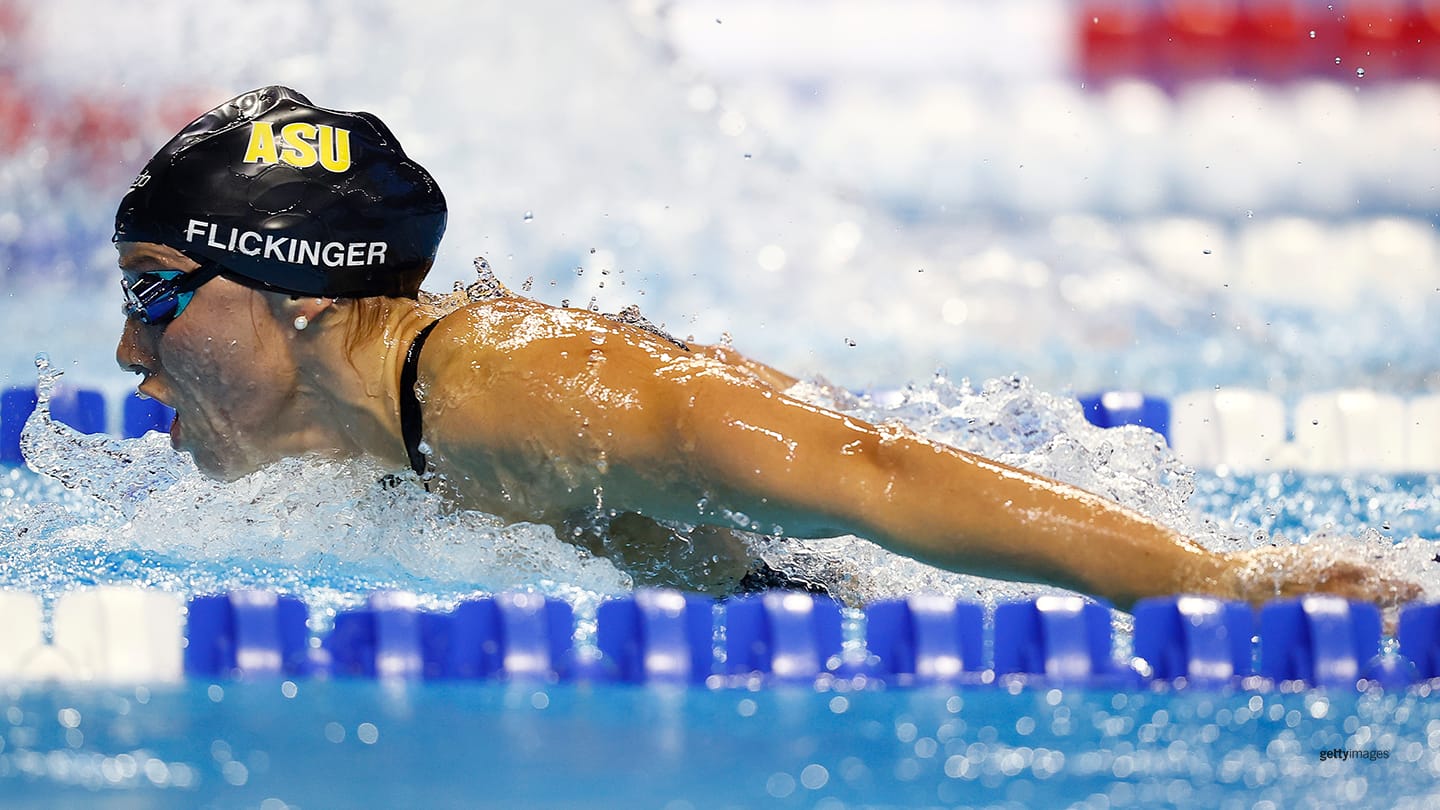 Hali Flickinger swimming in the 200-meter butterfly finals.
In one of the biggest showdowns of the opening night, Hali Flickinger held on down the stretch to edge fellow Olympian Regan Smith and win the women's 200 butterfly.

The race featured two of the world's top female swimmers in the 200 fly. Smith earned the silver medal in the event in Tokyo, and Flickinger finished right behind her as the bronze medalist.

Flickinger got the better of Smith in Greensboro, winning in 2:06.35 to Smith's 2:07.93.

"I just wanted to get my hand on the wall first, and I kind of swam it that way," Flickinger said.

Flickinger's time was the second-fastest in the world this year, behind only Canada's Summer McIntosh (2:05.81), and it qualified her for her third world championships.

Flickinger, who won two bronze medals in Tokyo, admitted she was curious about what Smith's strategy would be on Tuesday.

However, Flickinger couldn't see Smith during the race because they weren't in side-by-side lanes. Instead, Flickinger had to swim without any knowledge of how her biggest competition was doing.

"I'm always like thinking of what she'll do because she usually takes it out really fast, and I actually couldn't see her in (her lane)," Flickinger said. "So it was kind of weird to not be right beside her to see what she was doing, but I do try to focus on myself because every swimmer is different."

Bobby Finke, the reigning Olympic gold medalist in the 1,500 freestyle, proved he's still the swimmer to beat in the event by winning in 14:45.72.

He coasted to the victory to qualify for the world championships, where he'll again be among the favorites in the event.

Nominated To The World Championships On Tuesday
Men
Brooks Curry – 100m freestyle
Caeleb Dressel – 100m freestyle
Bobby Finke – 1500m freestyle
Ryan Held – freestyle relay
Luca Urlando – 200m butterfly

Women
Erika Brown – freestyle relay
Claire Curzan – 100m freestyle
Hali Flickinger – 200m butterfly
Natalie Hinds – freestyle relay
Torri Huske – 100m freestyle
Katie Ledecky – 800m freestyle
Alex Abrams has written about Olympic sports for more than 15 years, including as a reporter for major newspapers in Florida, Arkansas and Oklahoma. He is a freelance contributor to TeamUSA.org on behalf of
Red Line Editorial, Inc.