Teen Swimmers Lead The U.S. At 2022 FINA World Championships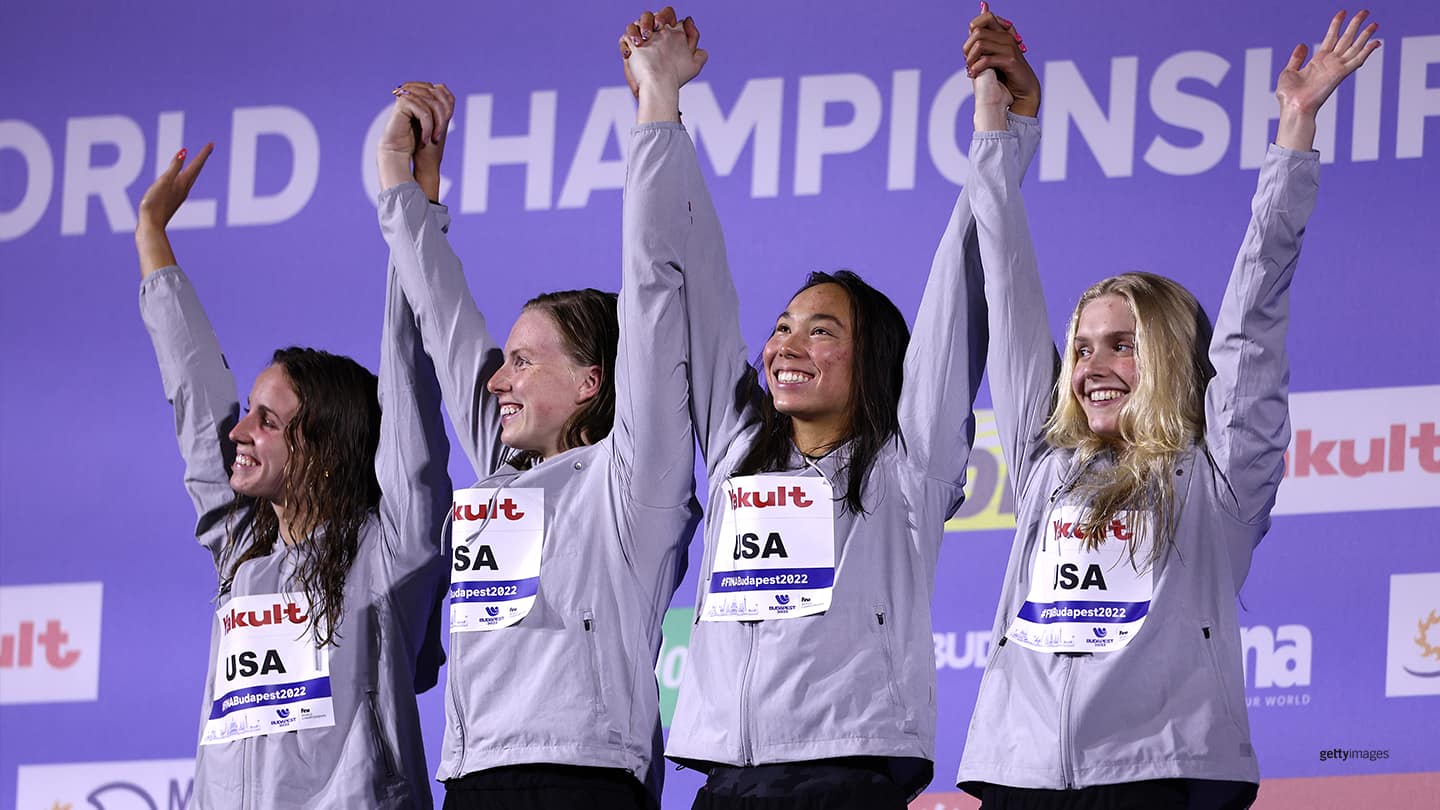 (L-R) Regan Smith, Lilly King, Torri Huske and Claire Curzan during the medal ceremony of the women's 4x100-meter medley relay final at the 2022 FINA World Championships on June 25, 2022 in Budapest, Hungary.
Katie Ledecky made headlines at the 2022 FINA World Aquatic Championships in Budapest, winning four gold medals and adding to her extensive list of superlatives: first swimmer to win five consecutive world titles, second-most world championship gold medals in history (trailing only Michael Phelps) and the list goes on.


But the 25-year-old distance swimming legend was not the biggest medal winner for Team USA in Budapest. Torri Huske holds that honor. The 19-year-old led everyone – including Olympic legends Ledecky, Lilly King and Caeleb Dressel – by bringing home six world championship medals. A Stanford University sophomore, Huske accomplished this feat less than a year after competing in her first Olympic Games.


But unlike in the past couple of decades when just a couple of teenagers held medal-winning promise in the pool, Huske was not the only teen phenom at 2022 worlds. Six other teenagers won medals, including 2020 Olympian Claire Curzan, 17, who earned five.


Here's a look at these seven young swimmers and what they accomplished in the pool at 2022 world championships last week.



Torri Huske
Last summer, in the women's 100-meter butterfly at the Olympic Games Tokyo 2020, Torri Huske finished fourth, missing a medal by one-hundredth of a second. Later in the Olympic meet, she helped the U.S. win silver in the final of the 4x100-meter medley relay. But a close race like the 100m fly has to be motivating.


After helping Stanford finish third at the 2022 NCAA Championships as a college freshman, Huske came to world championships like a veteran. She was only one of two American women entered in four individual events, and she started off by winning the women's 100m fly – the first American to win the event since Olympic gold medalist Dana Vollmer in 2011. She also set an American record (55.64 seconds) in the event.


"I don't really know how to put it into words because it's kind of surreal," she said after the 100 fly. "I feel like I haven't really processed it yet. I'm just happy I went a best time more than the place. At the end of the day, I just want to see that I'm improving myself."


Huske did indeed improve. In the 100-meter freestyle, she finished third for her second individual world championship medal. She also became only the fourth American to break the 53-second barrier in the 100m free, joining Olympic gold medalists Simone Manuel and Abbey Weitzeil, and Mallory Comerford, a 10-time world championship medalist.


Huske also became the second U.S. woman to win medals in the 100m freestyle and 100m butterfly at the same world championships. Swimming legend Jenny Thompson accomplished this feat in 1998 and 2003.


By the end of 2022 world championships, Huske had claimed two more gold and two more bronze medals in four different relays – giving her the six-medal total.


Huske would not take full credit for her feat.


"It's the team," Huske told reporters after helping the U.S. win the women's 4x100-meter medley relay. "I couldn't have done it without them, and this is such an amazing group of women and men. I'm very lucky to be part of this team.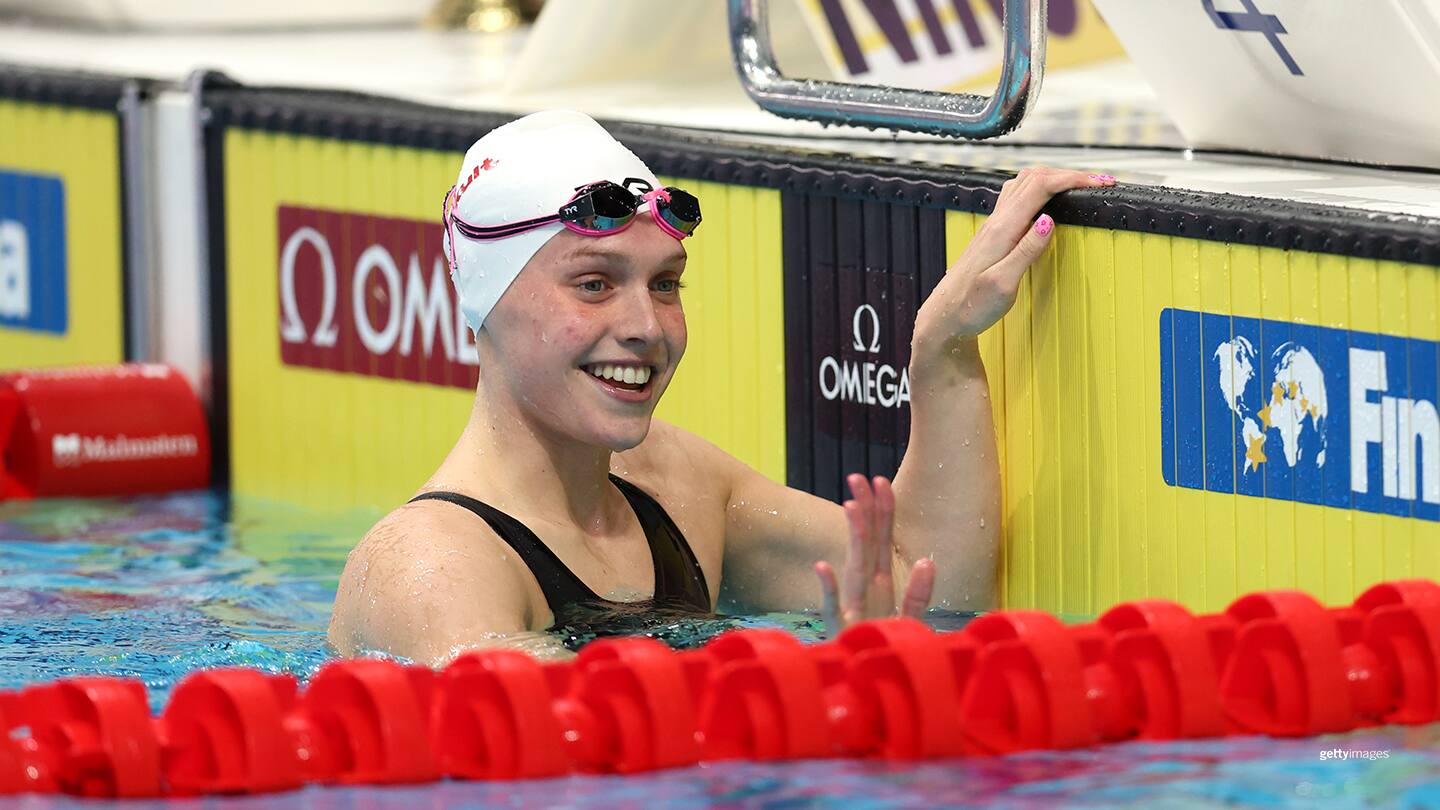 Claire Curzan reacts after competing in the women's 50-meter butterfly heats at the 2022 FINA World Championships on June 23, 2022 in Budapest, Hungary.
Two years younger than Huske, 17-year-old Claire Curzan was the other American woman who qualified to compete in four individual events at 2022 world championships. But the 2020 Olympian – who finished tenth in the 100m butterfly and then won an Olympic silver medal after swimming the butterfly in the prelims of the 4x100m medley relay – also came to worlds as a veteran.

Curzan brought her first individual world championship medal by winning bronze in the women's 100m backstroke – just 0.45 seconds behind winner Regan Smith, who just turned 20 in February and has been on the of best women's backstrokers in the world for the past five years. Smith first started breaking world records when Curzan was in middle school.

It spoke volumes about the talent of the young U.S. swimmers when Curzan said, "I have looked up to [Regan] for as long as I can remember, and she has been a backstroke icon for so long, it's kind of crazy for me to think about."

Curzan's won four other world championship medals in the relays: two golds in the women's 4x100m medley and mixed medley relays and two bronzes in the women's 4x100m freestyle and mixed freestyle relays.


Last June, when Katie Grimes qualified for the 2020 U.S. Olympic Team in the women's 800-meter freestyle at age 15, she sat wide-eyed on the press conference stage next to her idol Katie Ledecky. The youngest swimmer named to the 2020 U.S. Olympic Team, Grimes could hardly believe she was there.

In Tokyo, Grimes finished just off the 800m freestyle podium in fourth (Ledecky won). Still, it was clear that women's distance swimming would likely soon be dominated by two Katies, not one – or, as Ledecky says, "Katie squared."

Fast-forward 11 months to 2022 world championships, and this time, the two Katies shared a podium in the 1,500-meter freestyle. Ledecky won, Grimes was runner-up.

"I fully knew she was capable of getting that," said Ledecky of Grimes's silver medal in the 1,500. "Just to see how far she has come in a year and the maturity that she has and how much energy she brings to the team, I don't think I was like that when I was her age."

A few days later, Grimes won another world championship silver medal, this time in the 400-meter individual medley. The American finished less than a second behind 15-year-old Summer McIntosh from Canada, who set a junior world record in the race.

"I have a feeling that this is a long future, us two racing each other," said Grimes after the 400m IM. "So I'm happy to get it started."

Grimes swims with the Sandpipers of Nevada, a burgeoning freestyle program.

One of the U.S. teen sensations at the 2020 Tokyo Games, Emma Weyant, now 20 years old, finished third in the 400m IM at worlds, winning her first world championship medal. In Tokyo, she won an Olympic silver medal in the 400 IM.

"There's a lot of future in the [400] IM," said Weyant in perhaps the understatement of the meet.


As a 15-year-old, Leah Hayes competed at 2020 U.S. Olympic Trials – Swimming last June. Although she did not make the team heading to the Tokyo Games, she told NBCOlympics that the experience made her realize that she really did want to make it to the Olympic Games one day, and trials showed her the level that she needed to reach.

Over the past year (her sophomore year in high school), Hayes – who has no hair due to an autoimmune disease and swims without a cap – shot up to that world-class level. In her first world championship, Hayes won a bronze medal in the 200m IM, finishing third behind winner Alex Walsh (who claimed Olympic silver in the 200 IM in Tokyo last year as a 19-year-old).

Hayes's time of 2:08.91 set the junior world record in the 200 IM – a record that she has eyed "for a while now." She just did not expect to break it so soon, nor did she expect to win a medal at her first world championship.

"When I saw [Leah] got third and beat the 2:09 barrier at such a young age," commented Walsh, "she's on a really great path."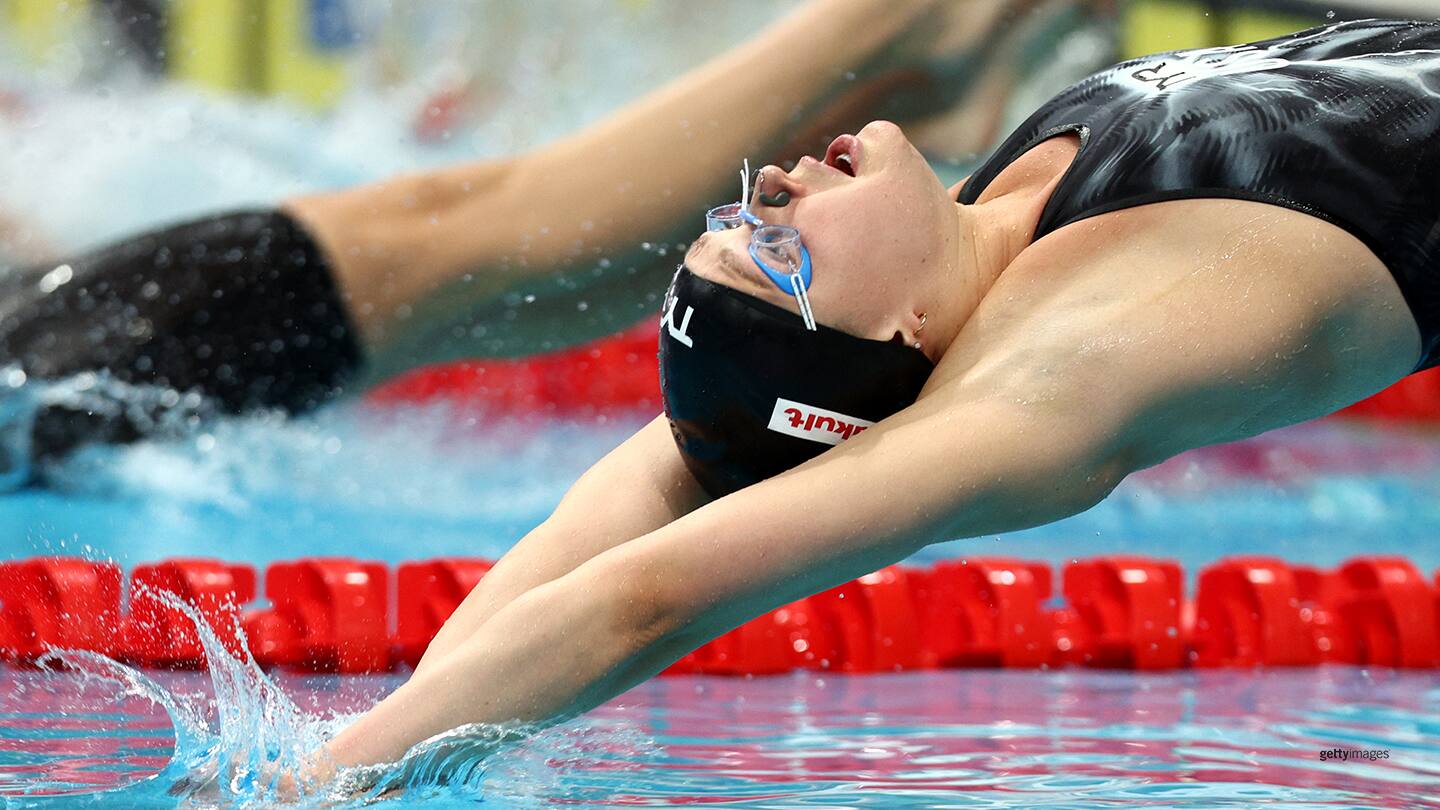 Phoebe Bacon competes during the women's 200-meter backstroke final at the 2022 FINA World Championships on June 24, 2022 in Budapest, Hungary.
At the 2020 Tokyo Olympic Games, Phoebe Bacon was known as the swimmer who had gone to the same school as Katie Ledecky in Maryland and Ledecky had been her "little buddy" when they were young. Bacon also swam for the same club as Ledecky, although excelled in backstroke to Ledecky's freestyle.

In Tokyo, Bacon competed in one race – the 200-meter backstroke. She made the final and finished fifth. Pretty good for an 18-year-old in her first Olympic Games.

The 2022 world championships were another story. The 200m backstroke was scheduled for the second-to-last day of pool swimming, so Bacon and teammate Rhyan White watched as all their friends won medals.

When they got their chance to compete last week, Bacon won silver and White bronze in the 200m back. It was the first time two American women have won medals in the event.

At age 19, Bacon joins Olympians Missy Franklin, Elizabeth Beisel and Regan Smith as the only American teenagers to medal in the 200m backstroke since 2001.


The photo taken of the U.S. women after the 4x200-meter freestyle relay sums up the U.S. team at 2022 world championships. Veteran Olympic medalists Katie Ledecky and Leah Smith were celebrating the relay win with teens Bella Sims and Claire Weinstein.

Weinstein – who turned 15 in March – was the youngest swimmer to make the U.S.'s world championship team since Beisel in 2007 (four months after Weinstein was born). At world championship qualifiers in April, Weinstein finished second to Ledecky in the 200m freestyle, earning both a spot in that individual event and on the U.S. 4x200-meter freestyle relay team.

In Budapest, Weinstein finished 10th in the 200m freestyle (which Ledecky won). And no one knew how the U.S. freestyle team would do. Ledecky and Smith could keep the team in medal contention. But how strong would relative newcomers Sims and Weinstein be?

Chosen as the lead-off swimmer in the 4x200 free relay, Weinstein kept the U.S. in the hunt, touching the wall just three-hundredths of a second behind Australia.

"I just did what I usually do," Weinstein said nonchalantly after the race.

By the end of the relay, the U.S. had won gold in championship record time.

"I had so much trust in these three," said Ledecky. "I think that we're always counted out, and we always deliver, so I am so proud of this group."

Weinstein swims for the Sandpipers of Nevada, a team that she moved across the country from New York to join.


Last year at 2020 U.S. Olympic Team Trials, Bella Sims – then 16 – rode the wave of teen swimmers who made the team bound for Tokyo. She qualified for her first Olympic Games in the 200m freestyle as a relay swimmer, then earned an Olympic silver medal after swimming the prelims of the 4x200m freestyle relay in Tokyo.

This year, Sims again qualified to compete in the 4x200 freestyle relay, this time at her first world championships. Except in Budapest, she swam one of the fastest 200-meter relay legs, so earned a berth in the final. Her new role: anchor – the leg that Ledecky had owned at the past two Olympic Games.

In the relay final, Sims channeled her nerves, diving in after Ledecky – who swam the relay's third leg. Ledecky touched the wall with a one second lead. Sims brought the U.S. women's relay team home in championship record time, adding another second to Team USA's lead and beating Australia by over two seconds.

"After the morning [heats], I think we were like, the podium looks a little clear now,'" said two-time Olympian Leah Smith, who swam the second relay leg. "[Bella] got it in the bag."
An award-winning freelance writer based in Vermont, Peggy Shinn has covered seven Olympic Games. She has contributed to TeamUSA.org since its inception in 2008.