Katie Ledecky Is Golden Again In Women's 1,500 Free With Erica Sullivan Taking Silver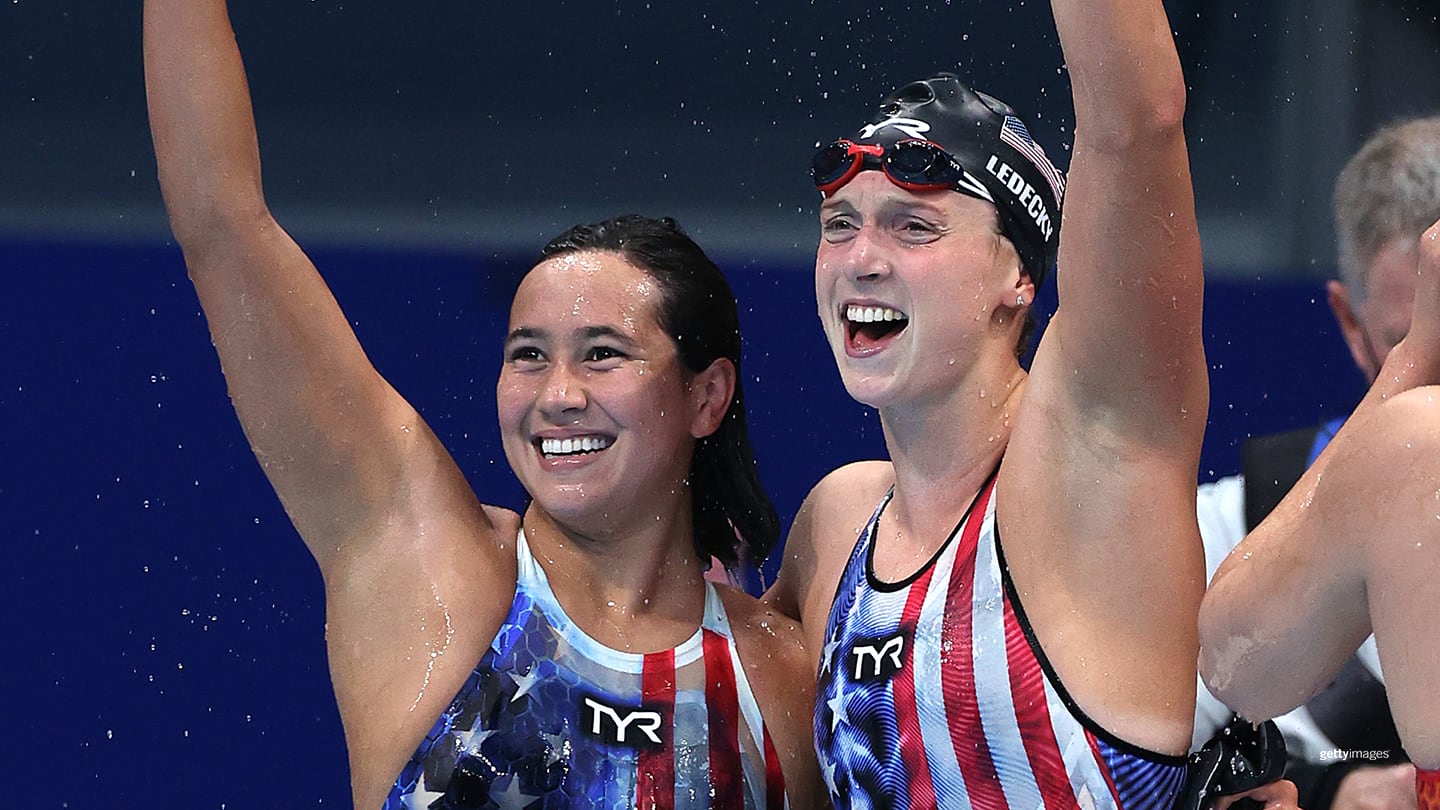 Erica Sullivan and Katie Ledecky celebrate after competing in the Women's 1500m Freestyle Final on July 28, 2021 in Tokyo, Japan.
TOKYO – By any measure, it was an ambitious 73-minute program for a swimmer, even for the incomparable Katie Ledecky.

At 10:41 a.m. Wednesday, step on the blocks at the Olympic Games Tokyo 2020 in the 200-meter freestyle, an event Ledecky won five years ago at the Rio Games.

Race approximately 2 minutes and warm down, taking a break for the medal ceremony at 11:11 a.m.

Finally, at 11:54 a.m., get back on the blocks for the 1,500-meter freestyle, a new Olympic event for women.

Alas, the first part of Ledecky's schedule did not go as planned. She placed fifth in the 200 free, so there was no medal ceremony to attend.

"After the 200 free, I was trying to find some positive things to get me moving forward," Ledecky said. "The easiest thing for me is to think about my grandparents…they're four of the toughest people I know. I knew that if I was thinking about them during the race, I wasn't going to die. I wasn't going to have a bad swim, that that would power me through."

It sure did.

Ledecky returned to the competition pool at the Tokyo Aquatics Center, leading wire to wire to win the first Olympic gold medal in the women's 1,500. Better yet, at the wall Ledecky greeted teammate Erica Sullivan, who was swimming one lane over and captured the silver medal.

"Honestly, I didn't realize I got second until I saw (Ledecky) slam the water," Sullivan said, "so I was like, 'Oh wow, she must have done something really good.' And then I looked up, and was like, 'Oh, shoot, I did something really good.'"

Actually, Sullivan was right the first time, too. Ledecky was so relieved to win the gold medal that she cried briefly as she leaned over a lane rope. Two days earlier, Ariarne Titmus of Australia edged her in the 400-meter freestyle, another event Ledecky had owned in Rio.

She is now tied with Krisztina Egerszegi of Hungary (1988-1996) for most gold medals in individual swimming events with five (800 in London in 2012, 200, 400 and 800 in Rio and now 1,500 in Tokyo).

"I definitely wanted to get at least one and I've kind of checked that box," Ledecky said. "I still always have the big picture in mind. I have the (4 x 200-meter) relay tomorrow and the 800 still left. I still have some great events ahead of me that I now need to turn my focus to."

In the 200, Titmus won her second gold of the Tokyo Games with an Olympic record time of 1:53.50, while Siobhan Bernadette Haughey (1:53.92) took the silver for Hong Kong's first swimming medal and Penny Oleksiak of Canada (1:54.70) was third. Ledecky, who was attempting to become the first swimmer to win the women's 200 twice, clocked 1:55.21.

Titmus said she was surprised Ledecky wasn't in the mix for the medals. "Yeah, to be honest, I always think that Katie's going to be there," she said. "She was definitely there for the first part of the race and I guess she wasn't at the end. To her credit, she had to race the 1,500 as well."
Ledecky, 24, said she knew she had to "turn the page" from thinking that the adrenaline from racing a great 200 would fuel her 1,500.

"When I dove into the warmdown," Ledecky said, "I had to almost forget the 200 happened, and treat the 1500 like it was my only race."

"She's somebody who's so good at putting those races behind her," Michael Phelps said on NBC. "I think she's going to go out and just obliterate this field."

Everyone could see Ledecky's game face when she whipped off her mask on the pool deck. She was swimming this race for all the great freestylers of the past who didn't have the chance in previous Olympic Games. Coming in with a qualifying time more than 6 seconds faster than anyone else in the field, Ledecky led for 30 lengths of the pool - at one point with a margin of about 2 ½ body lengths.

Her time of 15:37.34 was well off her world record of 15:20.48 from 2018. She was also slower than her Olympic record of 15:35.35 in the preliminary.

Sullivan, 20, was next at 15:41.41, followed by Sarah Kohler of Germany 15:42.91. Known as a great back-half swimmer, Sullivan came on strong at the end of the race.

Did she see Ledecky's feet when she was finishing? "Um, I saw her wake," Sullivan said. "I've never actually seen Katie's feet in a race unless I'm severely out too fast.

"She's a legend and she will forever be a legend. The fact that I get to swim in the same generation as her is just so cool."

But did she think she might catch her? "Do you know who that girl is?" Sullivan said. "Hell, no."

And yet Sullivan was content that she had done what she set out to do. Sullivan's mother is a Japanese citizen living in the United States on a green card, and her grandfather was an architect who worked on some of the Olympic venues. He died of cancer in 2018, the year after her father also died of cancer, and she has been open about her struggles with mental health. During the pandemic, Sullivan trained in a friend's backyard pool and in Lake Mead, "which is disgusting" with "duck poop," she said.

Winning the silver medal "means the world," Sullivan said. "This is kind of self-centered, but I am the epitome of the American person. I'm multi-cultural. I'm queer. I'm a lot of minorities in that sense. That is what America is. It's coming to a country to be able to establish what you want to do with your life."

Team USA also added two other medals in Olympic swimming.

University of Virginia teammates Alex Walsh and Kate Douglass won the silver and bronze medals in the women's 200-meter individual medley, with Japan's Yui Ohashi winning her second gold with a powerful final freestyle leg.

"For both of us, the pressure was pretty high," Walsh said.

Ledecky has often found that pressure from within, racing versions of herself in the record books.

"Past performances, that puts pressure on myself," Ledecky said. "I am always striving to be my best and be better than I've ever been. That's not easy when your times are world records in some events. You can't just keep dropping time every single swim."

But that's how she has approached every single race, even in February with nobody watching. Ledecky said she believes that "yeah, I can step up and throw down. I'm really tough on myself. It's a real blessing and a curse that I have that attitude."

Ledecky said she thinks people feel badly for her because she lost to Titmus in the 400. "I'm kind of at peace with it," Ledecky said. "I laugh when I see things like 'settles for silver' because there are so many that have won silver or bronze and are really happy with that and are deserving of a lot of praise. Just because I've won golds all the time leading into that doesn't mean the silver doesn't mean something to me."

She said she is aware of Simone Biles' withdrawal from the women's gymnastics team event to protect her mental health.

As another famous face of Team USA who has been promoted as a gold medalist, Ledecky can empathize.

"I would never want to speak for Simone or say that I know what she's feeling because none of us do," she said, "but I understand it. We're at the highest level; we have the most eyes on us of anyone in the world right now - everyone at the Olympics.

"Everyone around the world is watching, the cameras follow you around. I experience that on days like today…Every move you make is being watched and judged. As much as we say we try to ignore it, some of that is trying to keep that positive mindset and move forward."

Ledecky said she hopes Biles continues to do what's best for her and that the people around her support her.

"We all have to watch out for each other and help each other through in times of need," added Ledecky, who said she has gotten to know Biles over the years and they are in touch now and then.

"I hope she knows I really support her and hope she does well the rest of the week."

Ledecky said that besides thinking about her family as she prepared for the 1,500, she also thought about the "power of the gold medal" and her experiences going to children's hospitals or meeting wounded warriors and how "their faces light up when they see the gold medal."

"That means more to me than anything, the ability to put a smile on someone's face," she said. "I just really wanted to get a gold medal to have that opportunity again."

Tears came to Ledecky's eyes. "I don't want anyone to feel sorry for me or feel silver or anything beyond gold is a disappointment for me," she said. "I'd much rather people be concerned about people truly struggling in life. It's a real privilege to be at an Olympics, let alone an Olympics in a pandemic. So many people are going through a lot of hard things. Yeah, I'm lucky to be here."
Want to follow Team USA athletes during the Olympic Games Tokyo 2020? Visit TeamUSA.org/Tokyo2020 to view the medal table, results and competition schedule.
Karen Rosen has covered every Summer and Winter Olympic Games since 1992 for newspapers, magazines and websites. Based in Atlanta, she has contributed to TeamUSA.org since 2009.