Katie Ledecky Adds Two More Races to Tokyo Program, Allison Schmitt Makes Fourth Olympic Team, & UVA Freshman Alex Walsh Will Make 200 IM Olympic Debut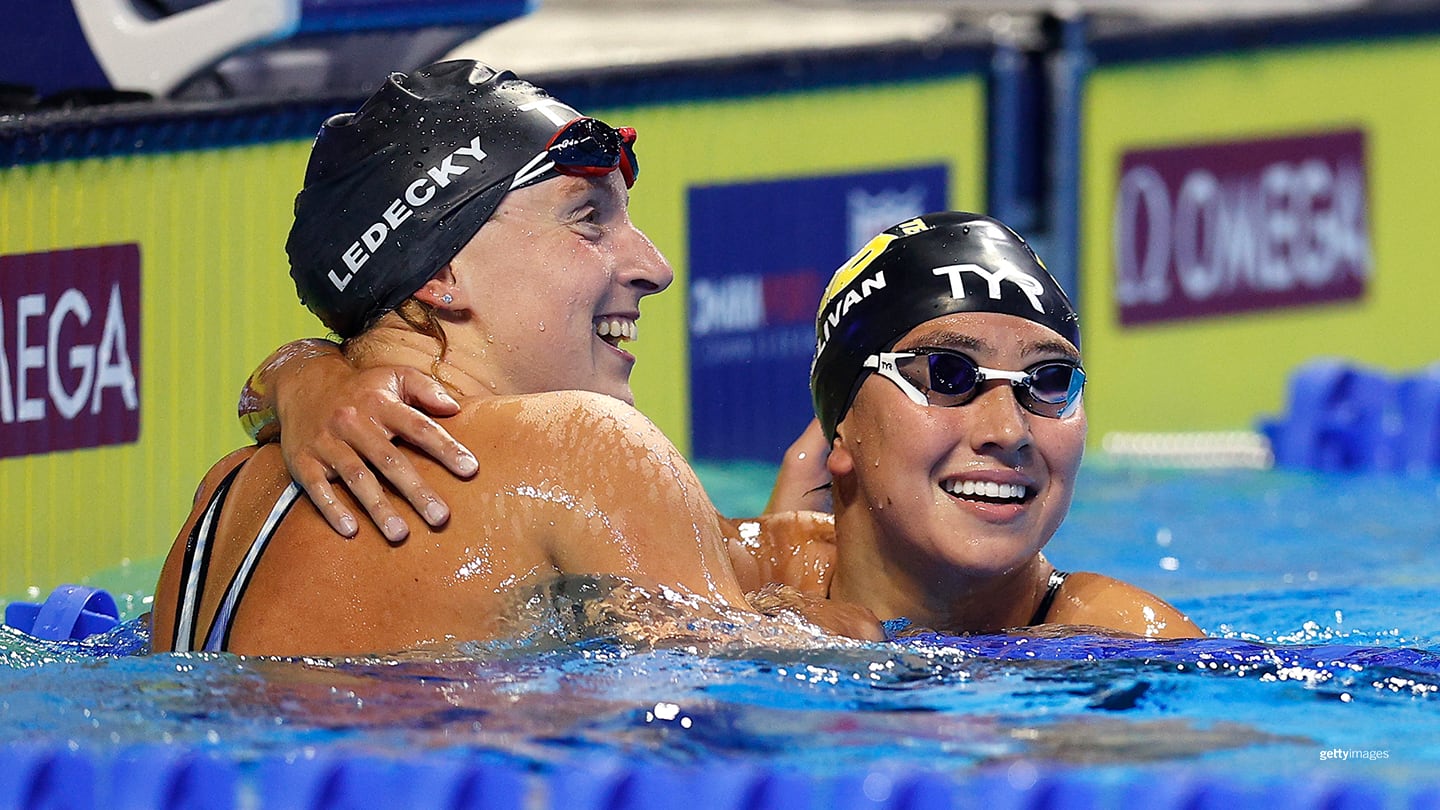 Katie Ledecky and Erica Sullivan react after competing in the Women's 1500m freestyle final at the 2021 U.S. Olympic Team Swimming Trials at CHI Health Center on June 16, 2021 in Omaha, Nebraska.
OMAHA, Neb. — Katie Ledecky added two more events to her Tokyo Olympic program, winning the women's 200 and 1,500 freestyles at the U.S. Olympic Team Trials — Swimming. The wins almost felt like a given for the freestyle phenom.


In the 200, the six-time Olympic medalist steadily gained on the field, touching the wall in 1:55.11 — the sixth fastest time so far in the world this year. She seemed most happy for her Stanford teammate, Brooke Forde, who finished sixth and stands a good chance of being named to the U.S. Olympic Team to compete in the 4x200 freestyle relay.


"She's one of my best friends," said Ledecky. "I was ecstatic."


After a short hour-long turnaround, Ledecky dove back into the pool and won the 1,500 with so much open water that it looked like she was swimming alone. Her time of 15:40.50 was fastest in the world so far this year.


Ledecky enjoys the 1,500 — or "the mile," especially because it makes its Olympic debut in Tokyo for the women, finally bringing gender equity to swimming.


"I've always enjoyed the distance training and the work that it takes to put together a good mile," she explained. "It takes a lot of mental strength and toughness and strategy. I was pleased with how it felt tonight. I didn't die off or feel like I was hurting too bad [at the end].


Ledecky holds the world record in the 1,500 (15:20.48) along with at least 10 of the top performances of all time.


Ledecky will swim the 200-1,500 double in Tokyo, too. Notably, men who are competing in the full span of freestyle races do not face the same double.


She qualified to compete in the 400 freestyle on the Monday night, and she is a favorite to win the 800 freestyle as well (Saturday).


If she wins five Olympic gold medals this summer (to go with the five she already has), Ledecky will become the winning-est female Olympian ever, moving ahead of Larisa Latynina, a Soviet gymnast who won nine Olympic gold medals between 1956-1964.


Before Ledecky swam the 400 on Monday evening, Michael Phelps met with reporters and called Ledecky "the greatest female swimmer of our time."


"First of all, Katie's doing it in one stroke," said Phelps, who won 28 Olympic medals competing in the 100 and 200 butterfly, 200 freestyle, and 200 and 400 IM races (plus relays). "And she's spanning over how many different distances? So that right there is a feat in itself."


"It's pretty impressive," he added, one GOAT to another. "She's recreating what's possible. She's challenging her imagination. That for me is something that's awesome to watch. She's not afraid to dream, and she's not afraid to push boundaries."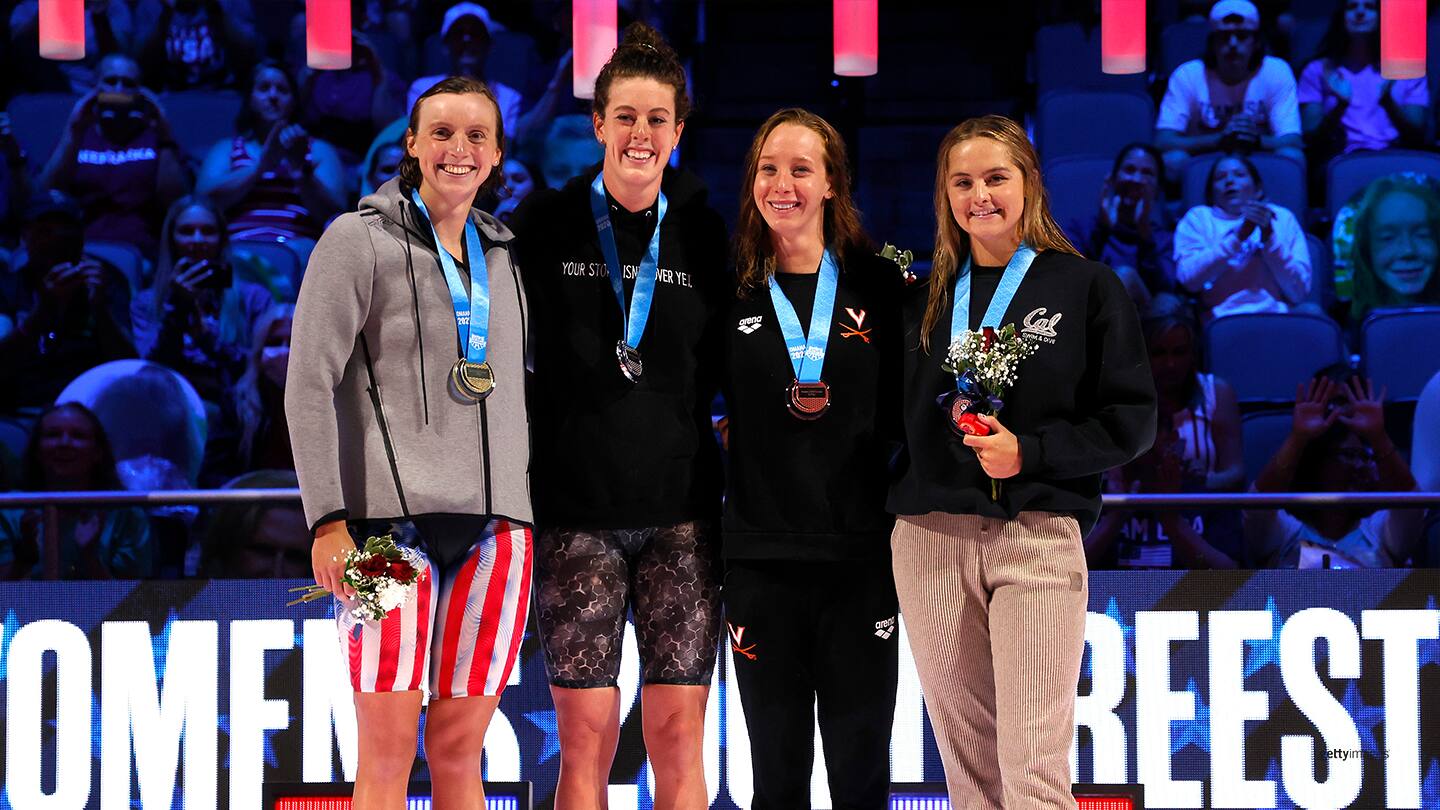 Schmitt Makes Fourth Olympic
Team
Ledecky's feats aside, the 200 freestyle final at 2020 trials will be remembered for what happened behind her. At age 31, Allison Schmitt qualified for her fourth Olympic team, finishing second in the 200 and securing a spot in two races in Tokyo (200 freestyle and 4x200 freestyle relay).
She climbed out of the pool and embraced Michael Phelps, whom she refers to as her brother. The two have been teammates since their time together at the University of Michigan (before the Beijing Olympic Games), and they have both been open about their battles with depression.
"It's been quite the journey to get to 2021, I think for everyone," Schmitt said. "[Michael] and Nicole and the whole family have been a huge part of that journey, and so to be able to embrace them right afterwards was a very special moment. Michael is a mentor for me in the pool and out of the pool."
Making another Olympic team is "special every time," added Schmitt, who set the American record at the 2012 London Olympic Games en route to gold and still holds the mark.
"This is definitely the most emotional," she said, tears flowing around her high wattage smile. "It's special to be here at 31."
Schmitt has won medals (eight and counting) in every Olympic Games since her first in 2008, when as an 18 year old, she helped the U.S. take bronze in the women's 4x200 freestyle race. She really shone in London, claiming the 200 freestyle crown, winning silver in the 400 freestyle, then adding two more gold medals in the freestyle relays. In Rio, she added another gold and silver in the freestyle relays.
"Her smile, brings people to her," said Ledecky. "She's just such a good friend to everyone and no matter the outcome, she's someone that you know has put in the work and has done it over so many years, and qualifying for a fourth Olympics is incredible."
But Schmitt is known for more than her Olympic medals. An outspoken advocate for mental health awareness, she wore a black sweatshirt to the press conference with the words, "Your Story Isn't Over Yet" on the front, and "Long Live April" on hood — commemorating her cousin who committed suicide in May 2015.
"Successes I have in the pool, those are going to fade," she said. "The medals go under your bed and the records are going to be broken. But at the end of the day, it's what you can do with that platform. For me, it can be used for mental health. I'm very passionate about mental health just like I'm passionate about the sport of swimming."
Just behind Schmitt in the 200 free, Paige Madden added another event to her Olympic program. Finishing third in the 200 free, the 22-year-old who recently graduated from the University of Virginia, will swim in the 4x200 freestyle relay (in addition to the 400 freestyle).
Katie McLaughlin, 23, made her first Olympic team after finishing fourth and will also aim to defend the U.S.'s Olympic gold medal in the 4x200 free relay.
Notably, 16-year-old Bella Sims from Henderson, Nevada, finished fifth and stands a good chance of being named to her first Olympic team to compete in the longer free relay. A high school sophomore, she only started swimming seriously at age 10, after the 2016 U.S. Olympic Team Trials (which she did not watch on TV). To put it in perspective, she was three years old when Allison Schmitt first competed in an Olympic Games.
Sims qualified to swim 11 events at trials—the most of any swimmer.

In Tokyo, they will face a tough Australian team in the 4x200 free relay. Led by Ariarne Titmus, who swam the fastest 200 free in the world so far this year at her country's Olympic trials, the Australians are the reigning world champions in the event.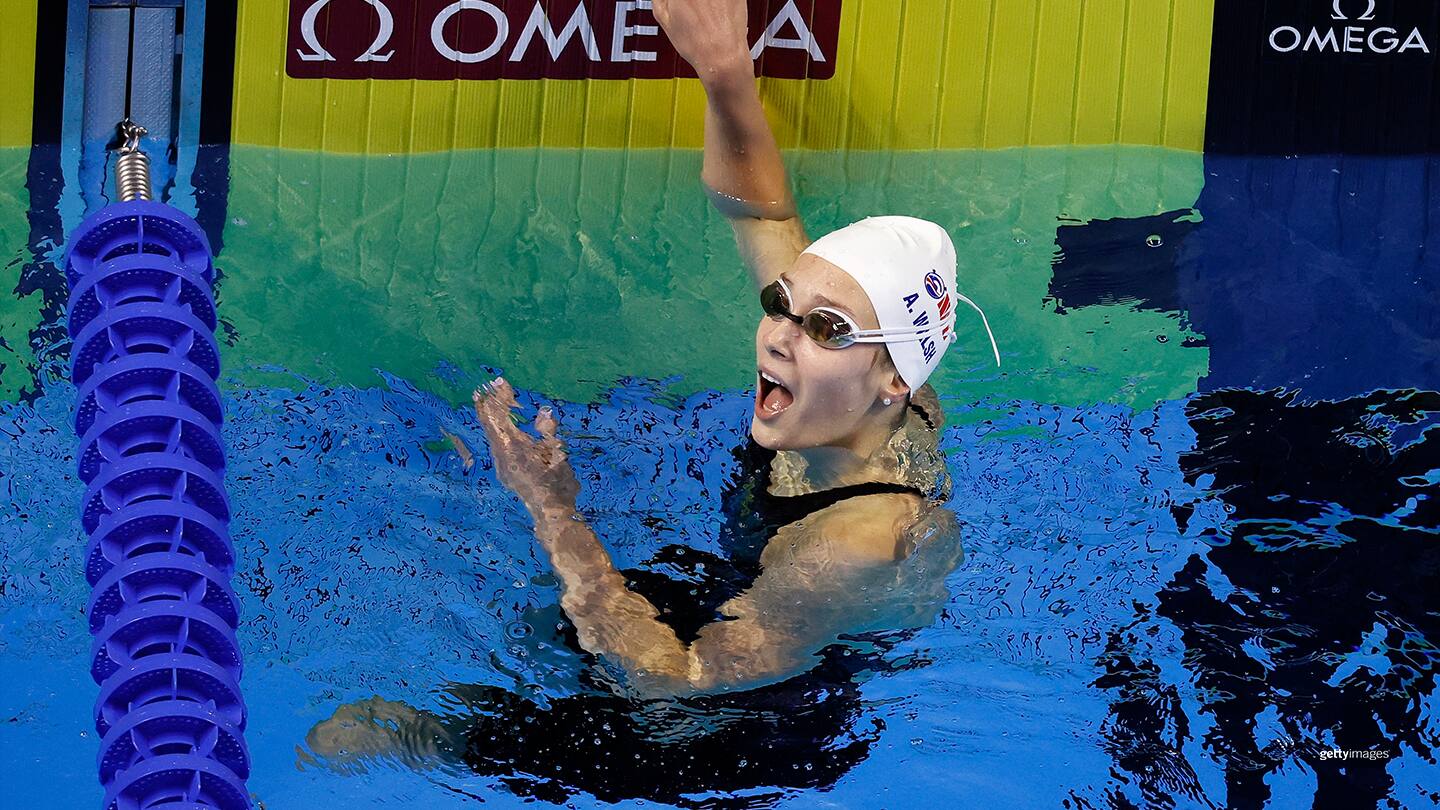 Women's 200 Individual
Medley
Alex Walsh rode the tide of teenagers qualifying for their first Olympic Games. The 19-year-old Tennessean, who just finished her freshman year at the University of Virginia, won the 200-meter individual medley in 2:09.30, two-hundredths of a second ahead of UVA teammate Kate Douglass, also 19.
Walsh is also the 2019 Pan Am gold medalist in the 200 backstroke and 200 IM.
Inspired by her UVA teammates, like Paige Madden — who solidified her spot on the 2020 U.S. Olympic Team by earning a spot on the 4x200 freestyle relay tonight — Walsh took the lead in the breaststroke leg of the IM and then fended off Douglass and pre-race favorite Madisyn Cox.
"Honestly, I was way more excited for their race than my own," said Madden. "I knew they had something special in store."
Walsh was comforted to have Douglass in the lane next to her. Walsh won the 200 IM NCAA title in March, and the two have trained the 200 IM together this spring. A distance swimmer, Walsh asked her coach to add her to the 200 IM group with the goal of improving her speed.
"I wanted that speed because that's what makes me confident," she said, and she knew confidence was key coming to Olympic trials.
As for Madden, the UVA senior helped show the new recruits how to handle the heavier load of college swimming.
"I've never seen someone who has her kind of work ethic," said Madden. "She showed me what it would take to be an Olympic contender."
Tomorrow, Walsh will cheer on her younger sister, Gretchen, in the 100 freestyle. The two came up through the swimming ranks together and have been separated since Walsh went to UVA.
"Having my sister here means the world to me," she said.
An award-winning freelance writer based in Vermont, Peggy Shinn has covered five Olympic Games. She has contributed to TeamUSA.org since its inception in 2008.