Suni Lee's Road To Paris Will Go Through Her Hometown Twin Cities
(L-R) Rebeca Andrade (Brazil), Sunisa Lee and Angelina Melnikova (ROC) pose for a photo after the women's all-around final at the Olympic Games Tokyo 2020 on July 29, 2021 in Tokyo.
MINNEAPOLIS – Two years ago, a crowd of friends and family woke up early and packed into an event center to watch on a big screen as gymnast Suni Lee captured the Olympic women's all-around gold medal on the other side of the world at the Olympic Games Tokyo 2020.

Next year, tracking their hometown hero will be much more convenient after USA Gymnastics announced Minneapolis as the host site of its 2024 U.S. Olympic Team Trials. The event, which will be part of a larger nine-day gathering dubbed Gymnastics City USA 2024, will culminate at Target Center in downtown Minneapolis, just across the river from Lee's hometown of St. Paul.

"Watching the Olympians who came before me was such an inspiration when I was growing up, and it means so much to know that the young athletes in Minnesota will have a chance to be inspired by the best gymnasts in America," Lee said in prepared remarks at Tuesday's announcement.
The trials will be held June 27-30, following the national championships for rhythmic, acrobatic and trampoline and tumbling gymnastics at the nearby convention center. The weekend will also include a USA Gymnastics Hall of Fame induction ceremony, among other events.

Lee, one of three Minnesotans on the 2020 U.S. Olympic gymnastics team, along with Grace McCallum and Shane Wiskus, is sure to be at the center of the festivities.

In the summer of 2021, the 18-year-old Lee was accomplished but hardly a household name when she upset Simone Biles on the final night of the trials in St. Louis and earned an automatic spot on the Olympic team.

A few weeks later in Tokyo, when four-time Olympic gold medalist Biles withdrew for mental health reasons, Lee stepped into the spotlight, helping the U.S. win a team silver medal before claiming gold in the all-around and bronze in her signature event, the uneven bars.

From there the teenager whisked off to Alabama for her freshman year at Auburn University, where the newly crowned world champ made meets at the school's Neville Arena the hottest tickets in town on her way to an NCAA title on balance beam and a runner-up finish in the all-around. A much-anticipated encore season in 2022-23 was cut short due to a non-gymnastics health issue, however, and shortly after Lee made her long-planned return to the Twin Cities to begin training at the elite level again for the Olympic Games Paris 2024.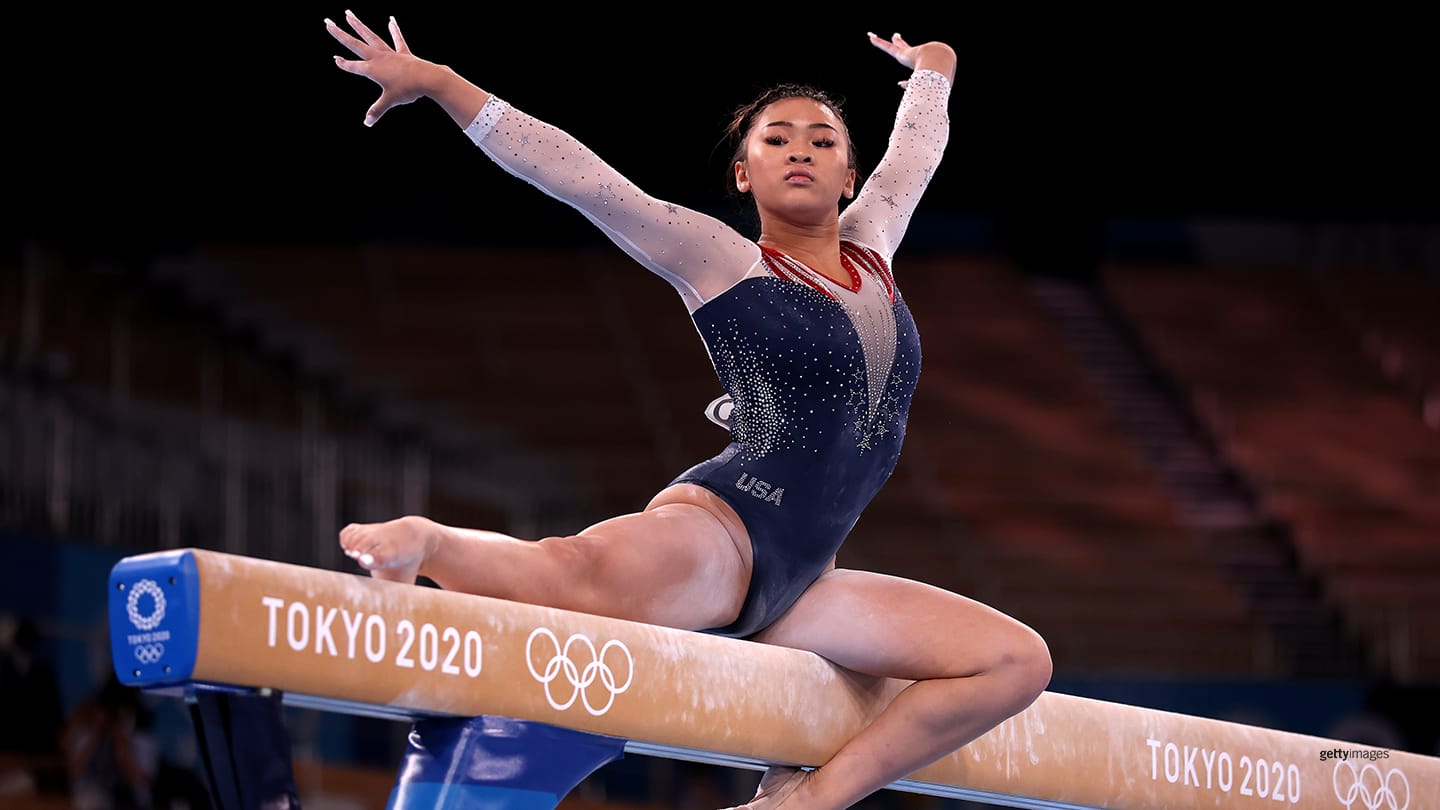 Sunisa Lee competes on the balance beam during the women's all-around final at the Olympic Games Tokyo 2020 on July 29, 2021 in Tokyo.
The last time Lee was full-time in Minnesota, her coach Jess Graba said, the teen was just learning how to drive. Now 20 years old and back at her longtime gym, Midwest Gymnastics, in the St. Paul suburbs, Lee is very much grown up.

"Now she has her own apartment, she does her own stuff, she's got her own businesses and things like that," Graba said.

She's also working on new skills, which she's been showing off on social media.

Lee would return to competition "tomorrow" if she could, Graba said. Instead, she and her coaches — Graba and his wife Alison Lim — are avoiding any talk of timelines.

"I'm trying not to put too much down because especially with these types of athletes and coaches, when you start to write stuff down it gets serious, you start to hold yourself accountable," Graba said. "So we're trying to be as easy and open as we can and trying not to put too much stress and pressure on the situation until we have a little more comfort that we can do this."

Lee took a break from training following the NCAA season but has been ramping up in recent weeks. The gymnast and her coaches are leaning on the trust built over their long relationship, as well as Lee's instincts stemming from her experiences, as they map a path forward.

"I think she's starting to get a little more comfort with the process that she's got to do now," Graba said. "We're starting to let her take the lead. And we're going to be like whatever you can handle, we're going to train, and if you can't handle (it), we just communicate a lot. Some days go good; some days don't. And that's just the way it is."

But, he added, "her not full speed is pretty darn good, though."

Tuesday's event at Target Center was chockablock with local gymnastics dignitaries, officials and politicians, but it was Lee at the center of it all, mingling on stage with Gov. Tim Walz while other speakers pitched themselves for president of the Suni Lee Fan Club.

"There is actually currently a vacancy for the president of the John Roethlisberger Fan Club," quipped the fellow Minnesotan, himself a three-time Olympic gymnast, who emceed the event.

There were no takers.

Lee, on the other hand, stuck around for selfies with many of the young gymnasts in attendance — young fans who no doubt will be hoping to see her again at the Olympic trials next summer.
Chrös McDougall has covered the Olympic and Paralympic Movement for TeamUSA.org since 2009 on behalf of
Red Line Editorial, Inc.
He is based in Minneapolis-St. Paul.