Seven Takeaways From The 2021 U.S. Gymnastics Championships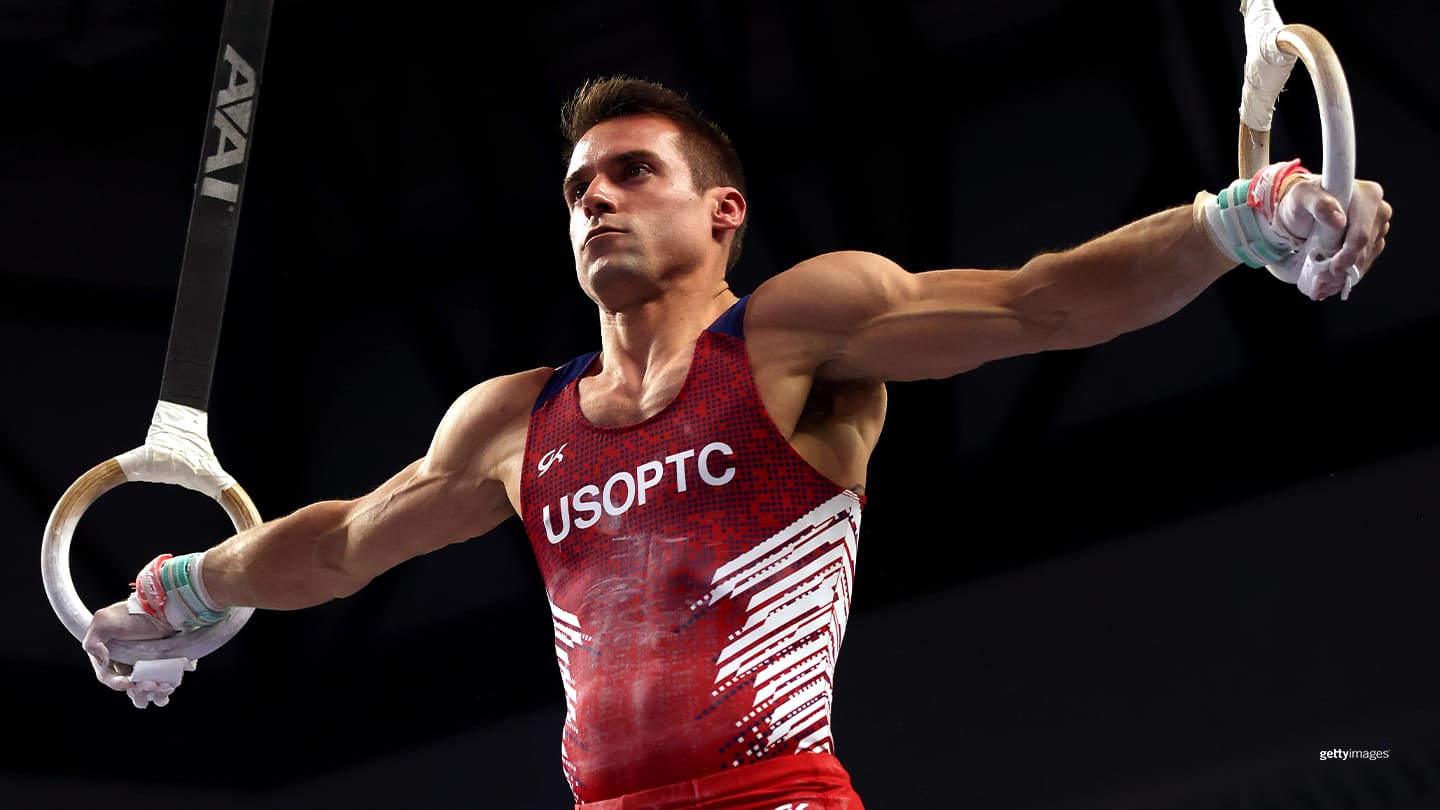 Sam Mikulak competes on the rings during U.S. Gymnastics Championships on June 5, 2021 in Fort Worth, Texas.
The U.S. Gymnastics Championships wrapped up Sunday in Fort Worth, Texas, in familiar fashion — with Simone Biles easily claiming her record seventh U.S. title.

Not all was so predictable, however.

One night earlier, a seventh U.S. championship proved elusive for Sam Mikulak, with Stanford gymnast Brody Malone claiming his first men's title in convincing fashion (and two-time Olympian Mikulak finishing third).

National titles weren't the only focus over the weekend. With the Olympic Games set to start in Tokyo in less than two months, the national championships proved the first major opportunity to see where gymnasts stand as they battle for the coveted few spots on the Olympic team.

With the all-important U.S. Olympic Team Trials now less than three weeks away June 24-27 in St. Louis, here are seven takeaways from the national championships.

1. Three Women Step To The Front
There's really no question at this point that Simone Biles will be headed to her second Olympics. The 24-year-old Texan looked like an Olympic champ already in Fort Worth. Following nationals, Sunisa Lee and Jordan Chiles appear in strong position to join her. Officially the top two all-arounders at trials make the team, but both Lee and Chiles now have a body of work that should be good enough. Lee, the runner-up both nights at nationals, is already an individual silver and bronze medalist at the world championships. After limiting herself earlier this year due to an ankle injury, the Minnesota native showed she's back — or back enough — with her performances in Fort Worth. In particular, her uneven bars routine on Friday looked like one that could win an Olympic medal. Chiles, meanwhile, continued the strong form showed in winning the Winter Cup in February and finishing second (behind Biles) at the U.S. Classic last month. She had the second best vault score at nationals and was fourth on the other three apparatuses.

2. The Men's Guard Is Changing
No doubt Sam Mikulak was not at his best in Fort Worth, especially on night one. That doesn't take away from Brody Malone, though. The 20-year-old, two-time NCAA all-around champ from Stanford was convincing in victory. His Day 1 all-around score was 1.3 better than anyone else over the weekend. If not for a fall on parallel bars Saturday, he might have won by three points. Instead he settled for a 2.75-point margin on a weekend when he was strong, confident and in control throughout. "That kid's the future," Mikulak said. But Malone's not the only one. Yul Moldauer, 24, was characteristically solid in finishing second, while fellow Stanford Cardinal Brandon Briones, 20, was fourth in his first elite senior nationals. Meanwhile, former Minnesota Golden Gopher Shane Wiskus, 22 and a veteran of the 2019 world championships, was on track to finish second until a disastrous final routine dropped him to seventh.

3. Sam's Struggles
In winning his six nationals titles from 2013 to 2019, Mikulak was always the deserving champion, even if he wasn't always challenged. Just doing his gymnastics, even with an occasional mistake, was enough to keep the streak alive. His struggles on Thursday were more than the flukey mistakes that became a trend earlier in his career, though. In his first competition in 15 months, Mikulak was off. The 28-year-old fell on parallel bars and had major errors on floor exercise and pommel horse, ultimately leaving him in seventh place. Citing fatigue and a lack of confidence, Mikulak pledged to review his diet and consult with his sports psychologist ahead of night two. That seemed to work as he came back Saturday noticeably better, his only major mistake coming when he fell off pommel horse. He actually ended up posting the top all-around score of the night, which helped him rebound to finish third overall in the final standings. The question now for trials is which Mikulak will we see? Saturday Sam is a gymnast headed to a third Olympic Games. If he performs like he did on Thursday, though, that's no guarantee.

4. The Battle For No. 4
If Biles, Lee and Chiles continue their momentum in St. Louis, that could leave a whole pool of women battling for the fourth and final spot on the Olympic team. Realistically, any of the top 12 finishers in Fort Worth could be the one if they peak at the right time. And even some outside the top 12 might have a shot. A few names will be worth watching especially close, though. Emma Malabuyo, a former phenom on the junior circuit, is healthy for the first time in years and appears ready to finally fulfill her lofty potential. National team coordinator Tom Forster highlighted her fourth-place finish as "the biggest surprise" of the meet and called her "super impressive." Grace McCallum, a world championships veteran known for her consistency, finished tied for seventh in the all-around but with a standout performance on balance beam. MyKayla Skinner, a 2016 Olympic alternate who left a standout career at Utah to pursue another Olympics, Leanne Wong and Kara Eaker also have room to improve in St. Louis. One other name to keep tabs on is Kayla DiCello. Coming off a strong performance at U.S. Classic she had some uncharacteristic falls in Fort Worth. Though she finished 11th in the all-around, she also took second on floor exercise.

5. The Plus-1 Decision
While the U.S. men were competing in Texas on Friday, a few thousand miles south Paul Juda was giving his teammates quite the gift. The University of Michigan gymnast took second-place in the all-around at the Pan American Championships in Rio de Janeiro. That meant the U.S. men now join the women in having a "plus one" individual spot for Tokyo. Those gymnasts, who will be selected by committee, will not be part of the four-person Olympic teams but can compete individually on any events. Forster and his U.S. men's counterpart, Brett McClure, made clear the selection criteria for those plus-one spots will focus on medal potential. With the top all-arounders presumedly already being on the team, that means these spots are likely to go to event specialists. Riley McCusker has to be the odds-on favorite on the women's side after showcasing a rejuvenated bars routine Sunday. That's also the event with seemingly the most opportunity for the loaded U.S. women. On the men's side, the committee could go one of many directions, but the pommel horse battle between Stephen Nedoroscik and Alec Yoder could be the one to watch.

6. The Jade Question
When Olympic teams shrunk to four gymnasts for 2020, down from five in previous Games, the move was offset some by adding opportunities for athletes to qualify as individuals. Jade Carey took advantage of one of those opportunities, qualifying by name via the apparatus world cup series. In other words, she qualified herself — not a quota spot that someone else could fill. However, Carey had to make that decision years ago, when she was primarily a floor and vault specialist. Now, not only is she a world medalist on both events, but she's also an accomplished all-arounder, having finished fifth in Fort Worth. There's been much speculation in gymnastics circles as to whether Carey might decide to give up her individual spot for an opportunity to compete for gold as part of the team. And who could blame her? The problem is that doing so would mean the U.S. loses her individual spot — in other words, then only five U.S. women would go to Tokyo, instead of six. Carey hasn't committed to a plan yet, though Forster said Sunday he expects she will stick with her individual spot. When pressed on what might happen if she finishes top-two at trials and thus is eligible for an automatic spot on the team, he elaborated: "Everybody knows that. She knows it. We all know that, but we live in a world of athlete centeredness and the athletes have the choice, so it will be up to her if she's in that position."

7. All Hail The Comeback Queens
Chellsie Memmel isn't going to make a second Olympic team. She nonetheless got some of the biggest cheers from fans in Fort Worth. Challenging the perception that gymnastics is a sport for teenage girls, Memmel came back and qualified for nationals as a 32-year-old mother of two. The 2005 world all-around champion and 2008 Olympian had mixed results on her three events — she didn't compete floor — but proved to be one of the feel good stories of the meet. It's unclear whether Memmel will be petitioned into trials, but after nationals the Wisconsin native tweeted: "It has been too much fun to stop now, and I will not be done because of a bad night." Another gymnast on a comeback, 2016 Olympic medalist Laurie Hernandez, had to withdraw from nationals after one routine due to injury. She too could still compete in trials via a successful petition.
Chrös McDougall has covered the Olympic and Paralympic Movement for TeamUSA.org since 2009 on behalf of
Red Line Editorial, Inc.
He is based in Minneapolis-St. Paul.