Simone Biles Looks Olympic Ready In Winning Record Seventh U.S. Title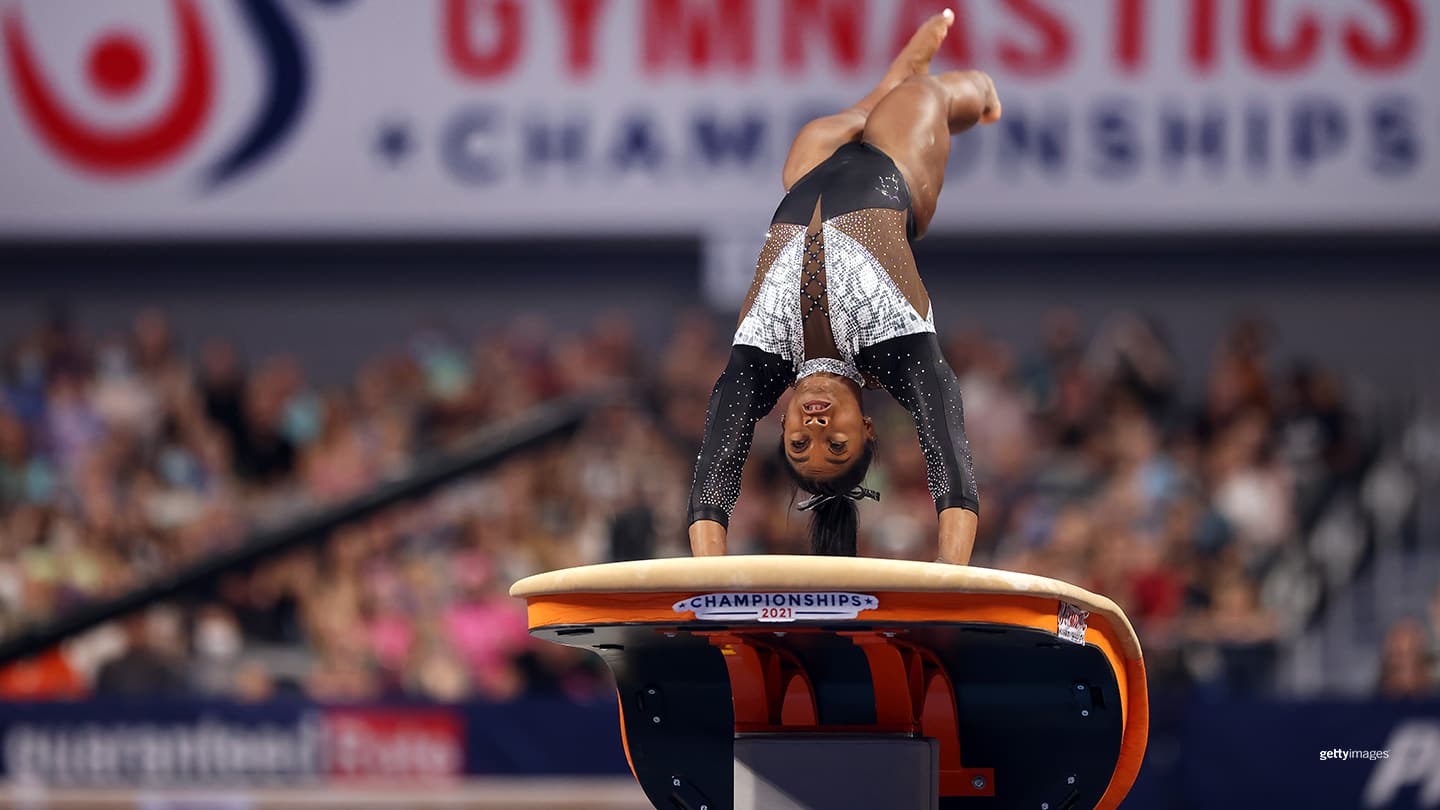 Simone Biles competes on the vault at U.S. Gymnastics Championships on June 6, 2021 in Fort Worth, Texas.
Simone Biles has a plan mapped out that'll have her peaking in 49 days from now, when the women's gymnastics competition begins at the Tokyo Olympic Games.

Her performance this weekend showed she could probably win a gold medal tomorrow.

"I would probably have a heart attack if the Olympics were scheduled for tomorrow because that wasn't our plan," the 24-year-old said Sunday night, moments after winning her record seventh all-around title at the U.S. Gymnastics Championships in Fort Worth, Texas.

"But I want to take this consistency into trials and just tighten up the routines. I feel I'm on the correct road for trials."

One can only imagine what she'd look like by Tokyo.

Having amassed four Olympic gold medals, five world all-around titles and 19 world titles overall, Biles isn't really competing with other people anymore, and that showed again as she took the drama out of the national championships even before Sunday's competition began.

With the Spring, Texas, native carrying a 2.2-point lead from the first day of competition on Friday, the question was less whether she could hold on and more where the goat would be on her leotard. Two weeks ago at the U.S. Classic she showed up with an outline of the animal — signifying "Great Of All Time" — on her back. Two days ago it moved to her right shoulder for the first night of nationals. Sunday, it was on her right hip.

And, oh yeah, she took home the title with a monster score of 119.65, an amazing 4.7 points better than second place Sunisa Lee and 5.2 better than training partner Jordan Chiles. Even in the Olympic year, when everyone is at their best — and the U.S. has no shortage of world-class competition — she managed to make it an exhibition as much as a competition.

Biles also did so with a few blemishes on floor exercise that she should be able to clean up, and without attempting her previously unprecedented Yurchenko double pike vault that she landed at U.S. Classic. She said she'll attempt that audacious skill — never before competed by a woman until last month — in three weeks at the U.S. Olympic Team Trials in St. Louis.

Perhaps the only real issue for Biles on Sunday was breaking her newly manicured fingernail on his first vault.

"I'm very upset about it," she said, "because they're pretty cute this time."

Starting on balance beam, Biles barely flinched as she made her way back and forth along the four-inch plank. Her score of 14.9 was the best of any on the apparatus over the two-day competition. Moving on to floor exercise, Biles once again nailed her signature triple-twisting, double backflip — one of two floor skills she performed that's named for her in the sport's Code of Points. After bounding out of bounds on three of her tumbling passes Friday, she was much more in control Sunday, this time staying within the lines on all but one.

"It's so crazy because in training I never go out of bounds and I never have this much power, but with the adrenaline, that's where it comes," said Biles, whose scores of 14.65 and 14.95 were the still easily best floor marks of the meet. "So we'll just have to focus on working with that."

Moving on to vault, Biles flew half way to Dallas on her Cheng and Amanar vaults — a visual so striking it almost takes away from the fact that she just made two of the most difficult vaults ever performed look almost easy.

She ended on uneven bars, the only event in which she'd go into Tokyo labeled "contender" instead of "overwhelming favorite," and closed out the night with another performance that could again be mistaken for being Olympic ready tomorrow. She finished third on bars, the only event she didn't win.

As on Friday, once again it was Lee and Chiles fighting it out in the "non-Simone" division.

Lee, still coming back from an ankle injury, felt people had "counted me out" after she only competed bars and beam at the U.S. Classic, and hardly looked her best in doing so. She was much closer this weekend to the gymnast fans remember from 2019, when she was winning a floor silver and bars bronze medal at the world championships.

Though Sunday's bars routine wasn't quite as sharp, or as difficult, as the monster set she put up Friday, it was enough to secure first place. That meant for the second time in a row, Lee, 18, became the only gymnast not named Biles to win a national title. The St. Paul, Minnesota, native also finished second on beam and fifth on floor.

Chiles came into Fort Worth riding the momentum of a win at February's Winter Cup and a second-place finish to — who else? — Biles at the U.S. Classic. It's been a stunning comeback for the Vancouver, Washington, native, who went from second in the all-around at the 2017 U.S. championships to sixth two years later.

That summer she moved to Texas to begin training with Biles at the World Champions Centre in Spring, and after the postponement of the Olympics brought an extra year to recover from October 2019 surgery, the 20-year-old has taken hold of that opportunity.

Showing a consistency that would have looked foreign just two years ago, Chiles posted the third best vault score this weekend and was fourth on each of the other apparatuses.

With those three separating themselves in the Tokyo discussion, the potential battle for the fourth Olympic team spot could prove to be an incredibly wide bottle with the narrowest of necks.

Emma Malabuyo, once the "next big thing" junior gymnast who had fallen off the radar in recent years due to injuries, was the breakout performer this weekend in finishing fourth, with a score of 110.45.

"That was really neat to see," U.S. women's high-performance director Tom Forster said. "That was probably the biggest surprise that I had."

Just behind her was Leanne Wong with 110.15 points, and then with 110.0 points was Jade Carey, who has already qualified for the Olympics as an individual. Forster said Carey is not expected to compete for a spot on the four-person Olympic team at trials, as doing so would forfeit the individual spot and mean the U.S. could send five, rather than six, women to Tokyo.

Skye Blakely and Grace McCallum tied for seventh with 109.55 points, followed by MyKayla Skinner (109.5), Kara Eaker (109.05) and Kayla DiCello (108.8) and Shilese Jones (108.5).

The list is so long because each of those women, if things go just right, could realistically contend for either a spot on the four-person Olympic team or the other individual spot, which will be chosen by a selection committee based on medal potential.

McCallum took first in the "non-Simone" division for beam, posting identical 14.2 scores each night, while DiCello also posted identical 14.05 scores to finish second on floor.

Riley McCusker made a strong claim for the "plus-one" spot on Sunday with a return to top form on the uneven bars. Showing the elegant form fans have come to expect from her, McCusker posted the top bars score of the night at 15.1, which also marked a .45 improvement over Friday. That was the only event she competed this weekend after injuring her ankle at the U.S. Classic.
Chrös McDougall has covered the Olympic and Paralympic Movement for TeamUSA.org since 2009 on behalf of
Red Line Editorial, Inc.
He is based in Minneapolis-St. Paul.