The Women To Watch As The Olympic Gymnastics Trials Get Underway In St. Louis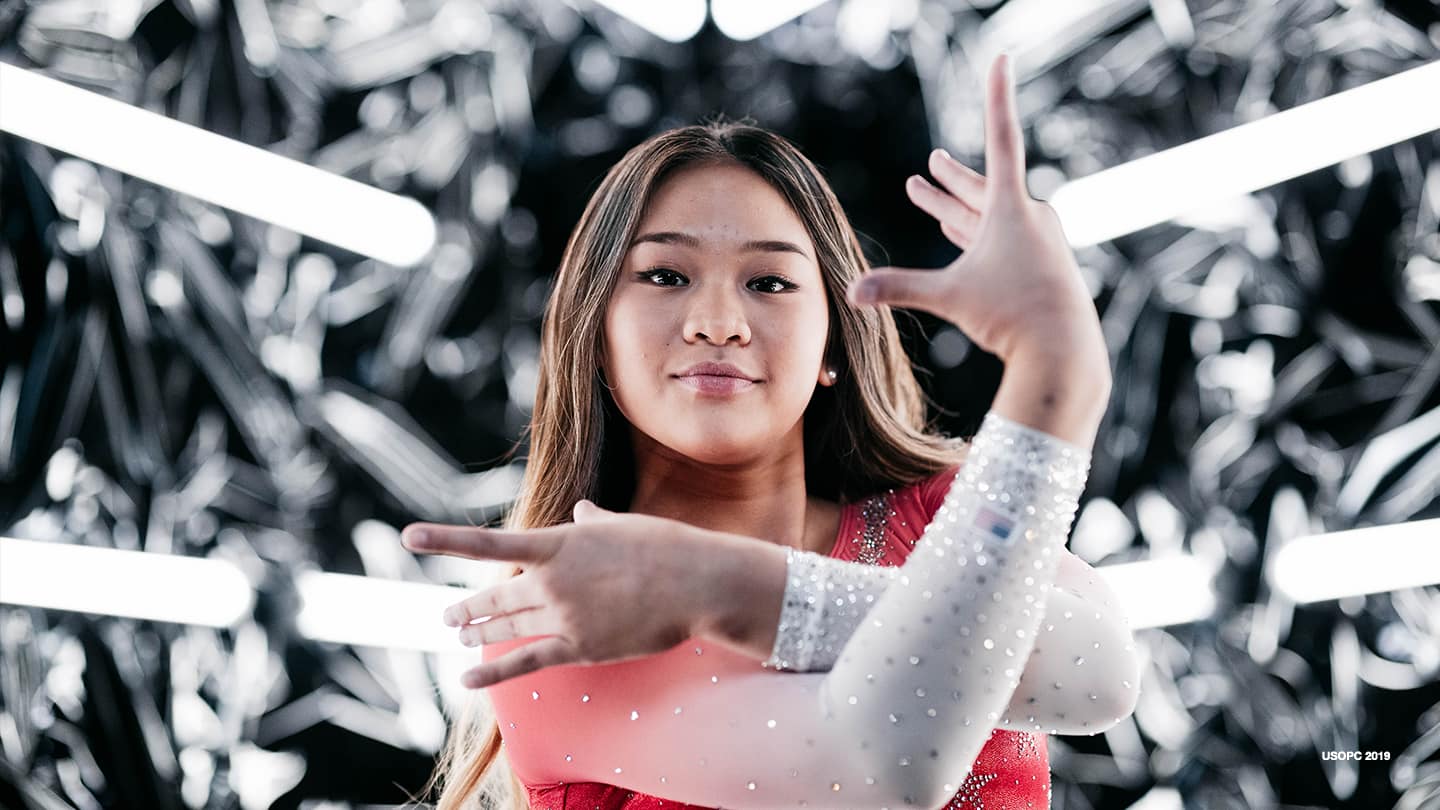 Sunisa Lee poses during the Team USA Tokyo 2020 Olympic shoot on November 23, 2019 in West Hollywood, California.
Who to Watch presented by DeVry is a series that includes a run-down on the front runners, dark horses, unexpected athletes and top storylines to watch during Trials.


The U.S. has no shortage of contenders to fill out the Olympic women's gymnastics team that will go for a third consecutive gold medal next month in Tokyo.

Perhaps the bigger question is how many additional medals can the U.S. find among the five gymnasts selected at the conclusion of this week's U.S. Olympic Team Trials.

The women will compete on Friday and Sunday nights at the Dome at America's Center in St. Louis, with the top two all-arounders earning automatic qualification to the four-person team. Two more team members, and one individual, will be chosen by committee, with the results from the U.S. Gymnastics Championships earlier this month in Fort Worth, Texas, also being taken into consideration.

Those five women will head to Tokyo next month alongside Jade Carey, who previously secured an individual spot.

Here's a look at the top contenders to watch as the competition really begins to heat up in St. Louis.


In any given year somebody has to be the best. Some years might be more competitive than others, and one champion might be more impressive than the next. Simone Biles isn't winning any competitions by default. The 24-year-old from Spring, Texas, is at minimum a generational talent, but really is more akin to the animal she's had discreetly bedazzled onto her leotard in recent competitions — a goat, short for Greatest Of All Time.

With a record 25 world championships medals and five more from the Olympics, she's already one of the sport's most decorated athletes. She hasn't lost an all-around competition since 2013, a streak that includes an Olympic gold medal and five from the world championships. And nobody can match her combined 23 Olympic and world titles. Stats don't do justice to her abilities, though.

There simply isn't anyone in the world who can match her difficulty on beam, floor and vault, and even her "weak" event, the uneven bars, is world class. Combine that difficulty with her elite athleticism and impeccable technique, and Biles' otherworldliness is truly unique.
In a national championships field with some of the world's best vaulters, Biles appeared to fly into another stratosphere while nailing two of the most difficult vaults ever performed. Her signature double-double dismount on balance beam and triple-double on floor exercise are so audacious they were barely considered as being possible before she debuted them in 2019. It's no exaggeration to say she is literally a show stopper.

Though Biles has hinted that she might make a run at a third Olympics in 2024 as a specialist, she's at her absolute peak right now, and anyone who hasn't stopped to watch should make an appointment to do just that this summer.


In the ultra-deep U.S. women's program, there are many combinations who could fill out a strong four-person team. Based on results from nationals, however, any of the top scoring combinations include Biles, Sunisa Lee and Jordan Chiles.

Lee, an 18-year-old from Minnesota, was the breakout star in 2019. Days after her father was partially paralyzed when he fell off a ladder, Lee finished runner-up to Biles at that year's national championships. She then won a silver medal on floor exercise and a bronze medal on uneven bars at the world championships. That form has been coming back in recent weeks. Nursing an ankle injury, Lee struggled while competing just bars and beam at U.S. Classic in May, but with her dad in the audience she was back in a big way at nationals. Not only did Lee finish second to Biles once again in the all-around, but her day one uneven bars routine was among the most difficult in the world, scoring a monster 15.3. In addition to winning the bars title in Fort Worth, she also ranked second on balance beam.

Chiles, meanwhile, has been the sensation so far in 2021. At one point the next big thing in the U.S. women's program, Chiles was the national runner-up in 2017, but over the next two years she faded into the crowd and through 2019 still hadn't been selected for a world championships team. Having then moved from Washington, where she was the only elite gymnast in the state, to train with Biles near Houston, Chiles has emerged one of the country's strongest and most consistent gymnasts so far in 2021. The 20-year-old won the Winter Cup in February, finished second behind Biles at the U.S. Classic and then was a close third at nationals. All four of her event scores at nationals were among the top four.


Of the remaining 15 women competing at trials, at least six arrive in St. Louis with a serious shot at making the four-person team, and several more remain right in the mix. With such high-end talent and depth to pick from, the U.S. selection committee could simply go with the top four all-rounders or try to get strategic in mix and matching the best scores. Either way the Americans will enter Tokyo as the favorite.

In recent years the U.S. has leaned heavily on all-around standings when putting together teams. If that remains the case for Tokyo, then by the numbers Emma Malabuyo is in the driver's seat. That's not a name many would have projected one year ago, but the former junior star, now 18, was finally healthy and back at her best in Fort Worth, and that put her in fourth place. The question now is whether she can hit again with the pressure turned up, which could be an important barometer for a gymnast who competed just twice between 2017 and 2021.

Several women just behind Malabuyo in Fort Worth could be in line for improvements of their own. Leanne Wong was just .3 back in the standings on the strength of strong vault and floor scores. Two spots behind her, in a tie for seventh, was Grace McCallum, a veteran of the last two world championships and one of the country's strongest beam workers. Kara Eaker, meanwhile, made the balance beam finals at those same two world championships and finished fifth in the event in nationals. However, at 10th in the all-around there is room for improvement.

Finally, among the veterans, don't overlook MyKayla Skinner, despite her ninth-place all-around finish in Fort Worth. A 2014 world championships veteran and alternate for the 2016 Olympic team, Skinner had moved on to a successful collegiate career at Utah before coming back to the elite level for one more shot at the Olympics. One of the country's top vaulters — she was third on the event at 2014 worlds and second in Fort Worth — Skinner can also put up a big score on floor, and by some calculations would be the top-scoring fourth member to the aforementioned frontrunners.

One other wildcard is Riley McCusker. Coming back from injury, she only competed on bars at nationals (more on that below), but if she adds back the other events in St. Louis, and they're anywhere close to her bars, she could boost herself right into the mix for the team.

The gymnast with perhaps the most to gain in St. Louis is Kayla DiCello. The U.S. women's program is known for unearthing first-year seniors to fill a spot on the Olympic team — think Bridget Sloan in '08, Kyla Ross in '12 and Laurie Hernandez in '16. Though DiCello made her senior debut in 2020, just before the pandemic, the 17-year-old appeared on track to be the token "young" gymnast in Tokyo when she finished third in the U.S. Classic. However, an inconsistent performance at nationals left her in 11th, meaning she'll likely need a monster performance this weekend to get back to where she was.

Who else might be in the mix? Skye Blakely tied for seventh with McCallum and is another solid beam worker, though she might need to bump up her difficulty on the other events to stay in the mix. Although Shilese Jones was 12th in the all-around, she finished top-five on bars and vault. And Emily Lee, who finished 13th, was among the top 11 on beam, floor and vault.


Conspicuously absent from the above list is Jade Carey, the sixth best all-arounder in Fort Worth. That's because Carey already qualified for the Tokyo Games as an individual. After much speculation that Carey might turn down that spot and go for a position on the team — a move that would result in the U.S. losing her individual quota — the Arizona native confirmed last week that she'll keep the spot she earned.

The 2020 qualification procedures were controversial and many believe unfair for gymnasts like Carey. Faced with the decision of whether to attempt to qualify by name via the apparatus world cup circuit or leave things to chance and hope to be selected by U.S. officials, Carey bet on herself and earned her spot. However, in doing so she was forced to skip the 2018 world championships in order to maintain her eligibility, and now she very well might have been good enough to make the team and potentially win a gold medal but won't have that opportunity.

Don't let the drama surrounding that situation overshadow what Carey can do on the floor, though. In 2016 she was still competing on the Junior Olympic circuit, rather than the elite level where top Olympic prospects ply their trade. By 2017, Carey was not just competing elite but winning silver medals on floor and vault at the world championships. After sitting out 2018 worlds, she won another vault silver medal at the 2019 event.

Although Carey qualified for Tokyo as a specialist, all individuals are eligible to compete across all four events in the Olympic qualification round, and the future Oregon State gymnast could very well be a medal contender again in each of her two standout events.


In addition to Carey's individual spot, the U.S. women earned a second individual quota for Tokyo, meaning the country will send the maximum six athletes. The second individual spot was earned for Team USA, rather than a specific athlete, which means a U.S. selection committee will determine who fills the spot based on who not already on the team has the most medal potential.

The clear frontrunner for that spot after nationals is McCusker, who posted the top bars score on Sunday and was second behind Lee over both nights at nationals. Only six routines over the two days in Fort Worth broke the 15-point mark, and the only ones that didn't come on vault were Lee's bars on Friday (15.3) and McCusker's on Sunday (15.1).

If McCusker ends up making the team, that could put a lot of new names in play for the plus-one spot. Among the top contenders for the team, Lee, Chiles, McCallum, Skinner and, of course, Biles could all be considered medal contenders on at least one event. Meanwhile, Jones is just behind the top contenders on vault, while Eaker and Wong could make a case for beam or floor, respectively.
Chrös McDougall has covered the Olympic and Paralympic Movement for TeamUSA.org since 2009 on behalf of
Red Line Editorial, Inc
. He is based in Minneapolis-St. Paul.