Biles Shines, But Lee And Chiles Are Hot On Her Tail, As U.S. Gymnastics Championships Get Underway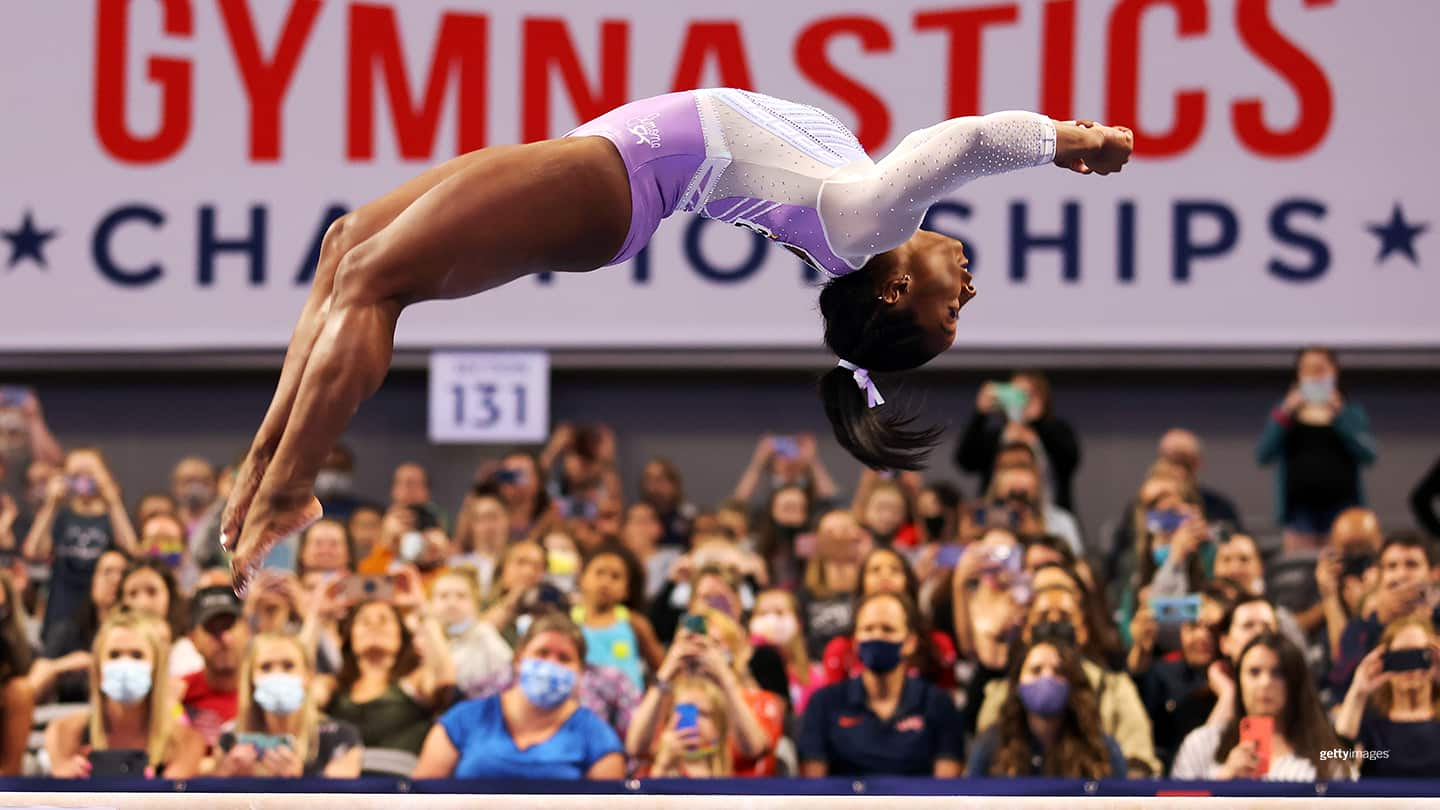 Simone Biles competes on the beam during the 2021 U.S. Gymnastics Championships on June 4, 2021 in Fort Worth, Texas.
Two weeks ago it was Jordan Chiles. On Friday night, Sunisa Lee stepped forward to make her claim to a spot on this summer's U.S. Olympic women's gymnastics team.

With all-world Simone Biles presumed to be a lock to make her second Olympic team and Chiles riding the momentum of a strong performance at last month's U.S. Classic, Lee officially joined the party as all three posted strong opening nights as the U.S. Gymnastics Championships got underway in Fort Worth, Texas.

Biles finished well on her way to a seventh U.S. all-around title with a score of 59.55, putting her 2.2 ahead of 2019 runner-up Lee and 2.65 in front of training partner Chiles. The trio are now firmly in the drivers seats for spots on the four-person team that will compete at the Tokyo Games.

Scores from Friday's competition will be added with those on Sunday to determine national champions. From there the gymnasts move on to St. Louis in three weeks for the all-important U.S. Olympic Team Trials. Scores from both meets will be used to determine the Olympic spots.

Biles returned to competition for the first time in 19 months at the U.S. Classic, and the four-time Olympic gold medalist and five-time world all-around champ left little question she remains in a class of her own on Friday.

The 24-year-old Texan opened the competition with a stunning Cheng vault that earned a 9.8 execution score, then closed it out with a power-packed floor exercise that included her signature triple-twisting, double backflip. Although her subsequent tumbling passes each ended with Biles' momentum carrying her out of bounds, the routine proved easily good enough to claim the top score of the night at 14.65. The only event in which Biles did not lead after night one was uneven bars, in which she was second.

"Tonight I feel like it was really good, it was definitely better than Classics," Biles told NBC after competing. "Floor could have been a little bit better, I need to control my adrenaline going into my passes, but I'm not mad at today's meet at all."

Still nursing an ankle injury, Lee competed in her first all-around of the year year — and in front of her father for the first time since the 2018 national championships. John Lee, Sunisa's dad, fell from a ladder just before the 2019 U.S. championships and was partially paralyzed.

The St. Paul, Minnesota, native, who won two individual medals at the 201 world championships, said she was nervous when she couldn't find her family in the crowd at Dickies Arena, but her spirits raised when she finally located them before her opening bars routine.

"This is going to be a good routine," she told herself.

That proved to be an understatement. Lee's 15.3 was more than a half-point better than the next best bars score of the night, and the only score in the 15s besides Biles' 15.8 on vault. After only competing on bars and beam at the U.S. Classic — and not showing her best there — Lee was strong across all four events on Friday, also finishing fourth on beam and floor.

"I feel like people counted me out because I was only doing bars and beam for a little bit," she said, "but I think by trials I'll be back to 100 percent."

Chiles, who moved to World Champions Centre near Houston to train with Biles in 2019, has been the revelation of 2021 so far, having won the Winter Cup in February and then finishing second to Biles at the U.S. Classic. She showed no signs of letting up Friday, finishing with top-six scores on all four apparatuses.

"Looking back at Winter Cup and Classics and having such good meets there, I wanted to do the same," she said. "This meet is really, really important because it's the competition right before trials. I just wanted to show I could stay consistent the whole time, and I was really happy to be able to do that today."

The situation behind those three remains as wide open as ever. Jade Carey, who already secured a spot for herself in Tokyo using a new individual qualifying system, was fourth with 55.45 points. She was followed by Leanne Wong (55.3), Kara Eaker (54.55), Emma Malabuyo (54.45), Grace McCallum (54.3), Kayla DiCello (54.25) and MyKayla Skinner (54.2).

Any of those gymnasts could make a realistic case for a spot on the Olympic team — and yet they're not alone.

Several other expected contenders elected to compete just a few events this weekend as they recover from injury, build up endurance or both.

Riley McCusker, who injured her foot on vault at the U.S. Classic, only competed on uneven bars and posted the third best score of the night at 14.65. Chellsie Memmel, a 2008 Olympian and mother of two who returned to competition after nearly nine years at the U.S. Classic, tied for sixth on beam on a night when she competed all but floor exercise.

Morgan Hurd, the 2017 world all-around champion, is recovering from elbow surgery and only did beam and floor, though she struggled on both.

Meanwhile Laurie Hernandez, a 2016 Olympic gold medalist who returned to competition earlier this year, hyperextended her knee while warming up for balance beam and withdrew after that event, though she left open the possibility of competing on Sunday.

"Unfortunately we had to pull out of day 1, but we're still keeping an open mind about day 2 and playing it by ear," she tweeted. "Not the way i thought this would go, but thank you for all the love and support."
Chrös McDougall has covered the Olympic and Paralympic Movement for TeamUSA.org since 2009 on behalf of
Red Line Editorial, Inc.
He is based in Minneapolis-St. Paul.