Driven By Her Two Loves, Skiing And Horseback Riding, Allie Johnson Wants To Open Doors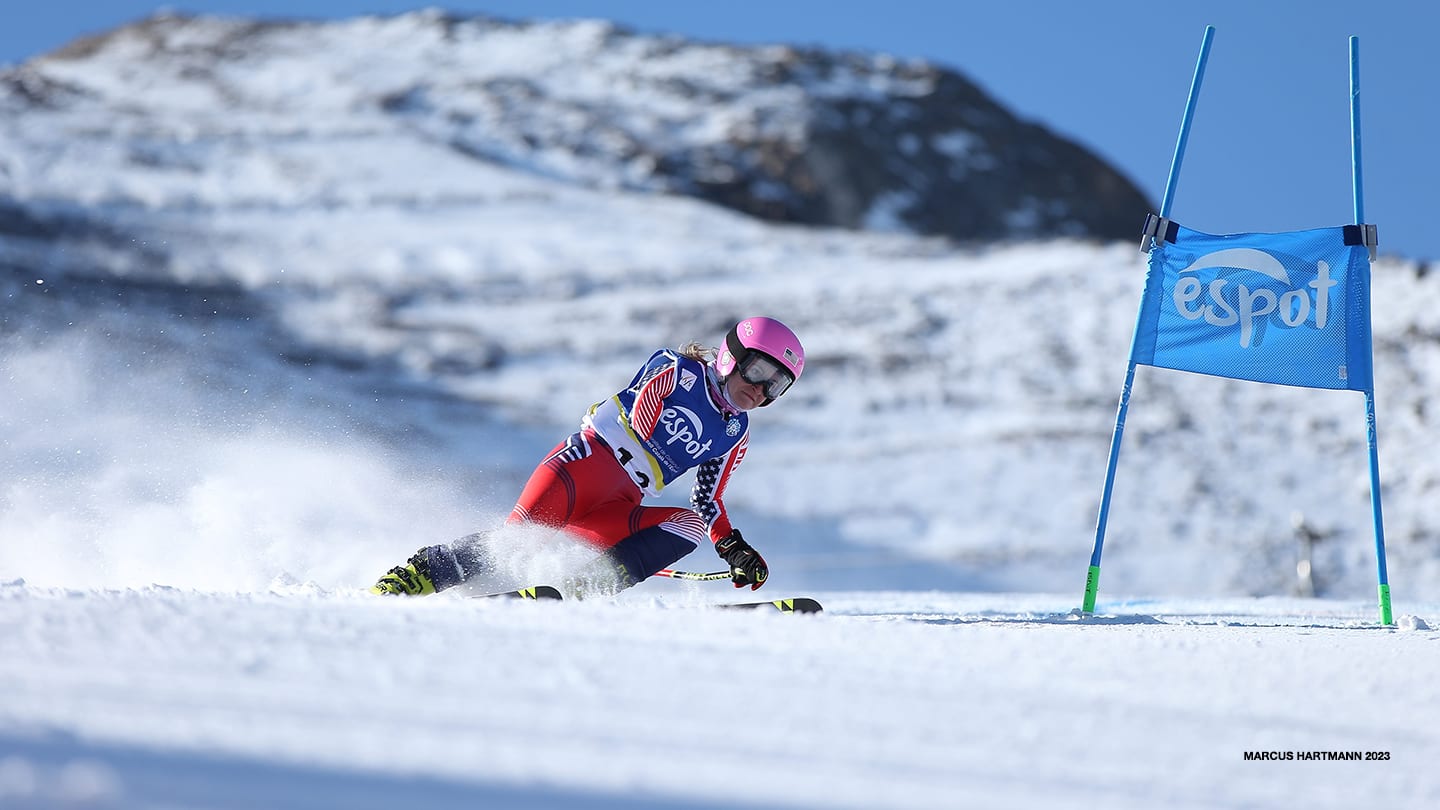 Allie Johnson competes in the women's super-G standing event at the 2023 FIS Para Alpine Ski World Championships on Jan. 23, 2023 in Espot, Spain.
Outside the entrance of her hotel at the Para alpine skiing world championships in Espot, Spain, Allie Johnson's worlds are colliding.
The sight of a herd of horses outside Team USA's hotel has delighted Johnson, who worked as a therapeutic horseback riding instructor before professional skiing began sending her to Europe's chicest ski spots for weeks at a time.
With competition in Espot delayed due to high winds, the U.S. team had been grounded at the base of the mountain for several days, but the horses residing in a field by their lodgings provided a happy diversion.
"I've been dragging teammates out to see them with me," said Johnson, a 2022 U.S. Paralympian. "I've been buying carrots at the supermarket and sneaking them treats to get a little bit of horse time zen during the pressures of racing."
And while her racing career has effectively paused her work as a riding instructor, "that bond and those animals are still a relaxing and important thing to me," she said.
Skiing and horseback riding have been the two constants in Johnson's life. Born with a limb deficiency, Johnson began riding at 5 as part of a program an hour's drive from her home in the Chicago suburbs.
"It was a week long, and we drove an hour each way every day," she recalled.
On the verge of navigating a childhood where she was physically different, the camp proved pivotal.
"It was kind of my first experience with other people with disabilities, having that community of people who are like me, like the same things as me, who aren't going to stare at me and ask me a million questions and just kind of allowed me to be who I am," she remembered.
At the same time, she adored the horses, who she found "selfless and giving."
"I've always been small," said Johnson, who is just under 5 feet, 2 inches. "Growing up as a disabled person, being able to control that thousand-pound animal and harness all that power … that was a huge draw for me. Having that experience I think really empowered me, and that's why I wanted to give it back to other people as an instructor."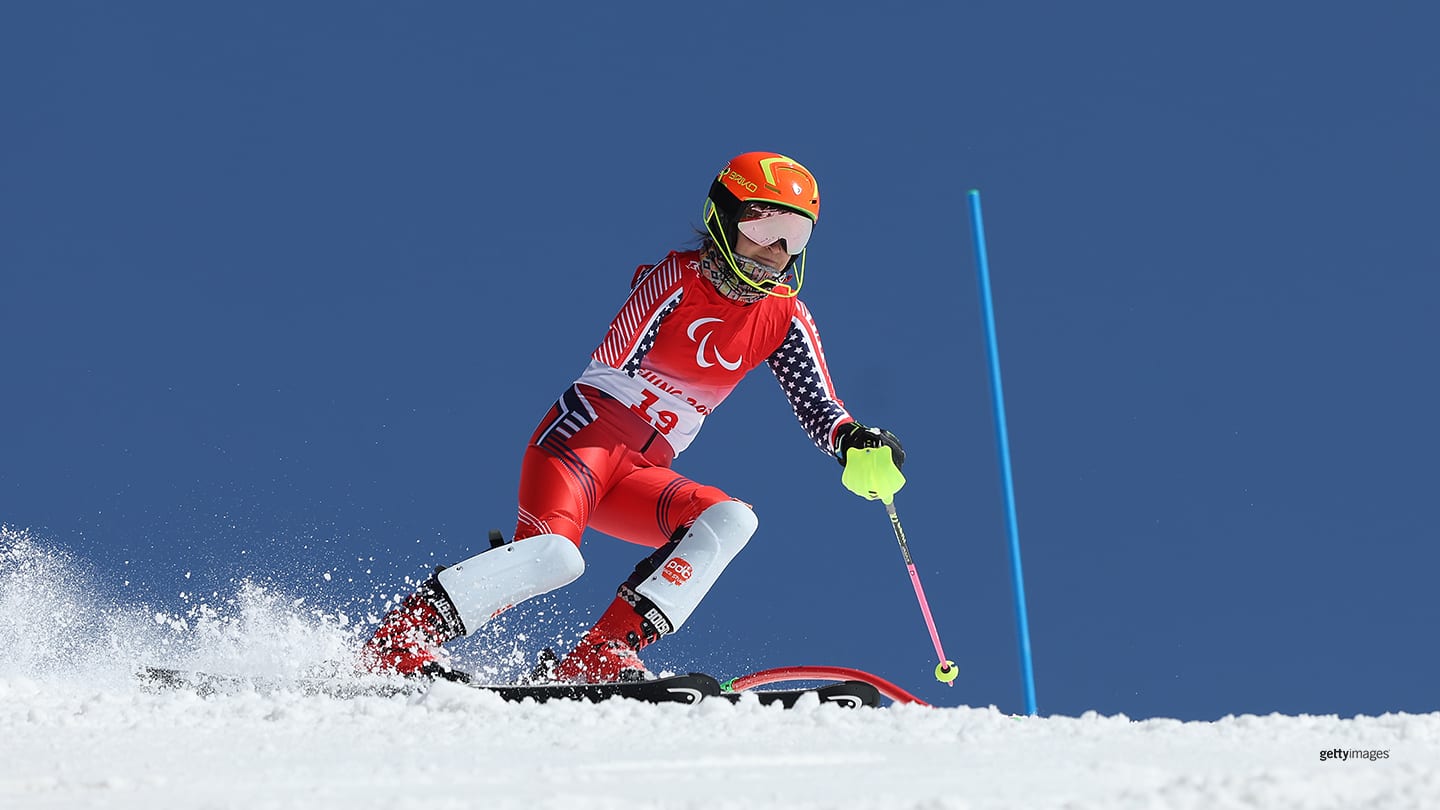 Allie Johnson competes in the Para alpine skiing women's standing super combined slalom during the Paralympic Winter Games Beijing 2022 on March 7, 2022 in Yanqing, China.
With some trepidation, her parents also enrolled her in ski school a few years later. The first time she went up to the ski hills, her mother hovered by the phone all day, fearing a call saying that Allie was unable to keep up with other kids, or that someone had said something about her arm, or that she just didn't like it.
She needn't have worried. At the pick-up spot, an ebullient Johnson bounded up and announced that she wanted to go back to ski school — tomorrow, if possible. From then on, winter and spring breaks were given over to skiing. As the oldest of a brood of nearly two dozen cousins and two little brothers, Johnson's love for skiing expanded on vacations in Winter Park, Colorado, where her grandparents had a residence.
What was it about skiing that grabbed her?
"I think it's the freedom," she said, upon reflection. "There's really nothing like it, being able to go as fast as I can and still feel in control, and kind of being on that edge of out of control.
"I was born with my disability, and I grew up as a disabled girl and I kind of was constantly told, 'No, you can't do that.' A lot of people tell you, 'No, don't do that.' 'No, you'll get hurt.' And I kind of want to be the person to show them, 'Well, yes I can, and other disabled people can too,' and help give them a different perspective."
A childhood spent speeding over snow also honed a certain competitive edge.
"I was just constantly proving myself," Johnson remembered. "Like, if my brothers are going to do that, I'm going to do that. If my brothers are going to ski as fast as they can, I'm going to ski faster.
"I was a very stubborn kid, and I definitely wanted to beat my little brothers and little cousins. That competitive drive and the thrill seeking definitely came from my family."
Staring down the 16-hour drive back to Chicago at the end of another glorious white vacation when she was about 15, Johnson wished she didn't have to leave. Why not look into college in Colorado, her parents asked? Johnson took their advice, applied exclusively to Colorado schools and eventually graduated from Colorado State University, having studied human development and family studies, as well as Spanish.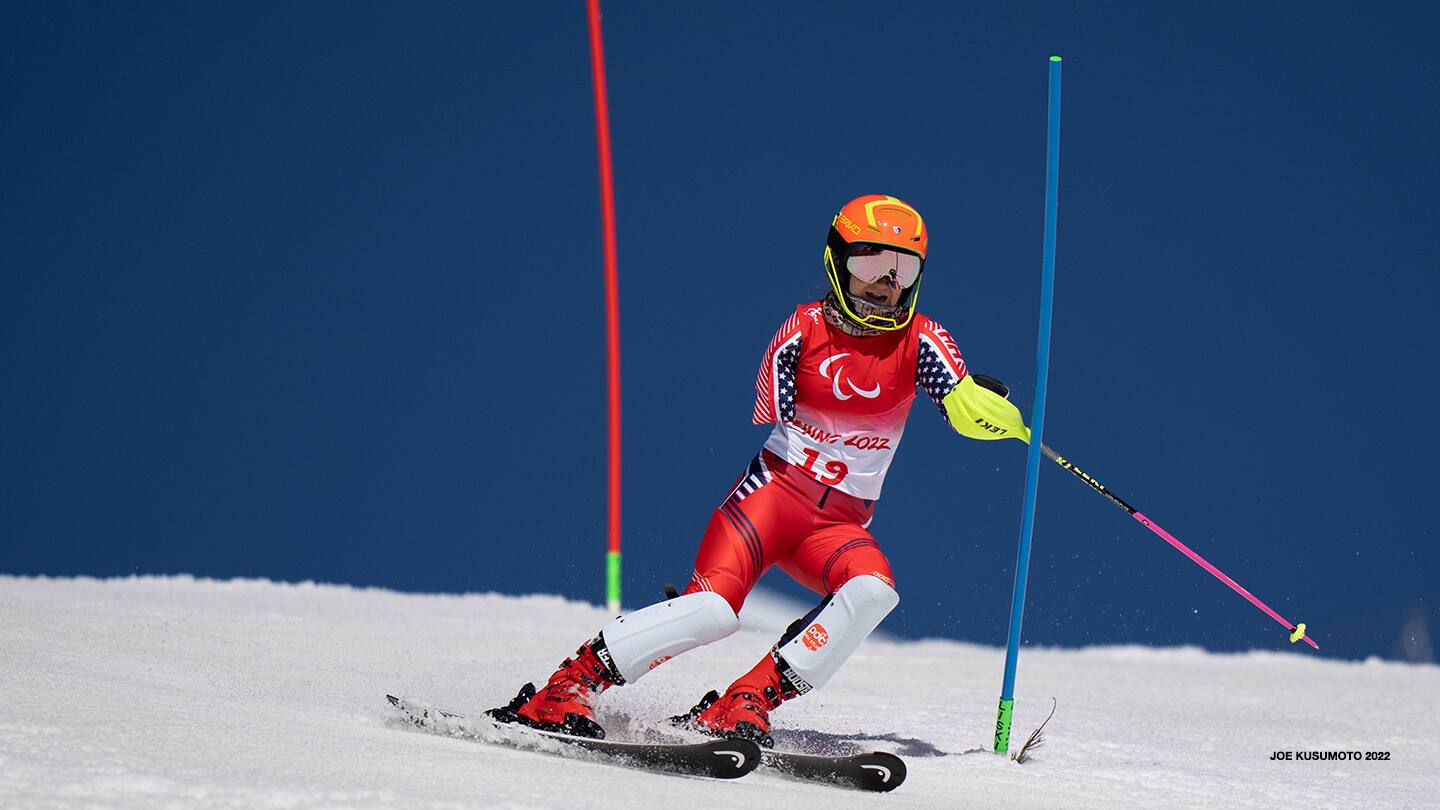 Allie Johnson competes in the slalom portion of the women's standing super combined event of the Paralympic Winter Games Beijing 2022 on March 7, 2023 in Yanqing, China.
With an aim to become a marriage and family therapist, she was accepted to a graduate program at the University of Denver. However, she felt burned out by academics and decided to do something else first. A job as an assistant instructor at the National Sports Center for the Disabled in Colorado, teaching individuals with disabilities how to ride and benefit the same way she had, fit the bill.
She loved the work, which allowed her to interact with people of a range of ages and physical, cognitive and emotional disabilities, and stayed for three years, earning certification as a therapeutic horseback riding instructor.
"I think the world tells people with disabilities 'no' a lot," she said, "and I want to be the person to tell them 'yes.'"
Over a beer with a coworker one day, Johnson was asked about her winter plans. She didn't have any. Why don't you try ski racing, the coworker suggested? Johnson had no reason to say no.
She looked for adaptive ski programs online, found one at Breckenridge resort and splashed out on a pair of racing skis. As the camp was drawing to its conclusion, Johnson placed second in a race against "people who had been doing it for a while," she recalled.
"And I was like, hmmm. Maybe I could see myself, with more investment and everything, being good at this, and it was kind of exciting. I definitely got hooked early on from that."
Things accelerated quickly — less than four years later, Johnson is a Paralympian and one of the key members of the U.S. national team. On Tuesday, with the world championships having finally begun, Johnson posted a career-best seventh place finish in the alpine combined event.
She is still adapting to her new life as a ski racer, which comes with lots of trips to Europe and a demanding training schedule. That means riding and teaching have been placed on the back burner for now, though Johnson is sure that it's not forever.
"It's not really a job where I can pick and choose what days I'm here," she said. "I kind of had to make the decision to prioritize ski racing. But one day, I will definitely be back in that world."
Blythe Lawrence has covered four Olympic Games and is a freelance contributor to TeamUSA.org on behalf of
Red Line Editorial, Inc.
Follow her on Twitter @_BlytheLawrence.