Meet the 2022 U.S. Paralympic Alpine Skiing Team
After two seasons of virtually no competition due to COVID-19, the 2021-22 alpine skiing season offered some hope that things were slowly returning to a normal routine for the U.S. team.

As skiers were undergoing final training in Sun Valley, Idaho, U.S. Paralympics Alpine Skiing named its final roster spots for the Paralympic Winter Games Beijing 2022. Para alpine skiing consists of downhill, super-G, giant slalom, slalom and super-combined in the sitting, standing and visually impaired categories.

This year's team is made up of 14 men and three women with a mixture of youth and experience. They are coming off a solid showing at the World Para Snow Sports Championships in January in Lillehammer, Norway, where Andrew Kurka and Laurie Stephens each claimed two medals.

Here's a look at Team USA.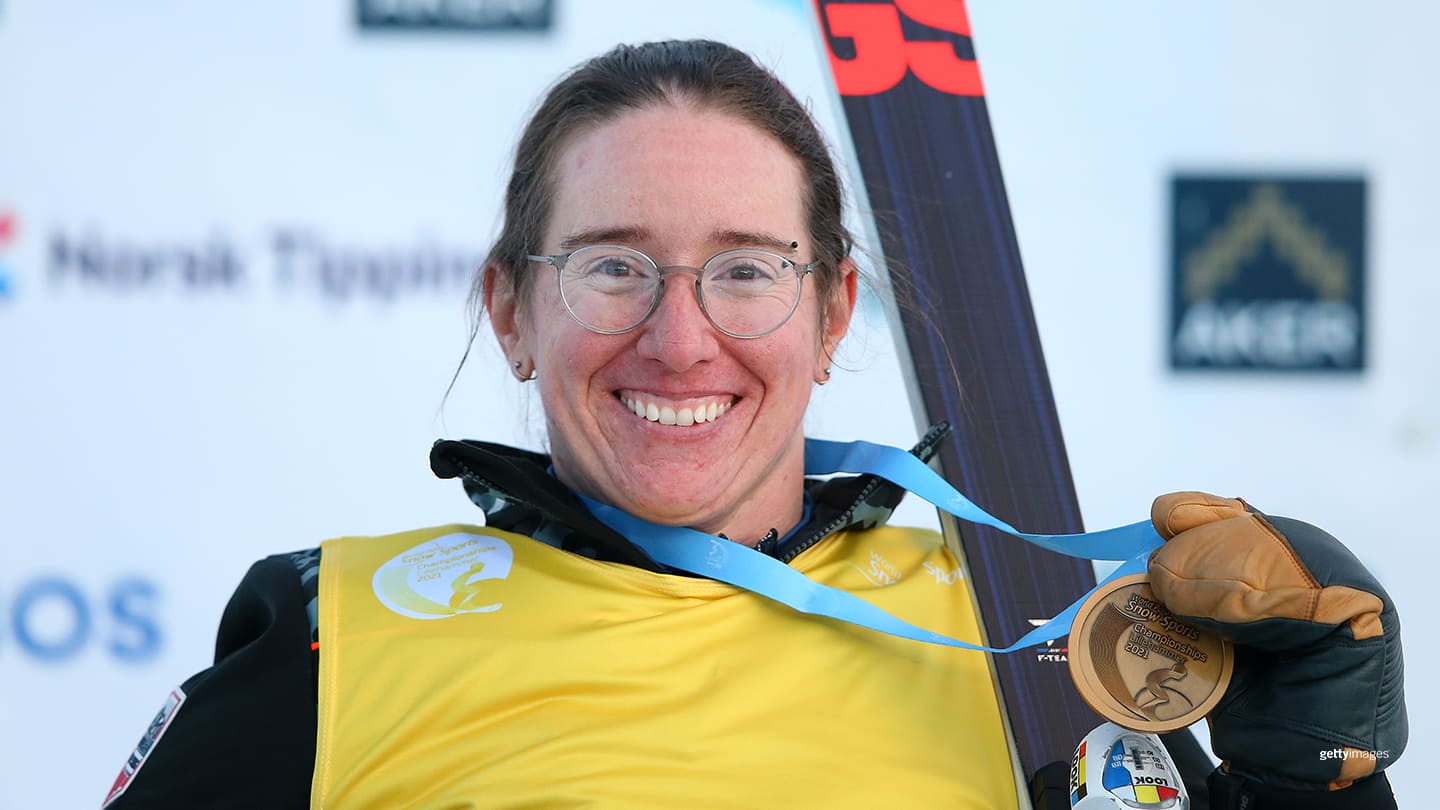 Laurie Stephens wins gold in the Women's Sitting Giant Slalom race at the World Para Snow Sports Championships at Hafjell on Jan. 20, 2022 in Lillehammer, Norway.
The 37-year-old Massachusetts native has the most experience of anyone on the final roster, with four Paralympic Games and seven Paralympic medals to her credit. She's also collected 15 world championship medals during her career, including gold in giant slalom and bronze in slalom at this year's championships in Lillehammer.

A 2006 ESPY Award nominee for Best Female Athlete with a Disability, Stephens was born with spina bifida and took up skiing at age 12. She also previously held two U.S. records for Para swimming in the 100- and 200-meter backstroke.


Danelle Umstead, Visually Impaired (with guide Rob
Umstead)
A three-time Paralympian, Umstead has captured three bronze medals at past Games in both the downhill and super-combined events. She's won four world championship medals, her most recent being a bronze in super-G in 2017.

The Park City, Utah, native was diagnosed with retinitis pigmentosa and macular degeneration, which affects her central vision. She's battled various injuries in recent years, including a broken leg in 2020 that required three surgeries. But Umstead is back to full strength. She and her husband Rob, who is also her guide, hope to start a grant program for women with disabilities.


Johnson, of Chicago, will be making her Paralympic debut in Beijing. At the final world cup competition in Are, Sweden, she placed fifth in super-G in the women's standing category, and she was 10th in the super-G at the world championships in Lillehammer.

A therapeutic horseback riding instructor, Johnson has always been an advocate for people with disabilities and strives to be an example through teaching and support.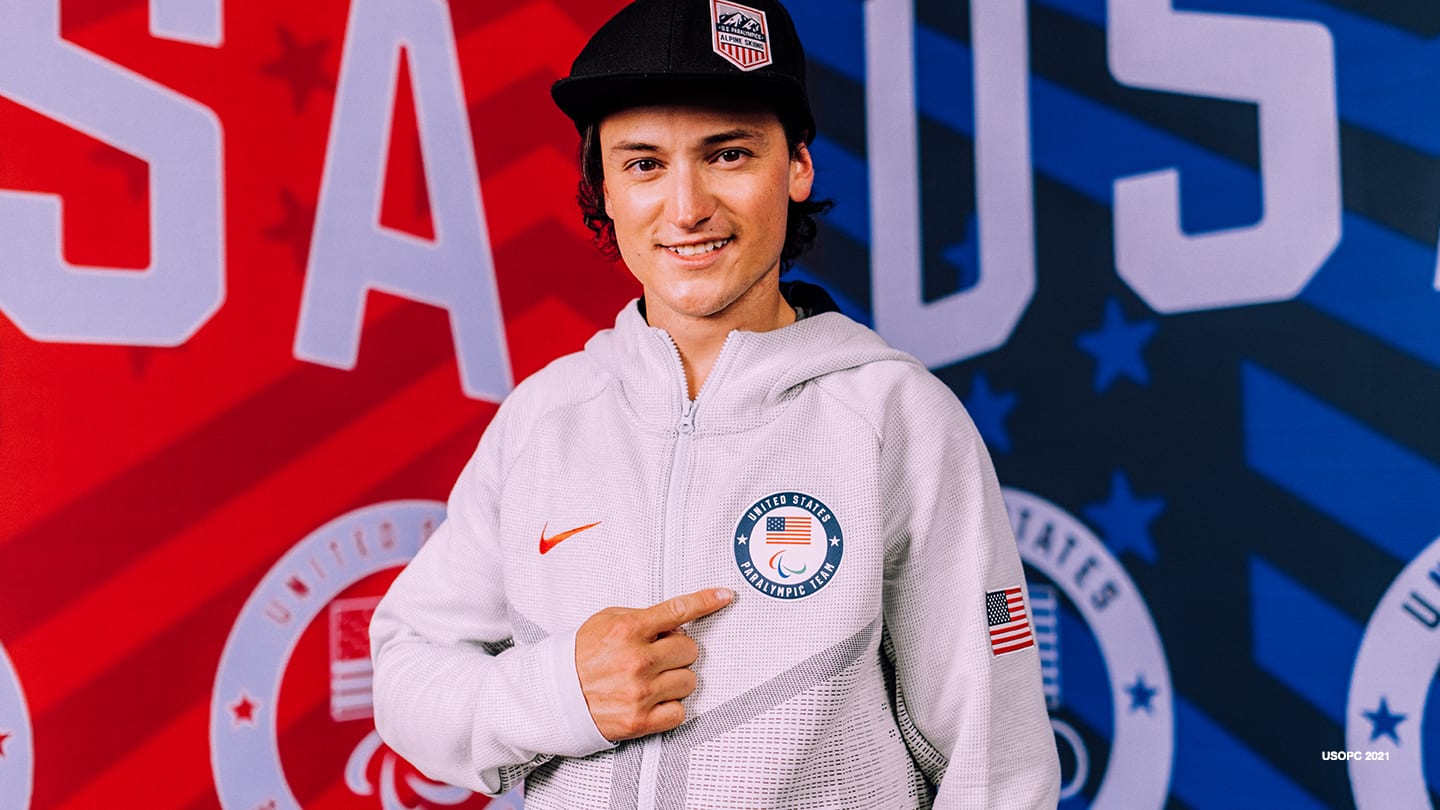 Thomas Walsh poses for a portrait during the Team USA Beijing 2022 Olympic shoot on Sept. 12, 2021 in Irvine, Calif.
As a cancer survivor, Walsh competes in every race as a tribute to those who can't. He was diagnosed with Ewing's sarcoma as a teenager but finished his final chemotherapy treatment a year later.

Walsh, of Vail, Colorado, had two top-10 finishes at the 2018 PyeongChang Games, taking fifth in slalom and seventh in giant slalom. At this year's world championships, the 27-year-old just missed the podium in the men's standing super-combined event, finishing fourth. After battling injuries before the start of the 2021-22 world cup season, he took bronze in slalom in St. Moritz and finished fifth in super-G in Are.


Andrew Haraghey,
Standing
At six months old, Haraghey contracted viral encephalitis, resulting in cerebral palsy. He began racing in 2010 and competed in his first Paralympic Games in PyeongChang, where he placed 18th in downhill and 24th in super-G. At the world championships this season, Haraghey finished 15th in downhill and 24th in super-G.

The 26-year-old from Enfield, Connecticut, received the Bob Casey Courage Award from the Connecticut Sports Writers' Alliance, and enjoys water skiing, tennis, swimming and kayaking.


Wood competed in the 2018 PyeongChang Games just three years into his competitive alpine skiing career. He finished 25th in giant slalom and did not finish in the second run of slalom.

This season, Wood picked up a silver in the slalom at the NorAm races in Panorama and finished no lower than fifth during the competition. He suffered a concussion during the Switzerland world cup competition but recovered to compete at the world championships, where he finished as high as 14th in downhill.

A native of Pittsfield, Vermont, the 25-year-old suffered a stroke while in the womb, resulting in hemiplegia of the right side of his body. He first tried Para skiing in 2014 after attending a race camp sponsored by Disabled Sports USA (now Move United).


At 17, Keefe is the youngest skier on the team. He made his presence felt in his debut on the Para alpine circuit in January 2021. He captured three medals, including gold in both slalom and giant slalom, at the national championships in Winter Park, Colorado. Also making his world championships debut that month, Keefe finished 23rd in the super-G.

The Sun Valley, Idaho, native was born without an ankle bone in his right leg, and doctors amputated his foot when he was 11 months old. He joined the Sun Valley Ski Education race team at age 7 and enjoys just about anything outdoors.


Patrick Halgren,
Standing
A 2013 accident put Halgren in a coma for a month and resulted in his left leg being amputated above the knee. The Tolland, Connecticut, native took up Para alpine skiing soon after and made his debut on the world cup circuit this season. At the final world cup competition in Sweden, he placed 18th in the super-G. At the world championships in Lillehammer, he finished 22nd in slalom.

Halgren is competing in honor of his late twin brother Lucas, who died in a motorcycle crash in 2016.


Beijing will be Drugan's first Paralympic Games. A former Winter X Games bronze medalist in monoskicross before the event was cut, the Eugene, Oregon, native was introduced to alpine skiing three years after being hit by a train that caused the loss of a leg. Following his accident, he turned to autocross racing before taking to the slopes through Oregon Adaptive Sports. At the recent world championships in Lillehammer, he placed eighth in downhill and 14th in giant slalom.

A self-described freestyle skier, Drugan, 32, enjoys being at one with nature, always looking around the corner for the next new tree, mountain or lake.


Bambur of Granby, Colorado, will be competing in his fourth Winter Paralympic Games, and his his third with the U.S. Team. Born in Zrenjanin, Serbia, Bambur became that country's first Winter Paralympian in 2010, finishing ninth in downhill. He became a U.S. citizen that same year and made the U.S. national team in 2012. Bambur, 42, has yet to make the Paralympic podium, a major factor in coming back for a fourth try.

A former professional handball player, Bambur became a paraplegic following a car accident. He and his wife Sarah have three daughters, and he is fluent in five languages.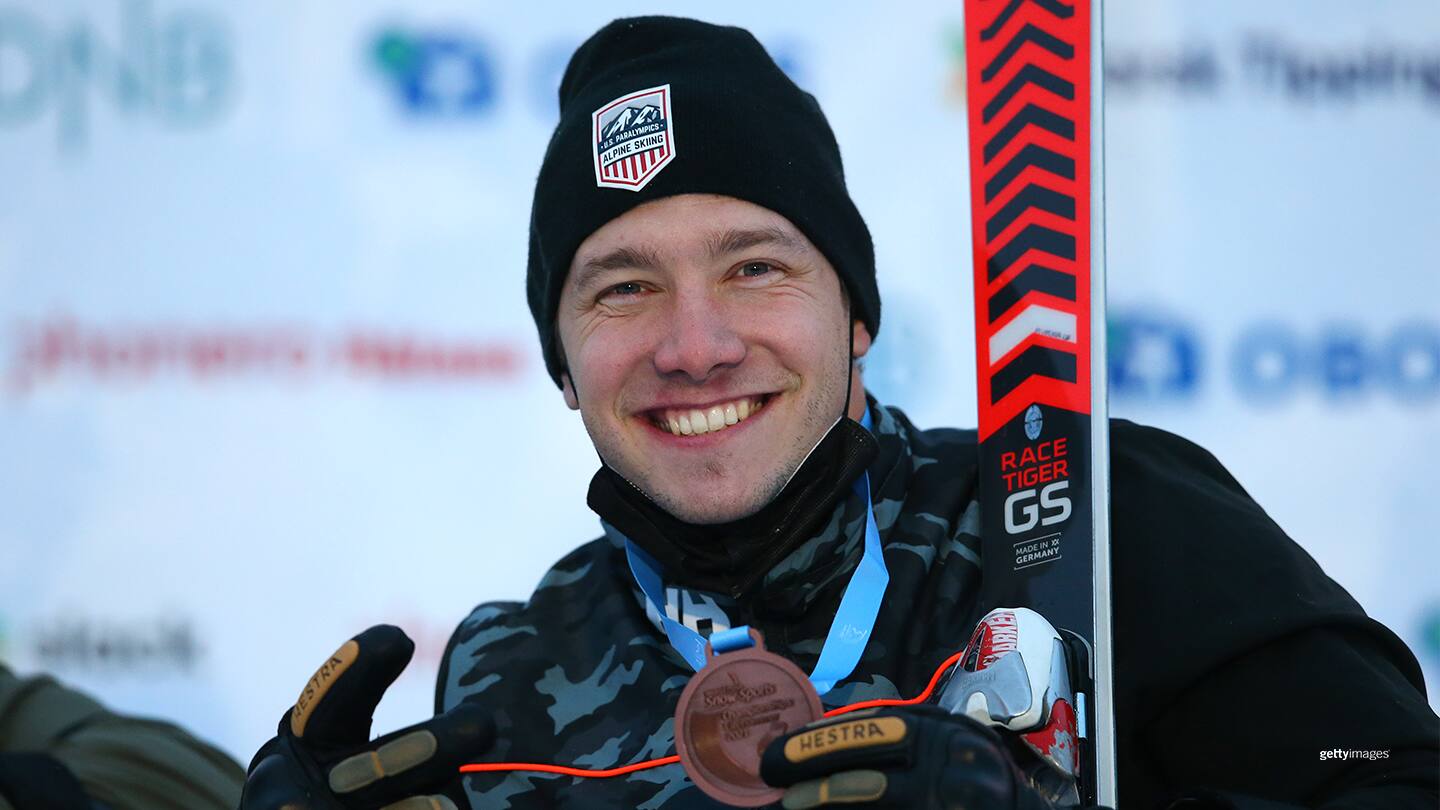 Andrew Kurka wins bronze in the Men's Sitting Giant Slalom race during the World Para Snow Sports Championships at Hafjell on Jan. 19, 2022 in Lillehammer, Norway.
A former six-time state wrestling champion from Palmer, Alaska, Kurka once had visions of becoming an Olympic wrestler. After an ATV accident that severely damaged three vertebrae in his spinal cord, he turned to the slopes.

Kurka had his breakthrough on the world stage in 2017, when he won a world title in the downhill. One year later he won the same event at the Paralympics in PyeongChang. More recently, he added two world championships bronze medals (downhill, giant slalom) in Lillehammer, to bring his career total to five.

Kurka, now 32, recently got engaged to his fiancée, Veronica Quezada. He enjoys spinning tunes as a country music DJ along with fishing, hunting, rock climbing and other outdoor adventures.


Beijing will be Taulman's first Paralympic Games. After a high-risk neuroblastoma that wrapped around his spinal cord left him paralyzed at age 2, the Freeport, Illinois, native took up ski racing after his family relocated to Colorado. Now 19, Taulman finished 12th in super-G at the final world cup event in Sweden.

Taulman also enjoys wheelchair tennis and competed at the 2021 collegiate championships.


Enigl of Bozeman, Montana, is another who will be making his Paralympic debut in Beijing. In 2015, he lost both legs in a car accident while on a hunting trip with a friend, and later took up Para skiing. Enigl finished 23rd in the parallel competition on the final day of the world championships in Lillehammer. Along with putting down another strong performance in Beijing, his goal is to show that a person in a wheelchair can shred on snow just like anyone else.


A California native who now resides in Salt Lake City, Brewer is another new addition to the Paralympic team. He finished fifth in sitting slalom and sixth in giant slalom at the NorAm series in Panorama, British Columbia. Brewer first tried snowboarding before turning to monoskiing through the National Ability Center. His pre-race routine consists of placing essential oils under his nose.


Hogan was diagnosed with cerebral palsy at 18 months and began ski racing at age 7. The 24-year-old Massachusetts native has his share of international experience, including a 24th-place finish in the giant slalom at PyeongChang. Most recently he finished as high as 23rd in the downhill at this year's world championships. Hogan is fluent in French, and enjoys mountain biking, golf and hiking.


In 2014, Williams sustained a spinal cord injury while serving in the military. He made his world championships debut in Lillehammer and is ready to represent Team USA in Beijing. The Miami native goes by the motto, "Life is one big road with lots of signs."


After being born without a fibula, Carter had his leg amputated as an infant. He played tennis and skateboarded growing up but took to skiing after attending the Pennsylvania Center for Adapted Sports camp at age 8. The Pennsylvania native made his Paralympic debut as a standing skier in 2014 in Sochi, where he finished 27th in giant slalom. Four years later he took 19th in slalom in PyeongChang. Now 28, he is coming off a 17th place finish in the super-G at the season's final world cup stop in Sweden.
Stephen Kerr is a freelance journalist and newsletter publisher based in Austin, Texas. He is a contributor to TeamUSA.org on behalf of
Red Line Editorial, Inc
. You can follow him on Twitter
@smkwriter1