Andrew Kurka, Laurie Stephens Lead The Medal Charge For U.S. Para Alpine Skiing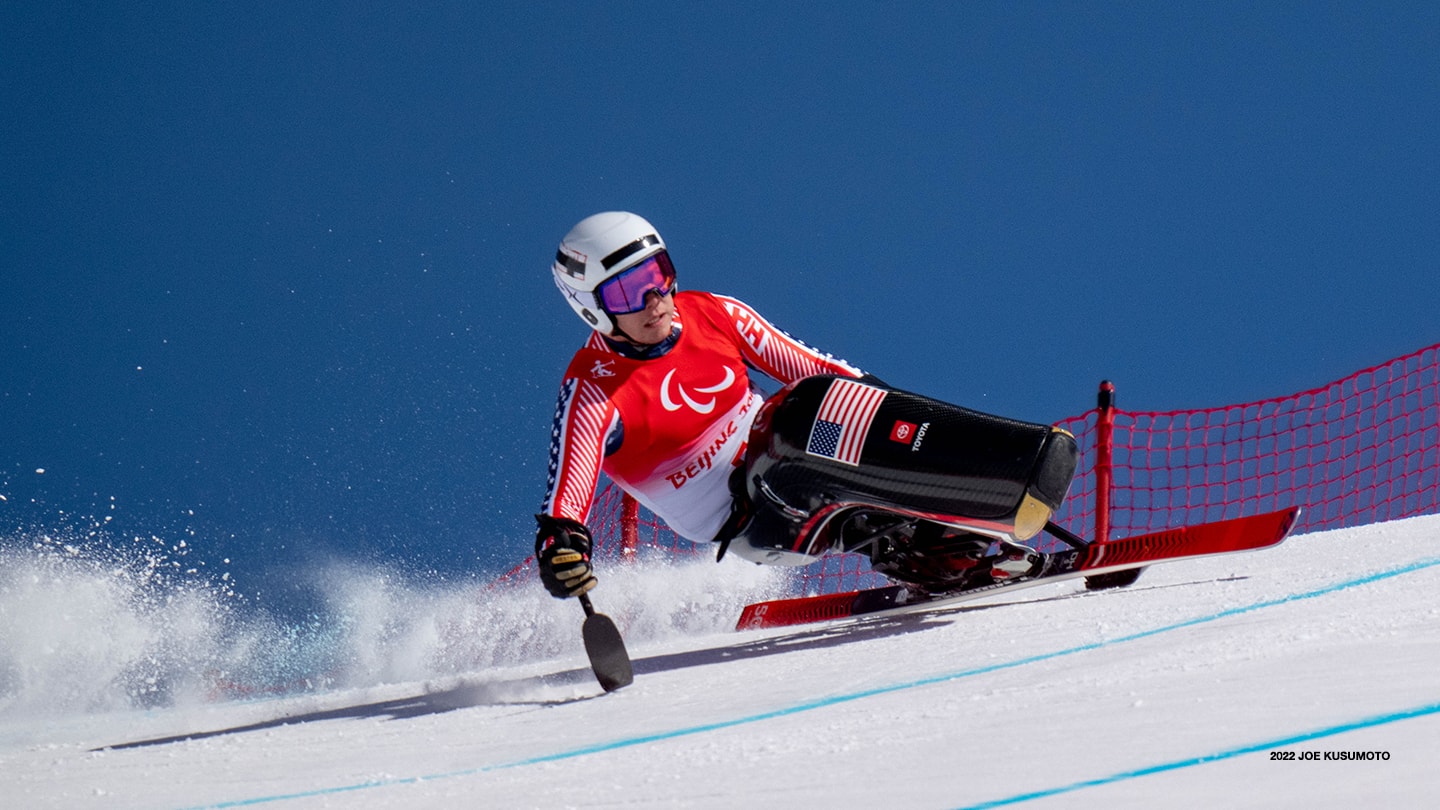 Andrew Kurka training for downhill at the Paralympic Winter Games Beijing 2022 on March 2, 2022 in Yanqing, China.
The two most decorated members of the U.S. alpine skiing team at the Paralympic Winter Games Beijing 2022 have opposite approaches on the hill. Alaska native Andrew Kurka prefers to go all out and take chances on the course, while Massachusetts native Laurie Stephens prefers to sit back and remain patient during a run.

These two sit skiers will be the biggest medal hopefuls for Team USA when the alpine competitions begin on March 5 with the downhill in Yanqing, the mountainous suburb of China's capital. The alpine skiing events will consist of five disciplines: downhill, super-G, giant slalom, slalom and super combined, with medals being awarded for each in the sitting, standing and visually impaired categories.

Kurka, who has the literal energy of a former radio personality, was a six-time Alaska state wrestling champion before becoming a two-time Paralympic and six-time world championships medalist on the slopes. He's expected to compete in several events at the Games, beginning with downhill, which he owns a Paralympic and world title in.

"The hill's really nice and the conditions are flawless here, especially when the sun opens up and beats down on it," Kurka said following his final training run on Thursday. "The first training run I had some technical difficulties, but these last two have been fantastic, and I think my opponents know I have some podium potential."

Don't expect him to play it safe, though.

"I'm 100 percent crash or win mentality," Kurka said. "I know where the fastest line is. I know what it takes to ski that fastest line, so I'm going to do everything it takes to do that. I'm here to win, and if I don't mess up I will. There's no question about that. Everyone on the circuit knows that's the way I roll, and if I make a mistake I can still manage to make the podium."

Stephens will be competing in her fifth Winter Paralympics — the most of anyone in the delegation — and will be looking to add to the seven Paralympic medals to her name. At January's world championships, she struck gold in the giant slalom and bronze in the slalom, showing she's still a major threat to podium at the Games.

In addition to Kurka and Stephens, here are the Team USA athlete storylines to follow on the slopes.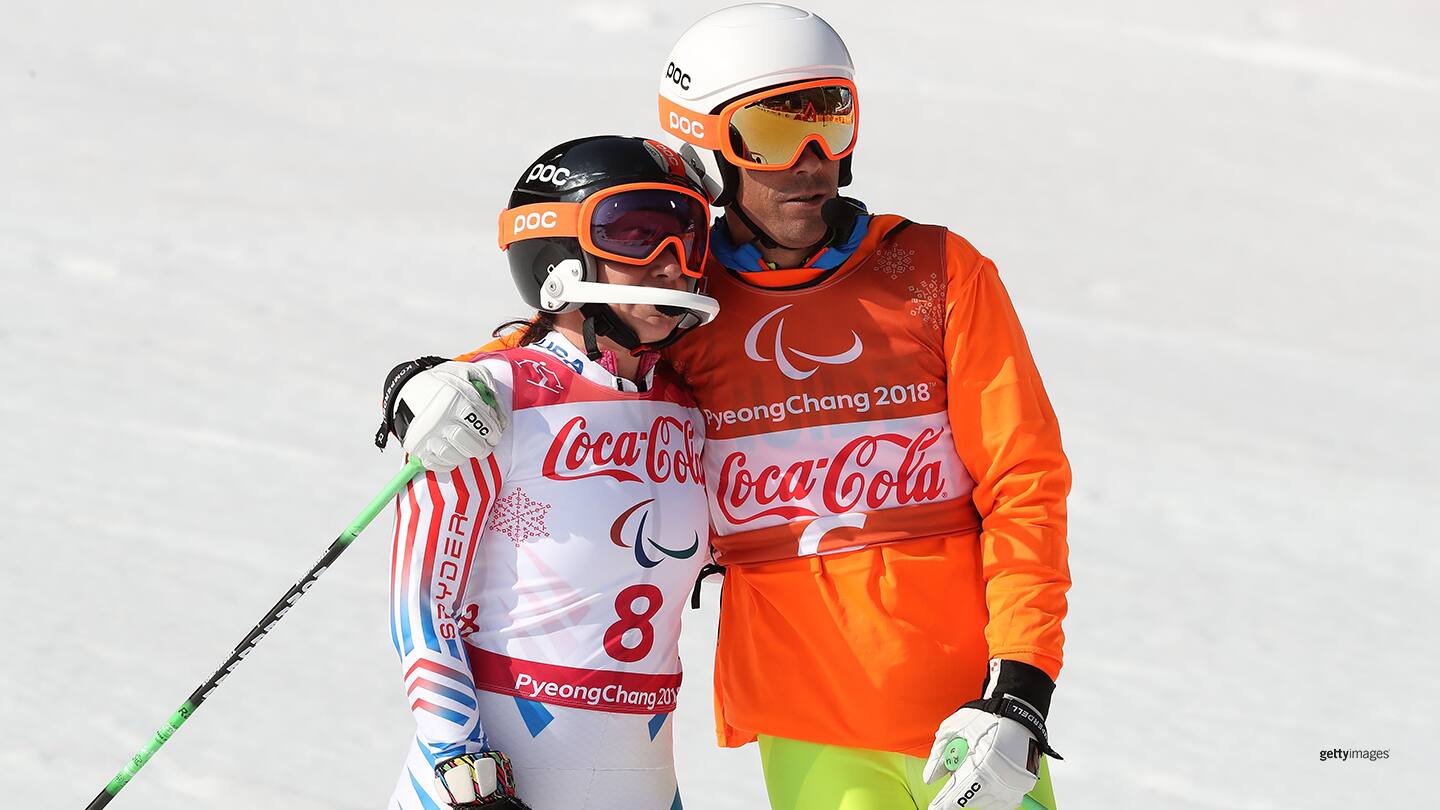 (L-R) Danelle Umstead and her guide Rob Umstead react after the women's super combined visually impaired slalom at the Paralympic Winter Games PyeongChang 2018 on March 13, 2018 in Pyeongchang-gun, South Korea.
Danelle Umstead is set to compete in her fourth Paralympics with her husband, Rob Umstead, by her side. Rob has served as his wife's guide at the Winter Paralympics since 2010. Danelle, a three-time Paralympic bronze medalist who earlier this week was named Team USA's flag bearer for the Opening Ceremony, is qualified for all five events in the women's visually impaired classification and will be looking to bounce back following a difficult path to Beijing. A relapse of multiple sclerosis caused her to miss the 2018-19 season, and then in 2020 she suffered a broken tibia and fibula after returning to training. She's in search of her first major international medal since the 2017 world championships.
Andrew Haraghey training for downhill at the Paralympic Winter Games Beijing 2022 on March 2, 2022 in Yanqing, China.
A slew of experienced men's standing skiers — Tyler Carter, Andrew Haraghey, Connor Hogan, Thomas Walsh and Spencer Wood — will look to pull some upsets as they all return to the Paralympic stage.

"We have some of us who are in strong medal contention, and others who are really looking to build on experience and just be present at the Games," said Walsh, who is the leading medal contender of the group in all four of the races he'll enter.

He is a two-time world championship medalist who nearly earned a third podium finish this year, taking fourth place in the super combined in January. Carter, joining Umstead as an Opening Ceremony flagbearer, has battled back from injuries to compete in what he said will be his third and final Games. This will mark the second Paralympic Winter Games for the others, including Wood, who overcame a concussion earlier this season to finish in the top 15 in downhill at the world championships. The 25-year-old is raring to go after three successful training runs.

"The course really feels like something I drew with a crayon as a kid. It's super fun and everything I've always wanted to ski down," Wood said.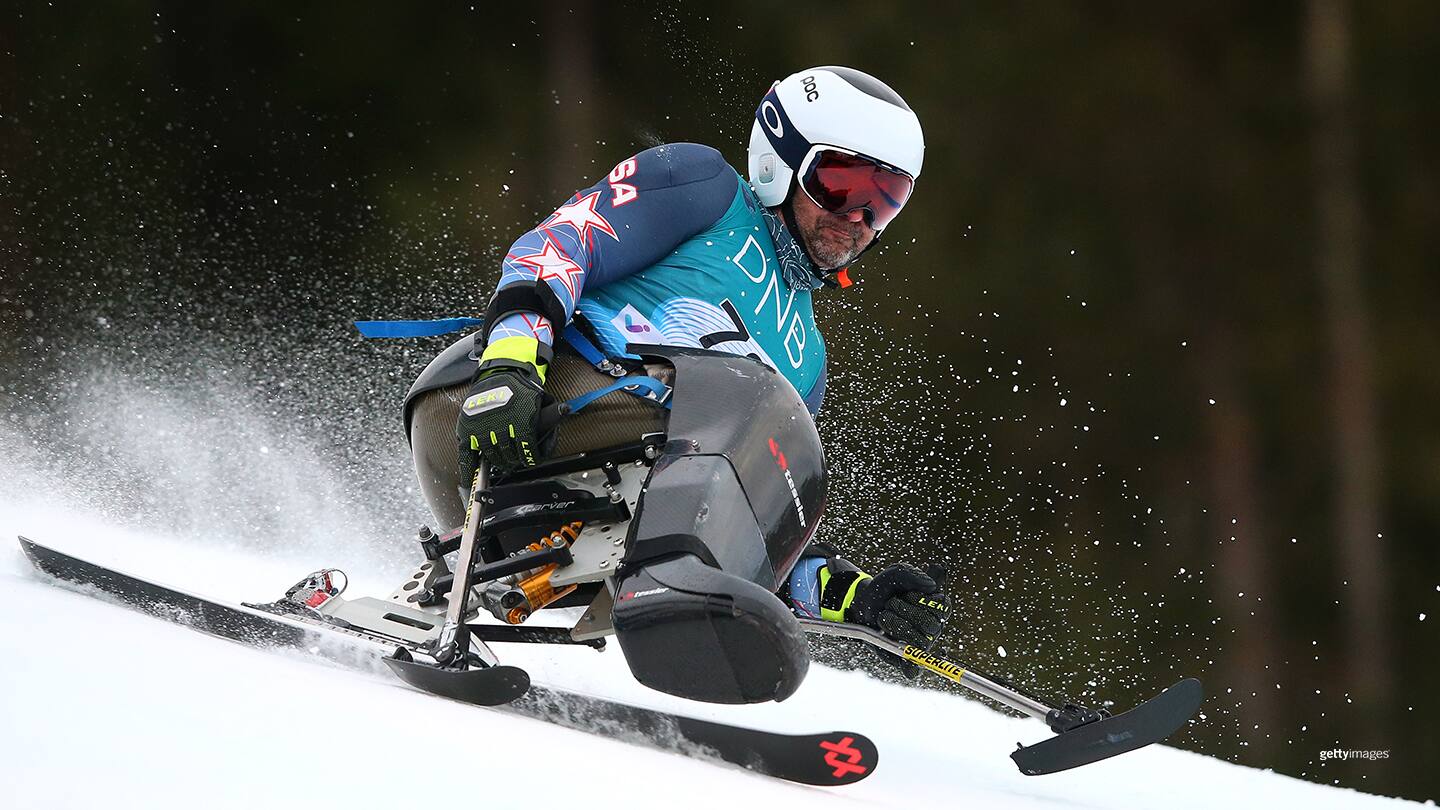 Jasmin Bambu competes in the men's sitting giant slalom at the 2021 World Para Snow Sports Championships on Jan. 19, 2022 in Lillehammer, Norway.
Serbian born Jasmin Bambur, whose family fled Bosnia because of war when he was 12, hopes the fourth time is the charm for him at the Paralympics. Having competed on the international stage since Vancouver 2010, where he was Serbia's flag bearer and first-ever Winter Paralympian, he's coming back for a third time with Team USA in hopes of making the podium for the first time in the men's sitting category. The former professional handball player's best Paralympic finish to date was seventh in the super-G at Sochi 2014.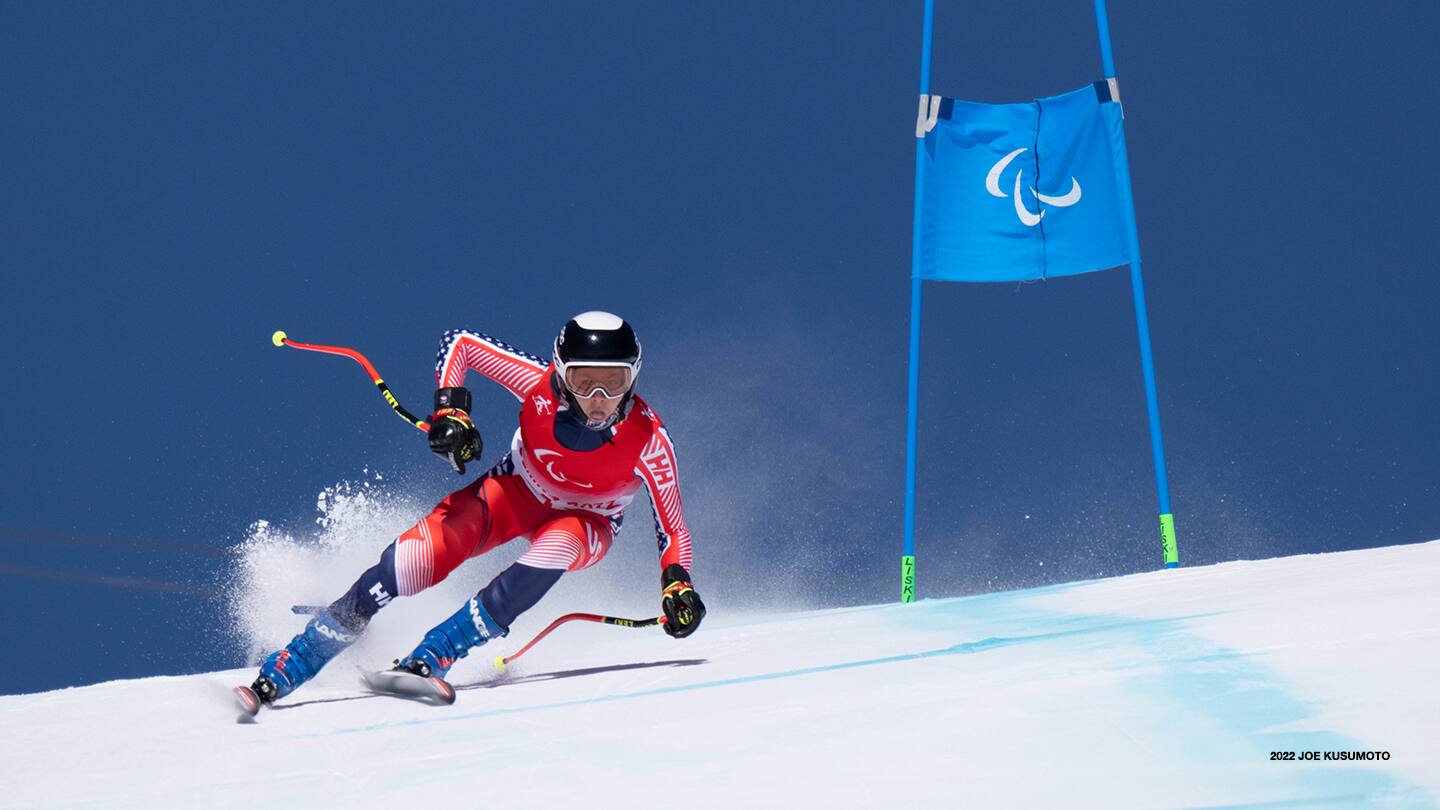 Jesse Keefe training for downhill at the Paralympic Winter Games Beijing 2022 on March 2, 2022 in Yanqing, China.
Eight U.S. alpine skiers will be making their Paralympic debuts, including Jesse Keefe, the youngest athlete in the Team USA delegation at 17 years old. In his world cup circuit debut in January 2021, the Idaho native and standing skier captured three medals, including golds in the slalom and giant slalom.

Patrick Halgen is competing in honor of his late twin brother Lucas, who died in a motorcycle crash in 2016. Allie Johnson works as a therapeutic horseback riding instructor. They will race in the men's and women's standing divisions, respectively.

Winter X Games medalist Ravi Drugan, who was eighth in the downhill at his first world championships earlier this year, along with Matthew Brewer, Robert Enigl, Kyle Taulman and David Williams will round out the field of men's sit skiers for Team USA in their first Paralympic appearances.
Stuart Lieberman has covered Paralympic sports for more than 10 years, including for the International Paralympic Committee at the London 2012, Sochi 2014 and PyeongChang 2018 Games. He is a freelance contributor to TeamUSA.org on behalf of
Red Line Editorial, Inc.