Andrew Kurka Claims Another Bronze Medal At Para Alpine World Championships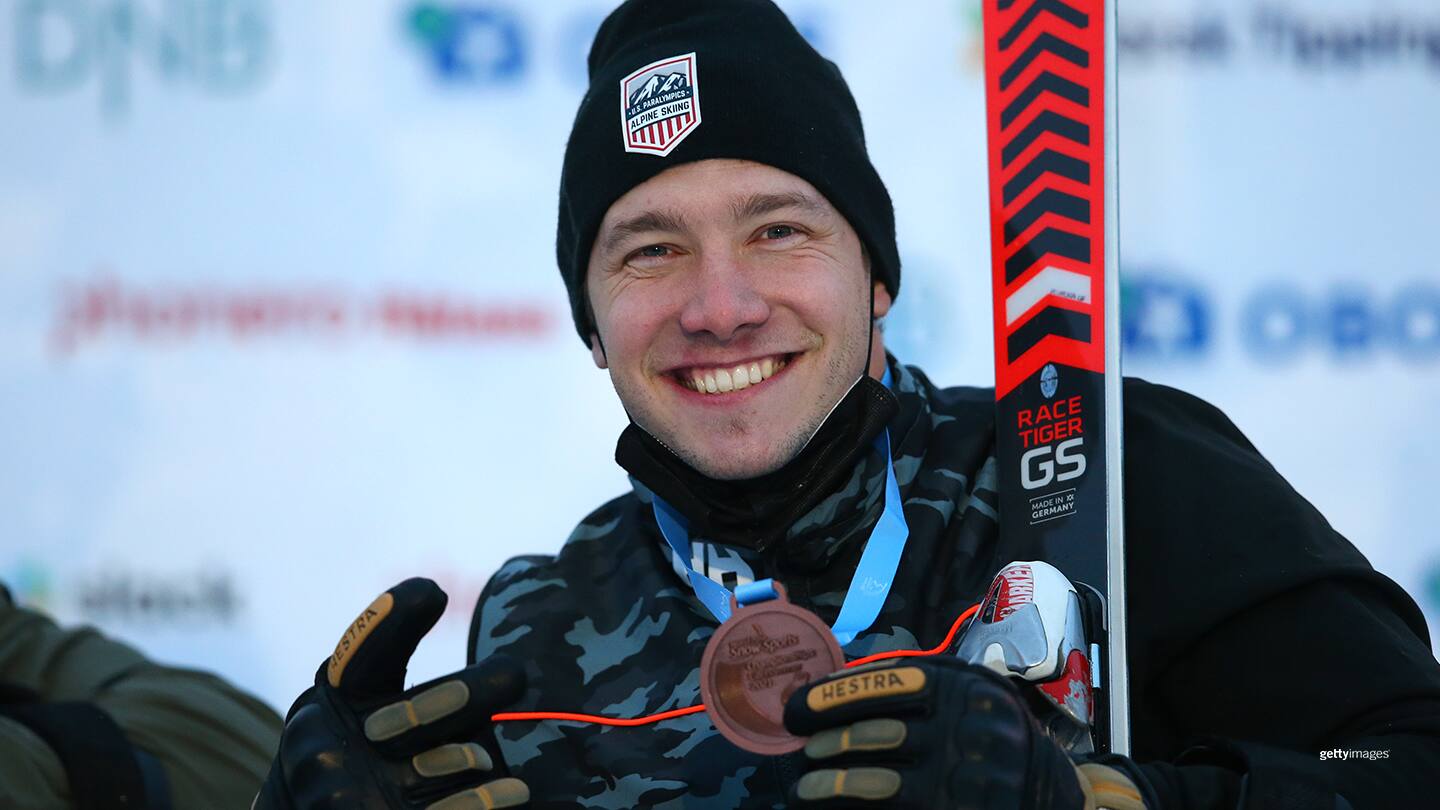 Andrew Kurka celebrates after winning bronze in the men's downhill sitting race at the 2021 World Para Snow Sports Championships on Jan. 19, 2022 in Lillehammer, Norway.
Andrew Kurka is rounding into form right in time for the Paralympic Winter Games Beijing 2022.

The two-time Paralympian clinched his second medal at the Lillehammer 2021 World Para Snow Sports Championships Wednesday when he finished third in the men's giant slalom sitting competition. The two-time Paralympic medalist from Palmer, Alaska, had previously won a bronze medal in the men's downhill sitting category on Friday.

Racing in difficult conditions, Kurka hit a bump that almost knocked him completely off course in his first run and entered the midway point in the seventh position. In his next run, Kurka unleashed a burst of speed — and took advantage of a mistake in the final moments by Dutch rival Jeroen Kampschreur, who missed a gate and was knocked out of the competition — to move up to the podium spot, finishing behind only gold medalist Jesper Pedersen of Norway and Poland's Igor Sikorski, who picked up the silver.

"The first run I just got super unlucky," Kurka told U.S. Paralympics Alpine Skiing following the competition. "There was a hole that you weren't able to see because of low light and I stuck my tip right in it, it sent me right through a panel and I lost five seconds in that one spot. It nearly stopped me."

Kurka, who posted a combined time of 2:21.25, didn't allow the incident to distract him from his main objective.

"I knew I had to come out and put on a heavy second run," he said. "My focus is Beijing, and this is all a big learning experience, I'm adapting and getting ready to overcome."

Three-time Paralympian Jasmin Bambur finished 13th, while Ravi Drugan was right behind him in 14th. Kyle Taulman and Robert Enigl did not finish, and David Williams suffered a concussion earlier in the championships and did not start.

Vail, Colorado, native Thomas Walsh led the way for Team USA in the men's standing class, taking sixth with a combined time of 2:18.82. Teenager Jesse Keefe, the youngest member of the team, finished 26th. Spencer Wood was 28th and Connor Hogan finished 31st.

Hogan is hoping to gain more confidence and build on his experiences during the championships.

"I'm hoping to keep building into the next world cups and hopefully Beijing," he told U.S. Paralympics Alpine Skiing.

The course continued to be a challenge for the skiers, as falling snow and darkening skies made visibility difficult for everyone. During the men's standing class competition, a head-on wind made conditions even worse.

Para alpine skiing competition resumes on Thursday with the women's giant slalom races. Team USA's Laurie Stephens and Allie Johnson are looking for their first podium finishes of the world championships. Stephens, a four-time Paralympian and seven-time medalist, did not finish in the women's super-G sitting competition Monday after sliding out. Johnson, a Paralympic hopeful, also did not finish after placing 10th in the super-G competition last Saturday.

The U.S. Para Nordic Ski Team had an off day on Wednesday before competition resumes with the long-distance biathlon competition on Thursday. Para snowboarding action continues Friday with men's and women's snowboardcross.
Stephen Kerr is a freelance journalist and newsletter publisher based in Austin, Texas. He is a contributor to USParaAlpineSkiing.org on behalf of
Red Line Editorial, Inc.
You can follow him on Twitter @smkwriter1.