Paralympians On The Value Of Competing In Other Sports In College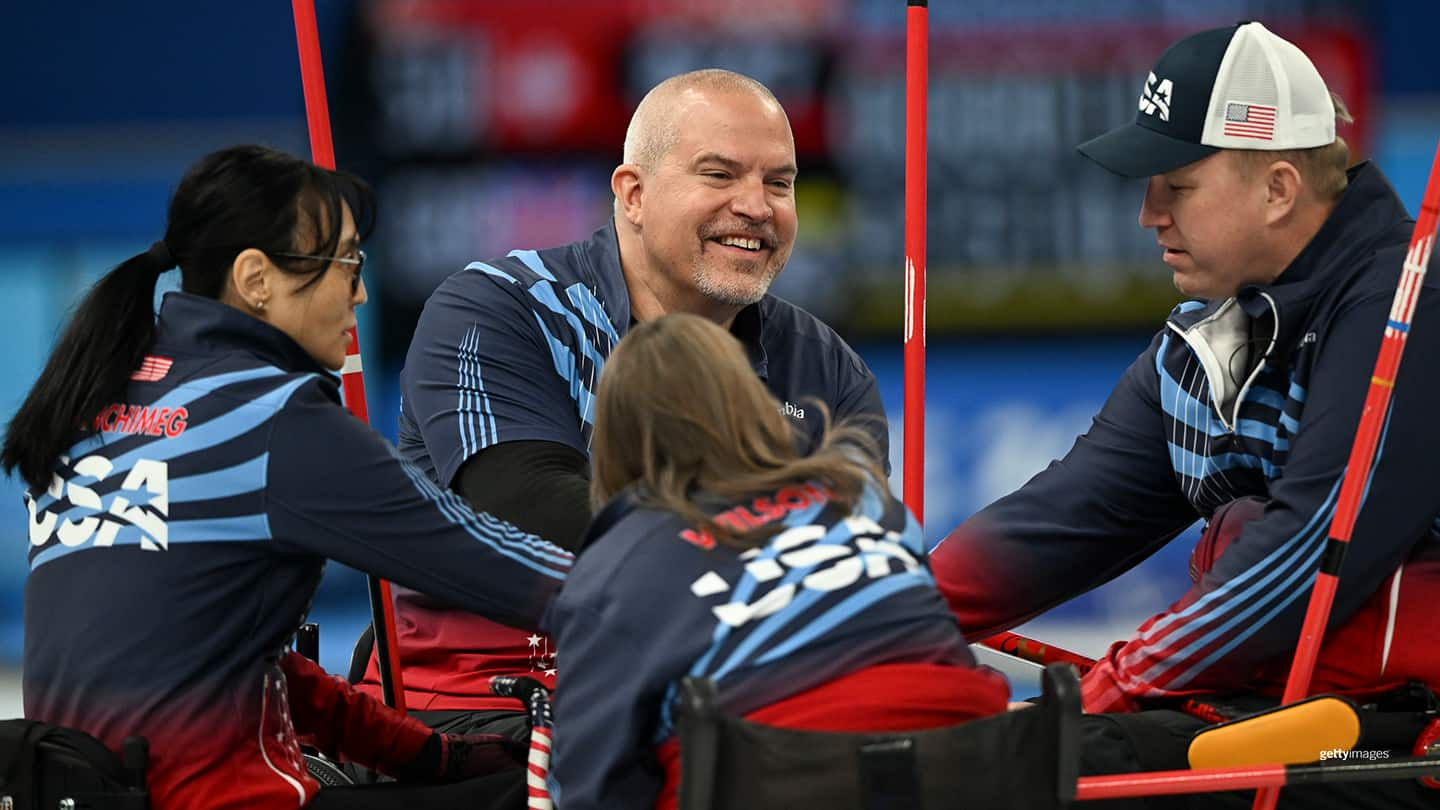 Matthew Thums, Steve Emt, Pamela Wilson and Batoyun Uranchimeg compete against Team Canada at the Paralympic Winter Games Beijing 2022 on March 7, 2022 in Beijing.
BEIJING — Not all of a Paralympic athlete's training must be done in his or her own sport. In fact, several athletes competing at the Paralympic Winter Games Beijing 2022 have found that their experiences from other sports have translated extremely well onto the snow and ice. Particularly, those who competed in those other sports while in college.

Seven of the 17 Team USA athletes who competed collegiately did so in a different sport.

For Steve Emt, the U.S. wheelchair curling team's vice skip, that rings true of his years playing NCAA Division I basketball at the University of Connecticut, before a 1995 car accident ended his career.

"From Day 1 when I stepped on the basketball court with Coach (Jim) Calhoun and playing with those guys, as well as the academic side of it where I got a quality education, it prepared me for basically anything that came my way," Emt said. "Then the accident happened, and I turned into a Paralympian. Everything I'm seeing here in wheelchair curling from the coaching staff is the same thing I got in college, so I didn't skip a beat. I've just kept on going."

At 6-foot-4, 230 pounds, Emt walked onto the UConn basketball team in 1992, playing alongside the likes of Donyell Marshall, Kevin Ollie and Donny Marshall. Emt was a letter winner on the 1993-94 Huskies team that won the Big East and made it to the Sweet Sixteen.

The Hebron, Connecticut, native said the top piece of advice given to him by Calhoun remains cemented in his brain to this day: "Just give 100 percent at everything you do. You don't know who's looking. You don't know who's watching. You just give 100 percent all the time at what you're doing, and you'll be just fine."

While Emt's basketball career came to an end with his accident, he discovered wheelchair curling upon a chance meeting with a U.S. coach at a pie shop in Massachusetts in 2014 and swapped the hardcourt for the ice. Since then, he has competed in five world championships and two Paralympics.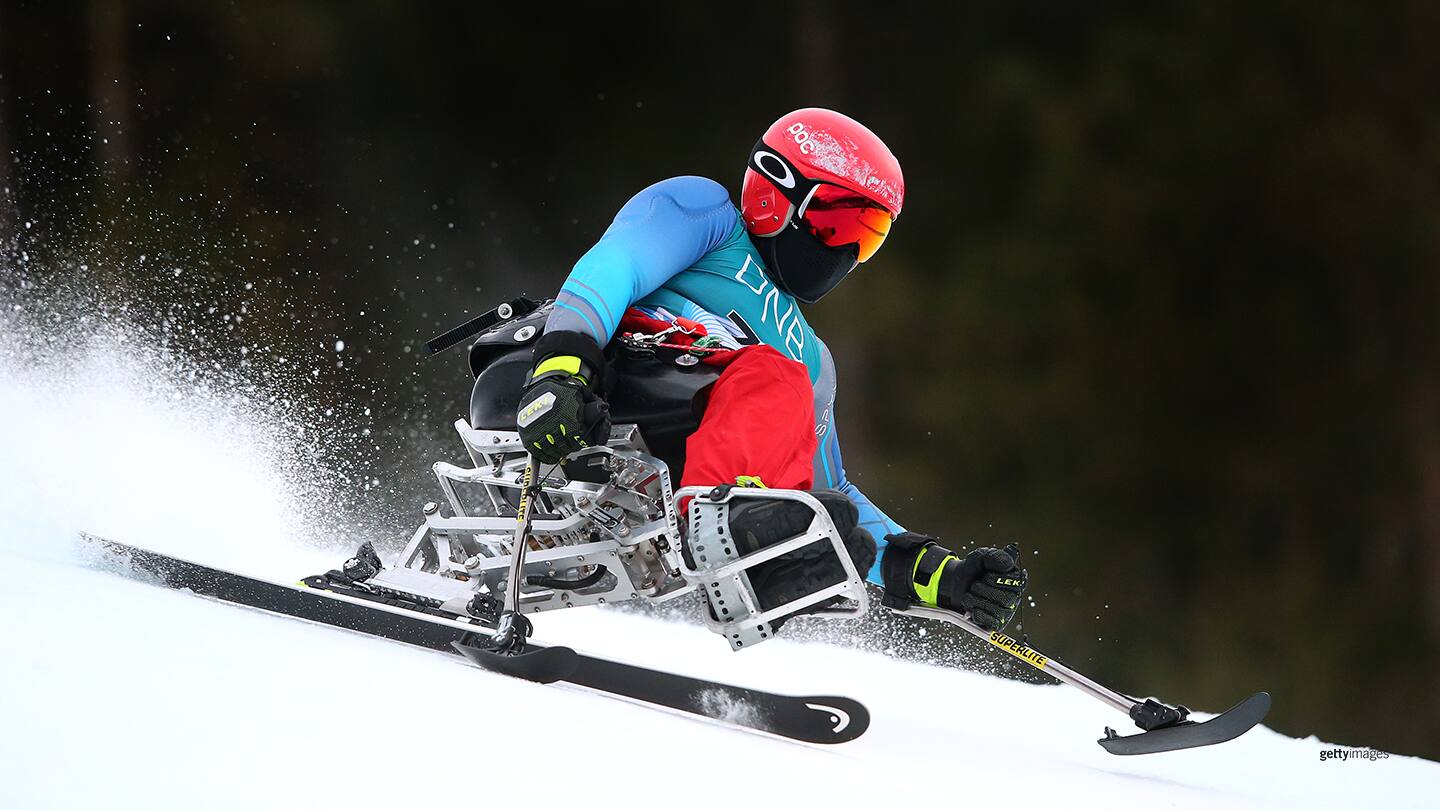 Kyle Taulman competes during the men's sitting giant slalom race at the 2021 World Para Snow Sports Championships on Jan. 19, 2022 in Lillehammer, Norway.
Making his Paralympic debut, sit skier Kyle Taulman — one of two Alpine collegians on Team USA alongside Colorado State alum Allie Johnson — also gained much of his competitive athletic experience and life lessons while playing wheelchair tennis at the University of Colorado. Taulman, who is racing the slalom on Saturday at the Yanqing Alpine Centre, took up sports as a kid after a high-risk neuroblastoma wrapped around his spinal cord and left him paralyzed at age 2.

He competed at the 2021 College Wheelchair Tennis Championships at the USTA National Campus in Orlando and credits wheelchair tennis in improving his skiing.

"I was a skier long before I was a tennis player, and for a long time I've tried to find ways to strengthen my core, but being paralyzed from the waist down, there haven't been many options," Taulman said. "When I discovered wheelchair tennis after I graduated high school, it was a new outlet for me through sport.

"Working on generating power and speed so I can move faster in my chair on the court has allowed me to greatly improve my skiing by giving me more core strength and stability that I had been lacking. It allowed me to completely change my way of skiing to be more athletic over time. It has and will continue to make me a better and faster skier."

Nordic skiing's Dan Cnossen competed in triathlon at the U.S. Naval Academy and Danielle Aravich represented Butler University in track and field. Two-time Paralympic sled hockey champion Kevin McKee played wheelchair basketball whule attending Wilbur Wright College, while his teammate Travis Dodson and Nordic athlete Aaron Pike both raced for the University of Illinois in track and field.
Want to follow Team USA athletes during the Paralympic Winter Games Beijing 2022? Visit TeamUSA.org/Beijing-2022-Paralympic-Games to view the competition schedule, medal table and results.
Stuart Lieberman has covered Paralympic sports for more than 10 years, including for the International Paralympic Committee at the London 2012, Sochi 2014 and PyeongChang 2018 Games. He is a freelance contributor to TeamUSA.org on behalf of
Red Line Editorial, Inc.