College Opportunities Paved The Way For Athletic Success For U.S. Paralympians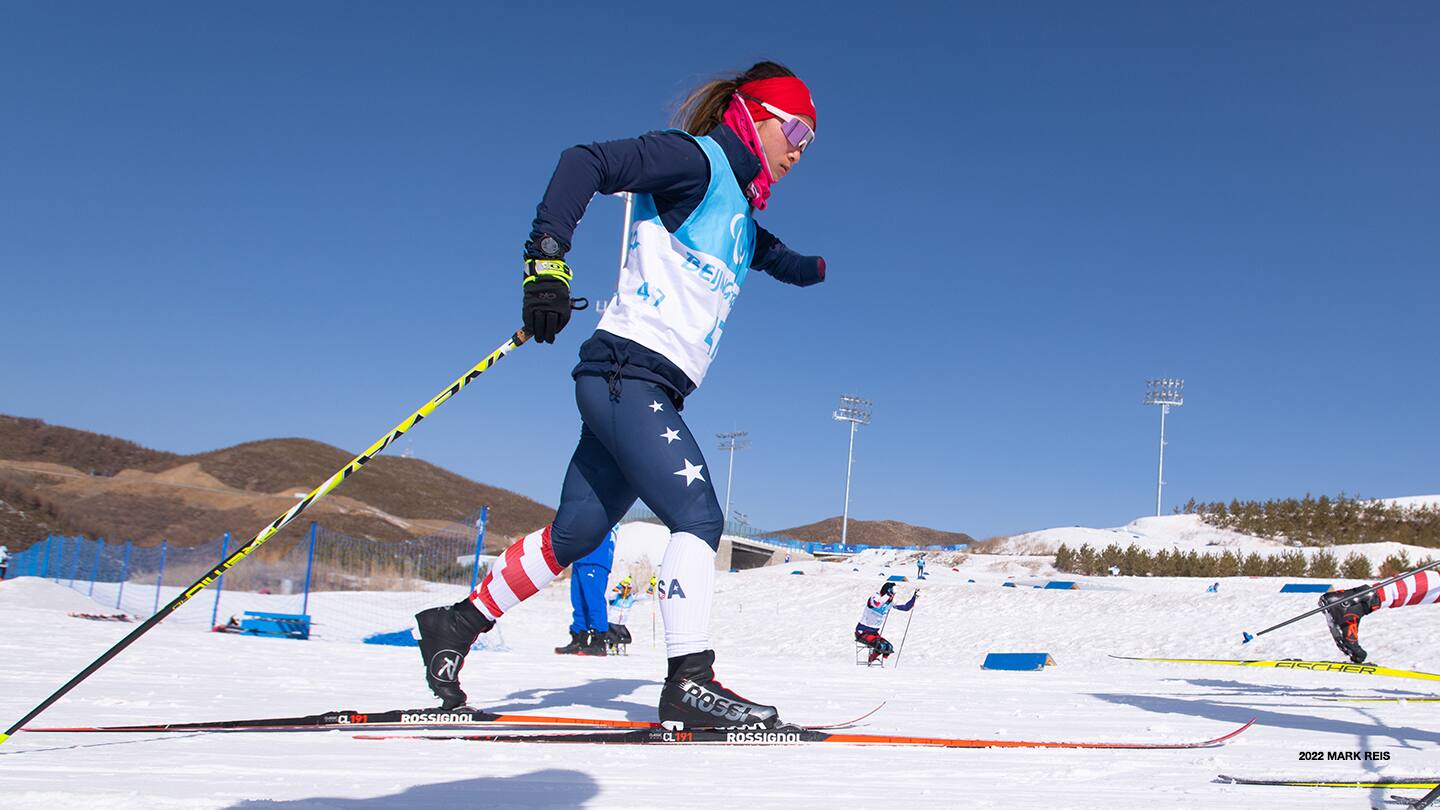 Grace Miller during training at the Paralympic Winter Games Beijing 2022 on March 3, 2022 in Zhangjiakou, China.
For three years, Grace Miller woke up to frigid cold temperatures and brutally dark skies every day at 6 a.m. mid-winter in Alaska and skied the trails wearing headlamps with her collegiate teammates. She'd then attend a full slate of college classes before returning to the trails outside her dorm for another training session in the afternoon.

The support from the University of Alaska Fairbanks' program is what has propelled Miller, who was adopted from a Chinese orphanage as a child, to make her second U.S. Paralympics Nordic Skiing Team for the Paralympic Winter Games Beijing 2022.

"Having a consistent training group is so key to being fit," Miller told TeamUSA.org last year. "When you're a college athlete, everyone is under the same pressure of trying to perform in both school and our sport, so that's nice to bond over. The intensity — training twice a day with a team and being able to work out with other elite athletes — makes you work so much harder."

Competitive collegiate opportunities are an important pipeline for Paralympians. There are several different routes in which Para athletes may compete in collegiate programs. At some institutions, NCAA varsity programs provide an inclusive model within the athletic department for Para athletes to compete with their peers on the same team. At others, there are adaptive sport programs for athletes with a disability, club programming or recreational teams.

The USOPC's Paralympians Made Here campaign allows colleges and universities to use USOPC intellectual property to celebrate their Paralympic footprints, aiming to increase awareness around Paralympic athletes who are currently competing or have competed in the country's intercollegiate athletics system.

A majority of both U.S. Olympians and Paralympians come from a collegiate background, forming a vital avenue for athletes chasing their athletic dreams.

"We have the best system in the world," said USOPC Senior Director of Collegiate Partnerships Sarah Wilhelmi. "And it's evident by how our pipeline organically comes through college to Team USA."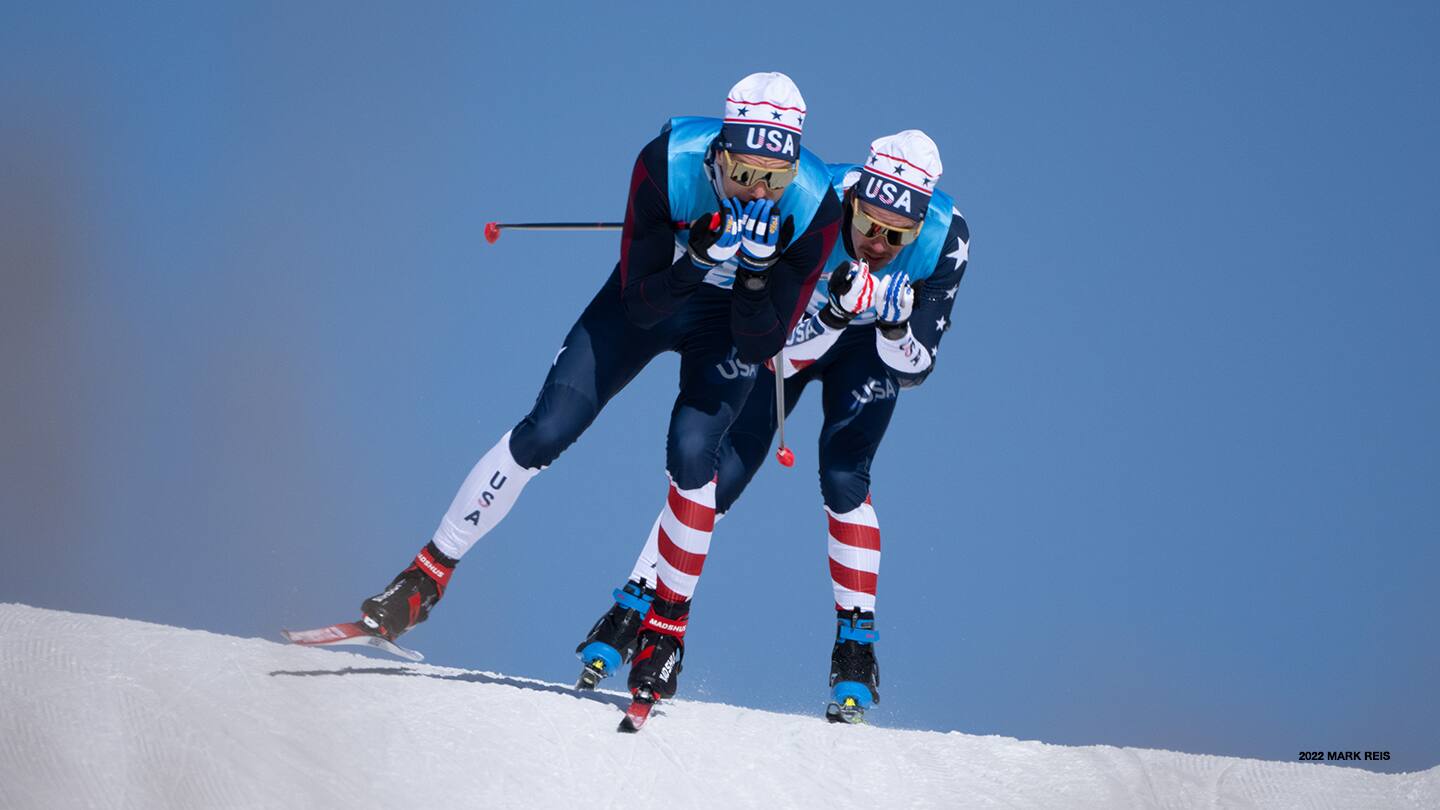 (L-R) Guide Sam Wood and Jake Adicoff during training at the Paralympic Winter Games Beijing 2022 on March 3, 2022 in Zhangjiakou, China.
More than two thirds of the 67 athletes (67.2 percent) constituting the U.S. Paralympic Team at the Beijing Games attended college, and more than a quarter of them (25.4 percent) competed collegiately, including seven in different sports. The American athletes competed at 13 different schools across Division I (3), Division II (1), Division III (4) and non-NCAA institutions (5), with sled hockey and Nordic skiing have the highest number of athletes who competed collegiately in the U.S. at seven apiece.

With its sled hockey program sponsored in conjunction with the non-profit Northeast Passage, the University of New Hampshire is the most represented school in Beijing with four athletes: David Eustace, Noah Grove, Griffin Lamarre and Kyle Zych.

All three NCAA divisions and seven different schools are represented by the U.S. Nordic skiing team alone in Beijing. In addition to Miller, at the varsity level, Danielle Aravich competed in track and field at Butler University, Jacob Adicoff participated in Nordic skiing at Bowdoin University, Sam Wood represented Middlebury College in Nordic skiing and Sydney Peterson competed for St. Lawrence University in Nordic skiing. Their teammate Aaron Pike, a dual-sport Paralympian, competed as a wheelchair track and field student-athlete at the University of Illinois.

Before being paralyzed, wheelchair curler Steve Emt played for famed basketball coach Jim Calhoun during his time at the University of Connecticut in the early 1990s, alongside many future NBA players, including Ray Allen, Donyell Marshall, Kevin Ollie and Scott Burrell.

In sled hockey, two-time Paralympian Josh Misiewicz played NCAA Division III hockey for Saint Mary's University of Minnesota prior to his combat injury.

Additionally, the 2022 U.S. Paralympic Team has several head and assistant coaches with collegiate ties. Para Nordic skiing head coach Eileen Carey skied at Dartmouth College, and her assistants Nick Michaud and Kristina Trygstad-Saari skied at Bates College and Dartmouth, respectively. Para snowboarding assistant coach Michael Jennings played football at Columbia University, while sled hockey assistant coach Corey Gorder is an assistant hockey coach at Dakota College.
Stuart Lieberman has covered Paralympic sports for more than 10 years, including for the International Paralympic Committee at the London 2012, Sochi 2014 and PyeongChang 2018 Games. He is a freelance contributor to TeamUSA.org on behalf of
Red Line Editorial, Inc.