With A Mix Of Experience, The U.S. Para Nordic Team Aims High For Winter Games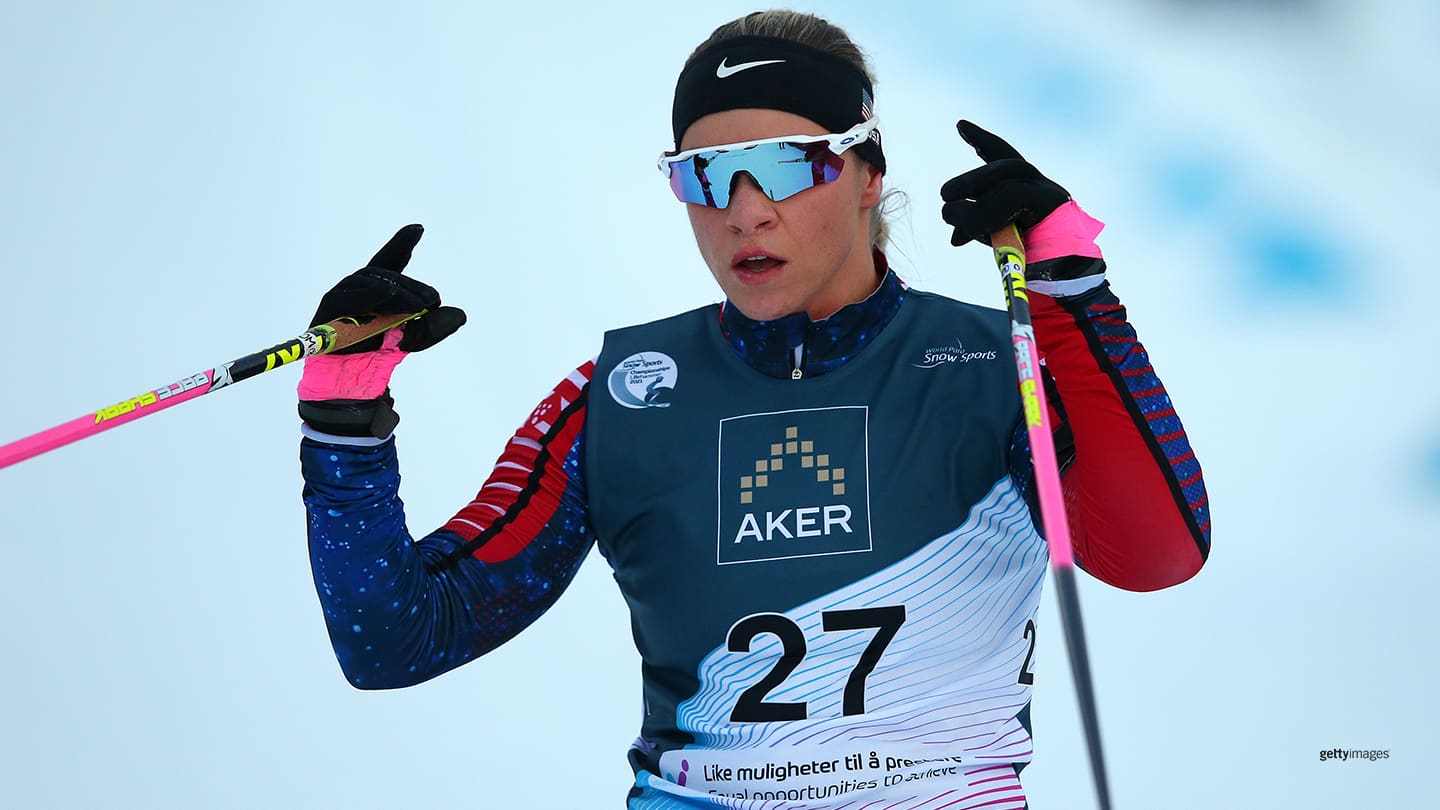 Oksana Masters competes during the women's middle sitting 10-kilometer biathlon at the 2021 World Para Snow Sports Championships on January 16, 2022 in Lillehammer, Norway.
Max Nelson was at lunch in Minnesota. Erin Martin was staying at an Airbnb in Washington. And Sydney Peterson had just returned to her car in Montana.

All three athletes were in different parts of the country when they received phone calls letting them know they had been named to the U.S. Nordic skiing team that will compete this month in Beijing.

After months of anticipation and a few days of uncertainty, Team USA's 14 Para Nordic skiers and one personal guide boarded a flight and headed to China last week.

Over the next few weeks, America's top Nordic skiers have the potential to match or even surpass the 16 medals they earned at the Paralympic Winter Games PyeongChang 2018.

Para Nordic skiing is one of the first events to begin in Beijing, with the men's and women's 6-kilometer biathlon set for March 5, only a few hours after the previous day's Opening Ceremony. Competition in Beijing will include both biathlon and cross-country skiing. Each discipline has three distances for men and women, with each separated into sitting, standing and visually impaired categories.

Oksana Masters is already one of the biggest names heading into the Winter Paralympics. A 10-time medalist in Nordic skiing, cycling and rowing, she has appeared on the cover of SELF magazine and in commercials for the Beijing Games.

Masters quickly transitioned to Nordic skiing after winning a pair of gold medals in cycling at the Paralympic Games Tokyo 2020 in August. She then continued to dominate during the first part of the Para Nordic season this winter.

In January, the multi-sport star returned from a positive coronavirus test in time to capture her ninth and 10th career world titles at the inaugural World Para Snow Sports Championships in Lillehammer, Norway.

Masters enters the Winter Paralympics — her sixth consecutive Paralympics — with some unfinished business. She failed to qualify when Beijing hosted the Summer Paralympics in 2008, a disappointment that still weighs on her mind.

"That failure became the drive to prove not just (to) everyone who said I will never make it as an athlete but prove it to myself I can be an elite athlete," Masters wrote on Instagram. "… This Games feels like my Paralympic journey is coming full circle."

Masters' biggest competition in Beijing could be Kendall Gretsch, her American teammate who's a three-time gold medalist in Nordic skiing and the triathlon. With their gold medals in Tokyo, Gretsch and Masters became only the fifth and sixth Americans to win at both a Summer and Winter Paralympics.

Like Masters, Gretsch started training for the Winter Paralympics almost immediately after returning from Tokyo. She has joined Masters atop the medal podium at world cup events and at the world championships this winter.

In PyeongChang, Gretsch became the first American to win an Olympic or Paralympic medal in biathlon. With her combination of endurance and accurate shooting, she's considered a heavy favorite to reach the podium again in Beijing.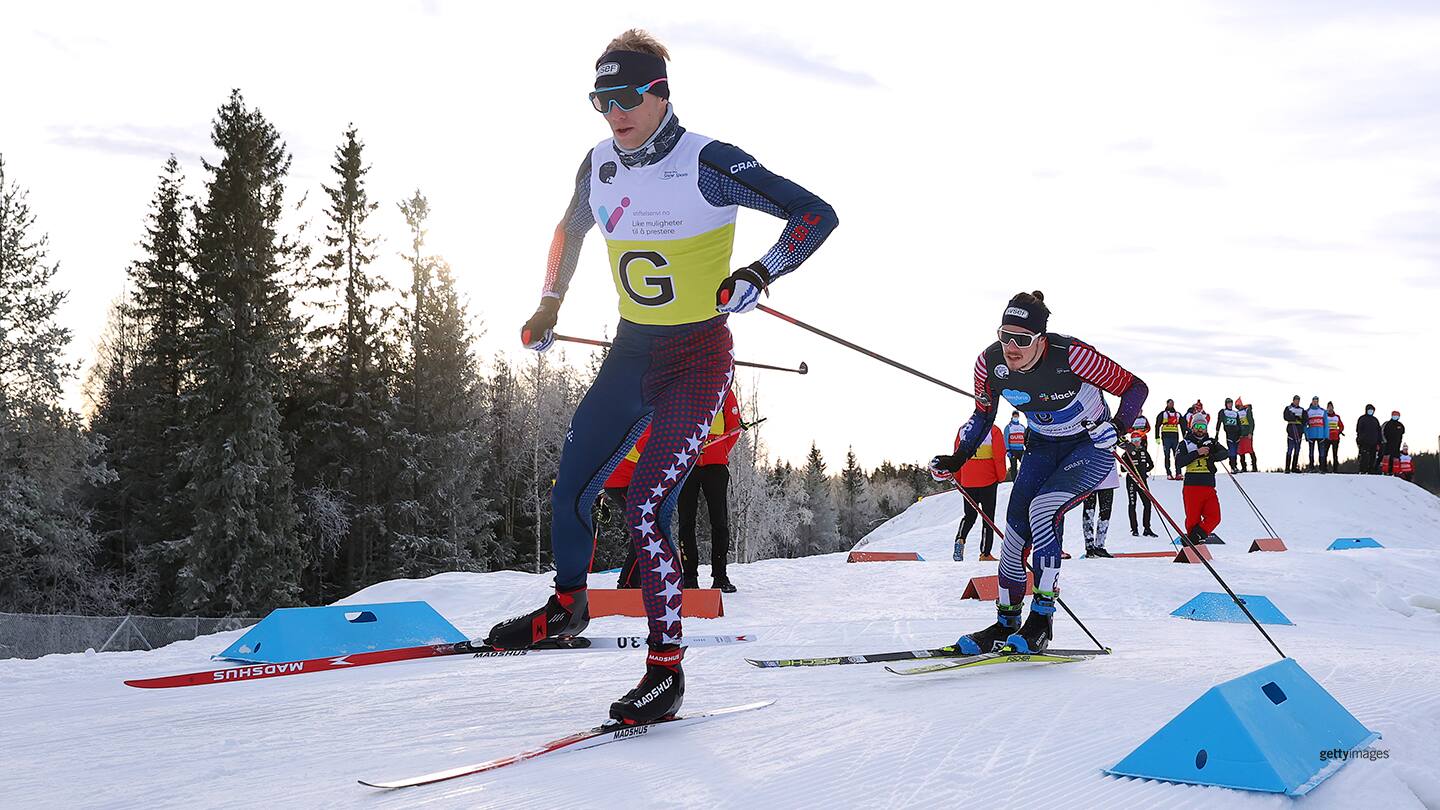 Jake Adicoff competes alongside his guide Sam Wood in the cross-country 10-kilometer open relay at the 2021 World Para Snow Sports Championships on Jan. 23, 2022 in Lillehammer, Norway.
She led all Americans in Lillehammer by winning three world titles, including in both biathlon competitions she entered.

"I would say the world championship was pretty competitive in terms of who was on the podium," Gretsch told TeamUSA.org in January. "That makes an exciting prospect for the Games."

Meanwhile, Dan Cnossen and Jake Adicoff could add to the medals they earned four years ago in PyeongChang. Cnossen, a former Navy SEAL, won a gold, four silvers and a bronze in South Korea.

Adicoff is one of the more intriguing storylines for Team USA having retired from Para Nordic skiing after winning a silver in cross-country skiing in 2018.

The visually impaired skier decided to return to the sport during the coronavirus pandemic, and he qualified for his second Paralympics alongside his guide and close friend Sam Wood. He said he hopes to win multiple medals and at least one gold in Beijing.

"I didn't want to go to Beijing for the ride. I've done the experience before, and it's phenomenal and very fun," Adicoff said. "… I'm coming into this with very clear performance goals that are very, very lofty."

At the same time, six-time Paralympian Aaron Pike is hoping to make his first podium after coming close in Nordic skiing and the marathon over the past few years.

Rounding out the Nordic skiers on Team USA are a mix of returning Paralympians (Grace Miller and Ruslan Reiter), a summer Paralympian in Dani Aravich (track and field) who's making her Winter Games debut, and newcomers like Nelson, Martin and Peterson.

Not all of the Americans are going into the Games with a medal-or-bust mindset.

"My goal is to have fun. There (are) no expectations going into this, and you know, I've never been to China either," said Nelson, who'll celebrate his 18th birthday in Beijing on March 5. "So it's going to be cool just to see what it's like over there.

"I just think it's going to be a really cool experience, and I'm not going into this saying, 'Oh, I want a gold medal' or anything crazy like that yet."

Peterson, a 19-year-old sophomore at St. Lawrence University, was the last member named to the U.S. team. In fact, she's fairly new to adaptive sports. She raced in only one world cup event this season before traveling to Lillehammer for the world championships, where she made an impression by earning two silvers and a bronze.

Peterson needed a special invitation from World Para Nordic Skiing and the International Paralympic Committee to compete in Beijing. Like her new teammates, she's looking forward to racing.

"I just want to show up and have fun and ski fast and gain this incredible experience," Peterson said. "And hopefully, that will be reflected in the results. But no matter what, it will just be amazing to be there."
Alex Abrams has written about Olympic sports for more than 15 years, including as a reporter for major newspapers in Florida, Arkansas and Oklahoma. He is a freelance contributor to TeamUSA.org on behalf of
Red Line Editorial, Inc.