Team USA's Para Nordic Skiers Earn Two Silvers, One Bronze In Cross-Country Sprint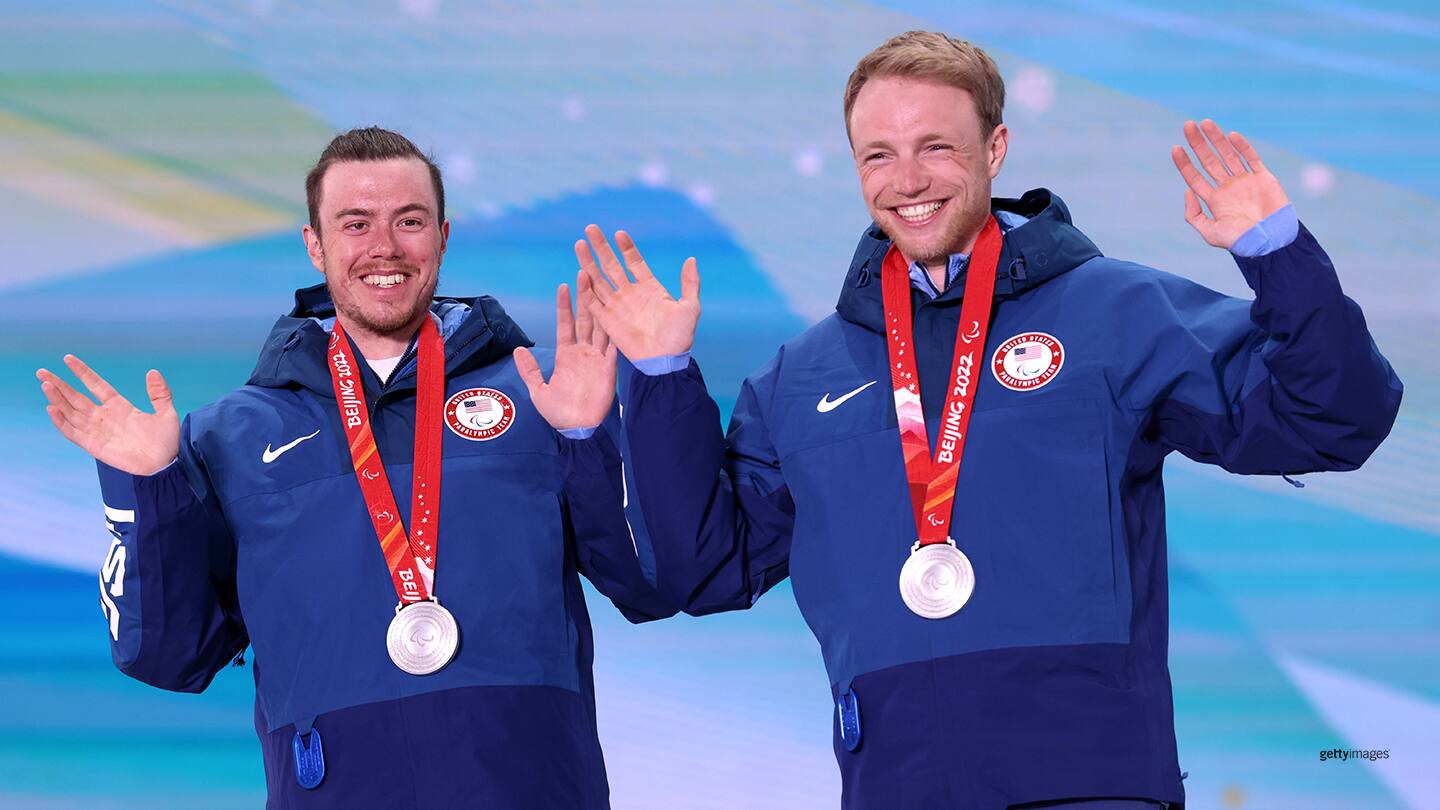 Jake Adicoff and his guide Sam Wood celebrate on the podium during the medal ceremony for the men's sprint free vision impaired during the Paralympic Winter Games Beijing 2022 on March 9, 2022 in Beijing.
ZHANGJIAKOU, China – Team USA athletes raced to one bronze and two silver medals in Para cross-country skiing at the Paralympic Winter Games Beijing 2022 on Wednesday at the Zhangjiakou National Biathlon Centre.

The warm, sunny day brought slushy conditions for races across the para cross-country classifications: sitting, standing and visually impaired. Team USA came to race and did not disappoint.

In the men's sprint free visually-impaired, Jake Adicoff and guide Sam Wood earned their second silver medal of the Winter Games finishing in 3:20.3.

Canada's Brian McKeever and guide Russell Kennedy edged out Adicoff and Woods by .08 for gold, and Sweden's Zebastian Modin and guide Emil Joensson Haag took bronze in 3:37.8. American Max Nelson and guide Simi Hamilton placed 14th overall in Nelson's Paralympic debut.

"It was a totally tactical day out there, but that's what we love about sprint racing," Adicoff said. "And that's what makes it fun."

"Today we just felt those moments of really skiing well and really skiing big," Wood said. "We're going to feed off those moments and just keep finding them. We have a lot of confidence. We can ski in the fast snow, and we can ski in the slow snow."

The duo is two-for-two in Beijing Paralympic podium finishes, earning silver in men's long distance classic visually-impaired on Monday. Adicoff, a 26-year-old Idaho native, said they like the variability in their race schedule, but sprint day is by far their favorite.

Another secret to their success? Their partnership.

Adicoff came out of retirement to join forces with friend Wood in the lead-up to Adicoff's third Paralympic Winter Games.

"We have a lot of trust in each other," Wood said. "It's really understanding Jake and how he skis. I think today that really came into play, especially at the start, just being able to push hard and know that Jake was going to be there with me."

"I was also more nervous than I have been for any race right before the final here. Sam told me that I was looking cool, and that was a big help," Adicoff joked. "Maybe more so than I should admit."

Despite their relaxed nature together, Adicoff was clear that the goal is a gold medal for Beijing 2022.

"I said it before, and I'll say it again; we're going for gold," Adicoff said.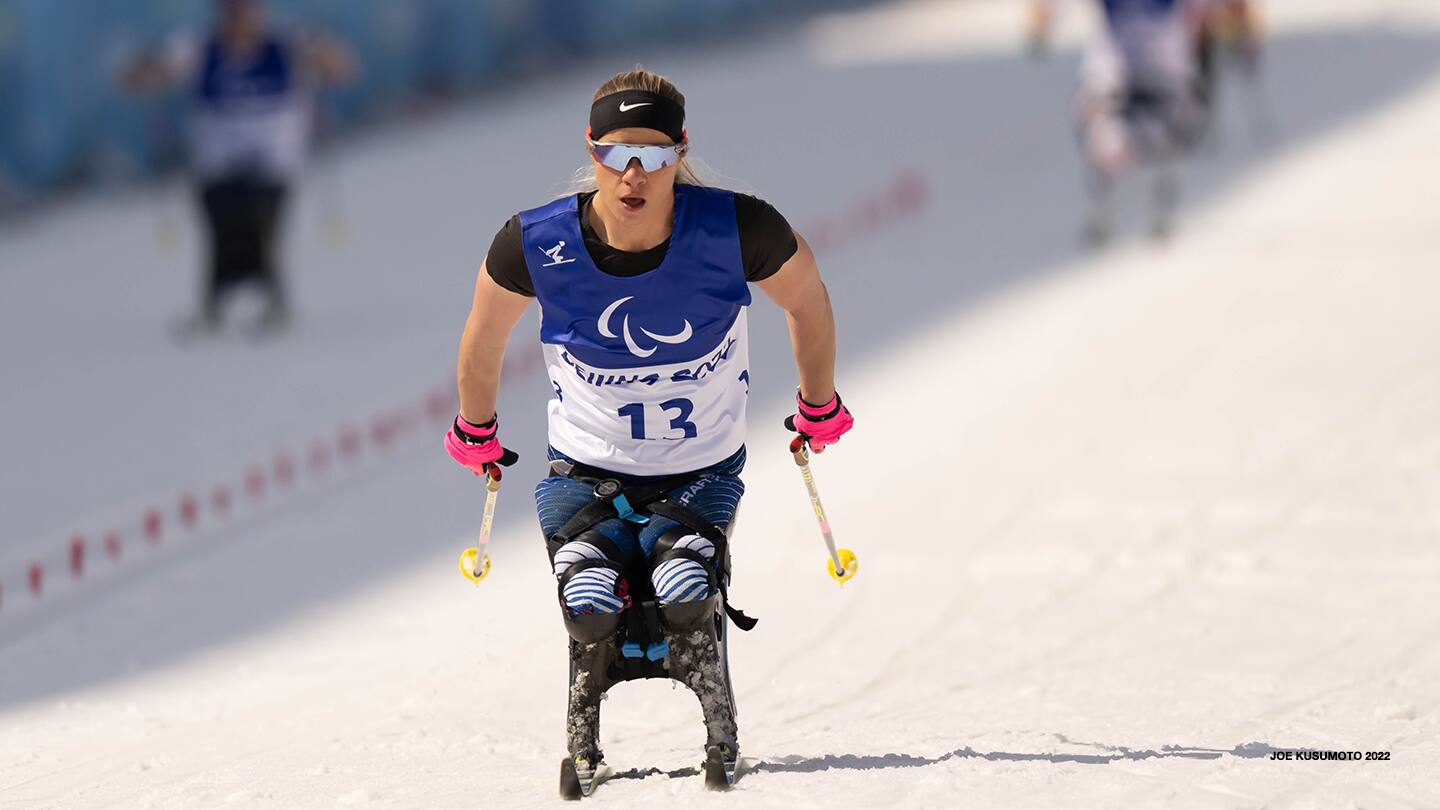 Oksana Masters competes in the women's sitting sprint semifinal during the Paralympic Winter Games Beijing 2022 on March 9, 2022 in Zhangjiakou, China.
In the women's sitting classification, Oksana Masters added another silver medal to her collection, finishing in 3:19.9. China's Yang Hongqiong won gold in 3:18.2 and her compatriot Li Panpan earned bronze in 3:31.0.

Kendall Gretsch, U.S. teammate and already a two-time Paralympic medalist in Beijing, finished fifth in 3:37.3. She said she's been training her sprint races to be competitive across her six planned cross-country and biathlon races.

"I get excited racing on a sprint day because it's our one opportunity to have head- to-head racing and that's just so fun to watch and to be a part of as a racer," Gretsch said.

Americans Lera Doederlein and Erin Martin placed 14th and 16th, respectively.

Martin, 35, made her Paralympic debut in Wednesday's sprint sitting race. She was introduced to Nordic skiing after she was injured in a rock climbing accident.

"I feel really grateful that I found Nordic skiing, because it's brought such a awesome sort of completeness to my life after my injury," Martin said. "I enjoy training. I like putting the time in thinking about how to push myself and be better...and it certainly has made me grow as a person."

In the men's sprint sitting, Aaron Pike had the top finish for Team USA with 2:27.0 to earn 12th. Josh Sweeney and Dan Cnossen did not advance out of the qualifying round, placing 19th and 13th respectively.

After the race, Pike took a moment to reflect on the growth of the U.S. Para Nordic program since his first Games in 2014.

"It's just awesome to come back and see the growth with a lot of developing athletes," Pike said. "We're getting a lot more VI and standing athletes and it's sweet to see that. The team's grown so much from 2014 with the way we're approaching it and how technical everybody is approaching our races."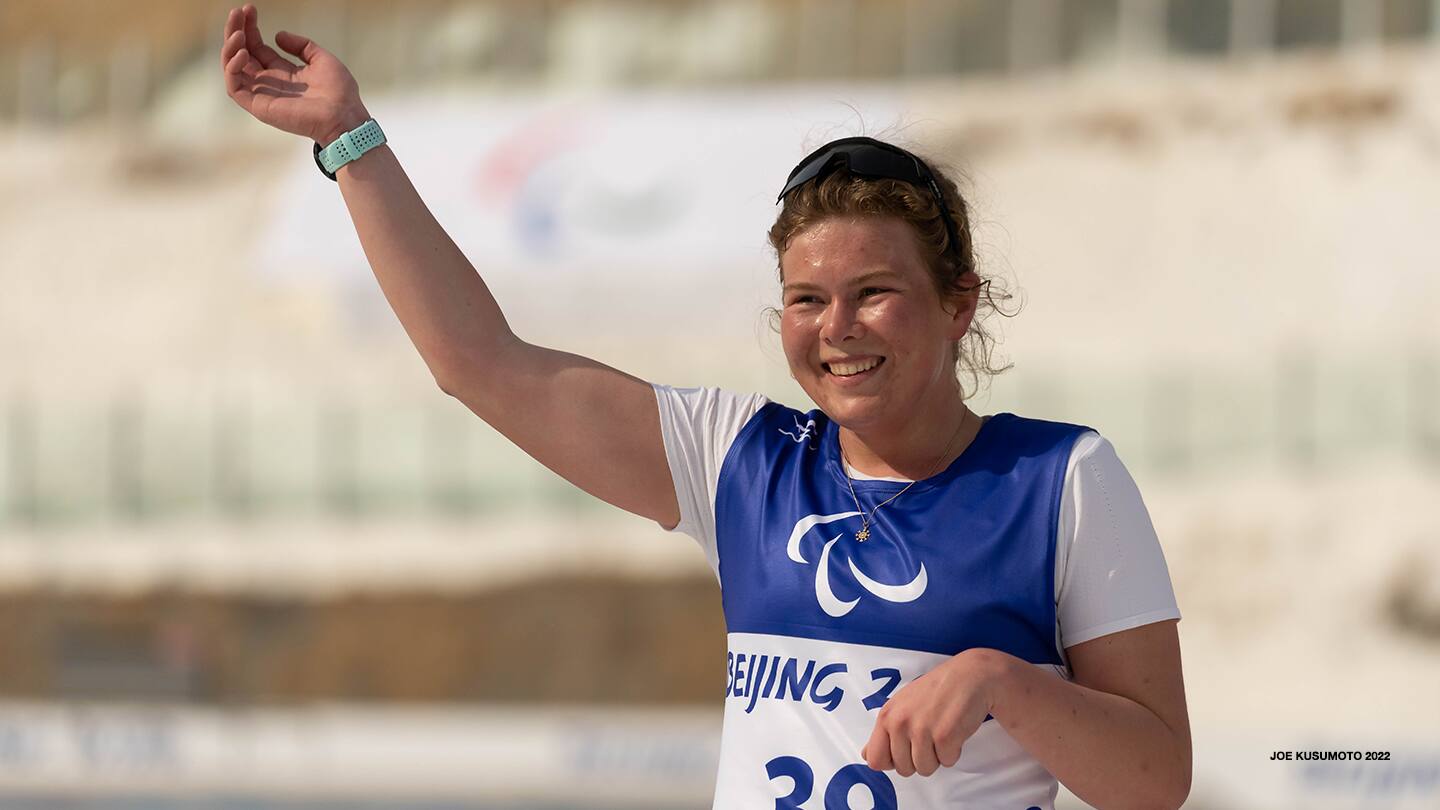 Sydney Peterson celebrates following the women's standing free sprint during the Paralympic Winter Games Beijing 2022 on March 9, 2022 in Zhangjiakou, China.
The strength of the program continued to shine with first-time Paralympian Sydney Peterson. She won her second medal in two days, a bronze in women's sprint standing in 4:12.1.

Team Canada Natalie Wilke won gold with a time of 4:05.1. Norway's Vilde Nilsen finished in 4:08.1 to claim silver.

"It was a super challenging race," Peterson said. ""Lots of components going into it throughout the day, but I'm super excited about how it stacked up. I had a ton of people that were out there helping and cheering and it wouldn't have been possible without all their support."

Team USA's Dani Aravich achieved her goal qualifying for the semifinals, placing eighth. Grace Miller did not make it out of the qualifying heat and finished 14th.

Peterson, 20, began skiing at a young age and currently competes collegiately for Saint Lawrence. Her college teammates and coaches are some of her biggest supporters stateside during that Games.

"My parents and my family are super supportive of everything here," Peterson said. "Then I've got my college team, all my friends and teammates and my coach from college, and they've been super supportive through everything. Everyone's super supportive."

Ruslan Reiter posted the top finish for Team USA in the men's standing sprint with a 12th place finish. Drew Shea did not advance past the qualifying round, placing 21st overall.

The Para nordic team has a well-deserved off day on Thursday in China. Competition resumes on Friday with the long distance biathlon competition for the sitting, standing and visually impaired classifications.
Want to follow Team USA athletes during the Paralympic Winter Games Beijing 2022? Visit TeamUSA.org/Beijing-2022-Paralympic-Games to view the competition schedule, medal table and results.
Katie Grunik is a digital content creator for TeamUSA.org. She is covering her second Olympic & Paralympic Games for teamusa.org and currently serves as the digital content coordinator for the U.S. Olympic & Paralympic Committee.