Team USA Wins Mixed Relay Gold To Close Out Nordic Skiing at 2022 Paralympic Winter Games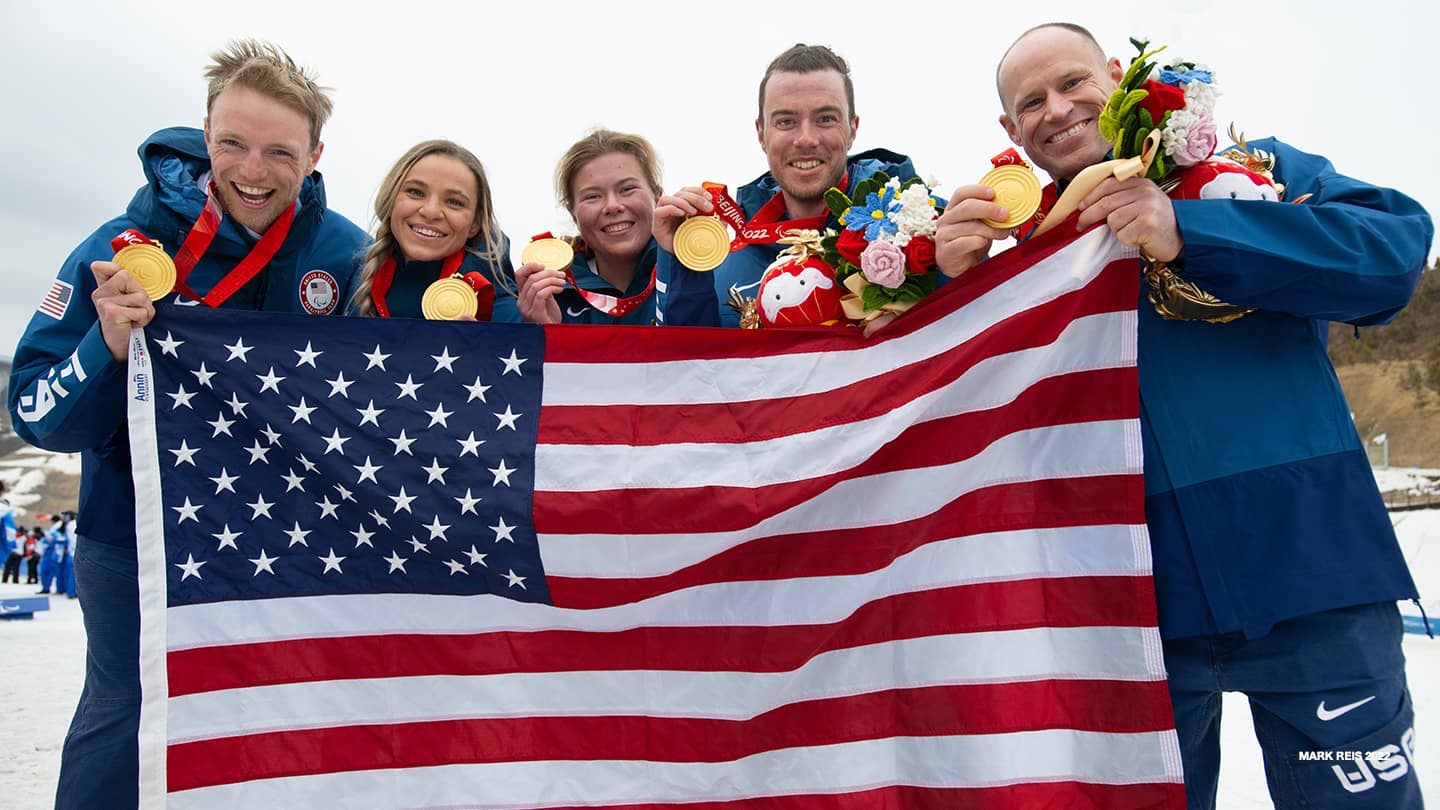 Sam Wood, Oksana Masters, Sydney Peterson, Jake Adicoff and Dan Cnossen celebrate after winning the para cross-country 4x2.5-kilometer mixed relay at the Paralympic Winter Games Beijing 2022 on March 13, 2022 in Beijing.

ZHANGJIAKOU, China — Team USA won its first-ever mixed relay gold to close out the cross-country competition at the Paralympic Winter Games Beijing 2022 on Sunday at Zhangjiakou National Biathlon Centre in Zhangjiakou, China.

Team USA's 4x2.5-kilometer mixed relay featured Oksana Masters, Sydney Peterson, Dan Cnossen and Jake Adicoff guided by Sam Wood. They stormed to a 25:59.3 gold-medal finish.

China took silver in 26:25.3, and Team Canada captured bronze in 27:00.6. Defending world and Paralympic champions Ukraine finished fourth.

"I could not be more proud and more excited," Cnossen said. "Really, it's an honor to be part of this team knowing the caliber of athletes that I got to ski with."

Cnossen, 41, became the most seasoned medalist for Team USA in Beijing. The gold-medal win also earned Masters a place in the history books as the most decorated U.S. Winter Paralympian with 14 career Winter Paralympic medals.

The relays were the only team events on the Para cross-country skiing program. The mixed relay featured four fast 2.5-kilometer laps that can be skied by an alternating team of two, three or four skiers and at least one man and one woman.

Masters raced a strong first leg to hand off to now three-time Paralympic medalist Peterson for leg two. Cnossen skied leg three to hold Team USA in fourth place. Adicoff and Wood turned up the heat for the final lap, rocketing into first place and never looking back.

"We started that so hot, "Adicoff said. "We were just really gas in the beginning, no holding back in the first part. By the time we were at the top of the course, we skied into the lead. From there, we just had to stay on our feet and bring it home. Getting that energy from our teammates for that first part of the race was critical."


MIXED RELAY GOLD 🥇@USParaNordic x #WinterParalympics pic.twitter.com/uNAJd1Hrhz
— Team USA (@TeamUSA) March 13, 2022

The American team competed with athletes across the sitting, standing and visually impaired classifications. The team felt confident coming into the race after strong podium performances across each classification over the last eight days of Paralympic competition.

"It's not just one athlete carrying the load," Cnossen said. "We have really, really strong athletes in all the categories. For me, I didn't have some of the individual success here that I've had in the past, but it just goes to show when you get to be part of a team that lifts the performance."

"It's so much better being part of a team," Peterson said. "There were five of us out there today, and I think all of us had great races. Thanks to everyone else supporting us back home and all the Team USA staff here supporting us."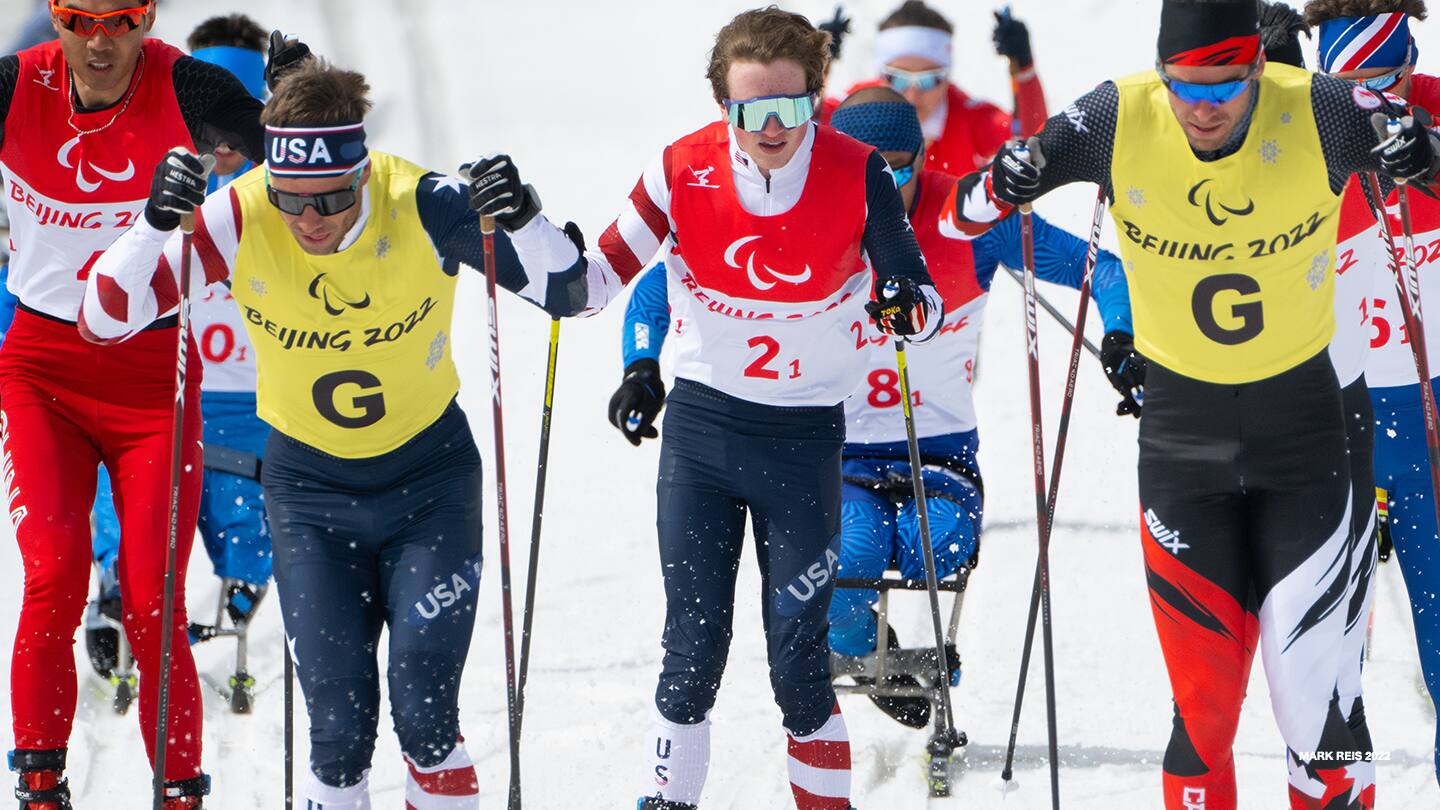 Max Nelson and guide Simi Hamilton compete in the para cross-country 4x2.5-kilometer open relay at the Paralympic Winter Games Beijing 2022 on March 13, 2022 in Beijing.
The gold-medal win fueled the 4x2.5-kilometer open relay, the final competition for Para Nordic in Beijing.

First-time Paralympians Max Nelson, guided by Simi Hamilton, and Drew Shea teamed up with veterans Kendall Gretsch and Ruslan Reiter for the final relay. The team placed ninth overall in 33:03.0.

"It was fun to watch everyone ski in the first race and to go out there and just give it all you got," Reiter said.

Team Ukraine won gold in 28:05.3 thanks to a strong last leg by Anatolii Kovalevskyi guided by Oleksandr Mukshyn. France finished second for silver in 28:30.4, and Norway held onto bronze in 28:41.0.

Max Nelson, the youngest skier on the U.S. Para Nordic team in Beijing, fought for Team USA from the very start of the race in the leadoff leg.

"It was pretty crazy at the start trying to fight off a couple skiers for my spot," Nelson said. "But I'm just honored to be here and race for Team USA. It was a great day."

The athletes made the most of the time on their course together in a sport that is normally focused on individual racing. Gretsch, who won three medals in biathlon and competed in all three cross-country races at these Games, said it's exciting to see the athletes race head-to-head across the classifications.

"It is so crazy because there's such a yo-yo between the legs of it so you can really like never count yourself out until the very end," Gretsch said. "Everyone just has to go and give it their all for 2.5-kilometers."

First-time Paralympian Drew Shea said this was a great way to end his first Games experience.

"This is pretty special in such an individual sport, just being able to fight for the next person who's out there," Shea said. "It's not about you out there. It's about the team so you're just trying to make up every second and grind it out."

Team USA's Para Nordic skiers closed out a successful Paralympic Winter Games with 14 medals (four gold, eight silver and two bronze.)

Want to follow Team USA athletes during the Paralympic Winter Games Beijing 2022? Visit www.teamusa.org/beijing-2022-paralympic-games to view the competition schedule, medal table and results.
Katie Grunik is a digital content creator for TeamUSA.org. She is covering her second Olympic & Paralympic Games for teamusa.org and currently serves as the digital content coordinator for the U.S. Olympic & Paralympic Committee.