College Athletes Shone At 2022 Paralympic Winter Games
As was true at the Olympic Winter Games that preceded it, college athletes figured prominently for Team USA at the just-concluded Paralympic Winter Games Beijing 2022.
Of the 67 athletes who represented the U.S. at the games, 17, or 25.4 percent, competed in some sport collegiately. They attended a total of 13 schools, including three in Division I, one in Division II, four in Division III, and five played non-varsity sports or attended non-NCAA institutions. And plenty of them will be bringing home medals. Of the 27 Americans who won medals at the Games, 11 — or 40.7 percent — were athletes who played sports in college.
The college sports footprint was all over Team USA:
Of all the Paralympic sports, only the U.S. snowboarding roster included no former college athletes.
Seven American athletes competed in college sports other than the one they did for the U.S. in Beijing.
Twelve of the U.S. Paralympians competed as athletes with disabilities in college. Eleven American athletes were returning Paralympians
Two U.S. Paralympians have also competed in the Summer Games. Four Americans with college backgrounds also served in the U.S. military, including two with the Marines and one each with the Army and Navy.
The schools and the number of athletes they had in attendance follow:
University of New Hampshire (4), University of Illinois at Urbana-Champaign (2), Wilbur Wright College (1), University of Massachusetts, Amherst (1), University of Connecticut (1), University of Colorado, Boulder (1), University of Alaska Fairbanks (1), U.S. Naval Academy (1), St. Mary's University of Minnesota (1), St. Lawrence University (1), Middlebury College (1), Butler University (1), Bowdoin College (1).
Here's how they did: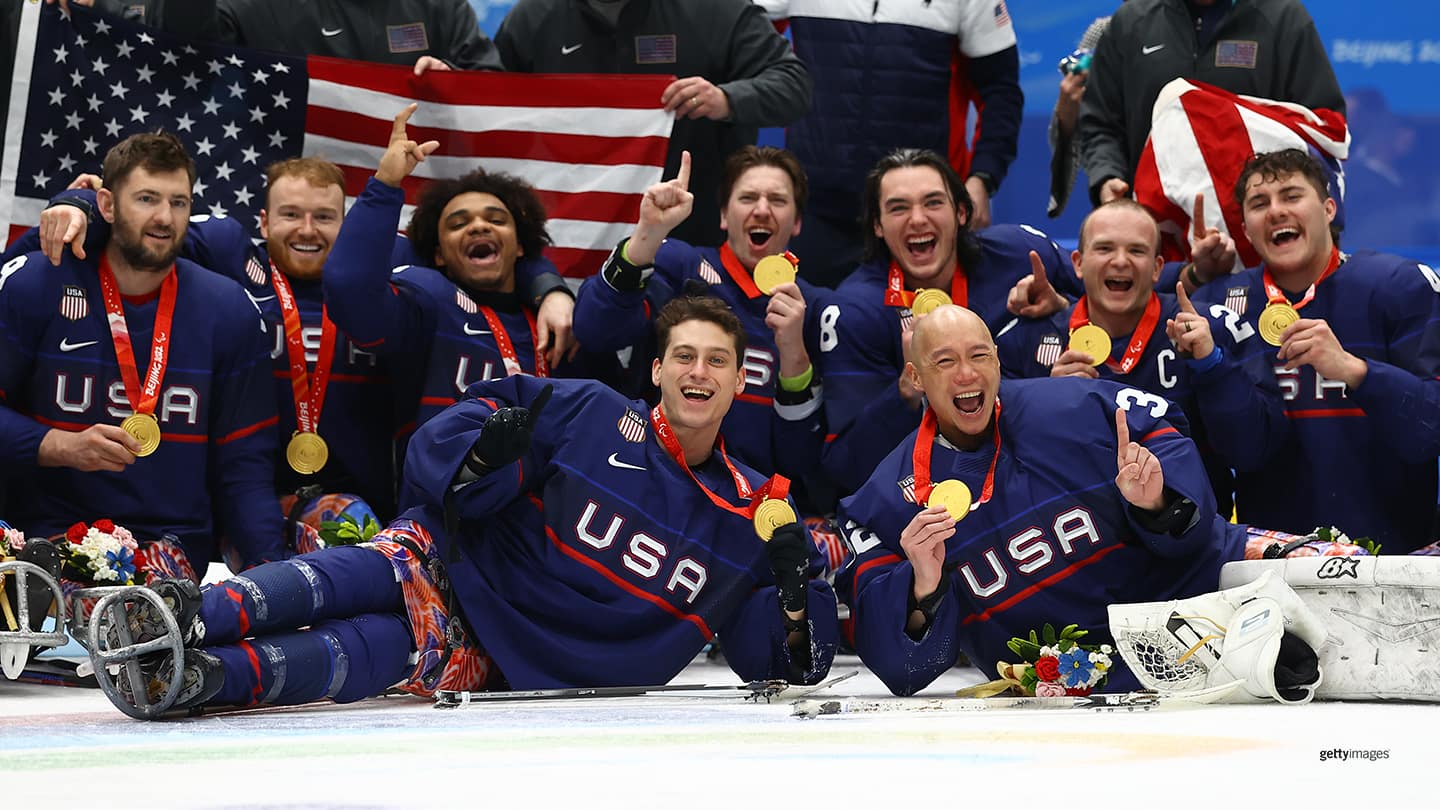 The Team USA sled hockey team celebrates their gold medal during the para ice hockey medal ceremony during the Paralympic Winter Games Beijing 2022 on March 13, 2022 in Beijing.
College athletics was well-represented on the ice for the U.S. sled hockey team, which won its fourth straight Paralympic gold medal with a convincing 5-0 win over Canada in the final.

Seven of 17 Team USA members, or 41.2 percent, took part in college sports.

Four of those players — David Eustace of Stoneham, Massachusetts, Griffin LaMarre of Haverhill, Massachusetts, Kyle Zych of South Hadley, Massachusetts, and Noah Grove of Frederick, Maryland — participated in the sled hockey program at the University of New Hampshire.

Josh Misiewicz of La Grange, Illinois, played ice hockey at St. Mary's University of Minnesota, Kevin McKee of Chicago, Illinois, played wheelchair basketball at Wilbur Wright College, and Travis Dodson of Deming, New Mexico, competed in Para track and field at the University of Illinois.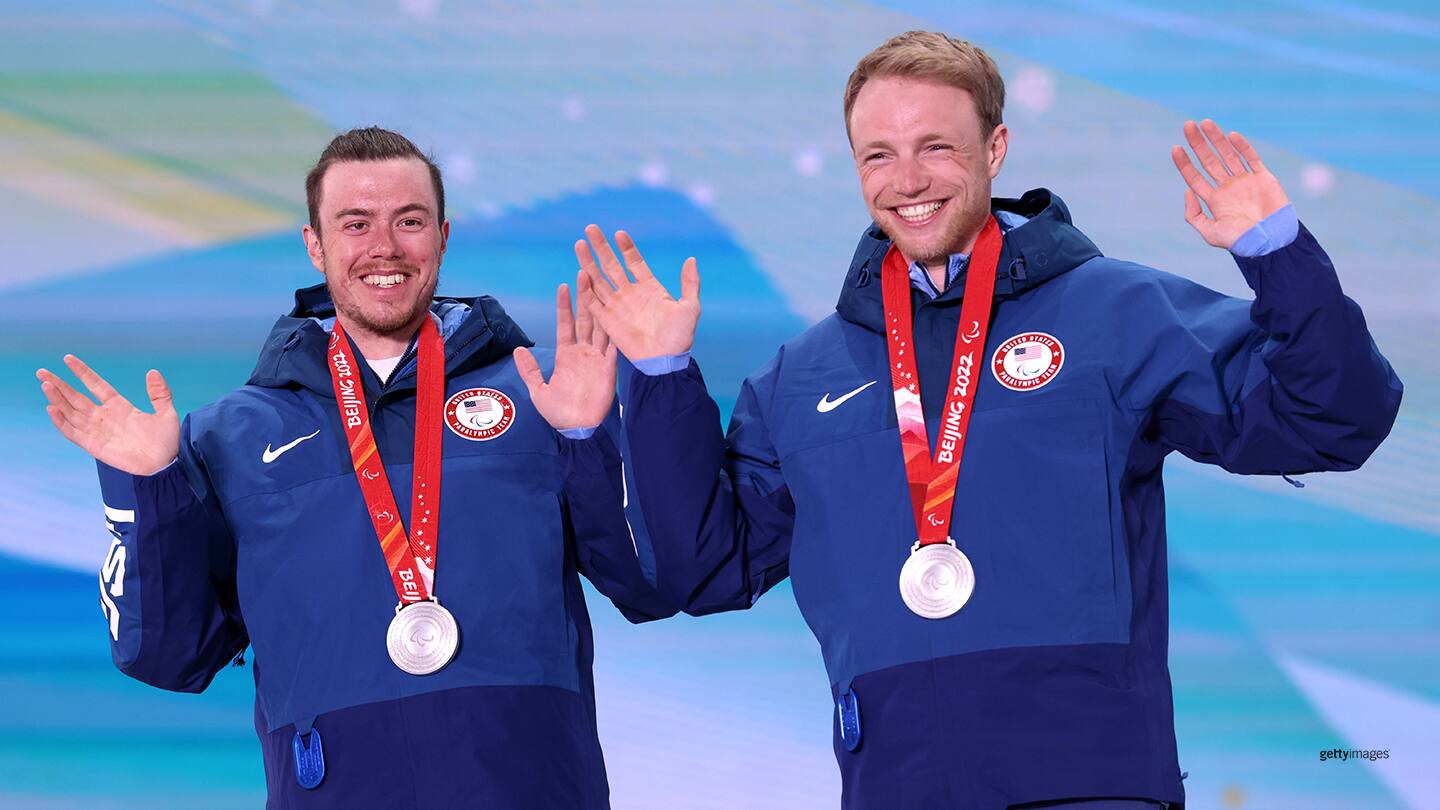 Jake Adicoff and his guide, Sam Wood, celebrate their silver medal in the men's vision impaired sprint free during the Paralympic Winter Games Beijing 2022 Winter on March 9, 2022 in Beijing.
This sport had the highest number of athletes with collegiate experience on its roster for the Paralympics. Seven of 15 skiers, or 46.7 percent, have competed at the college level. They came from seven different schools across all three NCAA divisions.

The gold-medal-winning 4x2.5-kilometer mixed relay team featured four college athletes — Sydney Peterson of St. Lawrence University, Dan Cnossen of the U.S. Naval Academy, Jake Adicoff of Bowdoin College, and Adicoff's guide, Sam Wood of Middlebury College.

Cnossen of Topeka, Kansas, has now won seven medals in three Paralympic appearances.

Adicoff, a 26-year-old three-time Paralympian from Sun Valley, Idaho, also won silver medals in the men's visually impaired long-distance cross-country and sprint cross-country events. He added a sixth-place finish in the middle-distance cross-country race.

Adicoff, who now has a total of three silver medals, won both silver medals in Beijing with 25-year-old guide Wood of Harpswell, Maine. Adicoff had come back to the sport after retiring four years ago.

In her Paralympic debut, 20-year-old Peterson of Lake Elmo, Minnesota, also collected a silver medal in the women's 15-kilometer classic standing race and a bronze medal in the women's standing sprint freestyle.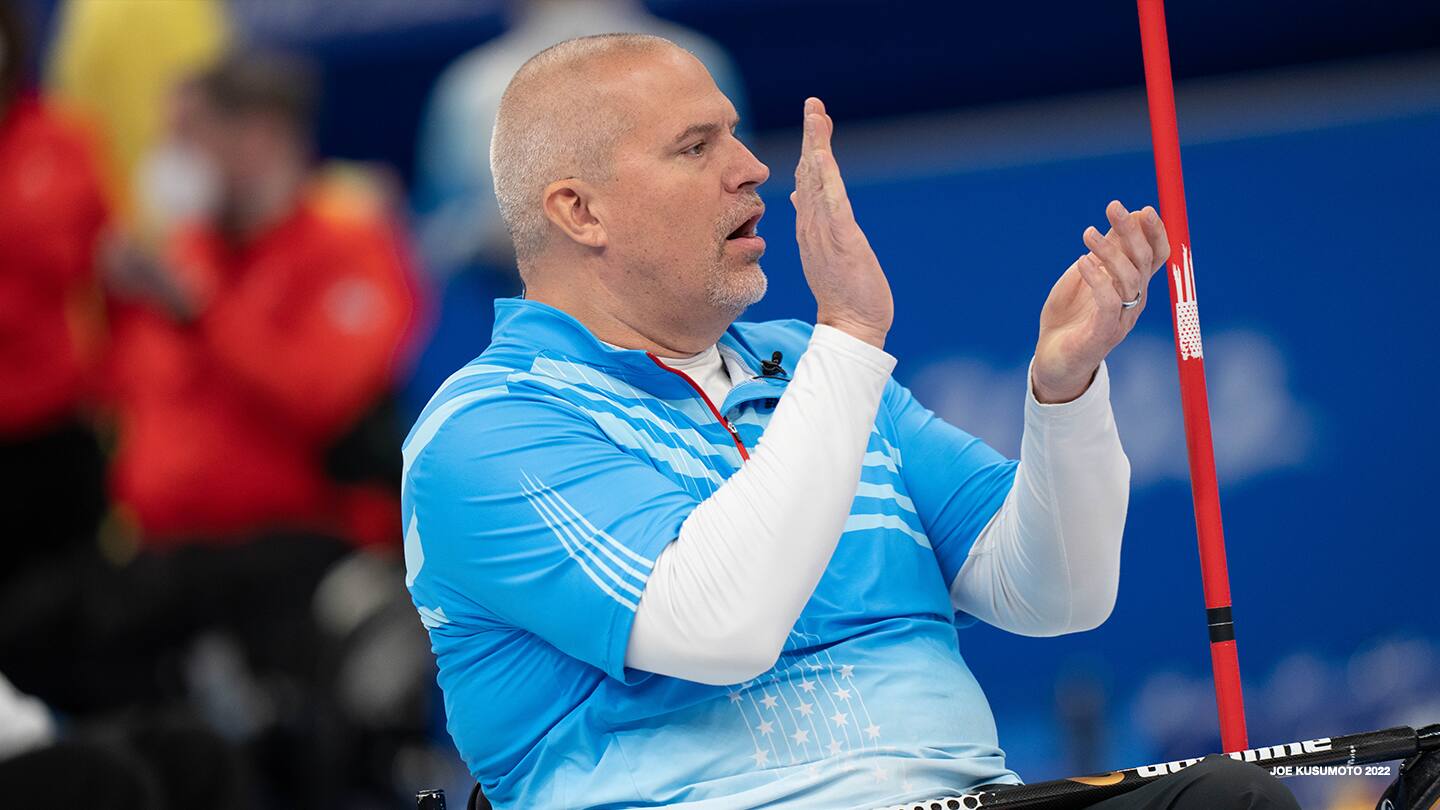 Steve Emt competes in a wheelchair curling match against China during the Paralympic Winter Games Beijing 2022 on March 8, 2022 in Beijing.
Former University of Connecticut men's basketball player Steve Emt helped the U.S. wheelchair curling team to a 5-5 record in Beijing. The fifth-place finish tied for the second-best showing ever by the Americans.

Emt, a 52-year-old from Hebron, Connecticut, served as the vice skip in his second Paralympic appearance.
Rob Umstead, 51, of Park City, Utah, served as a guide for wife Danelle Umstead in their fourth Games together. Rob skied at the University of Massachusetts, Amherst. In Beijing, Danielle placed 13th in the women's visually impaired giant slalom and didn't finish the slalom race. In previous appearances, she collected three bronze medals.

Kyle Taulman of Steamboat Springs, Colorado, who has competed in wheelchair tennis at the University of Colorado, Boulder, participated in men's sitting slalom at Beijing. The 20-year-old Taulman didn't finish the race.
Bob Reinert spent 17 years writing sports for The Boston Globe. He also served as a sports information director at Saint Anselm College and Phillips Exeter Academy. He is a contributor to TeamUSA.org on behalf of
Red Line Editorial, Inc.