University Of New Hampshire Ties Run Through U.S. Sled Hockey Team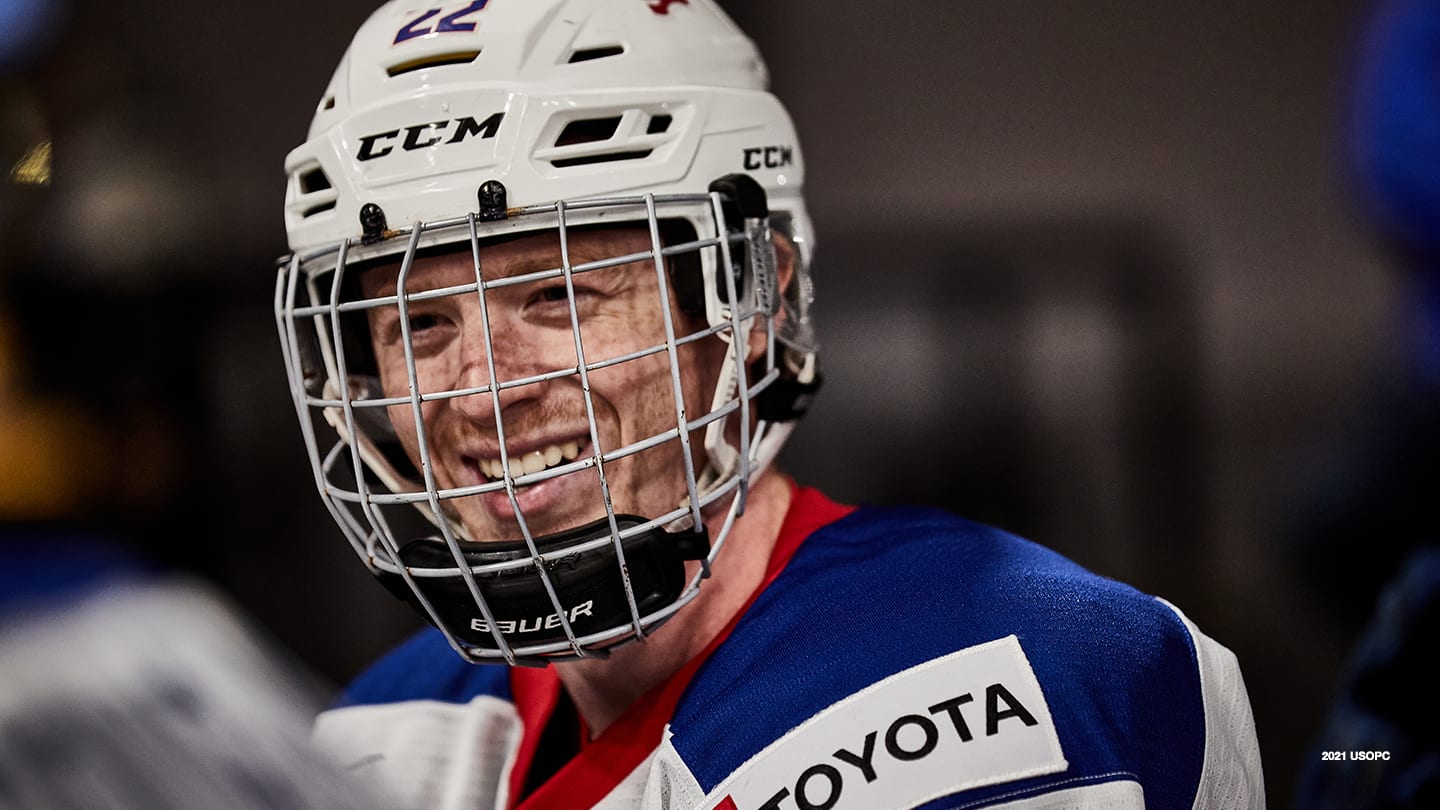 Noah Grove looks on during an exhibition match against Team Canada on Oct. 29, 2021 in St. Louis.
Since the Paralympic Winter Games Nagano 1998, the first at which Team USA fielded a Paralympic sled hockey team, athletes from the Northeast Passage program have been a part of every U.S. Paralympic roster. Those names have included Paralympic champions such as Kip St. Germaine, Joe Howard and Taylor Chace.

Northeast Passage is a non-profit under the University of New Hampshire's College of Health and Human Services, which provides opportunities for individuals with a disability to take part in real-world learning experiences and sports, including sled hockey. In conjunction with the U.S. Olympic and Paralympic Committee, it has created a unique model allowing athletes to be college students and sled hockey players at the same time, competing in the Northeast Sled Hockey League. These student athletes have access to the same facilities and coaching as their able-bodied counterparts.

Four of the members of the U.S. Paralympic sled hockey team going for a fourth consecutive gold medal at Beijing 2022 will be representing the program: David Eustace, Noah Grove, Griffin LaMarre and Kyle Zych. That makes the University of New Hampshire the most represented college by U.S. Paralympic athletes in Beijing.

"I'm really excited to just be here and a part of this team," said the 25-year-old LaMarre, who will be making his Paralympic debut as the backup goaltender. "It's always been a dream and a goal of mine the last 10-plus years that I've played the sport."

LaMarre was born with hereditary spastic paraplegia, which causes his muscles to feel tight and his legs to become tired and weak. His mother was a soccer goaltender, and both of his brothers were lacrosse goaltenders, so he took up lacrosse growing up as well. But he always had a passion for hockey and wanted to join his friends on the ice. When he mentioned that to his physical therapist, an immediate introduction was made to the head of Northeast Passage and he soon after found himself strapped into a sled.

Northeast Passage also offers a youth sled hockey program for kids ages 5-18 that feeds into its collegiate program, which served as a pipeline for LaMarre and others.

"We had a great program over at Northeast Passage based out of UNH. We've been playing with that program since we were 10, 11, 12 years old," LaMarre said. "Being able to have a structured youth program, intermediate program and then working our way up and always competing in collegiate leagues because of the opportunities they've given us has really helped us grow into the players we need to be."

In addition to the four New Hampshire Wildcats, two-time Paralympian Josh Misiewicz played NCAA Division III hockey for Saint Mary's University of Minnesota prior to being injured by an IED while on patrol with the U.S. Marine Corps in Afghanistan. When Misiewicz returned to the states as a double amputee, Saint Mary's put on an Armed Forces Night to raise funds through ticket sales, merchandise, donations and a chuck-a-puck contest to honor their heroic former player. Since then, through various fundraisers, Saint Mary's has gone on to raise tens of thousands of dollars to support Misiewicz in his journey. In Beijing, Misiewicz will aim to repeat his surprising performance from PyeongChang, where he had 10 points in five games.

Two other members of the U.S. Paralympic sled hockey team competed in other sports in college — two-time Paralympian Travis Dodson raced for the University of Illinois' Para track and field team and three-time Paralympian Kevin McKee played wheelchair basketball at Wilbur Wright College.

As both the defending Paralympic and world champions, the U.S. sled hockey team will be the No. 1 seed in Beijing. It will open Paralympic play with a preliminary round matchup on March 4 at 11 p.m. ET against its archrival Canada at the National Indoor Stadium. USA Network will carry the game live.
Stuart Lieberman has covered Paralympic sports for more than 10 years, including for the International Paralympic Committee at the London 2012, Sochi 2014 and PyeongChang 2018 Games. He is a freelance contributor to TeamUSA.org on behalf of
Red Line Editorial, Inc.