In His Third Paralympics At Age 23, Sled Hockey Star Brody Roybal Blended Youth With Poise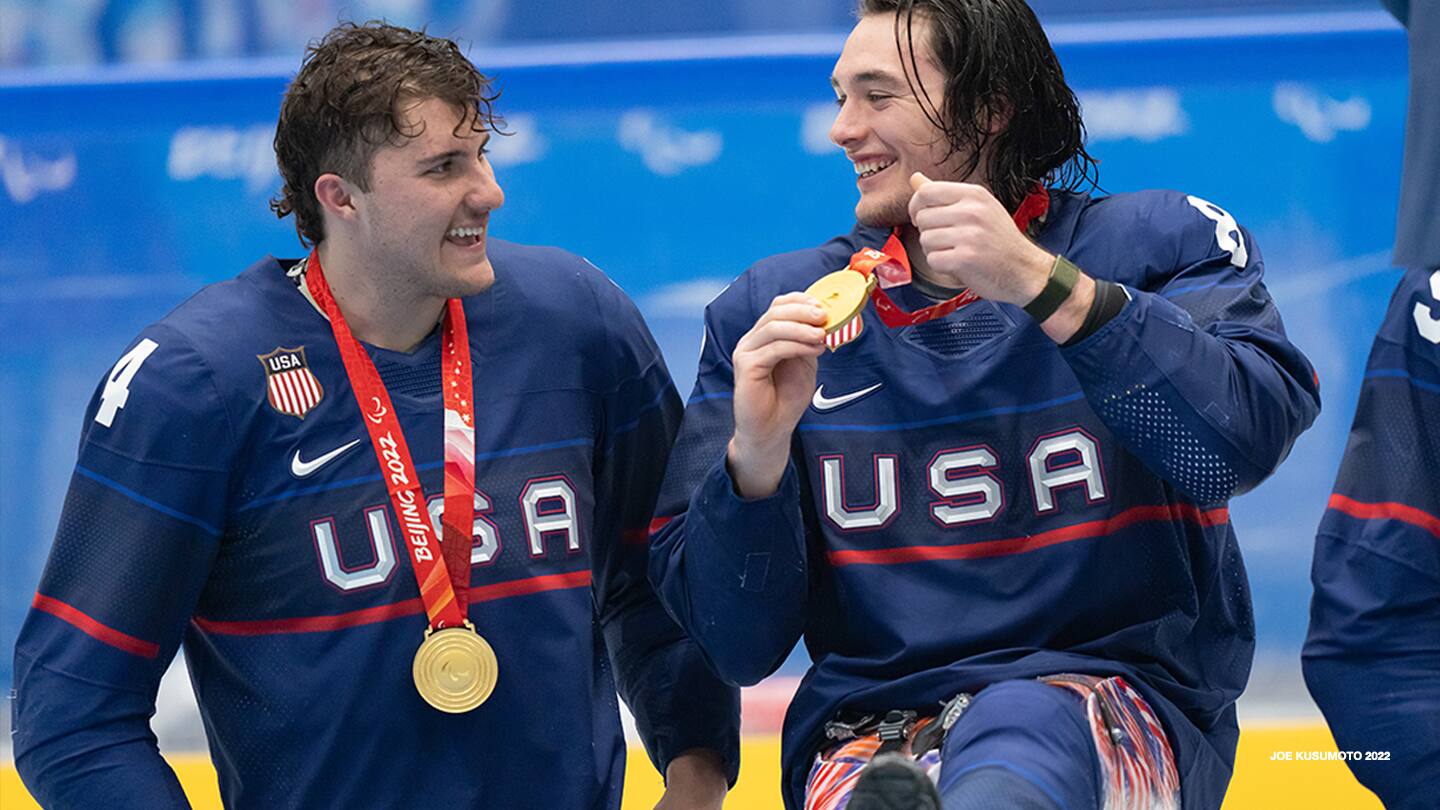 (L-R) Brody Roybal and Jack Wallace celebrate after winning the sled hockey gold-medal game against Team Canada at the Paralympic Winter Games Beijing 2022 on March 13, 2022 in Beijing.
BEIJING – Eight years ago, Brody Roybal needed an exemption from the International Paralympic Committee to participate in the Paralympic Winter Games Sochi 2014.

At 15, the high school sophomore from the Chicago area was just shy of the minimum age requirement of 16. He needed three doctors notes to prove he was physically capable of competing with grown men on the Paralympic sled hockey rink.

All the proof anyone else needed was on the ice.

In Sochi, as the youngest member of the Team USA Paralympic delegation, Roybal played all five games and scored twice en route to helping the team to the gold medal, the second in a row for the U.S. squad.

Fast forward to the Paralympic Winter Games Beijing 2022 and Roybal, now 23 and in his eighth year with the national team, was as strong as ever on the ice. He averaged more than 21 minutes of ice time per game and led the tournament with eight goals to go along with his four assists as the Americans captured their fourth consecutive gold medal on Sunday.

Yet more importantly in Beijing was the difference in the way he carried himself, helping usher in the team's rookies while also keeping the veteran players older than him feisty and amped to hit the ice on every shift.

"I think this one ranks higher than that one," Roybal said, comparing his gold medal in Beijing to the one from Sochi. "I don't think I really understood the weight of what was going on when I was 15 years old. I was lucky to be a part of that team. Over the years I've become one of the leaders on this team, and it's really cool to now look to the guys on the team like Malik (Jones) and Evan (Nichols), who are 19 and 17 years old, and watch them get to enjoy a moment like this, too."

U.S. sled hockey coach David Hoff wasn't at the helm back in 2014, but he has been around Roybal and the program long enough to have noticed his significant progress.

"This is the guy who has grown into one of the leaders on our team and embodies what we're all about," Hoff said. "We handed our jerseys out prior to the tournament and went around the room and talked about what it meant. From 15 years old to 23 years old, Brody talked about the sacrifice the people at home have given up so he can do this."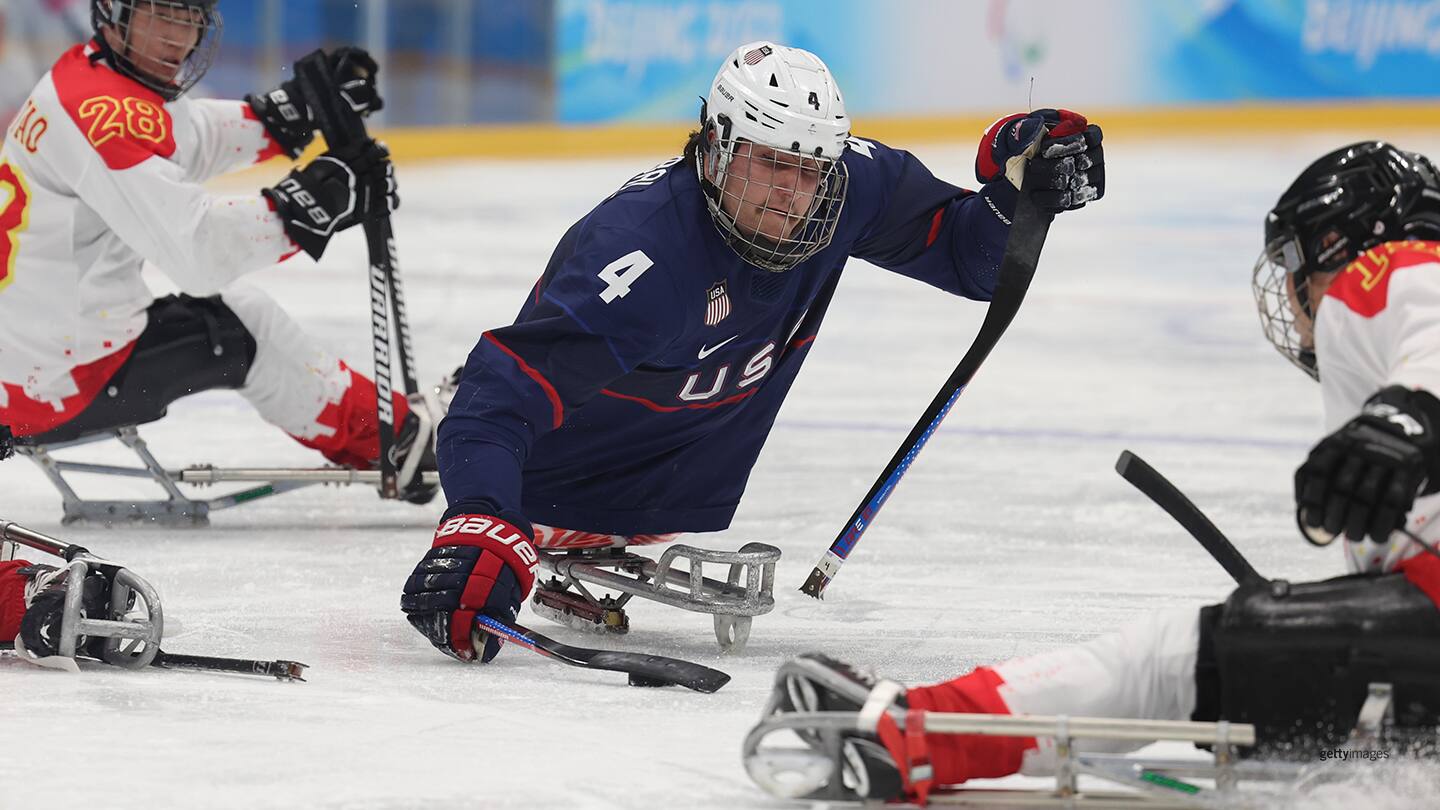 Brody Roybal competes during the sled hockey semifinals against Team China at the Paralympic Winter Games Beijing 2022 on March 11, 2022 in Beijing.
Roybal is a congenital bilateral amputee, having been born without femurs in either leg. Growing up in Northlake, Illinois, he took part in softball, basketball, skateboarding and hockey. He loved the physicality of contact sports. Using his elbows as knees, he thrived on launching himself off his bed, the couch and the stairs growing up.

His family supported him no matter how many injuries he had to overcome.

"They made so many sacrifices for me to be able to be here that this one's for them," he said of his Beijing gold.

At West Leyden High School in Northlake, Roybal was a competitive varsity wrestler in the 120-pound weight class while also entering the U.S. sled hockey program as a teenager along with then fellow teens Declan Farmer, Noah Grove and Jack Wallace. Since then, he has gone on to win three Paralympic and three world titles. He was named the Most Valuable Player at both the 2018 Paralympics and 2021 world championships.

The last three years, Roybal has been living in Nashville with Farmer, Wallace, Josh Misiewicz and Travis Dodson. They all moved there in order to train together for four hours a day.

"We just love each other. We're like a family, and that's why we click so well together," Roybal said. "We've been training so hard it's been crazy. We moved down to Nashville for the sole reason to train for these Games."

At the medal ceremony at the National Indoor Stadium on Sunday, Roybal wore his emotions on his sleeve — this time fully understanding the gravitas of what a Paralympic title meant.

"It was a really cool feeling. I think you could see it on my face," Roybal said. "Nothing compares to finishing the game out on top and getting together to celebrate with your team.

"I owe my life to this game and this team. This team has done so much for me. I would not be where I am as a person without this game."
Stuart Lieberman has covered Paralympic sports for more than 10 years, including for the International Paralympic Committee at the London 2012, Sochi 2014 and PyeongChang 2018 Games. He is a freelance contributor to TeamUSA.org on behalf of
Red Line Editorial, Inc.