No Longer The Kid On Team USA, Sled Hockey's Brody Roybal Looks To Add A Third Gold In Beijing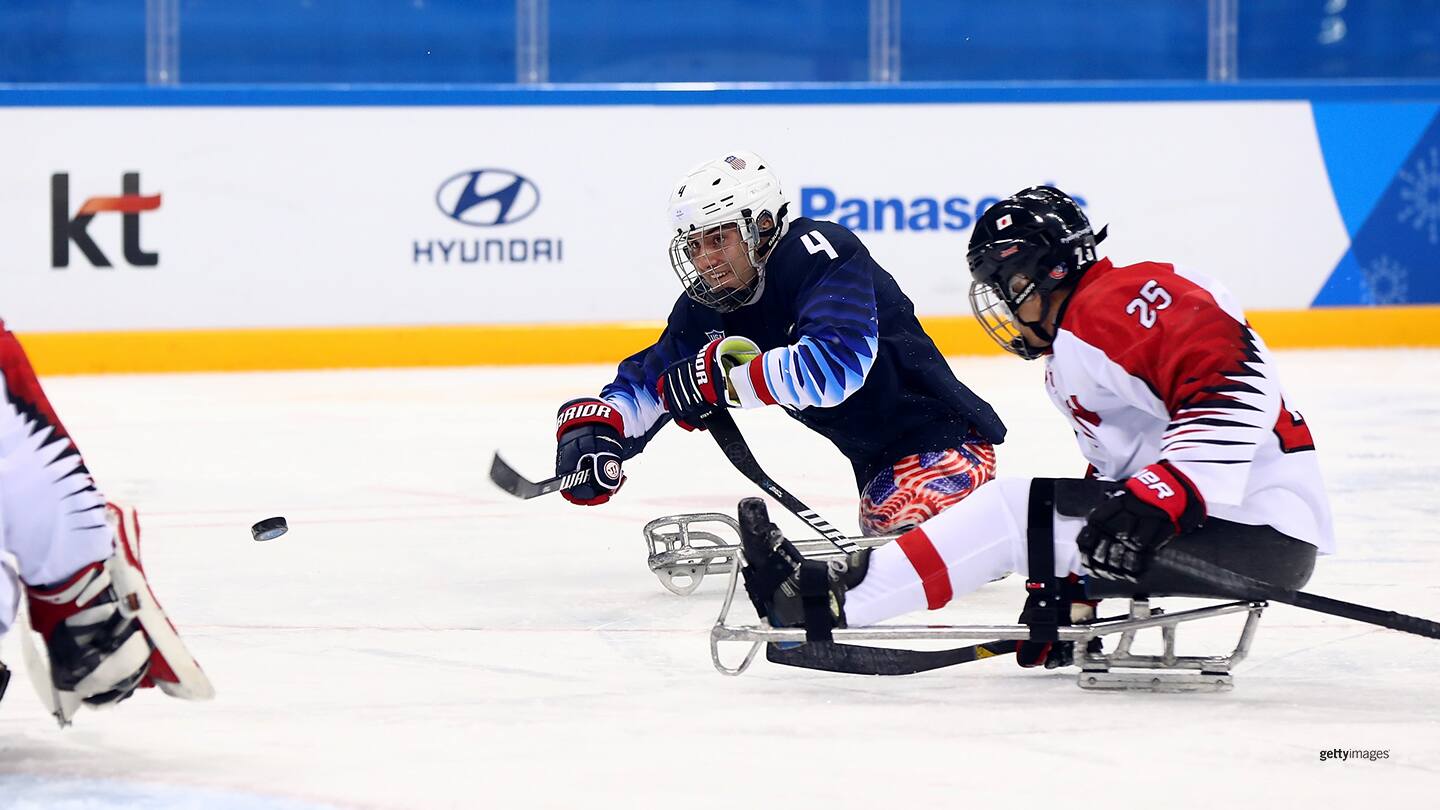 (L-R) Brody Roybal, Jordan Burroughs and Rico Roman at the 2019 Team USA Awards on Nov. 19, 2019 in Universal City, Calif.
Having broken into the U.S. national sled hockey team at age 15, Brody Roybal has spent a third of his young life with the program. The experience has shaped him as no other could.

"Sled hockey's given me so many opportunities and helped me grow so much as a person outside of just the sport," said Roybal, now 23. "I've (gotten) to see way more of the world than most people my age would be able to see, and I've experienced so much more.

"You learn to grow up fast when you're a 15-year-old playing with guys who are late 20s, early 30s. They teach you a lot more than you'd probably learn in your high school classes."

Roybal, who has become one of the team's indispensable forwards as it prepares for the Paralympic Winter Games Beijing 2022, noted that he came into the program with the likes of Declan Farmer, Noah Grove and Jack Wallace, all teenagers at the time.

"We were just kids, like high school kids, starting out on the team," Roybal said. "We're all kind of men now, and it's been cool to see everyone grow up. A good part of my life has (been) growing up on this team, and it's been a fun ride so far and I'm excited for the future."

What Roybal, a bilateral amputee born without femurs in both legs, learned from veteran players back then, he's now eager to share with young players on the current U.S. team.

"Now, I get to pass on some of that knowledge and information that they gave me to the younger guys," Roybal said. "It's cool to have some younger guys now that I could kind of be a mentor for, like the guys were back when I first started on the team."

The young guys would be wise to listen to what Roybal has to say. The Northlake, Illinois, native already has a pair of Paralympic gold medals and three world championships. He was MVP of the 2018 Paralympics and the 2021 world championships.

The entire team will be gathering Jan. 12 in Nashville for the residency program to prepare for the Beijing Games in March. A number of U.S. players, including Roybal, have already been living and training together in the "Music City."

"There's I think like six of us now down here from the national team and a good amount of developmental team guys, too," Roybal said. "It just seemed like a good place to move — nice weather, they have a great sled program down here that's been great to us helping us get ice time.
Brody Roybal shoots against Japan in the sled hockey preliminary round at the Paralympic Winter Games PyeongChang 2018 on March 11, 2018 in Gangneung, South Korea.
"It's kind of tough when you're just by yourself skating, maybe with one other guy. You can't get the training that we're getting down here, so we've been really lucky to have this many guys down here training."

The Americans are working to bring home an unprecedented fourth straight Paralympic gold medal. In 2018, the U.S. became the first sled hockey team to win three straight gold medals. Since sled hockey was introduced at the Games in 1994, the U.S. has taken home five medals, four of them gold.

Canada should again present the biggest challenge. The Americans defeated their northern neighbors in the 2018 Paralympic gold-medal game and again at the last two world championships finals.

"I truly don't like to think about that too much, keeping a streak alive," Roybal said. "We take every game just as serious as any other game. So, we're just taking it one step at a time and working towards that goal. We want to win gold bad. We're going to try to keep that streak alive, but I don't think that's our main focus here."

And how would Roybal compare this team with the 2014 and 2018 Paralympic gold-medal squads?

"I think this is by far the best team we've ever had, and I think we have a great group of guys now that are really dedicated to the sport and to the game," Roybal said. "Everyone is just a big family, and we all really care for each other. We're all supporting each other and pushing each other. I'm really, really confident in this team."

He has matured since making his Paralympic debut eight years ago in Sochi, where he scored two goals in five games, but Roybal remembers it well.

"It was so surreal at the time, literally going from high school classes … to being on a world stage," Roybal said. "I'm still just as excited and in awe as I was, but I've been there before, and I kind of know what to expect. So, it's cool to kind of have both points of view."

Though Roybal could pick up a third gold medal in Beijing, he's far from ready to call it quits.

"I would love to play this sport as long as I possibly can," said Roybal, noting that teammate Rico Roman will turn 41 before the Beijing Games. "I would love to play as long as he's gotten to play. I still feel like I'm young and have a lot ahead of me in my career.

"I just love this game and I love the sport, so every time I get to compete is an honor and a blessing to just be able to go out there and put on the uniform and play again. I've loved every part of the journey."
Bob Reinert spent 17 years writing sports for The Boston Globe. He also served as a sports information director at Saint Anselm College and Phillips Exeter Academy. He is a contributor to TeamUSA.org on behalf of
Red Line Editorial, Inc.