Another Record At Stake, But Shiffrin Just Wants To "Have Fun" In World Championship Slalom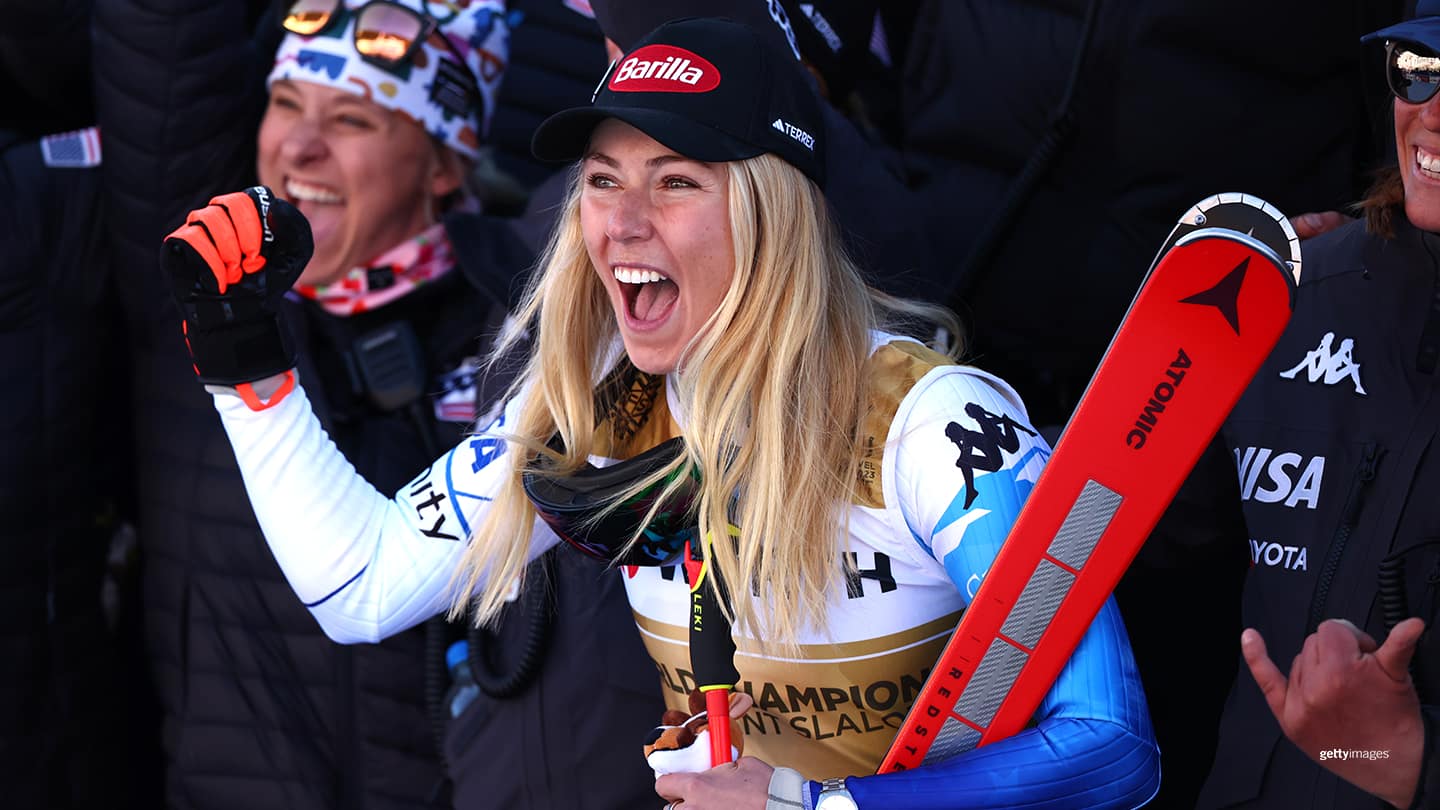 Mikaela Shiffrin celebrates during the victory ceremony for women's giant slalom at the FIS Alpine World Ski Championships on Feb. 16, 2023 in Meribel, France.
MERIBEL, France – Not surprisingly, Mikaela Shiffrin is poised for yet another record-breaking performance in slalom. However, the U.S. ski racing phenom says that what is most important is that she enjoys her final event at the FIS Alpine World Ski Championships in France.
After delivering a superb gold-medal-winning performance while coping with a "difficult and stressful" week in which she parted ways with her longtime coach Mike Day, Shiffrin will step into the slalom start gate on Saturday morning with a chance for an unprecedented eighth world title.
Shiffrin equaled the modern-day world championship record of seven victories – sharing it with Anja Pärson, Marielle Goitschel, Marcel Hirscher and Toni Sailer – when she crossed the line 0.12 seconds ahead of Italian Federica Brignone in the giant slalom on Thursday.
In what has been a sensational record-breaking season, the 27-year-old ski racer only discusses records when asked by interested media. And that's about as often as the French enjoy croissants for breakfast. Shiffrin's priorities and focus are elsewhere.
"I hope for the slalom that I can put my best skiing out there – I know it can go well, I know it might not go well, but I would like to enjoy it," Shiffrin said, shortly after her GS victory.
Shiffrin had a productive slalom training session in Meribel on Friday, making runs alongside the youngest member of Team USA competing in France, 20-year-old Ava Sunshine. Perhaps they inspired each other.
"I want to prepare for the slalom to have a chance at maybe another medal, but in a way the pressure is off," Shiffrin said. "The most important thing for me is try to enjoy the last event of these world championships and enjoy my skiing because it feels really quite good."
Shiffrin opened the two-week championships with a frustrating third-to-last-gate DNF in the slalom portion of the Alpine combined. She quickly rebounded with a silver medal showing in super-G, two days later. After temporarily departing Méribel for some quality training at the small French ski resort of Orcières-Merlette – about a three-hour drive north – she stormed to her first gold medal and third here on French snow, in GS on Thursday.
The dominant U.S. athlete is also on the verge of breaking her own record of four slalom world titles. Shiffrin's streak of four consecutive wins was snapped by Austrian Katharina Liensberger, two years ago, at the Cortina 2021 championships. She settled for bronze.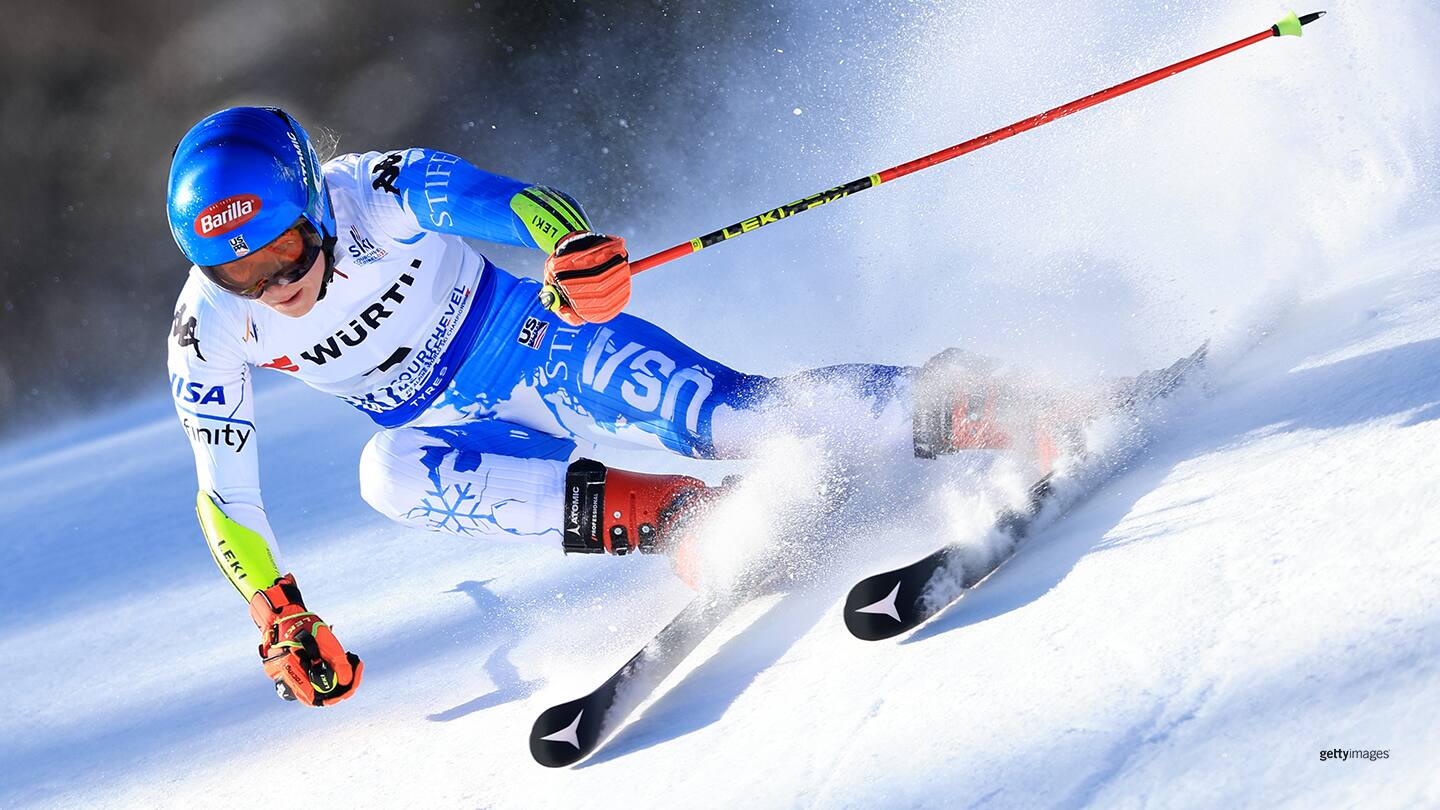 Mikaela Shiffrin competes in the first run of the women's giant slalom during the FIS Alpine World Ski Championships on Feb. 16, 2023 in Meribel, France.
It's almost hard to fathom that Shiffrin won her first world slalom title ten years ago at the Schladming 2013 world championships, at the age of 17. She continued her string of success as an inexperienced teenager becoming the youngest skier ever, then 18, to win Olympic slalom gold at the Olympic Winter Games Sochi 2014.
Now, one decade later, her vast accomplishments include 85 World Cup victories with Ingemar Stenmark's all-time mark closely in sight, two Olympic gold medals, eight discipline titles, as well as seven world titles and 13 medals in total. Her fifth overall World Cup title is for all intents and purposes locked up. Some are wondering what more can Shiffrin do to be considered the world's greatest female athlete.
That was exactly the question posed by an enthusiastic journalist at her giant slalom victory press conference in Méribel on Thursday. The question culminated with a reference to tennis legend Serena Williams. Shiffrin answered carefully, after uttering a surprised "Oh my goodness."
"I don't think I can do anything to truly be the greatest of all time – I think that title is for people to decide on their own," Shiffrin said. "Everybody gets to decide who their favorite athlete is and for many people, it's not me, and that's OK.
"I'm doing everything I can in this sport, trying to push the limits and share with the world the way I love it; show my passion and hopefully bring fans to the sport.
"Some people will consider me the greatest and some people don't even consider me part of the conversation, and I think both of those things are perfectly fine."
Having won five of nine World Cup slaloms this season, and finishing second in three more, Shiffrin has already clinched her seventh crystal globe in the discipline. Her 255-point advantage over Slovak Petra Vlhova and Swiss Wendy Holdener, with two races remaining, is insurmountable.
Shiffrin is a considerable favorite in Saturday's world championship slalom, but she'll have to erase any thoughts about the costly mistake on the same 'Roc de Fer' that cost her the Alpine combined title. Vlhova, Holdener, Lena Duerr and Anna Swenn Larsson will pose the greatest threats to her latest record assault.
As we've seen time and again over the course of the Colorado racer's illustrious career, Shiffrin will certainly be prepared for the task at hand. She'll take risks and anything can happen.
Just don't ask her about another record pursuit. She prefers to let her skis do the talking.