Valarie Allman Rose To The Top Of The Women's Discus; Now She Gets To Compete In Front Of A Home Crowd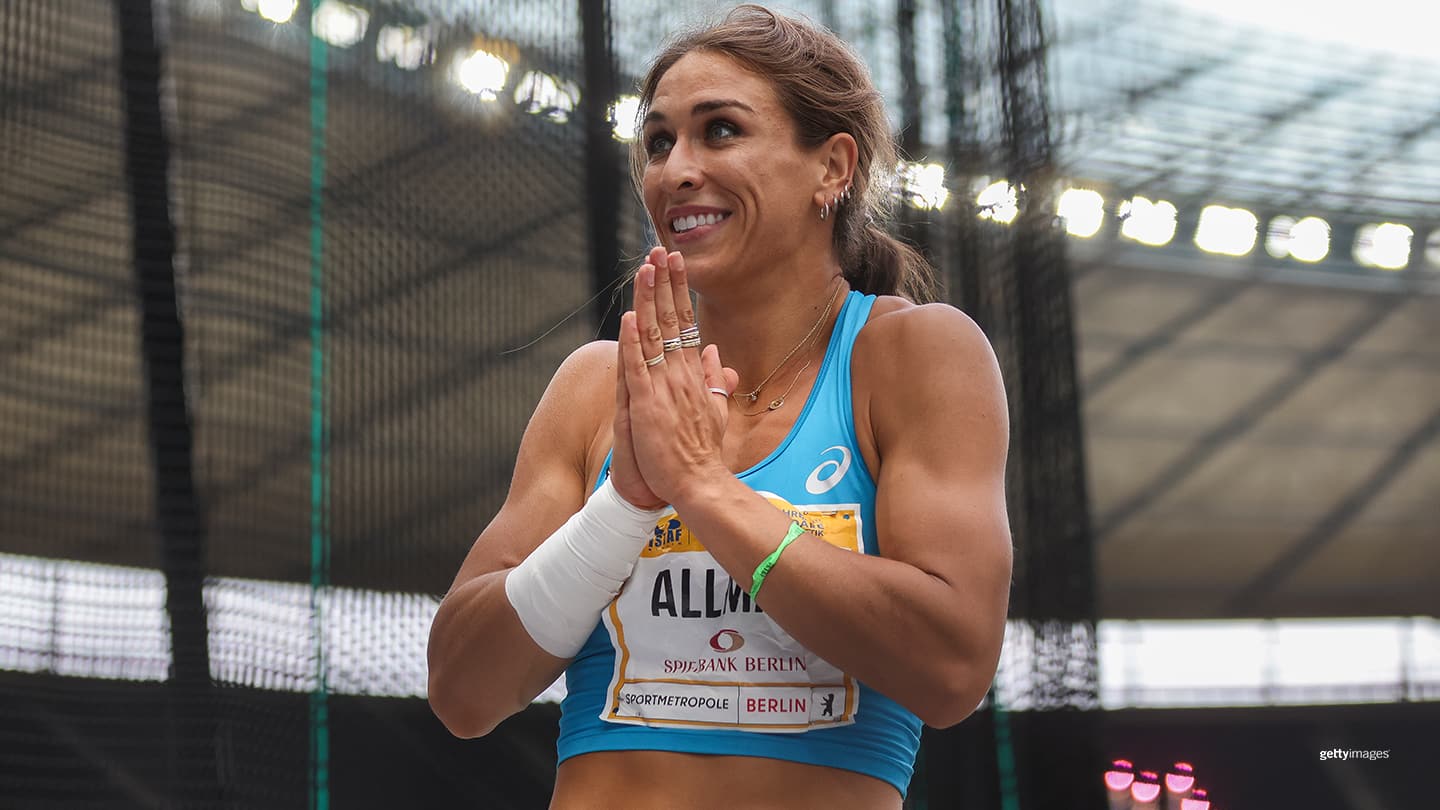 Valarie Allman reacts after the women's discus throw finals at the ISTAF 2021 athletics meeting on Sept. 12, 2021 in Berlin.
EUGENE, Ore. — Valarie Allman has not competed for a global medal in front of so many spectators since she was a 19-year-old in the world junior championships at Eugene.

Eight years later, she returns here for the first World Athletics Championships held in the United States. This time, she is Olympic gold medalist, American record-holder, favorite.

"Only with time do I think I've felt how special that full-circle moment is," Allman said. "I am so excited for that authentic crowd."

A case could be made that Allman is as dominant as any active American athlete in any women's sport. She is the Simone Biles or Mikaela Shiffrin or Serena Williams of the discus.

Allman, 6 feet and 155 pounds, is a native of Longmont, Colorado, where she was a dancer before becoming a discus thrower. The 27-year-old has risen to the top of track and field during a pandemic in which crowd sizes have been limited. Paradoxically, she might not be where she is now without the shutdown.

When the world went dark in March 2020, she lit up. Allman and her coach, Zebulon Sion of the University of Texas, created a training plan that effectively mimicked the Olympic motto: citius, altius, fortius. Faster, higher, stronger.

"It was about falling in love with your sport again," Allman said. "Working on those nuances that you don't normally have the time or the space to focus on. Since then, it's rekindled my fire for throwing and my enjoyment of being out in the sun on a concrete pad and working on how far I can make something travel through the air. It's pretty silly when you break it down like that.

"I really enjoy the process, the work that goes into it, the bond that we share, the excitement of something coming up."

Allman was training at a middle school in 2020 but had to locate a bigger field when her throws were nearly clearing the fence and landing in traffic. She moved to a high school, where it became evident, without measurement, her throws were approaching 70 meters — a discus benchmark.

When a meet did become available — at Rathdrum, Idaho, on Aug. 1, 2020 — Allman traveled 1,980 miles to get there. There were about 30 spectators in attendance, plus her puppy, "Oly," a mini Australian shepherd.

On her first attempt, she threw the discus 70.15 meters (230 feet, 2 inches). Allman broke the American record of 69.17 (226-11) set by Gia Lewis-Smallwood in 2014. When Allman she checked her cell phone, Lewis-Smallwood was among the first to offer congratulations.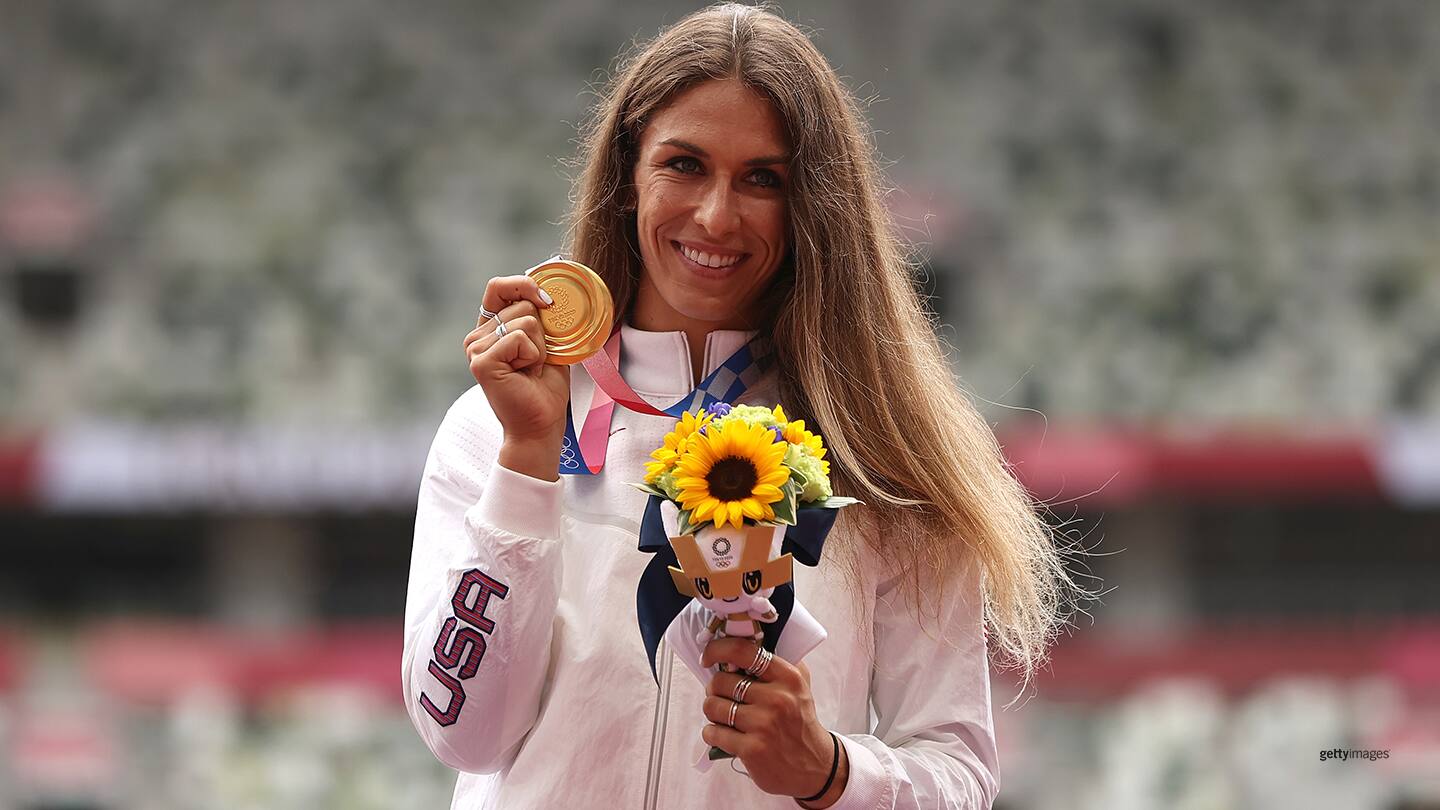 Valarie Allman poses with her gold medal for the women's discus throw finals at the Olympic Games Tokyo 2020 on Aug. 3, 2021 in Tokyo.
Allman conceded she did some "soul-searching" during her final college season at Stanford, she was improving under Sion and wanted to throw in an Olympic Games. She wanted to fulfill the potential her coach was convinced she had.

"I think if the Olympics went off as scheduled, I'm sure she would have done well, but I don't think she necessarily would have been ready to win," Sion said.

On a rainy night at the Olympic Games Tokyo 2020, Allman won Olympic gold with a distance of 68.98 (226-3). She followed that by raising her own American record to 71.16 (233-5) at Berlin on Sept. 12, 2021. (Crowd size was limited to 3,500.)

The aftermath was a "beautiful whirlwind of everyone I honestly, truly, ever crossed paths with in my life," she said. Allman grew in confidence, and said it would be something to carry for the rest of her life.

Motivation soon returned, and winning a world title in front of home fans would represent a difference from an Olympic moment in a near-empty stadium. Tokyo was intense, but not as these world championships will be. Hayward Field's new seating capacity is about 17,000.

"I'm excited for that amplification to come in intensity from there being a crowd that's being truly engaged, especially for Americans," Allman said.

On April 8, she raised her American record a third time, to 71.46 (234-5), at La Jolla, California. It was the longest throw in the world in nearly 30 years.

The one thrower blocking Allman's pathway to podium is Croatia's Sandra Perkovic, 32, who has two Olympic golds and two world titles. Perkovic beat Allman in the Bislett Games, a Diamond League event in Oslo, Norway, on June 16, and the American is eager for a rematch.

Allman, a silver medalist at those world junior championships in 2014, is one of five medalists from that U.S. junior team to make it back to Eugene for these world championships. (The others are Trayvon Bromell, Josephus Lyles, Kaylin Whitney and Shamier Little.)

"I've never had this feeling of wanting to represent my home country so well at a championship," Allman said. "To really be at your best, you always have to feel you have something to prove. And going into this championship, I want to be at my best.

"I want the technique I've spent so much time on to be showcased and to do something special."

Underscoring Allman's ascendency is a World Athletics scoring table comparing relative worth of performances in different events.

For instance, Sydney McLaughlin's world record in the 400-meter hurdles, 51.41 seconds, rates 1,288 points. On those tables, Allman's 71.46 discus throw rates 1,283. Pretty close.

In 2021 voting for Track & Field News athlete of the year, Allman was second among those in field events, behind Venezuela's Yulimar Rojas, world record-holder in the triple jump.

"For her to now be where she is pretty special," Sion said.

Qualifying for Allman will be Monday night and the final Wednesday night.
David Woods, a native of Urbana, Illinois, has been covering Olympic sports since 1972 and is the only four-time winner of the Jesse Abramson Award, presented by Track and Field Writers of America for journalism. He is a freelance contributor to TeamUSA.org on behalf of
Red Line Editorial, Inc.