Conquering Every Challenge, Serena Williams Lived Up To Her G.O.A.T. Status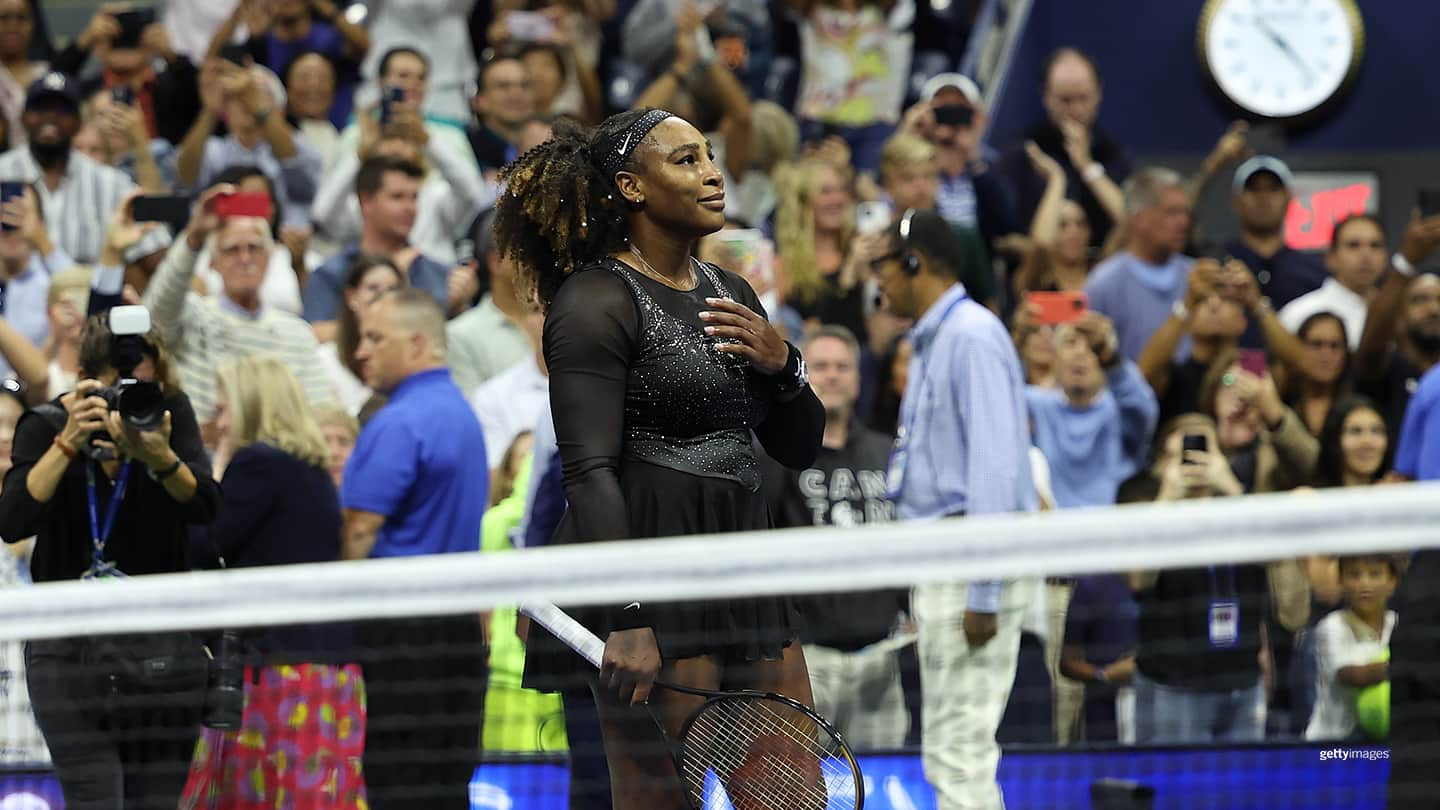 Serena Williams thanks the fans after her women's singles third-round match against Ajla Tomlijanovic (Australia) at the 2022 U.S. Open on Sept. 2, 2022 in New York City.
The cover story of this month's Vogue magazine came as a surprise to tennis fans, even if the news itself wasn't all that unexpected.

Serena Williams, the winner of 23 Grand Slam singles titles and an undisputed icon in sports history, was offering her initial farewell — if not exactly announcing her retirement.

"I have never liked the word retirement," she wrote. "It doesn't feel like a modern word to me."

Instead, in a colorful as-told-to essay, the 40-year-old Williams shared that she was beginning her "evolution" away from tennis, a decision spurred in part by her desire grow her family.

She shared an anecdote of her 4-year-old daughter, Olympia, answering a prompt for what she wants to be when she grows up.

"I want to be a big sister," Olympia responded.

So with that, this year's U.S. Open became Williams' swan song.

Williams' Grand Slam singles career came to an end on Friday, Sept. 2. After defeating both Montenegro's Danka Kovinić and No. 2 seed Annett Kontaveit of Estonia in the first and second rounds, respectively, Williams officially bowed out with a 7-5, 6-7, 1-6 loss to Ajla Tomljanovic of Australia in the third round. Williams was also playing in the women's doubles tournament with older sister Venus, but lost in straight sets to Linda Nosková and Lucie Hradecká of the Czech Republic within the first round.
Retiring, she said, will be one of the toughest things she's ever had to do after 27 years in professional tennis.

Since growing up in Compton, California, as a right-handed teenage tennis phenom with Venus, she has always been the one to beat. Williams turned pro at age 14 and won her first major title at 17.

The youngest of five sisters has revolutionized women's tennis with her powerful style of play. She won her first major singles title at the 1999 U.S. Open and has played in 20 more editions of the event since then. She has spent more than 300 weeks at world No. 1 and is one Grand Slam victory short of Margaret Court's long-standing record for the most major titles. She has also won four Olympic gold medals and has nearly $100 million in prize money to her name, more than any other female athlete.

A "Serena Slam" was even named after her: a non-calendar year Grand Slam, winning all four major championships.

"I always play everyone at their greatest, so I have to be greater," Williams told reporters after losing the 2018 Wimbledon final to Angelique Kerber.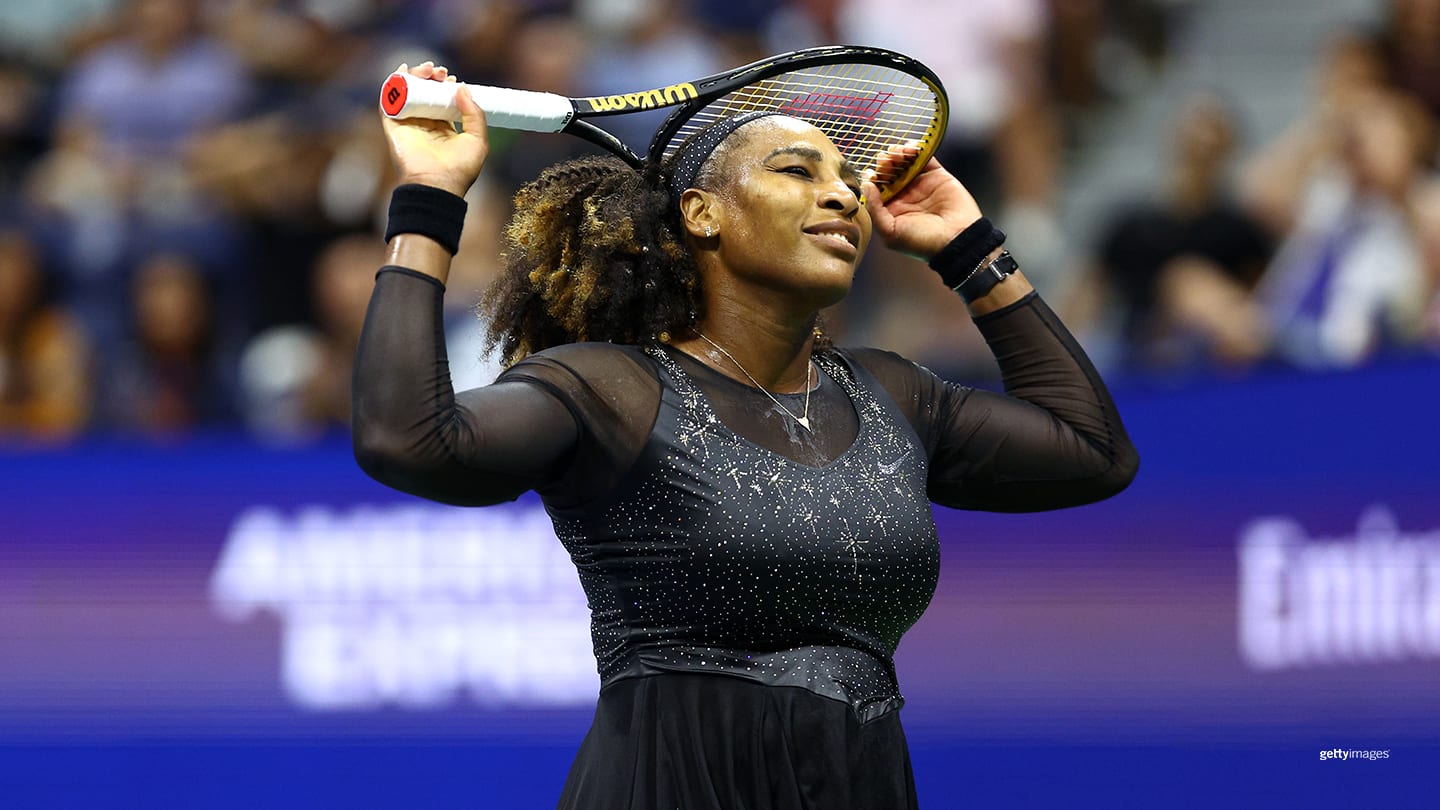 Serena Williams reacts in the second set against Ajla Tomlijanovic (Australia) during their women's singles third-round match at the 2022 U.S. Open on Sept. 2, 2022 in New York City.
From her eye-catching on-court apparel to the time she finds to spend with daughter Olympia, Williams is an inspiration to so many. Throughout her career, so many people told her and Venus they were not allowed to do certain things. Every time she was told no, she proved them wrong.

As a Black woman in a mostly white sport, she broke down barriers, persevered through any attempts to hold her back and pioneered a path for many other women of color to follow.

She won the 2017 Australian Open while pregnant, became a mother just before turning 36, survived an emergency C-section and returned to the court within the next year to still be a contender at Grand Slam events. However, coming from a big family, she's spoken of her desire to expand her family and give Olympia a sibling, even if that has to take precedence over her all-time career as an athlete.

"Believe me, I never wanted to have to choose between tennis and a family," she wrote in the Vogue essay. "I don't think it's fair. If I were a guy, I wouldn't be writing this because I'd be out there playing and winning while my wife was doing the physical labor of expanding our family."

While her priorities may have changed, Williams is guaranteed to leave an unprecedented mark on the sport and the world, one that's perceived differently by each person, depending on how her career or life choices impacted you.

Williams' bold achievements have transcended both the tennis community and the sports world; she's also established herself as a cultural icon for women and girls everywhere.

Williams is bigger than sports — more than just the hardest serve in history.

She's a different person to different people.

Fashionista. Venture capitalist. Mother. Black icon.

G.O.A.T.

She had played just four matches prior to the U.S. Open this year, winning only once, but that's practically irrelevant.

Her legacy has been building since she moved from Compton to West Palm Beach, Florida, at the age of 9 so she could pursue greatness.

Along the way, she's jumped over every hurdle imaginable, and that's what's made her the one to beat.

"I really think a champion is defined not by their wins, but by how they can recover when they fall," she said after winning the U.S. Open in 2012, a quote that defines her legacy.
Stuart Lieberman has covered Paralympic sports for more than 10 years, including four Paralympic Games. He is a freelance contributor to TeamUSA.org on behalf of
Red Line Editorial, Inc.