A Look Inside The Numbers As Tennis Olympic Qualifying Nears Its Conclusion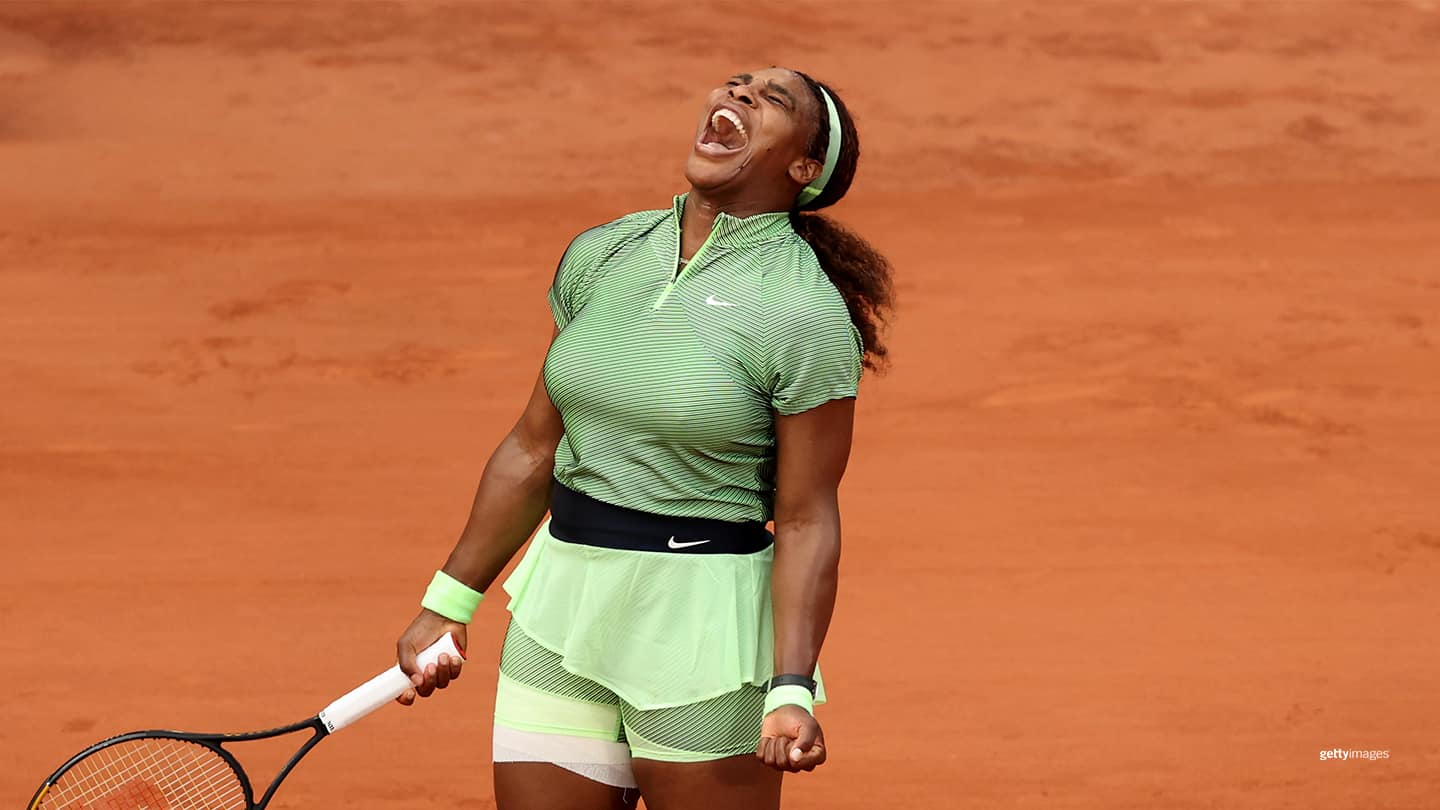 Serena Williams celebrates during her women's second round match against Mihaela Buzarnescu (Romania) at the 2021 French Open on June 2, 2021 in Paris.
Inside the Numbers presented by DeVry is a series that gives fans a peek at the numbers behind what it takes to qualify for Team USA and other incredible facts about Team USA sports.
The French Open is underway, and for players with dreams of competing at the Olympic Games in Tokyo this summer it could be a very big week.

Qualification ends after the tournament, so Roland Garros marks the last chance for players to move their way up the world rankings and get themselves into the top four amongst their countrymen and women.

As for Olympic tennis itself, that starts July 24 and really gets into the nitty gritty when the quarterfinals begin three days later. The gold-medal matches begin July 30 win men's doubles, followed one day later by women's singles, and with men's singles, women's doubles and mixed doubles wrapping things up on Aug. 1.

For a deeper dive into tennis by the numbers, read on.

2
A tennis ball weighs about 2 ounces. By comparison, a golf ball can weigh no more than 1.62 ounces, a major league baseball weighs between 5 and 5.25 ounces and a standard NBA basketball weighs around 22 ounces.

2 out of 3
Matches at the Olympics are the best two out of three, including the men's gold-medal match. That's a departure from the best-of-five format used in the men's final in years past. The International Tennis Federation announced the change in 2019 saying that it would help reduce the concerns about overplay for athletes who make it into the later rounds in singles, doubles and mixed doubles.

5
There are five events in Olympic tennis: men's singles, women's singles, men's doubles, women's doubles and mixed doubles. Men's singles and doubles were first contested in 1896, women's singles and mixed doubles in 1900 and women's doubles in 1920. The sport was dropped from the Olympic roster entirely after 1924 because the International Olympic Committee and the International Lawn Tennis Federation couldn't decide on what constituted an amateur, but tennis returned as a full medal sport in 1988.

12
Nations are allowed to have up to four singles entries and two doubles teams per gender but only six men and six women total. The qualification period will end after the French Open in June and is based on who is highest in the world rankings. Currently both Sofia Kenin and Serena Williams have qualified on the women's side, and while Kenin has said she will play there is some question as to whether or not Williams will participate in her fifth Olympics if she is unable to bring her 3-year-old daughter.
21

The United States trails Great Britain in terms of overall medal count, 43-39, but leads all nations in gold medals with 21. Great Britain is second with 17.

24

Since tennis returned to the Olympics in 1988, the U.S. leads not only in overall medals with 24, but also in golds with 14. Venus and Serena Williams have eight gold medals between them, having partnered for doubles titles in 2000, 2008 and 2012, Venus winning singles in 2000 and Serena winning the individual title in 2012.

64

The draw will consist of 64 players for men's and women's singles. For men's and women's doubles, it will be 32 teams, and for mixed doubles it will be 16 teams.

78

The length of a tennis court is 78 feet, and while that doesn't change depending on singles or doubles, the width of the court does. It's 27 feet wide for singles and 36 feet wide for doubles.

1988

Tennis returned as a full medal sport in Seoul in 1988, and thank goodness it did or else one of the greatest achievements in tennis history wouldn't have happened. That year, Steffi Graf capped off winning all four Grand Slam singles titles by also winning gold at the Olympics, thereby completing the first and, to this day, only "Golden Slam" in history.

2012

Although men's and women's singles and doubles returned in 1988, mixed doubles didn't come back until London hosted the Games in 2012. The Olympic Games Rio 2016 featured an all-American mixed doubles final, with Bethanie Mattek-Sands and Jack Sock beating Venus Williams and Rajeev Ram, 6-7, 6-1, 10-7.
Karen Price is a reporter from Pittsburgh who has covered Olympic and Paralympic sports for various publications. She is a freelance contributor to
TeamUSA.org
on behalf of
Red Line Editorial, Inc.