The Tennis Grand Slam Season Kicks Off With Some Familiarity, Some Not In Australia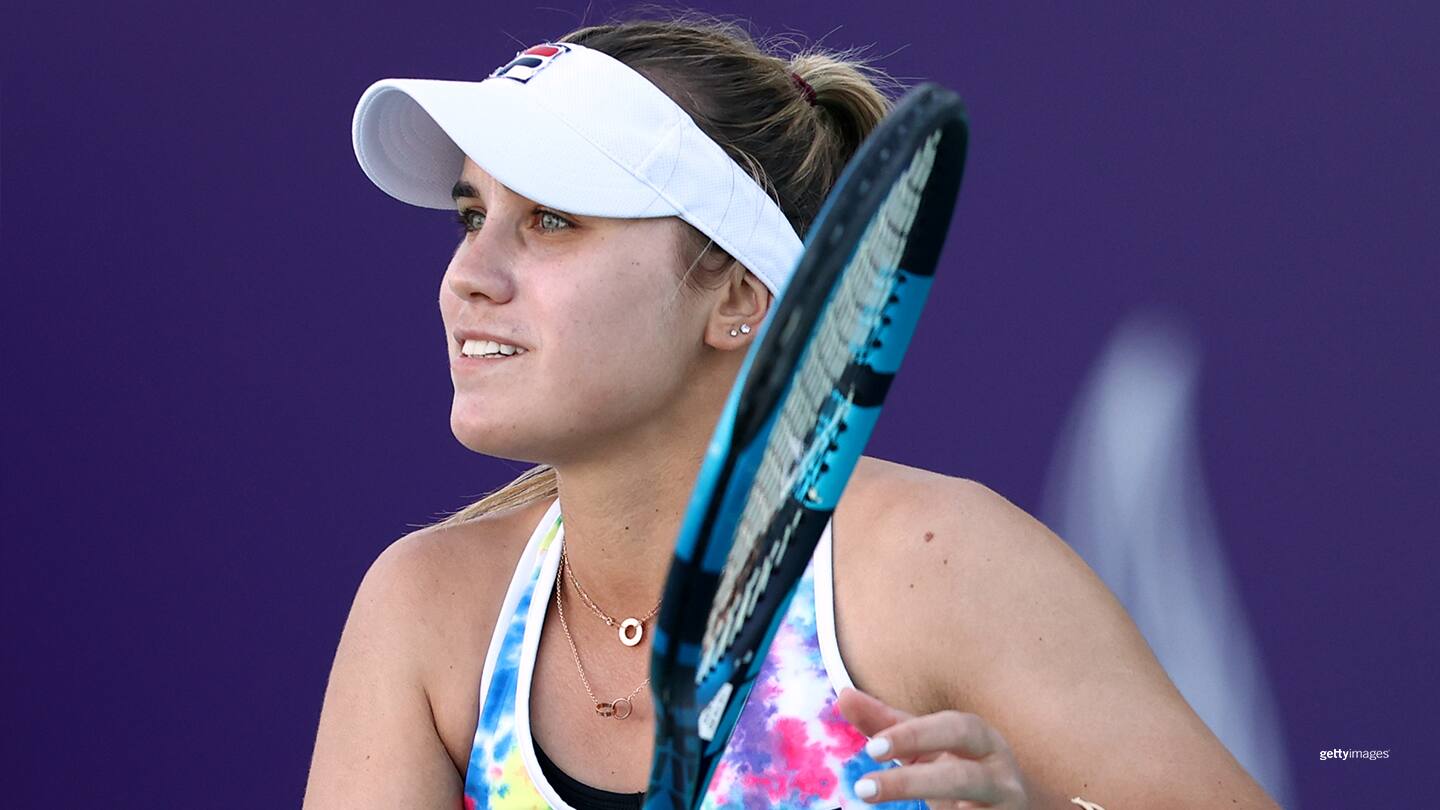 Sofia Kenin during her Women's Singles match on Day Five of the Abu Dhabi WTA Women's Tennis Open at Zayed Sports City on Jan. 10, 2021 in Abu Dhabi, United Arab Emirates.
For tennis fans, the start of the Australian Open is an annual rite of happiness: the season is starting anew, and the world's best come to Melbourne ready to go.

This year will be the same, but also different.

The impact of the ongoing COVID-19 pandemic has already been felt heading into this year's event, with players, coaches and staff undergoing lockdown protocols after a few positive tests. Social media blew up with posts from unhappy players trapped in hotel rooms, unable to leave to practice.

The specter of COVID transmission and possible changes to the tournament's practice and play schedule looms large. But as of now, Tennis Australia is ready to go for its biggest event of the year, with most of the sport's biggest stars expected to compete. There will also be fans in the stands, capped at 30,000 per day, or 50 percent capacity, within the complex.

Here are six things to watch from the 2021 Australian Open:

1. Sofia Kenin Is A Star On The Rise
American Sofia Kenin opened 2020 by winning her first Grand Slam singles title in Melbourne, then she went on to reach the final at the French Open and the fourth round at the US Open (Wimbledon was canceled due to the pandemic). At age 22, the 2014 Youth Olympian is the top-seeded American going into this year's tournament at No. 4. Her road to repeat won't be easy though. For one, she's been nursing a leg injury, though she said she'll be ready to go once the tournament starts. There's also the talented field, led by hometown star Ash Barty, who is one of the country's most popular athletes and seeded No. 1. Barty made the semis of last year's Australian Open but fell to Kenin, and she'll be a favorite to claim her first Australian Open win (and second Grand Slam singles title) this year.

2. The Old Guard Still Reign
The field is filled with former Aussie champions, including Americans Kenin and Venus and Serena Williams, as well as No. 3 Naomi Osaka (Japan), No. 12 Victoria Azarenka (Belarus) and No. 23 Angelique Kerber (Germany) on the women's side. Two-time defending champ Novak Djokovic (Serbia) is back on the men's side, along with 2009 champ and No. 2 seed Rafa Nadal (Spain). So is Switzerland's Stan Wawrinka, whose 2014 Australian Open title marked the only time since 2005 that one of Djokovic, Federer or Nadal failed to win in Melbourne.

Many eyes will be on Serena, who is seeking her record 24th Grand Slam singles title and eighth win in Melbourne. The 39-year-old withdrew from the tune-up tournament on Friday citing a right shoulder injury, but she didn't sound too concerned. "I've gotten a lot of treatment already on my shoulder," she told reporters. "But I'm super confident it's going to be great. I'm feeling very confident, I think is a better word, and getting ready for hopefully the next two weeks."

Venus, who has four titles in Australia, is not among the 32 seeded women. She last reached the semifinals at a Grand Slam in 2017.

3. It's A Deep Women's Field, Again
In addition to the former champs, the women's field is also stacked with former finalists Petra Kvitova (Czech Republic) and Simona Halep (Romania), plus on the cusp-star Elina Svitolina (Ukraine). Although this tournament doesn't quite have the seven seeded U.S. women as last year's US Open, it still has four with Jennifer Brady coming in at No. 22 and Alison Riske at 24. American women have won three of the past six Australian Opens (Serena twice and Kenin last year).

4. The American (Men's) Drought
Yes, there are American men playing in the Australian Open, though none come in as favorites to win. The last American man to win the Aussie was Andre Agassi in 2003. This year's American crew has 10 men, with Taylor Fritz (No. 27) as the only seed.

The top-heavy men's division is expected to again be top heavy. Although six-time champ Roger Federer is not playing this year's tournament due to his ongoing recovery from arthroscopic surgery on his right knee, top-seeded Djokovic comes in as the two-time defending champion and with eight total Australian titles. Second-seeded Nadal is trying to win a record 21st Grand Slam singles title; he's currently tied with Federer at 20. Austrian Dominic Thiem, the No. 3 seed, had his long-awaited Grand Slam breakthrough last year when he won US Open. And rising star and fourth-seeded Daniil Medvedev (Russia) is another to watch.

5. New Kids Are Coming
There are a lot of American rising stars to keep an eye on, highlighted by teen sensation Coco Gauff of Florida. She is unseeded but will command the attention of a top seed for every match she plays. Gauff, who is 16, is getting better every match she plays against the top players, and she reached the fourth round in Australia last year. Sebastian Korda, the winner of the Aussie junior tournament in 2018, has been making leaps in his game over the past six months. And if the last name seems familiar, he is the 20-year-old son of former Australian Open champ Petr Korda and former women's player Regina Rajchrtova.

6. Lots To Look Forward To In Doubles
Don't forget the Americans in doubles. Last year's doubles champion and 2019 mixed winner, Rajeev Ram, and two-time Aussie women's doubles champion Bethanie Mattek-Sands are back for more. The doubles draws and the wheelchair tournament schedules are not up until later in the first week, but there are always interesting things popping up as athletes prep for the Olympic Games Tokyo 2021.
Joanne C. Gerstner has covered two Olympic Games and writes regularly for the New York Times and other outlets about sports. She has written for TeamUSA.org since 2009 as a freelance contributor on behalf of
Red Line Editorial, Inc.