The Ski World, And Beyond, Reacts To Mikaela Shiffrin's Record-Breaking Accomplishments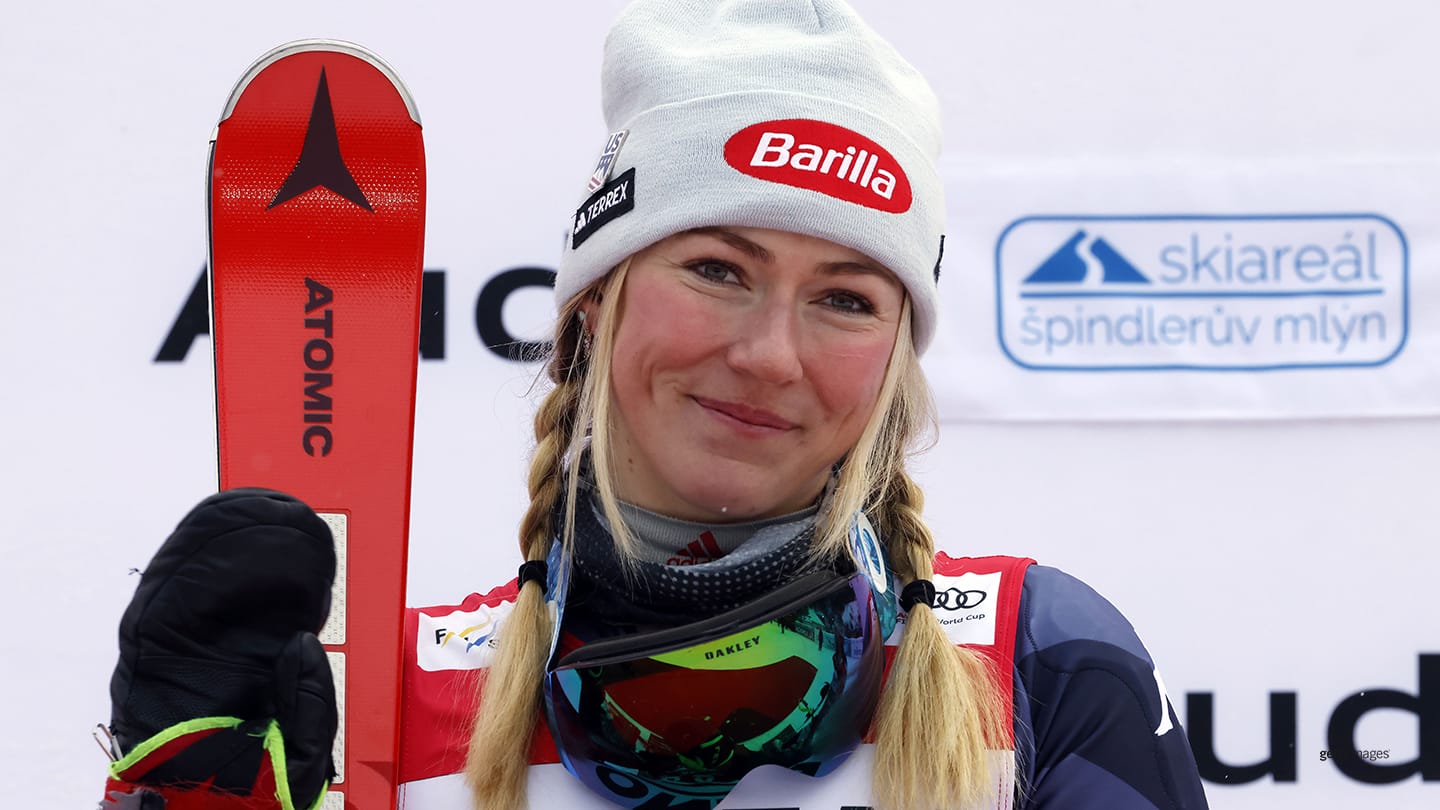 Mikaela Shiffrin celebrates winning the women's slalom at the 2023 FIS Alpine Ski World Cup on Jan. 28, 2023 in Spindleruv Mlyn, Czech Republic.
Perhaps the only thing Mikaela Shiffrin seemed to have trouble with over this past record-breaking week was articulating the perfect thoughts to summarize the magnitude of her accomplishment of becoming the all-time female leader in World Cup victories.

The otherworldly 27-year-old ski racer has always been humble throughout her illustrious career and considering that no other woman has won more over more than 56-years of World Cup ski racing history, it is quite understandable.

Leave it to her fellow racers, U.S. teammates, coaches, fans, media and others in the sports world, to honor the queen considering her astounding ascent to the pinnacle of the sport. Her record-breaking 83rd career victory achieved in a giant slalom at Kronplatz, Italy, on Tuesday, quickly became 84, on Wednesday. She secured her 85th win early on Saturday morning.

Shiffrin's Norwegian boyfriend and fellow overall World Cup champion Aleksander Aamodt Kilde was emotional, speaking about her record-breaking 83rd triumph.

"It's mind blowing – these number are just insane to me," Kilde told Eurosport. "When I talk to her, she just loves skiing, she loves getting better. This is why she is also a brilliant athlete and skier."

Consider this: Shiffrin attained her 85th victory in her 240th career World Cup race, for a mesmerizing 35.42% winning percentage. Just for fun, she is above and beyond other more famous sporting legends in this category: Novak Djokovic 32.9% (92 wins), Serena Williams 30.4% (73), Rafael Nadal 30.3% (92). Roger Federer 28.1% (103), Tiger Woods 22.1% (82), Lindsey Vonn 20.8% (82), and Jack Nicklaus 12.3% (73). It begs the question – is Shiffrin the GOAT of all GOATS?

Pertaining to age, Shiffrin tallied victory No. 83 at the age of 27 years and 10 months. Her former U.S. teammate Vonn, who she surpassed on Tuesday, claimed her 83rd win at 33 years and five months. Shiffrin made her World Cup debut in March 2011, just a few days before her 16th birthday. Similarly, Vonn's first race came one month after her 16th birthday.
Naturally, numerous other World Cup races were peppered with questions about the elite American athlete.

"I don't know how she can manage all this so well because after 14 years I'm still so stressed and she seems like she never has these problems – it's just amazing," said Italian former overall World Cup champion Federica Brignone, who stood alongside Shiffrin on the podium during both her record-tying and record-breaking wins.

"It's a privilege to be racing against such a skier in our generation where everyone is pushing really hard," said French veteran Tessa Worley, who has 16 giant slalom wins to Shiffrin's 19 and has battled against her for more than a decade. "What I liked about her today is that she really did the job 100% from the first to the second run. She really pushed it," Worley said after Shiffrin won No. 84 by 0.82 seconds.

Stifel U.S. Ski Team athletes offer
praise
Shiffrin's fellow U.S. teammates commended her also.

"I'm proud to call Mikaela a teammate and a friend and she is breaking records every day," said Paula Moltzan, who shared a World Cup slalom podium with her on Dec. 29th at a night race in Austria. "Mikaela's GS skiing is really solid right now and I didn't have a doubt that she would do it. She's winning with grace and that's how she has done it her whole career."

Shiffrin both equaled and broke Vonn's record in GS, traditionally her second-best discipline behind slalom. The Colorado racer has elevated her GS game, winning five of eight races this season. She has amassed 19 career victories in the discipline, receiving praise from the retired GS master Ted Ligety, who carved and shredded his way to 24 wins and five World Cup titles in the purest of disciplines.

"Kronplatz was certainly a huge step for her in GS skiing," Ligety tells Team USA on a call from his home in Park City. "She gets some good angles, but when you are technically as solid as she is, she doesn't need to utilize the same extreme angles that I was maybe known for.

"I am never surprised and always surprised at how amazing she is on skis," said Mr. G.S.

Stifel U.S. women's alpine head coach Paul Kristofic shared insight on the daily rigors and time-consuming behind the scenes effort put in by Shiffrin and coaches.

"To keep winning and skiing at a high level takes a tremendous amount of planning, focus and energy on everybody's part, primarily on Mikaela," Kristofic says. "Right now, it's balancing being as prepared as possible and having the energy to make it all the way through a marathon season, especially when you are racing multi-events like she does.

"We have long, full days and what a lot of people don't see – they see the one-and-a-half minutes on a race track, but it really is a 12-hour day or more."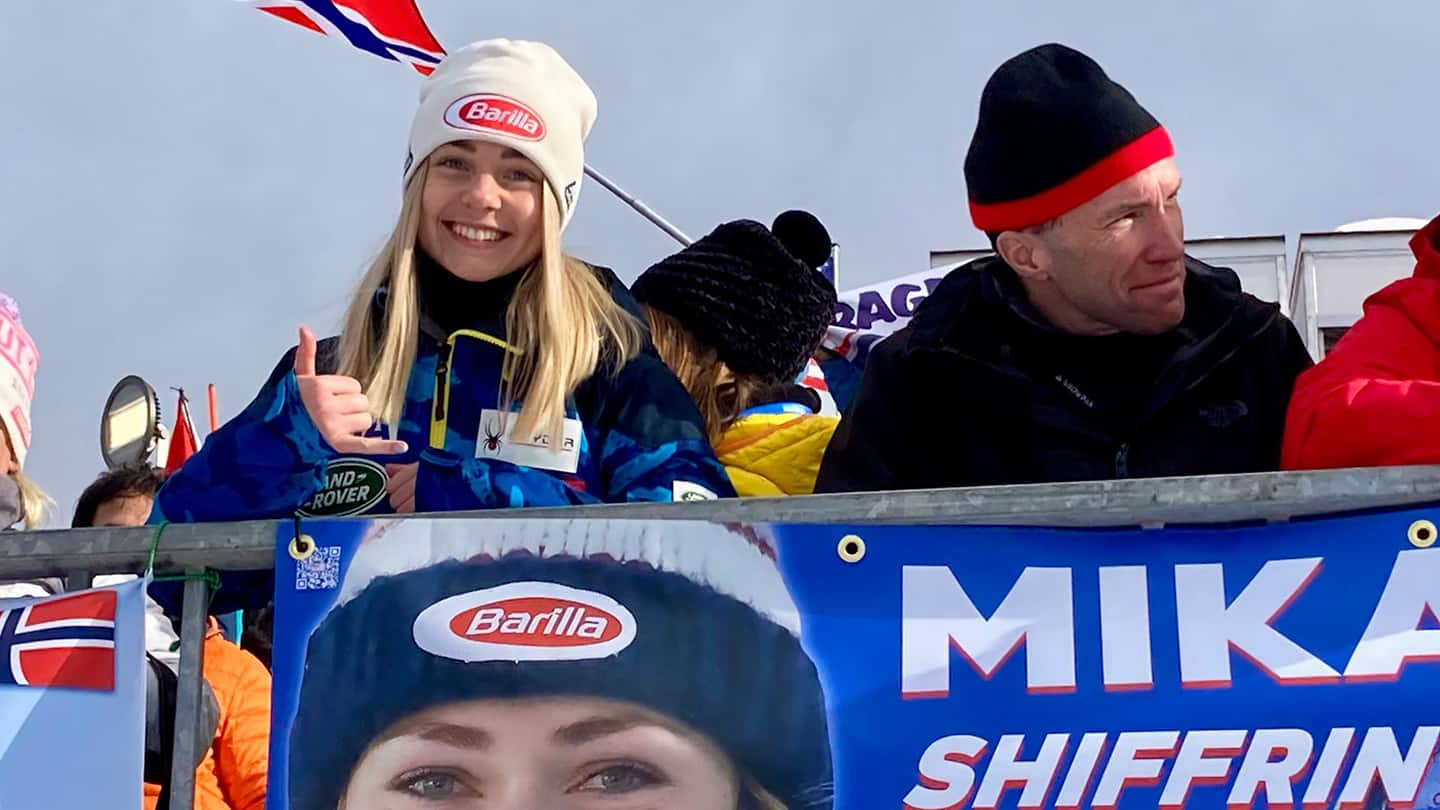 Gina Salevsky, a member of the MIkaela Shiffrin fan club, looks on as she competes at the FIS World Cup on Jan. 25, 2023.
Fans, media and others share their
emotions
Shiffrin runs the gamut of not just interacting with her coaches prior to races, but also finding time to mingle with adoring fans afterward. Gina Salevsky, a 23-year-old German, is one of the most active members of the Mikaela Shiffrin Fan Club, which was founded in 2019. Currently, there are approximately 50 members coming from Greece, Bulgaria, Spain, Poland, in addition to more traditional skiing nations.

"All these years she hasn't changed at all – she's still the same kind, humble and down-to-earth Miki," Salevsky said. "She's everything you can ask for as a fan and there is no better role model in the world. It was just unbelievable to be at Kronplatz and to witness history being made. A day I'll never forget in my life!"

Also at the Kronplatz races was a young Italian journalist from Rome, who has admired and watched Shiffrin on TV for many years, but only attended his first ski race on Tuesday. Lorenzo D'IIario relished witnessing ski racing history as a rookie journalist covering the sport.

"When she crossed the finish line it was something magic, but I still didn't know what was going to happen the next few minutes," D'IIario said. "At the end of the joint press interview I had the chance to take a picture with her in the mixed zone and she definitely made me a child again at that moment."

Behind the scenes Killian Albrecht has served as Shiffrin's longtime agent. The former World Cup ski racer – who competed for both Bulgaria and Austria – spoke about how he first connected with the star athlete that he manages.

"I was training with Mikaela, preparing for the Olympics in Vail, in November 2009," Albrecht recounts, as he was highly impressed by her skiing and potential. "I think I asked her three times if she was really just 14 – we stayed in touch and I'm glad it worked out."
Upcoming slalom races and Stenmark's
legacy
While the greater ski world continues to talk about Mikaela's seemingly never-ending accomplishments, it's business as usual for the all-time most decorated female ski racer. She competes in Špindlerův Mlýn in the Czech Republic with back-to-back slaloms on Saturday and Sunday. It is the site of her very first race, just prior to her 16th birthday, in March 2011.

With one more victory, Shiffrin will equal Swedish legend Ingemar Stenmark, who holds the most record for the most World Cup wins, male or female, at 86.

"You can talk about the numbers, but I think that people who believe that Ingemar is the greatest of all-time, that's true no matter what I do and I believe it," Shiffrin said about the Swedish racer who dominated the sport from the mid 70's until mid 80's.

"He's a legend of the sport – I'm here now and we're just talking about me today, but we're all still talking about him and I think we will be forever. And that's a pretty incredible mark to leave on the sport."