Mikaela Shiffrin Elaborates Upon "Mind Boggling" Season And Overcoming Self-Doubt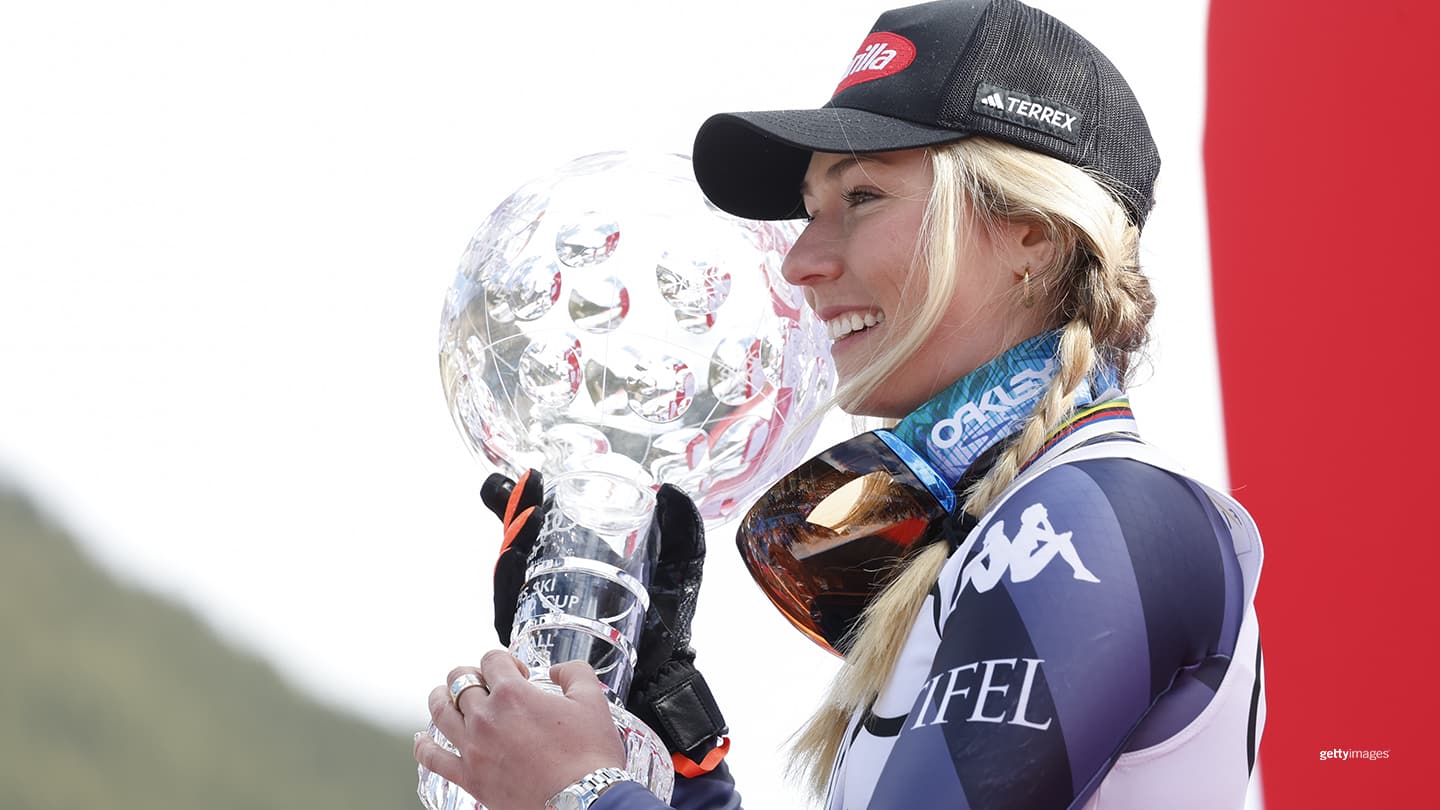 Mikaela Shiffrin celebrates winning the globe in the overall standings at the 2023 FIS Alpine Ski World Cup Finals on March 19, 2023 in Soldeu, Andorra.
SOLDEU, Andorra – The sun set over the picturesque Pyrénées Mountains of Andorra, drawing an astounding, record-breaking season for Mikaela Shiffrin to a satisfying close. Earlier that day, Shiffrin concluded the grueling five-month campaign, in style, winning the season finale giant slalom for her 88th career FIS World Cup victory.

Engaging, introspective, entertaining and humble, Shiffrin reflected upon a dream season, appearing relaxed in front of gathered media, in the small mountainous principality nestled between France and Spain. The American ski racing phenom bid farewell to Andorra, and one of the best seasons of her illustrious 12-year career with her fifth large crystal globe in hand, the coveted trophy annually awarded to the best male and female racers.

The all-time winningest world cup ski racer delved into wide-ranging topics from her spectacular season in which she charged to 14 wins and 18 podiums, broke Ingemar Stenmark and Lindsey Vonn's victories records, claimed three world championship medals in France including gold in giant slalom, parted ways with her longtime lead coach, Mike Day, and finally, elaborated upon overcoming her own awkwardness and self-doubt.

"It's been incredible – I'm proud to finish strong," Shiffrin said, after claiming the new mark of 21 World Cup giant slalom victories, yet one more etched in ski racing's records books.

Surprisingly, considering that Shiffrin is one of the most agile and technically proficient ski racers to ever descend a steep and icy course, she revealed about how she feels generally awkward and is ok with that. Shiffrin stressed how ski racing has helped her to overcome this deficiency.

"As a person, I feel comfortable in my own skin and driven by the fact I'm pretty much always awkward and I'm ok with that," Shiffrin said. "Maybe that's some kind of confidence, but I'm not the person who walks in a room feeling like I own it. Normally, I walk into room full of people I want to run in the other direction.

"It's always a bit of a struggle, but at the same time, I feel like what skiing has given me in my whole career is the ability to be ok with myself. Not necessarily being confident because sometimes when you feel doubtful, the doubt is almost a guide for how you get better. If you have fear, it's trying to say this is something you should respect, address and work on to be better next time.

"Being doubtful at the start of a world cup run has never done anything bad for me. In fact, it has always been helpful because I'm thinking about the right things. I'm not sure if I can do it, but I know I want to try.

"That is where I'm in my zone and (achieve) my best performances," she said.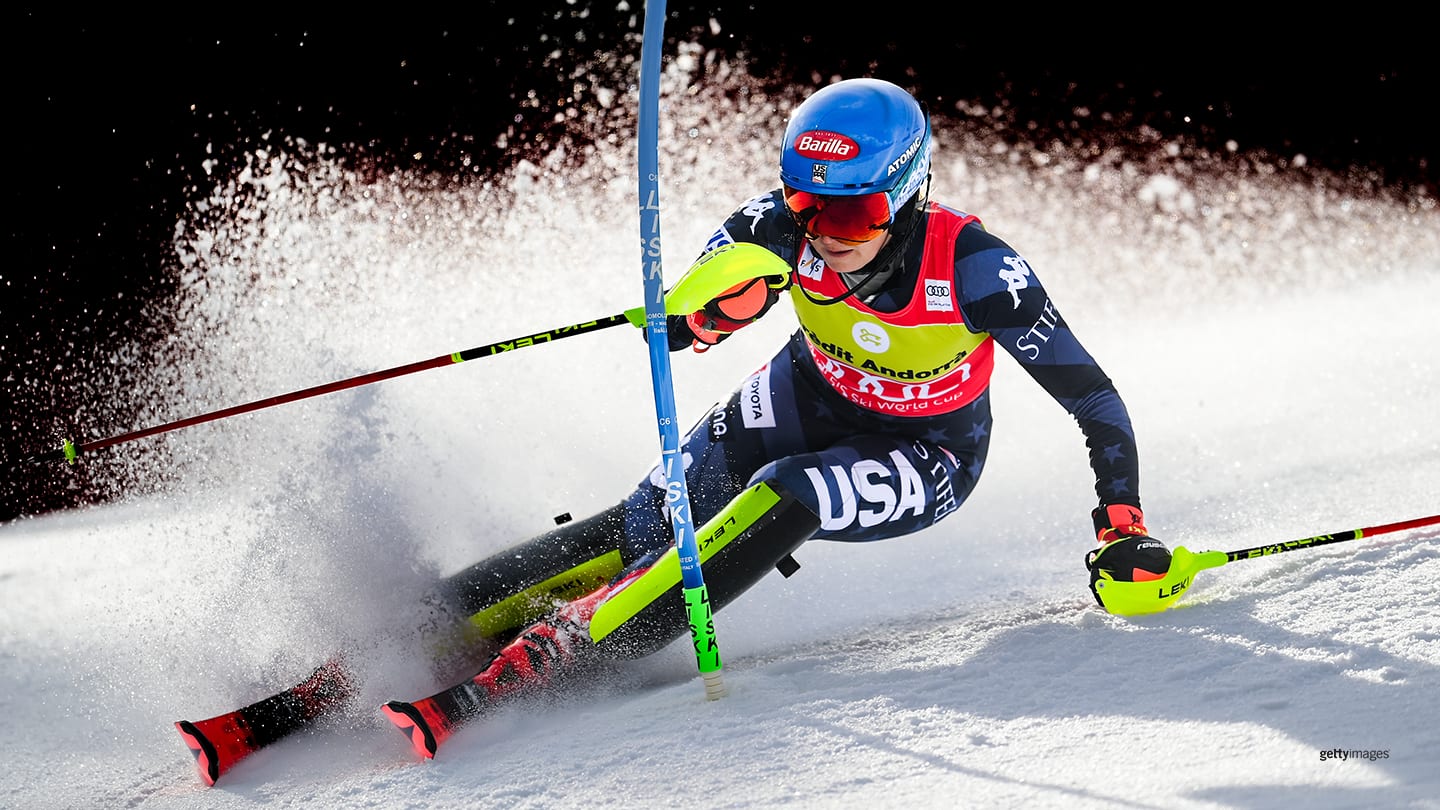 Mikaela Shiffrin competes during her first run in the women's slalom at the 2023 FIS Alpine Ski World Cup Finals on March 18, 2023 in Soldeu, Andorra.
Shiffrin's Best Season Ever?
In addition to hoisting the large crystal globe for the fifth time, Shiffrin was also awarded her second giant slalom globe and seventh slalom globe. Indeed, one of her best seasons ever – two points more than four years ago.

"Eighty-seven aside, my big goal this season was the overall globe, and then my second goal was the individual globes," she said.

Mission accomplished. One has to wonder if there is any room left in Shiffrin's trophy case.

"My top perfomances this season have been at a higher level than the past two seasons, my average performances have been a higher level and my lowest performances have also been at a higher level," Shiffrin said.

"It's like raising the bar on all levels and that's something I'm very proud of," she added.

Wedged in between breaking Stenmark's longstanding benchmark of 86 triumphs and closing her incredible season in Andorra, Shiffrin celebrated her 28th birthday.

Shiffrin was asked by Team USA to compare this past season with 2018-19, when she tallied a record 17 world cup wins and scored 2,204 points en route to her third overall title. Four years ago, she won it by 849 points ahead of Petra Vlhova, whereas this season she won 14 races, tallied 2,206 points and notched top honors by a staggering 989 points over Swiss Lara Gut-Behrami.

"I don't know if it (this season) is more satisfying, but I see the similarities," Shiffrin began her response. "I've been thinking about it during the greatest points this season. It felt very reminiscent of that season.

"Of course, the number of victories and colors of medals is different, but it is mind-boggling to me to be in a position again where I felt that same kind of momentum through a season.

"With the level of competition, I can be proud of that."

Shiffrin's season began auspiciously above the Arctic Circle in Levi, Finland, as she jetted off to a flying start with consecutive slalom victories, foreshadowing the season ahead of her.

Her most dominant stretch came between mid-December and early January, when Shiffrin charged to five consecutive victories, and six wins out of seven, across three disciplines. It was the catalyst to securing the overall title.

She broke Lindsey Vonn's female victories record of 82, with her 83rd win in Kronplatz, Austria, on Jan. 25. Then she toppled Stenmark's mark in Åre, Sweden, in a slalom on March 11.

Shiffrin also raced to a medal haul at world championships in Méribel, France, at which she overcame a disappointing start, a Did Not Finish (DNF) result in the Alpine Combined.

But Shiffrin was resilient, taking silver in the super-G two days later, and proceeding to win a gold medla in GS and silver in slalom. It was the second time, over six world championships, that the American racer took home three medals.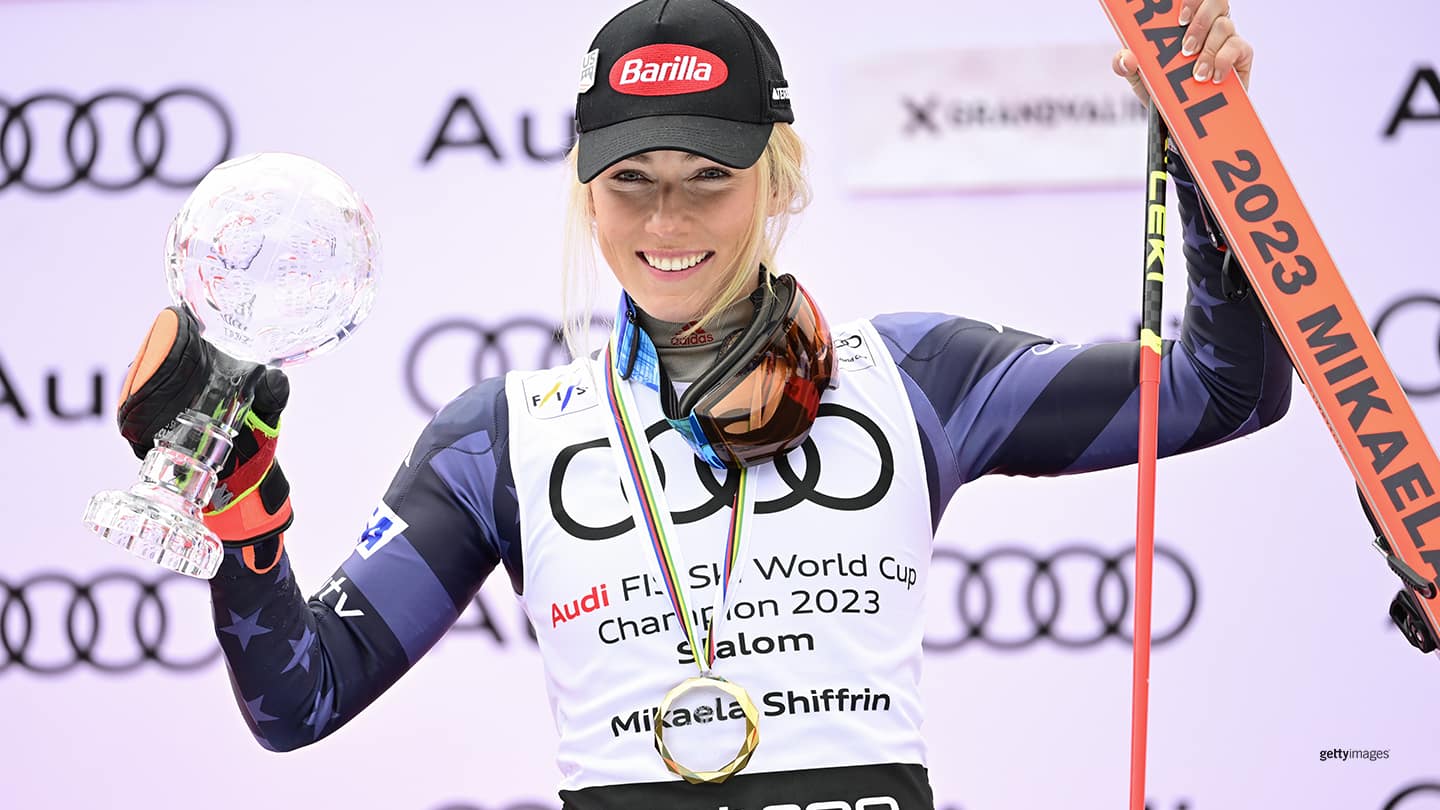 Mikaela Shiffrin celebrates winning the globe in the overall standings following the women's slalom at the 2023 FIS Alpine Ski World Cup Finals on March 18, 2023 in Soldeu, Andorra.
Shiffrin's New Coach for Next Season
Despite her tremendous accomplishments and near flawless season, change is in the air for Shiffrin. Next season, she will begin cooperation with a new coach, Karin Harjo, formerly the head coach of Team Canada.

At the world championships in February, Shiffrin informed her head coach of seven years, Mike Day, that a change would be made at the end of the season. Day didn't hang around and abruptly departed France.

"Working with Mike over the last seven years, I really couldn't see myself working with another coach," Shiffrin said. "He has helped me through great times in my career, but also the most challenging times in my life.

"I wasn't looking, but the circumstances came together that Karin would be an option, and she is the only person that I would have considered.

"Mike is as much a part of the success this entire season as he's ever been, and I'm incredible thankful for everything he has done for me my entire career," she said.


Closing the Season in Andorra and What's Ahead?
With less pressure on following the conquest of Stenmark's record and three season titles locked up before she even clicked into her skis in Andorra, Shiffrin enjoyed time at the FIS World Cup Finals with her boyfriend, Norwegian Aleksander Aamodt Kilde. Ski racing's power couple was even seen out dancing and mingling with fans one evening.

"We had a great time together here – we stayed at the same hotel and had some dinners together," said Kilde, a two-time world cup downhill champion. "For her not having to fight for any globes is really beautiful and the same for me. And today as well, she just keeps on showing that she is the best in the world."

Shiffrin said of Kilde: "It's pretty special to be able to share these moments and races on a personal level with him."

The Stifel U.S. Ski Team superstar said that she is greatly looking forward to returning to her home in Vail, Colorado. She and Kilde also plan on taking a three-week vacation in May, before refocusing their sights on once again chasing more crystal globes next season.

"I've had so much support from the whole community, my hometown, really the entire Colorado community and it extends across the U.S. as well," Shiffrin said. "When I think about the amount of support I've received this season and in my whole career, that's the most essential thing to be able to do this.

"You get through the tough days and stay resilient because of the people around you who support you near-and-far, and that's the most meaningful thing that I experience."