Magic On The Mountain: Mikaela Shiffrin Becomes All-Time Most Successful Ski Racer In World Cup History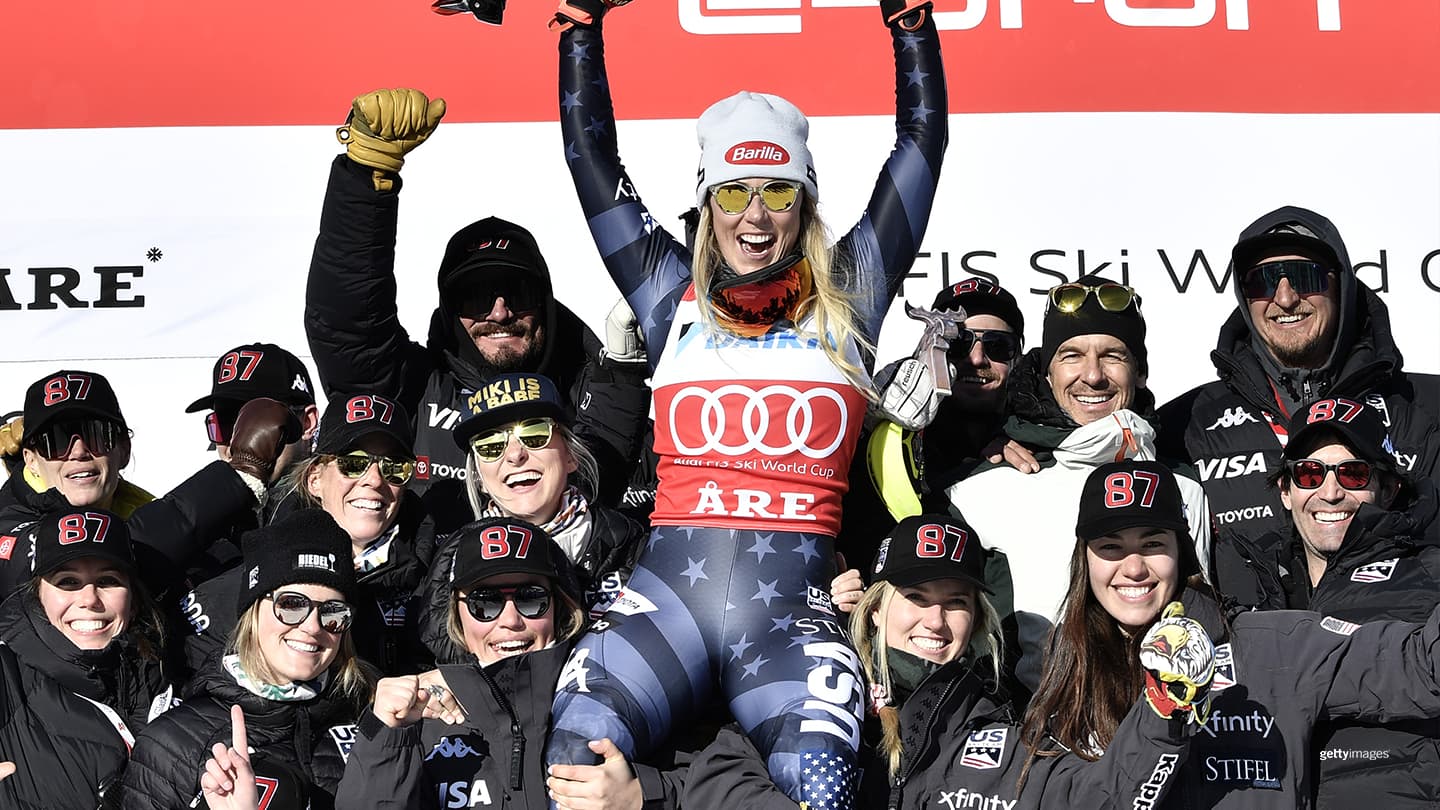 Mikaela Shiffrin celebrates with the U.S. ski team during the Audi FIS Alpine Ski World Cup Women's Slalom on March 11, 2023 in Are, Sweden.

It was a historic, record-breaking race for the ages, executed on the very same mountain that Mikaela Shiffrin achieved her very first FIS World Cup victory more than ten years ago.
Shiffrin charged down the Störtloppsbacken slalom race course in Are, Sweden, with supreme confidence, less than 24 hours after equaling Swedish icon Ingemar Stenmark's longstanding record of 86 world cup victories.
As if she was floating on her Atomic Redster skis, Shiffrin executed her turns with determination, precision and grace, on a course that was set for speed. The Colorado skiing legend, who turns 28 years old on Monday, etched her name, yet again, in ski racing's record books – this time as the all-time winningest racer with an otherworldly 87th world cup victory.
"The best feeling is to ski on the second run, when of course you want to win and have a lead, so you have to sort of be smart, but also I just wanted to be fast too and ski the second run like it's own race," Shiffrin said in the Are finish area. "I did it exactly how I wanted and that's amazing,"
After crossing the finish line with a staggering 0.92-second margin of victory ahead of Swede Anna Swenn Larsson, Shiffrin appeared stunned, quietly overcome with emotion and then sat down on her skis to let the moment seep in.
Prior to the podium ceremony, Shiffrin's younger brother Taylor, who had just flown in from the U.S., darted out to the finish area to lift her up in a bearhug and kick-off the celebration.
Shortly thereafter, Shiffrin was asked directly about being the greatest of all-time. "Pretty hard to comprehend that thought, but my brother and sister-in-law got here, I didn't know they were coming so that makes it so special," said Shiffrin.
Shiffrin commended those who have contributed to her astounding, unprecedented, record-breaking, athletic career.
"To the whole team and especially all the people who have helped me this whole season and my whole career, all the people who are reaching out now after all these years – it's pretty incredible and I just want to say thank you for that," said the three-time Olympic gold medalist and seven-time world champion.
Shiffrin's record-breaking 87th triumph also comes exactly 12-years to the day, after her first career world cup start in Spindleruv Mlyn, Czech Republic, on March 13, 2011.

Shiffrin appeared utterly unstoppable on what a beautiful, but cold Saturday in the picturesque lakeside Swedish village of Are, a resort where she had won four times previously, before these past two triumphs, in addition to slalom and super-G gold at the 2019 world championships.

Saturday's historic victory was also Shiffrin's 13th win of the season and sixth in slalom. It elevated her to 2,028 World Cup points this season, now an incredible 1,003 and 1,021 points, respectively, ahead of Petra Vlhova and Lara Gut-Behrami.

The American ski racing superstar stormed to a 0.69 first run advantage ahead of local favorite Anna Swenn Larsson, in a race, similar to her GS win on Friday, at which victory never appeared in jeopardy.

Swiss Wendy Holdener finished runner-up to Shiffrin, 0.92 seconds behind, while Swenn Larsson took third, 0.95 off the winning pace.

Shiffrin's Stifel U.S. Alpine Team teammate Paula Moltzan courageously skied with a broken left hand, following recent surgery and reconstruction with three plates and 25 screws. The Washington state racer, who shared a slalom podium with Shiffrin in late December, finished a highly respectable fourth.

Shiffrin now stands alone in ski racing immortality, having moved one win past the Swedish icon Stenmark, who won his 86th and final race in Aspen, Colorado, 34 years ago. Shiffrin achieved the historic 87th victory just two days before her 28th Birthday, while Stenmark was nearly 33, when he won No. 86 in March 1989.

On the eve of Saturday's race, Shiffrin paid tribute to Stenmark, who dominated the sport in the 1970's and 80's.

"It is the greatest honor of my career to be mentioned in the same sentence as Ingemar Stenmark. Incomprehensible and truly unforgettable," Shifrin wrote on social media.

Shiffrin became the queen of world cup racing when she past her U.S. teammate Lindsey Vonn having won her 83rd race on Jan. 24 in Kronplatz, Austria. Now, she has more victories in total, male or female, across a span of more than 50-years of world cup ski racing.

While all the pressure that Shiffrin might have been feeling is certainly off – considering that she has not only surpassed Stenmark, but also claimed her fifth overall world cup title, in addition to GS and slalom season titles – she and other racers conclude the season this week in the Pyrenees of Andorra.

Shiffrin could potentially add to her new benchmark of 87 at the FIS World Cup Finals, with one race remaining in each discipline, including a team event, although she has already declared that she will skip the downhill event.

Perhaps two, possibly even three more victories? As Team USA fans now know concerning the most decorated ski racer in world cup history – the sky is the limit.