Make It Three: Simmering Shiffrin Stuns In Semmering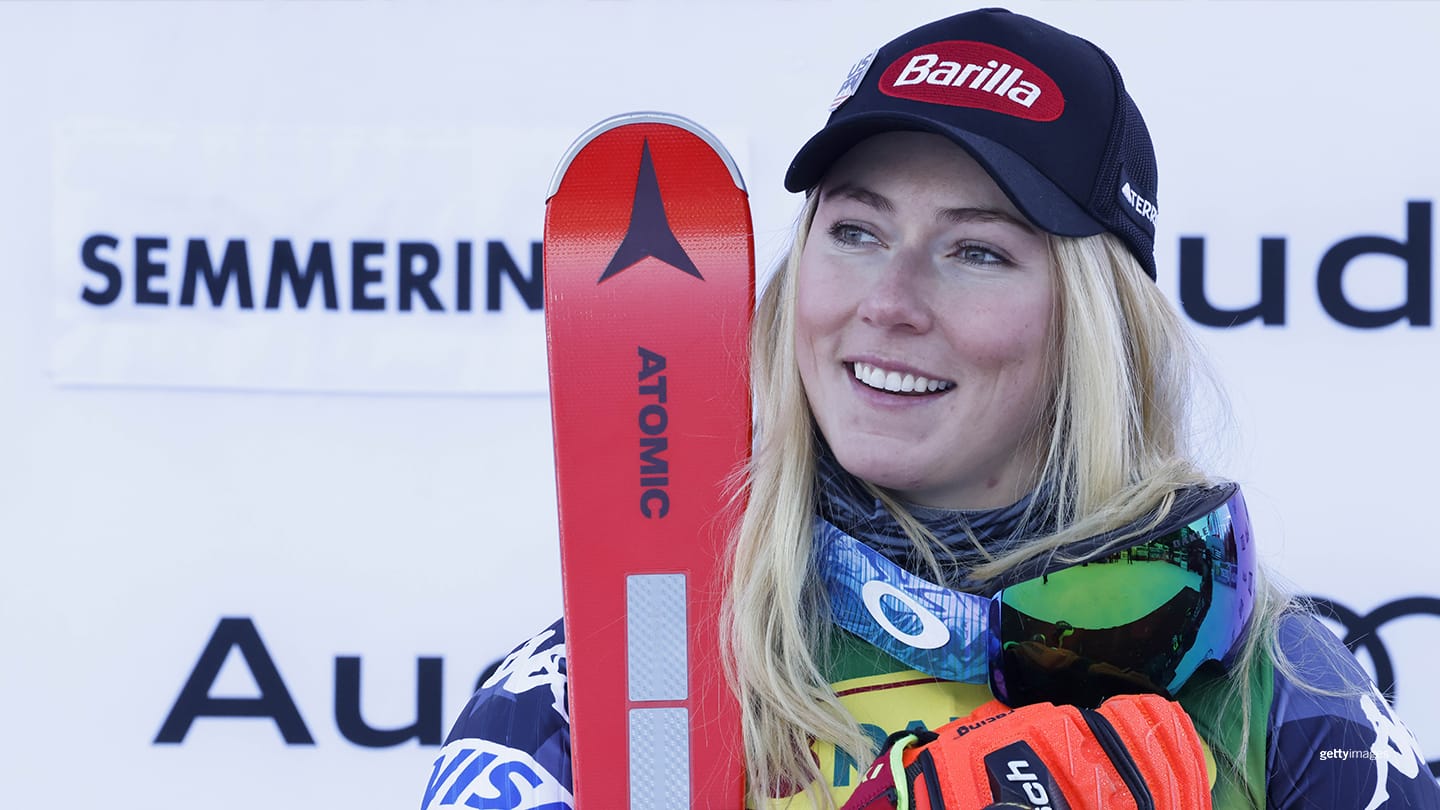 Mikaela Shiffrin celebrates on the podium after the women's giant slalom of the FIS Alpine Skiing World Cup on Dec. 28, 2022 in Semmering, Austria.
Talk about ending the year on a high note.
Mikaela Shiffrin closed out 2022 by claiming three straight world cup victories this week in Semmering, Austria. The 27-year-old won consecutive giant slaloms on Tuesday and Wednesday before wrapping up with her 50th career slalom win on Thursday.
With the wins, Shiffrin now has 80 for her career on the world cup circuit, just two shy of fellow American Lindsey Vonn for the most ever by a woman. Sweden's Ingemar Stenmark holds the all-time record with 86 world cup wins.
The reigning world cup overall champ, Shiffrin also extended her lead atop the leaderboard this season, putting her in position to claim a fifth crystal globe.
And, for good measure, Shiffrin on Thursday shared the podium with fellow Olympian Paula Moltzan, who finished second. The 1-2 finish was the first by a pair of American alpine skiers in eight years and marked the second world cup podium of Moltzan's career.
"It is pretty hard to put into words," Shiffrin told the International Ski Federation's website. "I skied really strong all three days and was really happy with my feeling."
The 2018 Olympic champion in giant slalom, Shiffrin came into the week having not won a GS in more than a year, dating back to Dec. 21, 2021, in Courchevel, France.
That changed in a big way in Semmering.
On Tuesday, she blazed down the course on her first run, carrying a 0.72 second lead over Petra Vlhova of Slovakia. Vlhova, the reigning Olympic slalom champ, then came back with a dominating second run, but it wasn't enough to overtake Shiffrin, who won by a total margin of 0.13 seconds. Moltzan finished 10th.
Switzerland's Lara Gut-Behrami, the defending giant slalom world champ, led Shiffrin by 0.22 seconds after the first run on Wednesday, but a blazing second run put the American back in the lead with a 0.10 margin. Moltzan was again in the top 10, this time finishing ninth.
"Today I was a bit more nervous than yesterday, because of yesterday, but it was still really nice skiing," said Shiffrin, who has also won two slaloms and a super-G this season.
Shiffrin closed out the week with her signature event: slalom. A 0.72 second lead after the first run gave her some padding, and she held on to win by 0.29 over Moltzan, who was in third place after the first run and then posted the fastest time in the second.
"Sharing a podium with Paula is one of the best podiums of my career," Shiffrin said. "She is working so well and she did it tonight, that is pretty special."
Moltzan, 28, had recorded one prior world cup podium back in November 2020 in a parallel event. The Minnesota native, who began her career at the same Buck Hill ski area as Vonn, is enjoying a strong second act at the top level of the sport. A former junior world champion, she was dropped from the national team, then skied for the University of Vermont before reestablishing herself on the world cup level and making her Olympic debut earlier this year in Beijing.
"It has not settled in yet," she said after Thursday's race. "I don't have any thoughts yet and am still working on the words. I could not be prouder of myself and my team. It was even better to do it in front of my parents."
Shiffrin, who is on a four-race unbeaten streak after also winning a super-G earlier this month in St. Moritz, Switzerland, has now recorded seven wins plus another podium finish in her last eight races in Semmering. She will have an opportunity to match Vonn's record when the tour moves to Zagreb, Croatia, next Wednesday and Thursday for a pair of slaloms. No ski racer in history has more wins in a single event than Shiffrin's 50 in slalom.
Meanwhile, the men's world cup tour was in Bormio, Italy, this week for a pair of speed races. Olympic silver medalist Ryan Cochran-Siegle posted his best finish of the season Wednesday, taking fifth in the downhill. He then led all Americans in finishing 13th in the super-G on Thursday.
Chrös McDougall has covered the Olympic and Paralympic Movement for TeamUSA.org since 2009 on behalf of Red Line Editorial, Inc. He is based in Minneapolis-St. Paul.