Michael Norman Is Getting Used To Running Only A Quarter Of The Track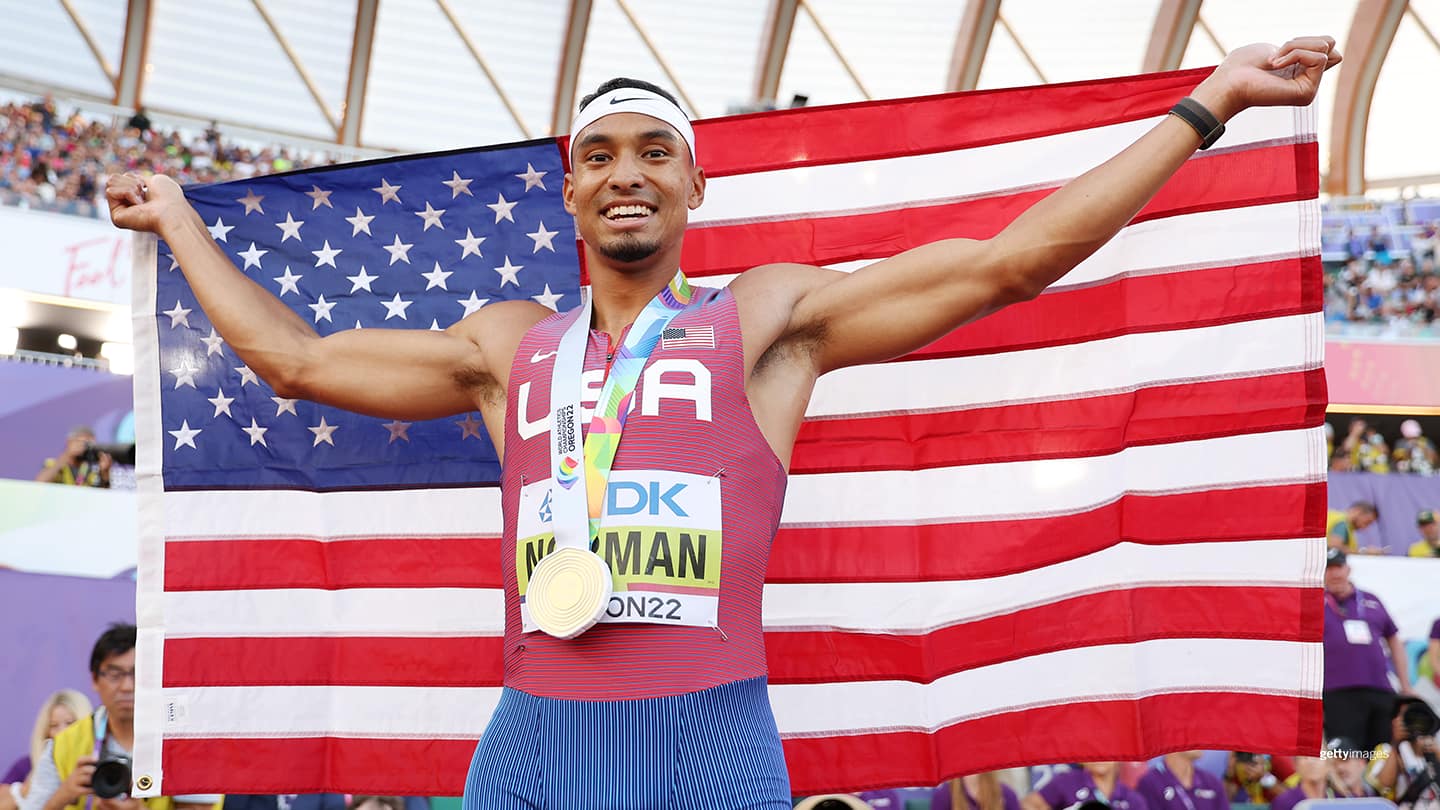 Michael Norman celebrates after winning gold in the men's 400-meter final at the 2022 World Athletics Championships on July 22, 2022 in Eugene, Oregon.
Michael Norman ran a 100-meter personal best of 9.86 seconds in 2020 — the same time fellow American Fred Kerley clocked last year in winning the 2022 world title in Eugene, Oregon.
But Saturday, when Norman opened his 2023 season at the Mt. SAC Relays in Walnut, California, he depicted himself as a short-sprint newbie.
He critiqued his 10.02 third-place performance as, "just terrible ... like no excuse to it. Looking back at it, just from start to end it wasn't a good race."
Norman's signature event is the 400-meter. His best of 43.45 — at the Mt. SAC Relays in April 2019 — is equal tied for the fourth-fastest mark of all time. And he won gold at the world championships last year in 44.29.
Yet the 25-year-old Nike athlete now considers himself a born-again 100-meter man, declaring after an hour massage at the USC tent outside Hilmer Lodge Stadium: "I'm 100% committed to 100 right now."
Coached by Quincy Watts, the Olympic Games Barcelona 1992 400 champion, Norman brushed off his 100 as "first-race rust."
He said he didn't come to Mt. SAC with any time expectations but just wanted to execute his race.
"But I think that it kind of went out the window," he said hours after the race. "I guess we're using this race as kind of like a benchmark to see where I am now. It's just all about ... breaking down the race and making improvements so I can set myself up to be successful later down the road."
In a DyeStat interview days ahead of Mt. SAC, Norman said 100-meter training was a challenge because training for the 400 is "pretty painful."
"In my head," he said, "if a workout is painful, I (had) put in a lot of work. ... But training for the 100 is not technically painful all the time. I'm sitting there at the end of practice and saying: 'We're done?'"
Norman also said that he was little heavier than last year. Though, he didn't seem concerned about it on Saturday.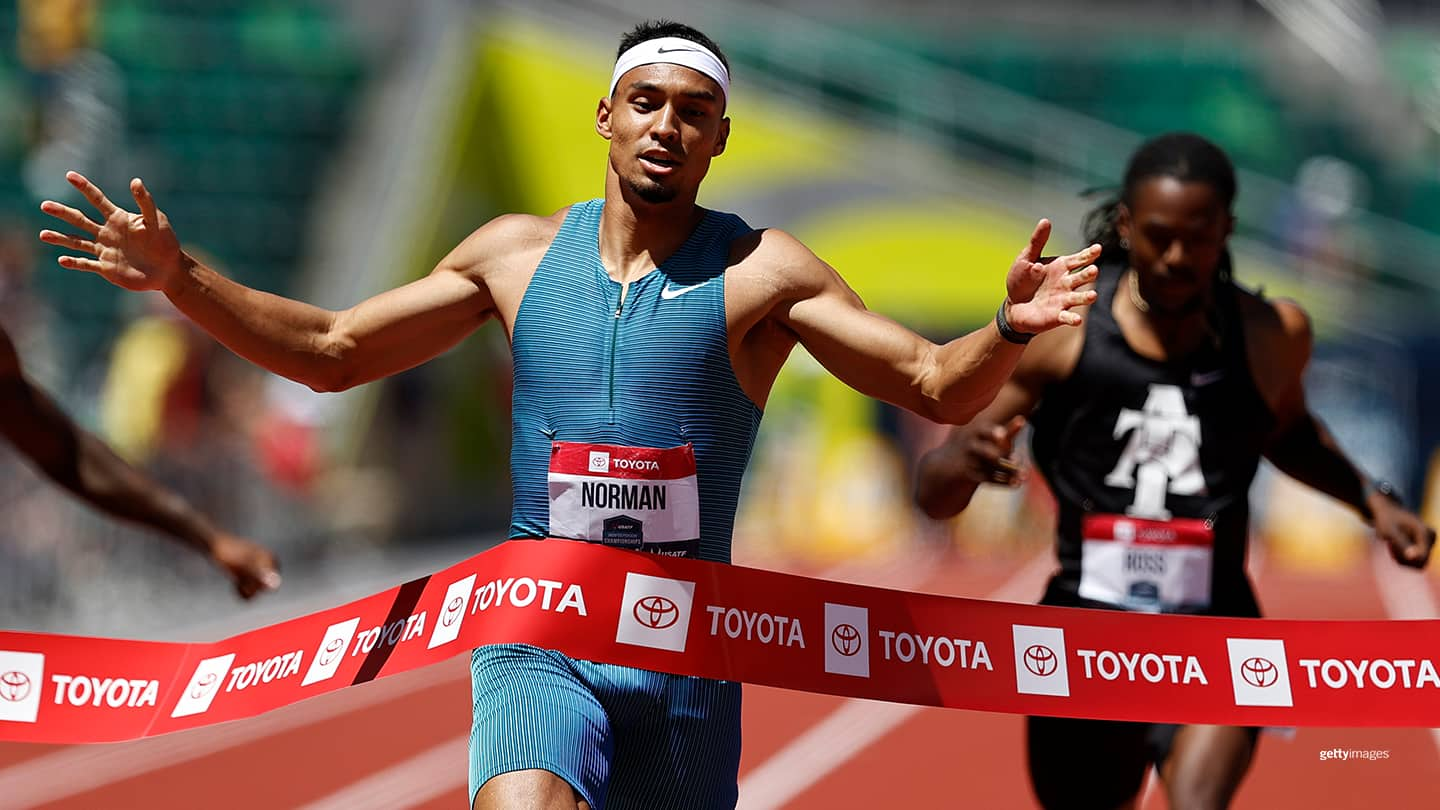 Michael Norman wins the men's 400-meter final during the 2022 USATF Outdoor Championships on June 25, 2022 in Eugene, Oregon.
"I'm like one to two pounds heavier," he said. "I'm not crazy heavy."
Norman said he must be patient despite his concern that practice doesn't hurt. He's trusting the process and, "being really diligent about the fine details."
Focusing on the 100 — with 200s thrown into his competition schedule, including May 5 at the Wanda Diamond League meet in Doha, Qatar — has made the former Trojan star something of a stranger in a strange land.
"I don't have any baselines, no numbers to indicate where I'm at — just because training is completely different," he said. "Yeah, when I was running the 400 (doing) certain workouts year in and year out that I can kind of get an idea like how good of shape I'm in."
Asked what he needed to do to be a Fred Kerley — an ex-400 specialist excelling at the 100 — Norman was irked.
"First of all, I'm Michael Norman," he said. "So I'm not going to become a Fred Kerley. So I'll sit down with coach Watts and just stay patient. It's the first race. It's April. Be ready to go in June."
Ahead is an appearance on May 27 at the USATF Los Angeles Grand Prix at UCLA's Drake Stadium. While the setting has been determined, the event he'll be running at that meet is still up in the air.
"I'm not sure what event I'm running at UCLA," he said. "Maybe the 2. I don't know. I haven't decided."
Certainly, he'll face serious competition at the USATF outdoor nationals July 6-9 in Eugene, which picks the team for the world championships from Aug. 19-27 in Budapest, Hungary.
Besides Cravont Charleston (9.87) and Kyree King (9.98) — his conquerors at Mt. San Antonio College — Norman may face the likes of Micah Williams, Elijah Hall, Noah Lyles, Ronnie Baker, Shawn Brown and the silver and bronze medalists from Eugene worlds — Marvin Bracy and Trayvon Bromell.
And of course Fred Kerley, who is trash-talking Lamont Marcell Jacobs on social media and seeking a one-on-one match race with the Italian Olympic champ, who beat Kerley in Tokyo.
If Norman does make Team USA for the late August world meet, he's open to running the 4x400 relay again, looking for a third global gold medal.
Norman wants to run at least through the Olympic Games Los Angeles 2028 in what could be considered his hometown Olympics.
"I'm 25 years old starting my first year running 100," he said. "My horizon is endless. I don't know what that limit is, so we're going to keep pushing and see where I end up."
Ken Stone has covered track since the early 1970s and won TAFWA's inaugural award for excellence in blogging in 2009. He is a freelance contributor to TeamUSA.org on behalf of
Red Line Editorial.