Trayvon Bromell Wins Olympic Trials 100-Meter To Remain Favorite For Tokyo Gold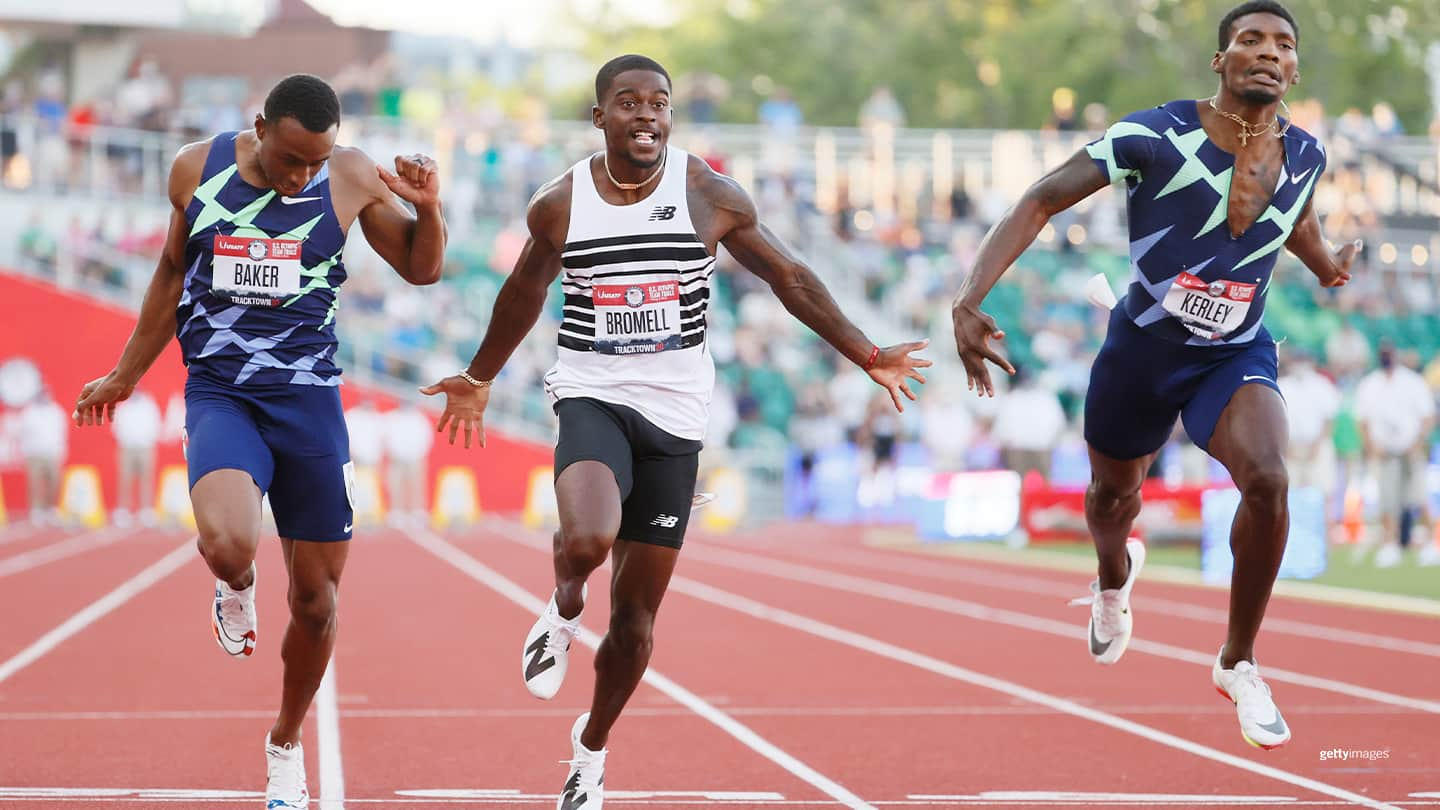 Ronnie Baker, Trayvon Bromell and Fred Kerley cross the finish line in the Men's 100 Meter Final at the U.S. Olympic Team Trials - Track & Field on June 20, 2021 in Eugene, Ore.
EUGENE, Oregon – Trayvon Bromell continued to make up for lost time by winning the men's 100-meter dash Sunday night at the U.S. Olympic Team Trials – Track & Field.

Four sprinters ran the fastest times of their lives and still could not catch Bromell, who suffered an injury in 2016 that set off a litany of woes and threatened to end his promising career.

And 39-year-old Justin Gatlin may have run out of time. After he tweaked his hamstring in the semifinals, the Olympic gold medalist pulled up in the final of what is likely his last Olympic Trials. Still, Gatlin, who was first in the 100 in two Trials (including 2016) and second in another, was determined to cross the finish line, even if he did it more than a second after Bromell.

"It was a heckuva race. I'm not going to lie to you," said Bromell, 25, whose time of 9.80 seconds ranks No. 2 in the world this year behind his own 9.77 from June 5. He hasn't lost a 100-meter race since 2019, winning four races in 2020 and 10 this year.

He beamed and pointed as he crossed the finish line. Winning the Trials, Bromell said, is "a marvelous feeling."

Going into the final, he was careful not to underestimate his competitors. "I had to give every athlete in the field their respect," Bromell said, "understanding that they have a talent to go out there and run just like me."

Just like him, they were running their third round of the 100, with the U.S. trials as grueling as the Olympic Games schedule. Bromell led the way with a 9.84 in Saturday's heats, followed by a 9.90 in the semifinals on Sunday, with the finals about 90 minutes later.

"Coming out of the blocks," Bromell said, "I just told myself, 'I know my legs are heavy. I know everybody else's legs are heavy, so just keep pushing, keep pushing.' And once I stood up, I was just telling myself, 'Knees up. And just run through the line.'"



In Fast Company
He was followed by Ronnie Baker, 27, whose hard luck precedes Bromell's – "a combination of circumstance after roadblock after difficult times," he said. Baker, who has never made any Olympic or world team despite being a serious contender since 2015, was second with a personal best of 9.85 seconds.

"This is the first year I've been completely healthy … trying to make a team," said Baker, who will auction off his shoes, adorned with Japanese-themed artwork, for charity. "Man, I'm just overwhelmed."

Fred Kerley, 26, who admitted that a year ago even he would have called himself a 400-meter specialist, also posted a personal best of 9.86 seconds to place third.

"I'm an athlete first and if I believe in myself I'm capable of doing anything I put my mind to," said Kerley, who is the sixth-fastest American at 400 meters and won the bronze medal at the 2019 world championships and gold in the 4 x 400-meter relay.

Baker said he had "much respect" for Kerley, who will also run the 200, for choosing the 100 over the 400.

"I think everyone thought it was kind of crazy at first," Baker said. "I'm blown away by it. I know a lot of other people are too, but I know Fred Kerley isn't."

They were followed by Kenny Bednarek, whose priority coming in was the 200 meters (9.89 seconds), and Micah Williams, the hometown favorite from the University of Oregon (9.91), both also running lifetime bests.

"Considering this is not my event, I'm satisfied with my performance," said Bednarek, 22, who has run only four 100s all season — and three of those were at the Trials. He joins the elite club of running sub-10 seconds in the 100, sub-20 seconds in the 200 and sub-45 seconds in the 400.

Cravon Gillespie, a former Oregon runner who won the Golden Games earlier this year, finished sixth (10.00).

And then came Noah Lyles, the 2019 world champion in the 200 who had hoped to double in Tokyo in the 100 and 200. Lyles posted a time of 10.05 seconds, blaming a late reaction at the start.

"Gun went off and I was a little further back than I remember," Lyles said, "and then everybody walked away from me, and I was like, 'It doesn't usually go this way. I'm not usually this far back.'"

He vowed to be ready for the 200 starting Friday "and dominate, point blank."



End Of An Era?
The hampered Gatlin was eighth in 10.87 seconds – which looks more like a time in a women's final than a men's - and was so emotional during his zoom press conference that he had to leave for a few moments to compose himself.

"It's a very rare opportunity that you are witnessing what you are going to do for the last time while you're doing it," said Gatlin, who was introduced to the crowd at historic Hayward Field as "39 years young." "And it made me sad, but it made me happy to be here to be able to do it."

After the hamstring tweak while running 10 flat in the semis, Gatlin said, "It was a call if I was going to run or not. I was going to absolutely run no matter what. It's potentially been my last race to try to make an Olympic team, so I wanted to give what I could give."

He said he has to figure out his next steps with his coach and inner circle and was disappointed he couldn't put out a better performance on Father's Day.

"At the same time I'm glad to be able to have the career I've had," said Gatlin, who cried as he added, "You never realize as an athlete that there's going to be an end until the end comes."

Two big names in recent American sprinting were not in the mix: Reigning world champion Christian Coleman was suspended last year after missing three out-of-competition drug tests in a 12-month period. Marvin Bracy-Williams, a 2016 Olympian who had the No. 2 time in the world after clocking 9.85 seconds in early June, pulled up in the semis.

Team USA. has been on the podium in the men's 100 for the past five Olympic Games, with three of those podiums featuring Gatlin – gold in 2004, bronze in 2012 and silver in 2016.

Now Bromell is going to go home to Florida and act like he's not the favorite to win the first gold medal for Team USA in the event since, well, Gatlin in 2004. Usain Bolt of Jamaica won the last three Olympic 100s before retiring.

"I feel with confidence sometimes comes complacency," Bromell said. "And for me I don't like to get complacent. I'm still going to go home and train as if I'm not being talked about at all. That's just my humility. That's just who I am as a runner. I'm always working."

Bromell, who was raised in St. Petersburg, Florida, had his spikes customized with the name of his late coach, Garlynn Boyd, who gave him "the blueprint" for his career when he was a kid.

"Anybody who knows my story, I come from the hood," Bromell said. "Nothing was easy for me. Everything was hard. I channel that every time that I step on the track."



"The Next Big Thing"
His future had seemed so bright when Bromell broke onto the scene at age 18, becoming the first junior to run under 10 seconds in the 100 meters when he ran 9.97 in 2014. Bromell was the NCAA champion in the 100 as a Baylor freshman and won the bronze medal at the 2015 world championships, followed a few months later by the gold in the 60 meters at the world indoor championships.

World Athletics, the international governing body, still has a story about Bromell on its website from 2015 titled "The Next Big Thing."

Then in 2016 Bromell felt heel pain, which turned out to be a bone spur growing near his Achilles tendon. That was the beginning of his injury problems. He was second in the Olympic Trials behind Gatlin, then finished eighth in the 100 in Rio. But he was subsequently taken off the track in a wheelchair after tumbling at the finish of the 4 x 100-relay, aggravating his Achilles. He thought he had secured the bronze medal, but Team USA was disqualified for an exchange before the baton got to him.

"I want to forget 2016," Bromell said.

He had two surgeries, with a lone 100-meter appearance in 2017 at the national championships, where he was didn't make it out of the heats. Bromell completely skipped the 2018 season.

That's when he became deeply religious. "In 2016, when I went down, I didn't know what was going on," Bromell said. "This freakish injury came out of nowhere. It was 2018 when I was really thinking, 'Man, do I even want to live anymore?' I was like, 'I've done everything, I spent the money, I put in the work like I always have, what resource am I not going to for this to change?'

"My momma said, 'Did you ever try God?' I tried God.'"

Now Bromell describes himself as a "spiritual runner." In 2019, he had finishes of eighth place and fifth place in two 100s, and didn't finish another, but by 2020 he was running three races under 10 seconds.

"Understand nobody can do this on their own," said Bromell who noted that he went through "mental destruction." "The only way I was able to get out of my downfall and my injury and everything in my life is through the people around me."

He said the biggest thing he learned about himself since that fateful day in Rio when he couldn't leave the track under his own power is "understanding that internally I'm not as strong and it's understanding that I need people and I need my faith to be able to do what y'all see today."

Always known as a great starter, Bromell said he has worked on improving his finish.

How did he do that? Bromell cracked a rare smile. "I can't give that away."

Time will tell if it will help him bring home the gold in Tokyo.
Karen Rosen has covered every Summer and Winter Olympic Games since 1992 for newspapers, magazines and websites. Based in Atlanta, she has contributed to TeamUSA.org since 2009.