Ilia Malinin And Isabeau Levito Lead Promising Group Of Young U.S. Skaters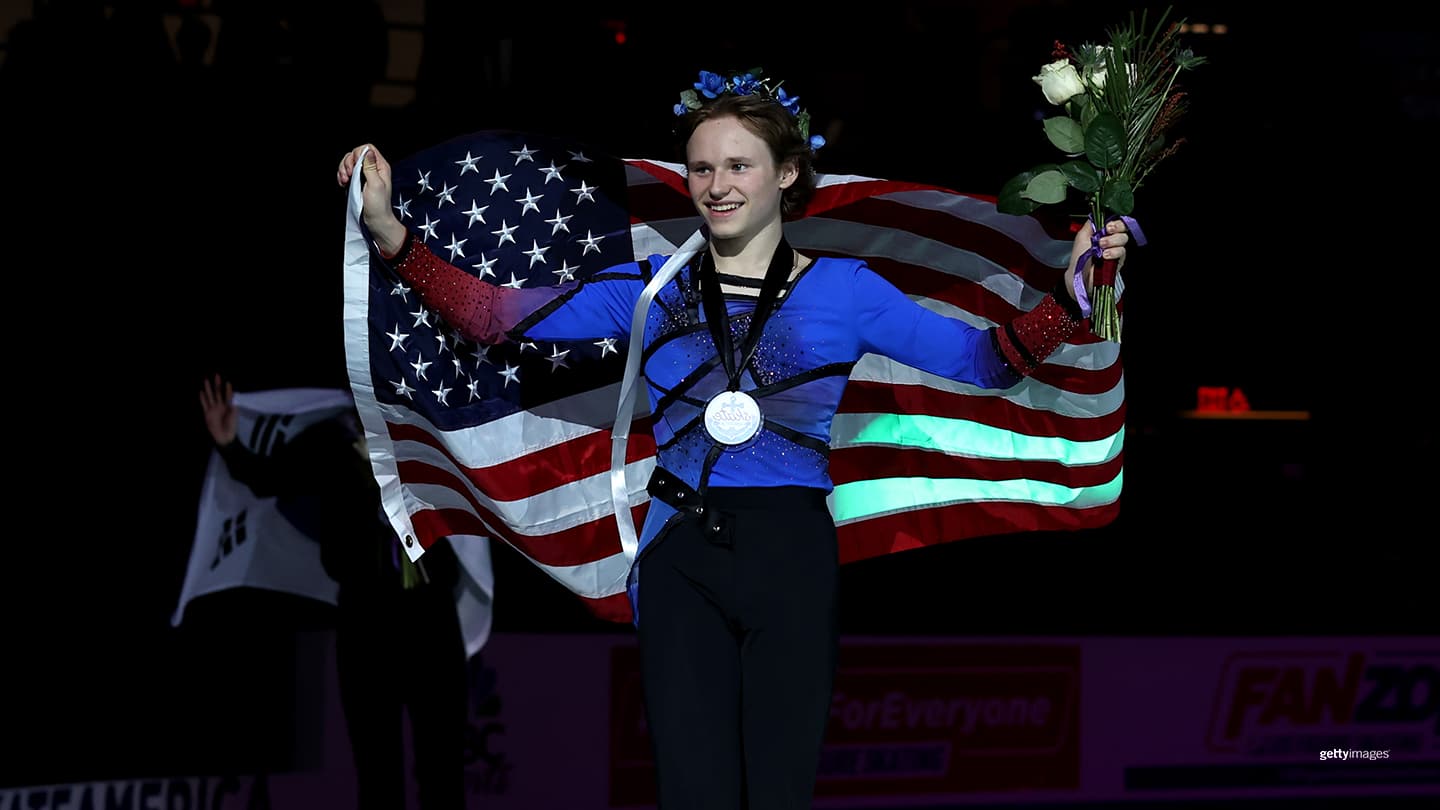 Ilia Malinin celebrates with an American flag at the 2022 ISU Grand Prix - Skate America on Oct. 22, 2022 in Norwood, Mass.
NORWOOD, Mass. – Early in the figure skating season, Ilia Malinin has already made history three times.

The Virginia teen landed a quadruple axel at a small international competition in Lake Placid, New York, last month, the first done in competition. On Saturday, his quad axel — performed even better, along with four other clean quads — made him, at 17, the youngest man to ever win Skate America.

That second quad axel notched 16.61 points, a record for a single jump, eclipsing the 16.43 points that Malinin's idol, Nathan Chen, earned for a magnificent quad lutz at the Olympic Winter Games Beijing 2022.

"I'm still in shock — I didn't know what happened," Malinin said. "It's an amazing feeling."

The knowledgeable crowd at the Skating Club of Boston knew what they saw, and 2,500 or so people applauded, cheered and waved U.S. flags when Malinin safely touched down after four-and-a-half revolutions in the air.

"I wasn't really sure if I would attempt it or not," he said. "But it came over my mind, 'Everyone is watching. I have to go for this.' So I went for it and I landed it and I was in shock. The whole building was screaming."

Malinin is the most prominent, but not the only, new face bidding for figure skating glory this season. On Sunday in Norwood, Isabeau Levito made her senior ISU Grand Prix debut in the Skate America competition. Like Malinin, she is the reigning world junior champion.

The 15-year-old from Mount Holly, New Jersey, could barely contain her excitement. Last season, she finished third in the U.S. behind the now-retired Mariah Bell and Karen Chen, who is not competing this fall.

"I'm so happy to be here. I'm pretty sure I look like a little kid at the zoo, just pointing at everything," Levito said after a practice session Friday. "It sounds so weird, but it's the most fun I've ever had at an event, and its only my first day."

One day later, Levito sat three feet away from Japan's Kaori Sakamoto, the world champion and Olympic bronze medalist.

"Kaori is so strong and powerful, I feel like she is very free on the ice," Levito said. "Every time I was in the locker room with her, I thought, 'Should I ask for a selfie?'"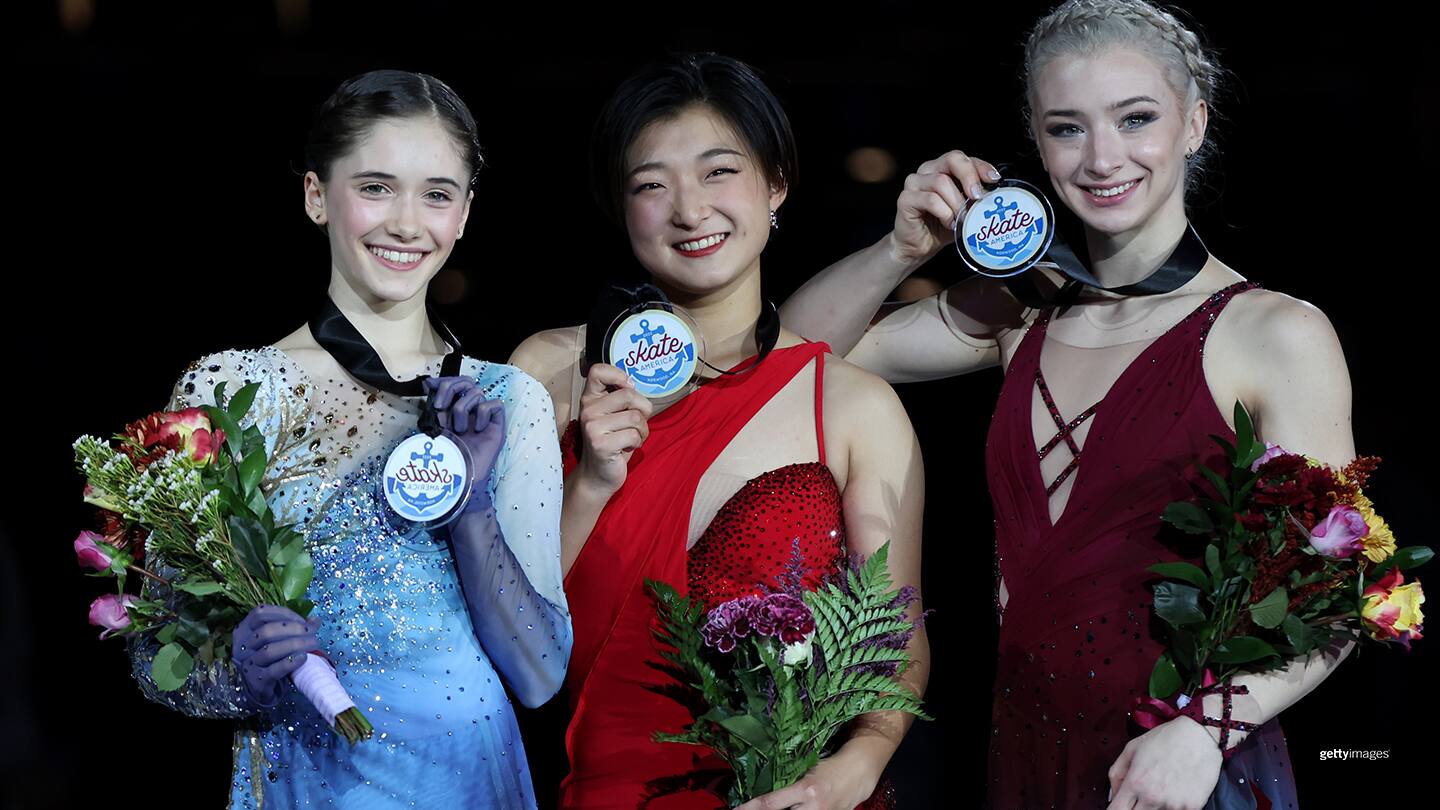 (L-R) Isabeau Levito, Kaori Sakamoto (Japan) and Amber Glenn pose with their medals following the 2022 ISU Grand Prix - Skate America on Oct. 23, 2022 in Norwood, Mass.
Levito got her selfie and she also picked up the silver medal behind Sakamoto's gold. Her triple-triple jump combinations were not perfect, but her superb spins, flow across the ice and detailed choreography made her a standout.

"I focused on making every step and arm movement have a purpose. … I want to take the time on the choreography to make sure everything comes together as a whole," she said. "That was the preparation during the off season. … My goal is making it to the Grand Prix Final."

The Grand Prix Final, scheduled for Dec. 8-11 in Turin, Italy, will feature the top-six performers in each discipline. With their Skate America medals in hand, both Malinin and Levito have good chances to qualify. Malinin will compete at the Finland Grand Prix in Espoo, Nov. 25-27, and Levito travels to Sheffield, England, for the Wilson Trophy, Nov. 11-13.

Yulia Kuznetsova, who coaches Levito in Mount Holly, wants her student to show the same consistency in competition that she has displayed in practice.

"At the practices, she is doing absolutely wonderful jumps, consistent and 100 percent," Kuznetsova said. "But now we need to learn how to show the same quality, under pressure in competition, with the same confident face as in practices."

"It's about adjusting to different environments, with bright lights, a lot of people, judges," Levito said. "It's about getting used to it, so you can perform in competition the way you do in practice."

Levito can count two-time U.S. champion Ashley Wagner, the 2016 world silver medalist, as one of her biggest fans.

"To me, she is a breath of fresh air," Wagner said. "She is the technical athlete in women's figure skating that Team USA has (sought) for a couple of seasons, but beyond that, I love to watch her skate. It's hard to marry the technical, and artistry, together. I think we are going to be seeing a lot of great things from her."

The grand prix season continues Oct. 28-30 with Skate Canada International in Mississauga, Ontario. There, world junior bronze medalist Lindsay Thorngren makes her senior grand prix debut.

"My hopes for this event are to skate my best, and if I do, I think I can get on the podium," said the 16-year-old from Montclair, New Jersey, who placed fifth in the U.S. last season. As a warm-up for her grand prix debut, Thorngren competed in the Finlandia Trophy early this month, where jumping errors put her in sixth place.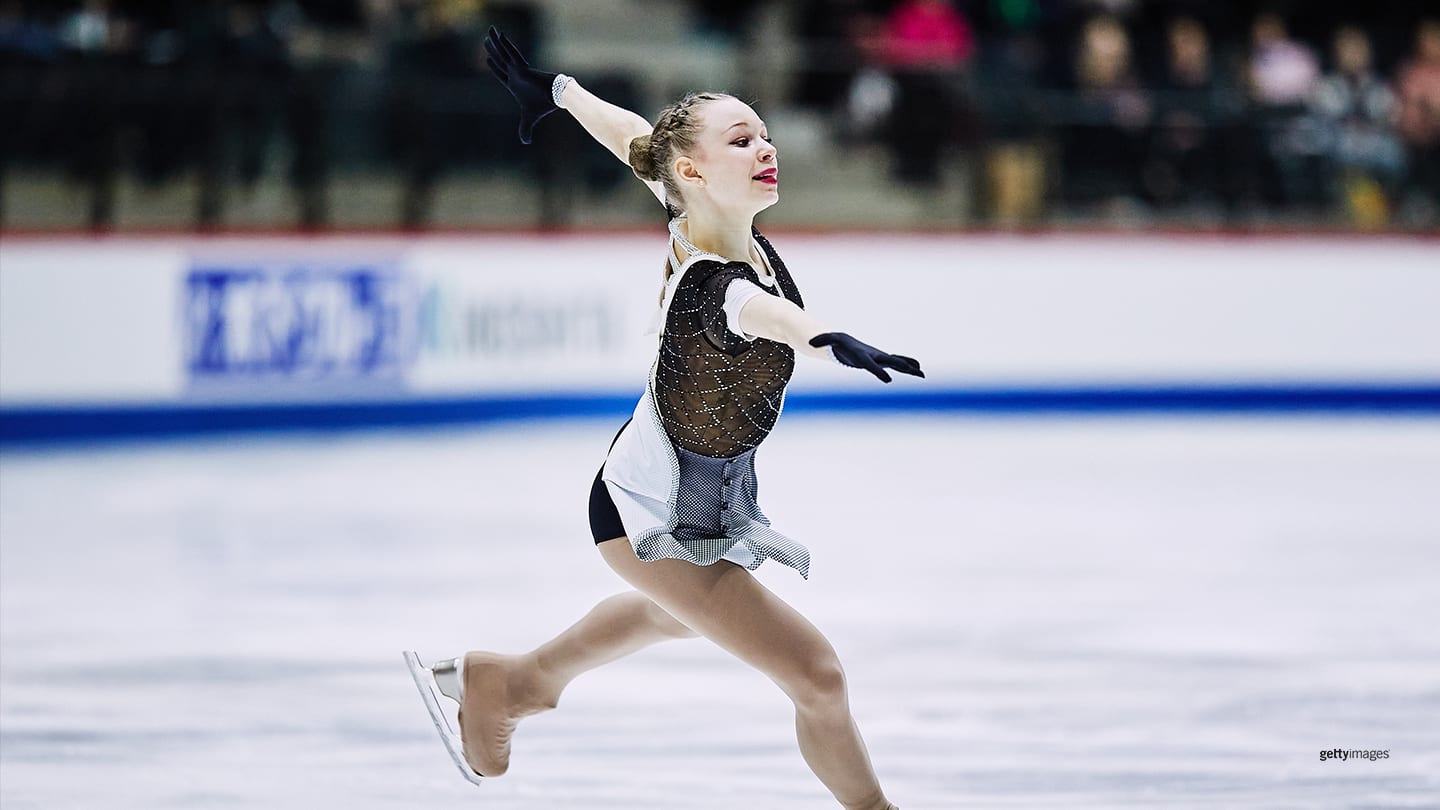 Lindsay Thorngren competes during the junior women's free skate at the 2021 ISU World Junior Figure Skating Championships on April 17, 2022 in Tallinn, Estonia.
"When you make mistakes, you learn from them," said Julia Lautowa, who trains Thorngren in Hackensack, New Jersey. "She is well-prepared. We have worked on getting her jumps (including triple lutz-triple toe) consistent. Lindsay usually peaks a little later in the season and gets better and better. I'm not too worried about it."

"I got those mistakes out of the way; now I'm ready to move on," Thorngren said. "I've been working on skating clean programs in practice — just training harder, doing lots of run-throughs, making everything better, faster."

Both of Thorngren's programs are choreographed by Benoit Richaud, a former French ice dance competitor who has also choreographed programs for world pair champions Alexa Knierim and Brandon Frazier, two-time U.S. champion Bradie Tennell and others.

Thorngren enjoys telling stories and playing characters in her programs.

"In my short (program), I portray a woman who is a statue and comes to life," Thorngren said. "In the long, I play a woman who wants to transform into a bird."

"She is very comfortable with her music," Lautowa said.

Amber Glenn, who turns 23 on Oct. 28, is not new to the senior ranks; the native Texan has competed on the grand prix tour since 2017. But this season marks "Amber 2.0," since the skater moved from Plano, Texas, to train in Colorado Springs, Colorado, last spring.

"It's my first time moving away from home, away from family, but I settled in really well," she said. "It took a bit, especially that altitude, but I've gotten my feet beneath me."

It showed at Skate America, where an energized Glenn landed triple flip-triple toe loop combinations in both of her programs and won bronze, her first-ever grand prix medal.

It was quite a comeback from last season, when Glenn placed 14th in the short program at the U.S. Championships and withdrew after testing positive for COVID-19. Back then, she considered retirement.

"I thought I was done," Glenn said. "Then a couple of weeks later, I stepped back on the ice and started doing everything like normal even after being off. I thought, 'I still can do this, I can't just leave.'"

Her next objective is to land a triple axel in competition, a jump she has trained for two or three years. She tried it in her free skate Sunday but landed it on two feet and short of rotation.

"I've been doing 15 a day (in training), but doing it under pressure is a big goal for me," Glenn said.

"Amber has been training differently, more run-throughs, which is something she wasn't really that used to," said Damon Allen, one of Glenn's coaches in Colorado Springs. "She feels more confident coming into an event because she has done the work. … With the triple axel, there are some days when I have to say, 'It's enough, you've done 13, 14, you don't have to do 15.'"
Lynn Rutherford is a sportswriter based out of New York. She is a freelance contributor to TeamUSA.org on behalf of
Red Line Editorial, Inc.