Quad Axel Looms As Possibility For U.S. Skater Ilia Malinin At Skate America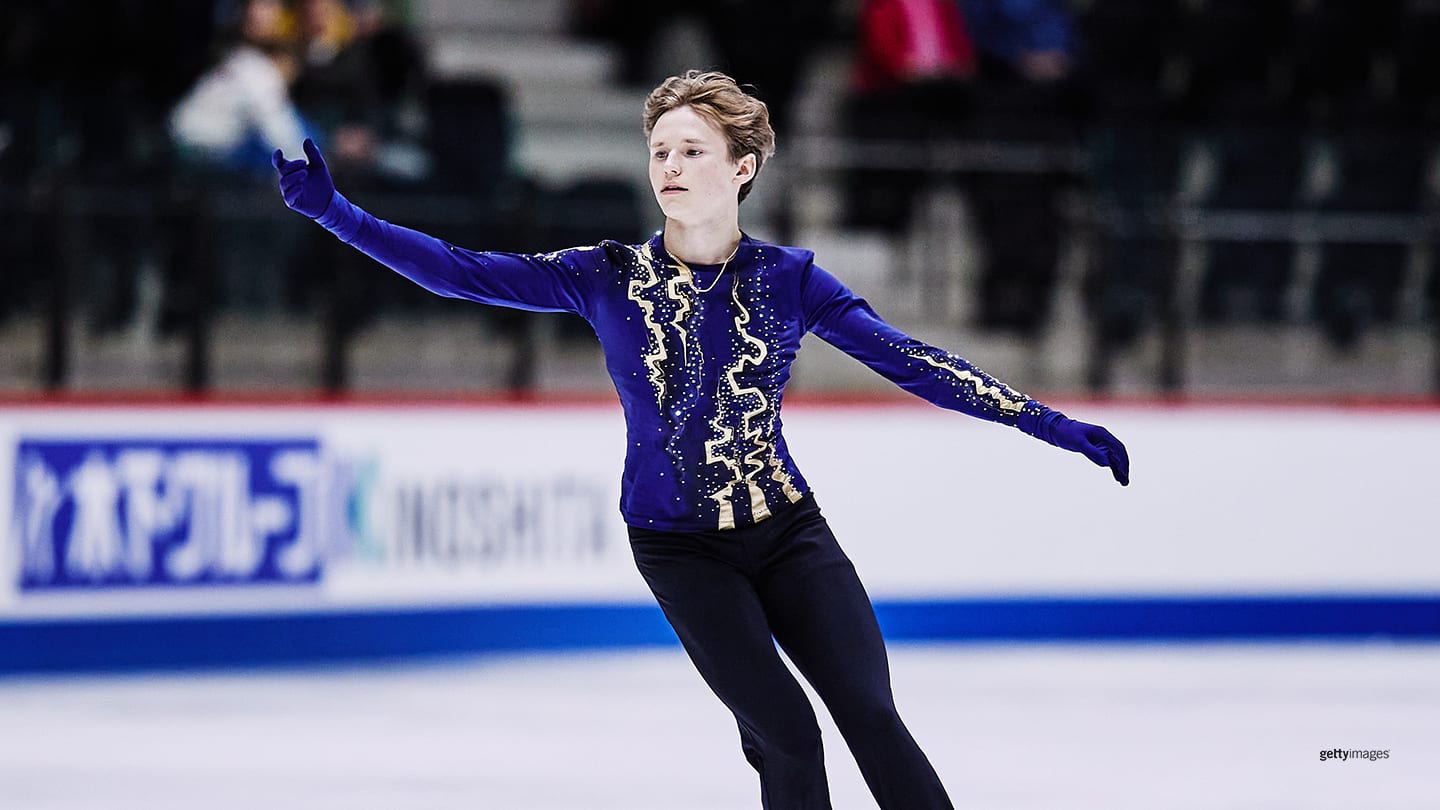 Ilia Malinin competes during the junior men's free skate at the 2022 ISU World Junior Championships on April 16, 2022 in Tallinn, Estonia.
NORWOOD, Mass. – After Ilia Malinin posted videos of himself landing quadruple axels in practice on Instagram this spring, the figure skating world waited eagerly for him to pull off the four-and-a-half revolution jump in competition.

That wait ended at a small international event last month, when the 17-year-old world junior champion hit the jump 15 seconds into his free skate at the U.S. International in Lake Placid, New York.

Figure skating fans and officials who gathered this week for the season-opening Skate America, held at Skating Club of Boston's start-of-the-art training facility in Norwood, Massachusetts, have five words on their collective lips: "Will he do it here?"

Attendees at Malinin's first official practice at the event Thursday got a glimpse of the jump. But will the sold-out audience in the 2,500-seat arena see it in his free skate on Saturday? Maybe.

"As of right now, we're not so sure if I will try it in the free or not," Malinin said Thursday. "Depending on how I am feeling that day, maybe I will add it in."

Skate America is the first of six stops in the ISU Grand Prix Series.

Malinin will need every weapon in his arsenal to overcome his shaky short program on Friday.

Performing a free-wheeling routine to "I've Put a Spell on You," he landed an opening quad lutz-triple toe loop combination before falling on a quad toe. His 86.08 points placed him fourth, almost nine points behind leader Kao Miura of Japan. Korea's Junhwan Cha was second with 94.44 points and Daniel Grassl of Italy was third with 88.43.

"As far as it went, it wasn't one of the best programs I wanted," Malinin said. "It will be better tomorrow. … (I have to) make sure all my elements are on point and just be confident tomorrow and see where it goes from there."

With a base value of 12.50 points, a quad axel will help the Virginia teen step up to the podium. Featuring a forward take-off and extra half a rotation, it is the sport's most difficult jump, and Malinin is the first skater to do it. Two-time Olympic champion Yuzuru Hanyu of Japan chased the maneuver during his final competitive seasons, including at the Olympic Winter Games Beijing 2022, but failed to execute it.

Olympic champion Nathan Chen, who has landed all five other quads, occasionally tried the quad axel in practice, but never in competition.

"I have enough trouble with triple axel," Chen once said.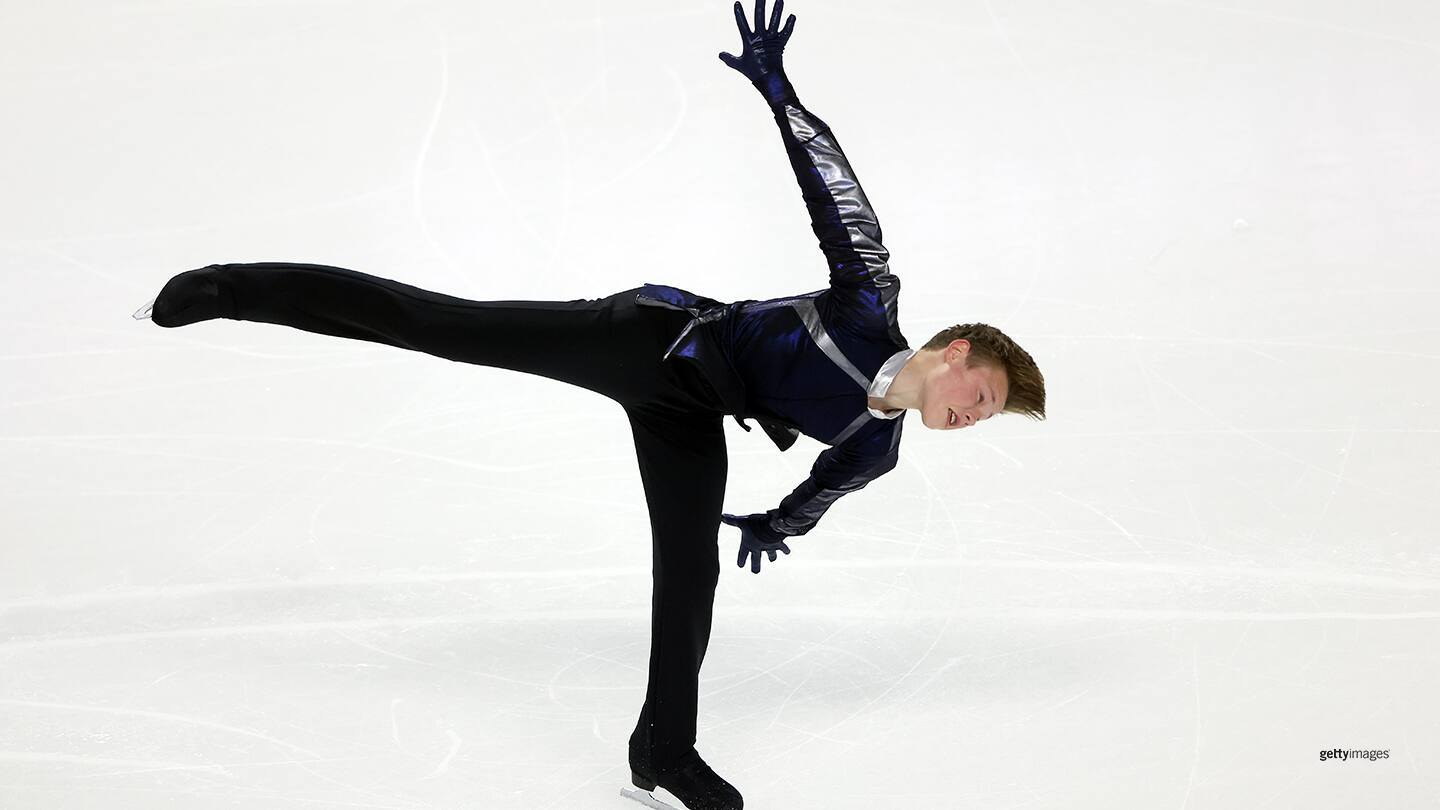 Ilia Malinin competes during the men's short program at the ISU Grand Prix on Oct. 23, 2020 in Las Vegas.
Young and with little to lose, the personable Malinin exudes quiet confidence. A student at Marshall High School in Falls Church, Virginia, his baseball cap reads "quadg0d," his social media handle. He brought his good-luck charm, a soccer ball, with him to Norwood, and sometimes does tricks with it to help relax before practices.

"I love when you can see an athlete like Ilia show off what they can do," two-time U.S. champion and 2014 Olympian Ashley Wagner said. "He is young, talented, he has a fire in him. Seeing athletes like that is really inspiring. He is posting all this stuff and he is showing everyone else that it's okay to be that confident. I think it's important and necessary."

Even Malinin, though, seems to grapple with the enormity of his achievement.

"I mean, even for me to think about (quad axel), it's, Wow,'" he said. "With it comes responsibility. You have to make sure all your jumps are as consistent as possible and even then it's going to be really hard to incorporate the artistic side because you have all these jumps."

Skate America marks the start of the Team USA Ilia era. Chen, along with world bronze medalist Vincent Zhou and perennial U.S. favorite Jason Brown, are not competing this fall, and it is uncertain they will return. Malinin already showed his mettle last season, outshining both Zhou and Brown to place second to Chen at the U.S. Championships.

Malinin's lack of a senior portfolio kept him off the 2022 U.S. Olympic Team this year, but he triumphed at the junior world championships with a record score.

The 2022 senior world championships were a different story. After a strong short program, Malinin stumbled in the free skate, falling on two quads to place a respectable, but disappointing, ninth.

"It was just a disaster," he said at the time.

Malinin fared far better at his most recent event, the Japan Open in Tokyo earlier this month, where he touched the ice on his quad axel but landed four other quads in his free skate to place second, a fraction behind Japan's world champion Shoma Uno.

"I've been so happy because I've been watching Nathan and all of these other great skaters since I was little," he said. "The fact that I'm competing against them now, and at the same level, makes me so happy with all of the motivation I put in to keep training hard."

Malinin's jumping ability is in his genes. Parents Tatiana Malinina and Roman Skorniakov competed at the Olympics for Uzbekistan; Malinina once placed fourth in the world with her high, powerful jumps, especially triple lutz. They instilled strong technique in their son. At age 12 he won the 2016 U.S. juvenile title, followed by the intermediate crown in 2017.

"They always tell me for every competition to be confident and just (show) the work you've put in during practice," Malinin said. "They say, 'Feel yourself in the moment, make it feel like practice.'"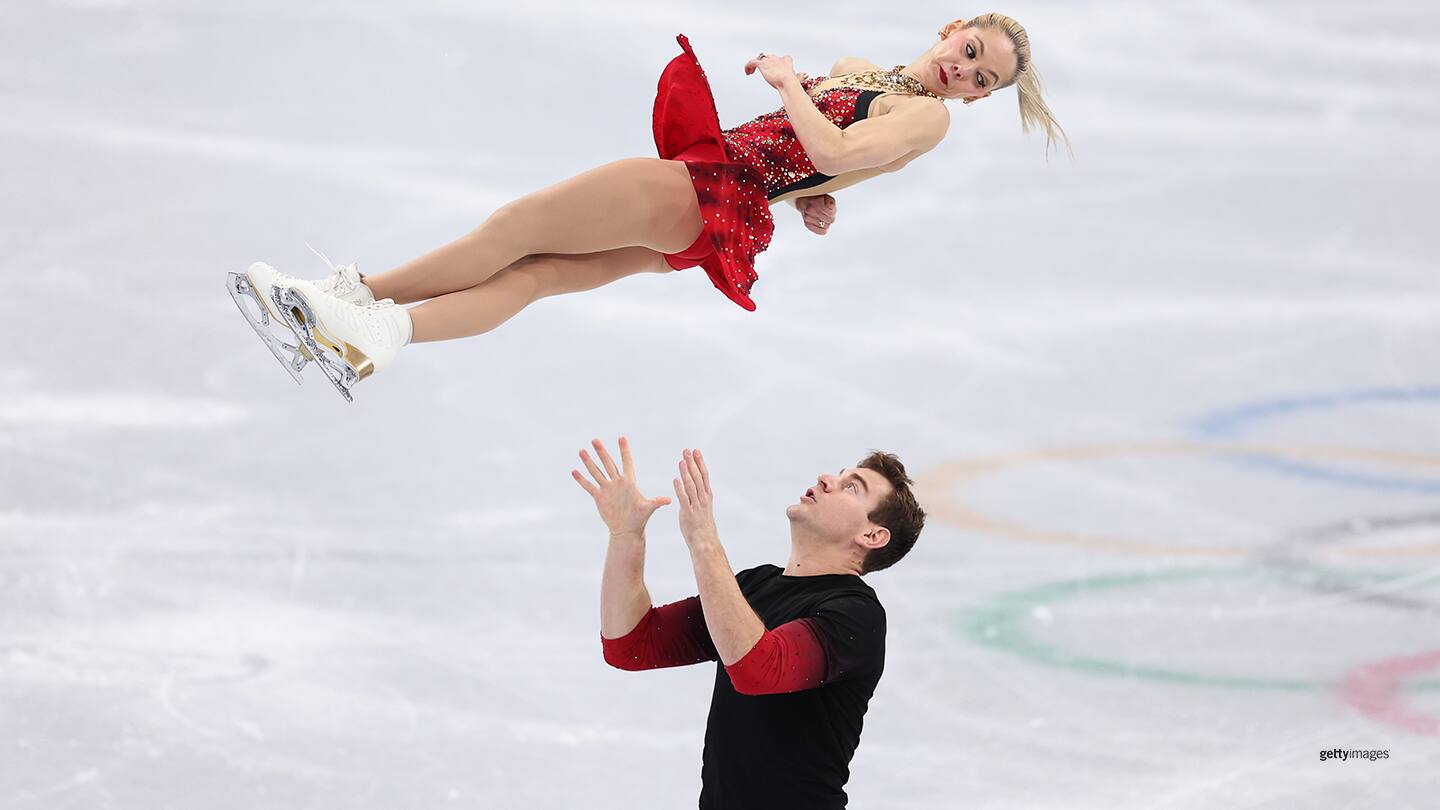 (L-R) Brandon Frazier and Alexa Knierim compete during the pairs skating short program at the Olympic Winter Games Beijing 2022 on Feb. 18, 2022 in Beijing.
He occasionally travels to Irvine, California, to work with Rafael Arutunian, the technical guru who guided Chen to six U.S. titles, three world crowns and an Olympic championship.

"From the beginning, it was obvious he was going to do all of this," said Michal Brezina, a four-time Czech Olympian who now coaches with Arutunian. "Once Rafael started showing him exercises for axel, he was over-rotating triples. Raf still talks to his dad, shares exercises with him. It's not just when he comes, they share videos all the time."

Brezina thinks Malinin may someday make more history.

"For him, a quint (five rotation) jump ¬— maybe a toe loop — is possible," he said. "With his velocity of rotation and adding the technique, it's possible. He does quad toe-quad toe combinations, and if you can do that, the possibility of a quint is pretty close."

U.S. Figure Skating recognized Malinin's potential and invited him to 2020 Skate America in Las Vegas, a pandemic event limited to mostly U.S. skaters. There, the then 15-year-old hit two quads.

Malinin has only improved technically since then, adding another two quads and enhancing his style. This season, he is collaborating with Shae-Lynn Bourne, the creator of Chen's most celebrated routines. Like Chen, Malinin enjoys selecting his music and is a fan of French singer-songwriter Woodkid.

"I feel like it's very hard for people to find their own style, especially with all of these other great skaters," Malinin said. "You need something of your own (to) make you stand out. That's sort of what I'm trying to do. I really like the style of Nathan and of Yuzu. I kind of combine the two and add my own little twist."

Still, jumping is his strong suit. At the Japan Open, he practiced a seven-quad free skate. If he ever performs it in competition, it will eclipse Chen's record of six quads, set at the 2018 World Championships. While it is unlikely to happen Saturday, it could come sooner rather than later.

"I'm in the process of getting it as best as possible," he said. "There is always something ahead."


Knierim, Frazier Lead in
Pairs
Last season, after Alexa Knierim and Brandon Frazier won an Olympic team medal as well as the first world pair title by U.S. skaters since 1979, many thought the 2021 U.S. champions might retire. Instead, they kicked off their new season with a near-clean short program to Journey's "Separate Ways," grabbing the lead with 75.19 points.

"Last year, we were on a mission," Frazier, 29, said. "I thought in my head it was because it was an Olympic year that we came out strong, but we came out this season exactly the same way, determined and strong."

"We attack (every event) the same way," Knierim, 31, said. "They all have the same weight to us. Every event is important."

Their dynamic performance, choreographed by Bourne, opened with a strong triple twist and included a well-landed throw triple flip. The only notable error was lack of unison on side-by-side triple toes.

"It wasn't perfect, they had to fight it a little bit," said Todd Sand, who coaches the skaters in Irvine, California. "It's their first competition (of the season), so they weren't loose and free, but they did their job like a champion pair team should do."

Canadians Deanna Stellato-Dudek and Maxime Deschamps were second with a personal-best score of 73.05, while Letizia Roscher and Luis Schuster of Germany were third with 54.87.
Lynn Rutherford is a sportswriter based out of New York. She is a freelance contributor to TeamUSA.org on behalf of
Red Line Editorial, Inc.