Taylor Knibb Captures Bronze Medal In World Triathlon Series Race In Cagliari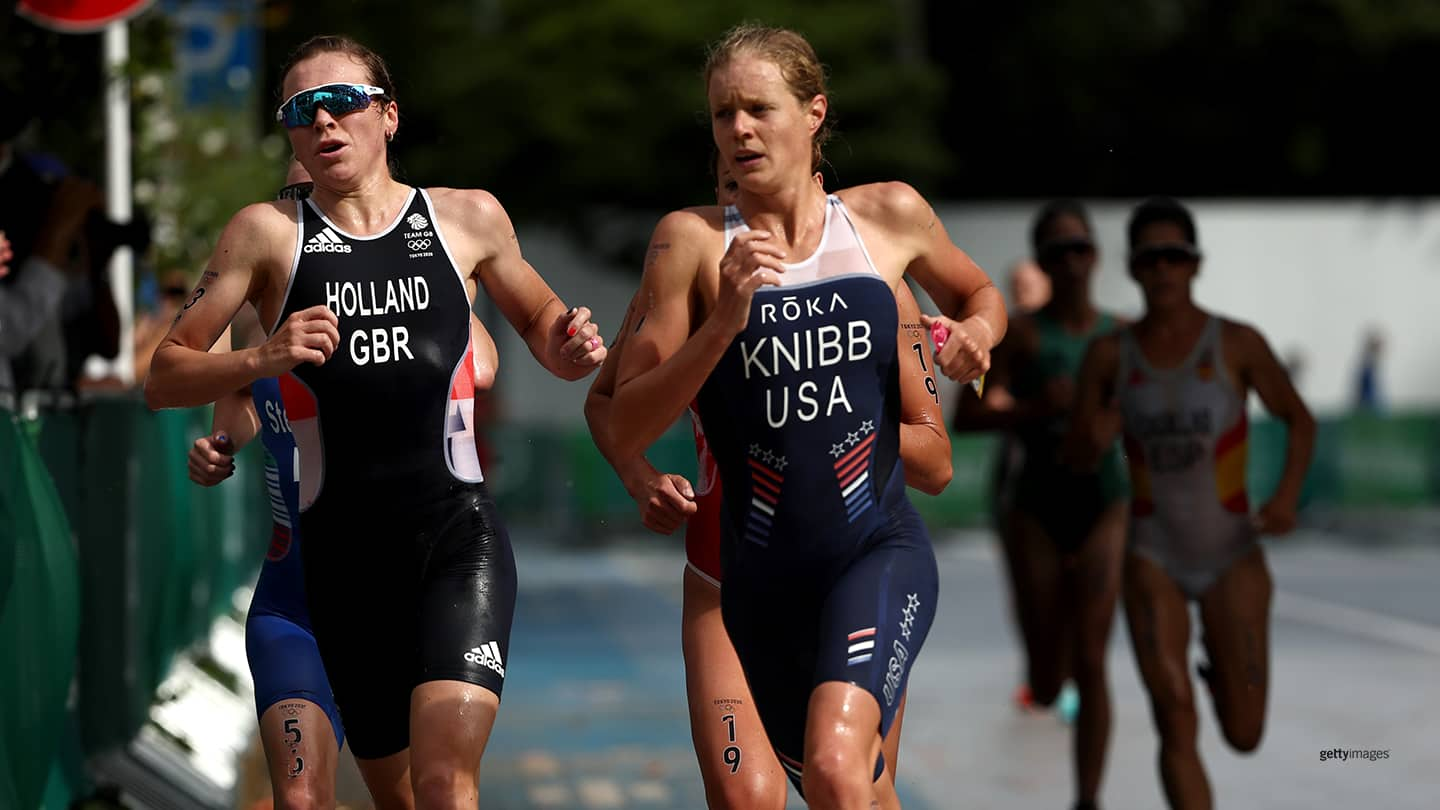 Taylor Knibb competes during the women's individual triathlon at the Olympic Games Tokyo 2020 on July 27, 2021 in Tokyo.
Taylor Knibb, a 2020 Olympian, used a breakaway in the bike segment to storm back and claim a World Triathlon Championship Series bronze medal Saturday in Cagliari, Italy.

Knibb, an Olympic silver medalist in the mixed relay last year in Tokyo, finished in 1 hour, 47 minutes, 58 seconds to reach the podium for the first time this season. Olympic silver medalist and series points leader Georgia Taylor-Brown of Great Britain won the race in 1:47:42 and France's Emma Lombardi was runner-up in 1:47:54.

Knibb, a 24-year-old who placed second overall in the 2021 World Triathlon Championship Series and is ninth this year, led three Americans crossing the finish line in the top six. Taylor Spivey claimed fourth place with a time of 1:48:32 and Kirsten Kasper was sixth in 1:48:46.

Coming ashore with more than a minute to make up after the 1.5-kilometer swim, Knibb blazed to a time of 53:47 on the bike over the challenging 38K course. The effort on the second leg took its toll on Knibb, but she completed the 10K run in 33:01 to reach the podium.

"Any day you get on the WTCS podium, it's a pretty good day," Knibb told triathlon.org. "These don't come very frequently. I am just grateful to be back on the start line and race well."

"I just build into it and move up and move up and that was the game the whole day," she added. "It was definitely nicer to be at the front so I could dictate which lines I was taking through the corners. It is what it is and you play the cards you get on the day and you make the most of it."

Kevin McDowell was the top U.S. finisher in the men's race, placing 10th.

The next stop in the World Triathlon Championship Series will be Nov. 5-6 in Bermuda, followed by the grand final Nov. 23-26 in Abu Dhabi.

Saturday's races awarded the first points of the qualification period for the Olympic Games Paris 2024. The event was the World Triathlon Championship Series' first stop in Italy.
Bob Reinert spent 17 years writing sports for The Boston Globe. He also served as a sports information director at Saint Anselm College and Phillips Exeter Academy. He is a contributor to TeamUSA.org on behalf of
Red Line Editorial, Inc.